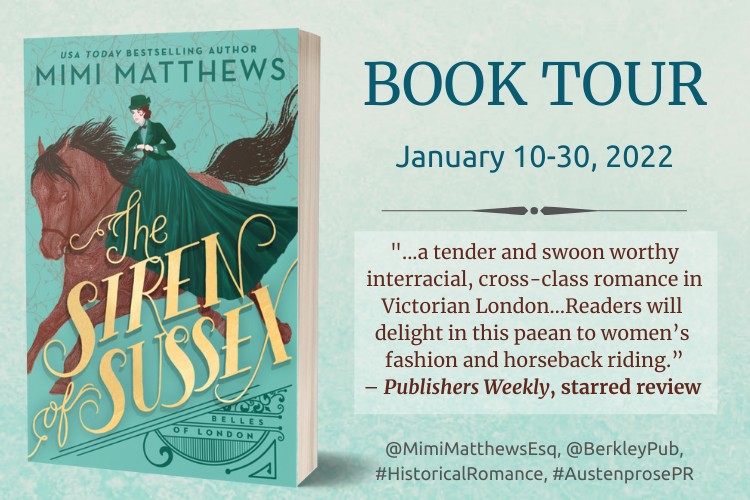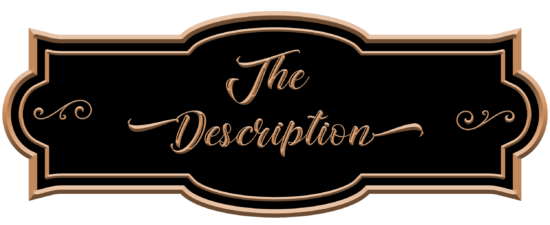 Belles of London: Book 1
Publication Date: January 11, 2022
Victorian high society's most daring equestrienne finds love and an unexpected ally in her fight for independence in the strong arms of London's most sought after and devastatingly handsome half-Indian tailor.
Evelyn Maltravers understands exactly how little she's worth on the marriage mart. As an incurable bluestocking from a family tumbling swiftly toward ruin, she knows she'll never make a match in a ballroom. Her only hope is to distinguish herself by making the biggest splash in the one sphere she excels: on horseback. In haute couture. But to truly capture London's attention she'll need a habit-maker who's not afraid to take risks with his designs—and with his heart.
Half-Indian tailor Ahmad Malik has always had a talent for making women beautiful, inching his way toward recognition by designing riding habits for Rotten Row's infamous Pretty Horsebreakers—but no one compares to Evelyn. Her unbridled spirit enchants him, awakening a depth of feeling he never thought possible.
But pushing boundaries comes at a cost and not everyone is pleased to welcome Evelyn and Ahmad into fashionable society. With obstacles spanning between them, the indomitable pair must decide which hurdles they can jump and what matters most: making their mark or following their hearts?

"…a tender and swoon worthy interracial, cross-class romance in Victorian London…Readers will delight in this paean to women's fashion and horseback riding."— Publishers Weekly, starred review
"Matthews brings the Victorian era to vivid life with meticulously researched details and an impossible romance made believable and memorable."— Booklist, starred review
"Matthews deftly underscores racial and gender discrimination in Victorian London in this excellent start to 'The Belles of London' series; rather than overshadowing, it propels the romance. Romance aficionados who love fashion and animals will delight in this tender romance and will be excited to see Evelyn's friends in future installments." — Library Journal, starred review
"Unflinching, tender, and moving, the delicately crafted The Siren of Sussex might just be my favourite work from Mimi Matthews; it certainly is one of my favourite historical romance reads this year."— Evie Dunmore, USA Today bestselling author of Portrait of a Scotsman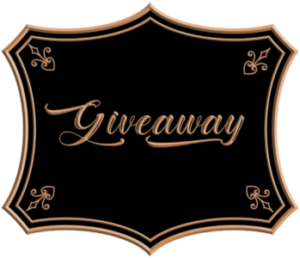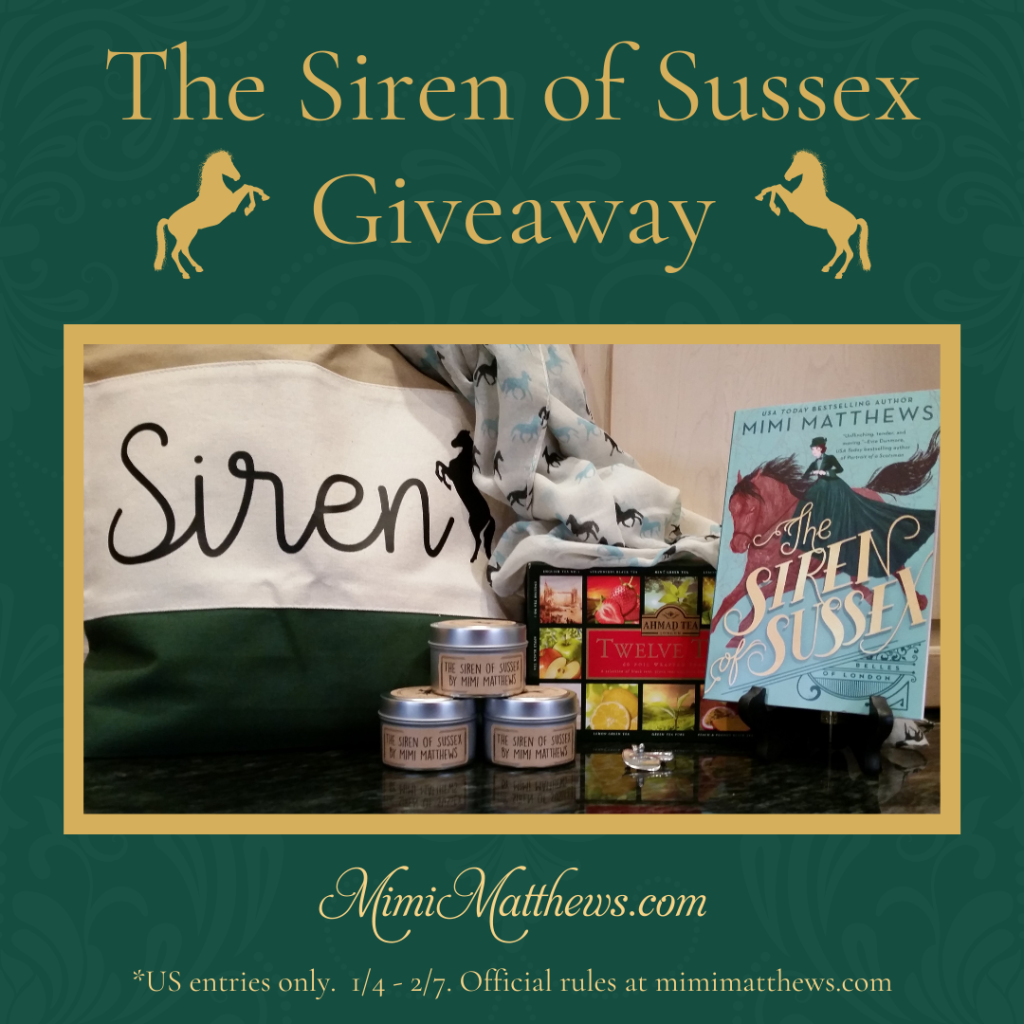 Terms & Conditions:
Giveaway hosted by Mimi Matthews. No Purchase Necessary. Entrants must be 18 years or older. Open to US residents only. Void where prohibited.
The Giveaway Package:
1 winner (selected at random by Rafflecopter) receives the following:
Signed print copy of The Siren of Sussex
Horse scarf
Pewter sidesaddle brooch (made in Sussex, England!)
The Siren of Sussex tote bag
Three candles in scents: Fresh Hay, New Saddle, and Winter Ride
Box of Ahmad Tea (60 count, assorted flavors)
The Siren of Sussex bookmark
The giveaway is open from 12:01 am Pacific time 1/4/22 until 11:59 pm Pacific time on 2/7/22.
The winner will be announced on Mimi's blog – mimimatthews.com – at 8:00 pm Pacific time on 2/8/22.
a Rafflecopter giveaway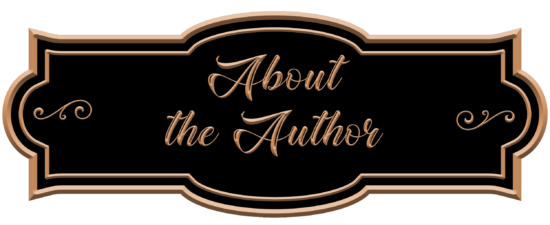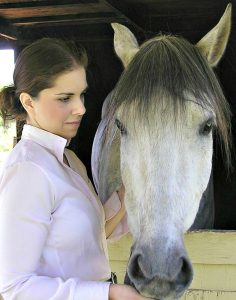 USA Today bestselling author Mimi Matthews writes both historical nonfiction and award-winning proper Victorian romances. Her novels have received starred reviews in Publishers Weekly, Library Journal, Booklist, and Kirkus, and her articles have been featured on the Victorian Web, the Journal of Victorian Culture, and in syndication at BUST Magazine. In her other life, Mimi is an attorney. She resides in California with her family, which includes a retired Andalusian dressage horse, a Sheltie, and two Siamese cats.

Jan 10    Cogitations and Meditations (Review)
Jan 10    Heidi Reads (Review)
Jan 10    Reading is My Superpower (Review)
Jan 10    Austenprose (Review)
Jan 10    Eli's Novel Reviews (Review)
Jan 10    Robin Loves Reading (Review)
Jan 11    Culturess (Review)
Jan 11    Gwendalyn's Books (Review)
Jan 11    Syrie James (Review)
Jan 11    Wishful Endings (Review)
Jan 12    Amanda's Book Corner (Review)
Jan 12    Quill Ink (Review)
Jan 12 Relz Reviewz (Review)
Jan 13    Book Confessions of an Ex-Ballerina (Review)
Jan 13    Roses are Blue (Review)
Jan 13    The Lit Bitch (Review)
Jan 14    History Lizzie (Review)
Jan 14    Life of Literature (Review)
Jan 14    My Bookish Bliss (Review)
Jan 15    The Caffeinated Bibliophile (Review)
Jan 15    Books and Socks Rock (Review)
Jan 16    Heather Moll (Review)
Jan 16    The Bashful Bookworm (Review)
Jan 17    Eleanor Lynn (Review)
Jan 17    Bookworm Lisa (Review)
Jan 17    Novel's Alive (Review)
Jan 18    The Calico Critic (Review)
Jan 18    Nerd by Nature (Review)
Jan 18    Bobs & Books (Review)
Jan 19    The Secret Victorianist (Review)
Jan 19    Savvy Verse & Wit (Interview)
Jan 19    Captivated Reading (Review)
Jan 20    Vesper's Place (Review)
Jan 20    Nurse Bookie (Review)
Jan 20    A Bookish Way of Life (Review)
Jan 21    Clarissa Harwood (Review)
Jan 21    Library of Clean Reads (Review)
Jan 21    Bonnie Reads and Writes (Review)
Jan 21    Christian Chick's Thoughts (Review)
Jan 22    The Literature Chick Book Blog (Review)
Jan 22    Red Headed Book Lady (Review)
Jan 23    Inkwell Inspirations (Review)
Jan 23    Stacy's Books (Review)
Jan 24    Elizabeth Mahon (Interview)
Jan 24    Jocelyne Reads Romance (Review)
Jan 24    One Book More (Review)
Jan 24    Lady with a Quill (Review)
Jan 24    From Pemberley to Milton (Review)
Jan 25    Confessions of a Book Addict (Review)
Jan 25    Stephanie Barron (Review)
Jan 25    Laura's Reviews (Review)
Jan 25    Reading with Emily (Review)
Jan 26    Bringing Up Books (Review)
Jan 26    A Darn Good Read (Review)
Jan 26    Lis Loves Reading (Review)
Jan 27    My Vices and Weaknesses (Review)
Jan 27    Katie's Clean Book Collection (Review)
Jan 27    Lu Reviews Books (Review)
Jan 28    The Reading Frenzy (Interview)
Jan 28    View from the Birdhouse (Review)
Jan 28    Austenesque Reviews (Review)
Jan 28    By the Book (Review)
Jan 29    Cup of Tea with that Book Please (Review)
Jan 29    Chicks, Rogues, & Scandals (Review)
Jan 29    Rosanne Lortz (Review)
Jan 30    Charlotte Brentwood (Review)
Jan 30    Leah Garriott (Review)
Jan 30    Just Another Teen Reading Books (Review)
Jan 30    Literary Time Out (Review)