Recently we caught up with New York Times Bestselling Author, Cheryl Holt about her extended absence from writing and what brought her back.
After taking an extended break from writing what motivated or inspired you to begin again?
After the economy crashed in 2008, the NY publishers slashed their budgets, and many writers were cut loose.  I was one of them.  My career with the NY publishers had been very stressful, filled with drama and heartbreak, and I was constantly starting over and trying again.
When my last NY publisher, Berkley Books, let me go in 2009, it was almost a relief.  I thought:  this is a sign; I'm never going to succeed as a novelist.  I need to get over it and go find a real job.
I quit writing.  I turned off my web page and shut down my email for about 18 months.  But I live in Los Angeles, and the economy was so bad that I couldn't find other employment.  I was growing desperate, and a friend of mine, another writer, nagged at me and encouraged me to start writing again.  He kept reminding me of how good I was at writing novels and what a huge fan base I had generated over the years.  My fans were hungry for more books from me.  But I couldn't see how I could get a NY publisher to sign me again.
My friend kept extolling the virtues of the exploding e-book industry, and I was skeptical.  But I gradually listened to him and decided that I should keep writing.  I reinvented myself one more time and began again.  By self-publishing.
You've chosen to self-publish your new work…why?
There are only 6 major NY publishers, and I have written for four of them.  The ones that dropped me wouldn't take me back, and the other two companies have never been interested in signing me.  And although I was a NY Times bestselling author, I never had the type of big sales numbers that the NY publishers are demanding these days.  So even though I'm a great writer and my stories are very fun to read, I don't have a readership to offer that a NY publisher would find valuable.  This meant that NY was off the table for me.  There was no way to continue getting my books out to my fans unless I started to release them myself.
I resisted the trend to self-publish.  I didn't want to do it.  I had stumbled around in the print publishing industry for 10 years and never felt like I figured out the industry or my place in it.  I didn't feel as if I had the energy to wade into self-publishing.  But I dragged myself into it, and it's turned out to be a real blessing for me.
What advantages and disadvantages have you discovered in regards to self-publishing?
There are many advantages to self-publishing.  When I wrote for the NY publishers, I was limited to having 1 or 2 books published per year according to their schedule and according to what books and authors they wanted to have on their lists.  And I could only write in the genre and time period that they allowed.  I could only write storylines that they okayed.
I've been writing novels for 15 years now, and I have a very high output of work.  Each year, I'm more experienced as a novelist, and I get faster at putting a story together.  I can finish several books per year, so I can release many more stories to my fans.  I've been able to publish in different genres and to release books that the NY publishers would never have agreed to publish.
The biggest benefit is that I'm making much, much more money than I ever made when I wrote for the NY publishers.  They're penny-pinchers and it was hard to get on a sound, stable financial footing with them.  So more money is good!  I'm happy.
There are many disadvantages, though.  I have to pay all the production costs, such as cover art design and copyediting, that were previously paid by my publishers.  And I have many more administrative tasks that burden me.  I'm having to do more promotion to get my e-books noticed, which is time consuming and labor-intensive.  But it's all worth it so that my fans can read more of my stories.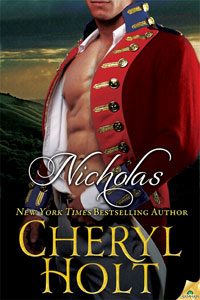 I have a 3-book trilogy coming in 2013, and they are historical romances.  This is my "Lord Trent" series.  The three books are LOVE'S PROMISE, LOVE'S PRICE, and LOVE'S PERIL.
They tell the story of Charles Sinclair, the Earl of Trent, who is renowned as England's most notorious roué.  Although he never sired any legitimate children with his bitter, cold wife, he's sired many illegitimate children.  His oldest son, Phillip, is on a quest to find his long-lost half-siblings.  The three novels in the trilogy tell the story of four of Charles's adult, illegitimate children.
They're very exciting, very dramatic, very heart-wrenching stories, and I think readers will really enjoy all three books.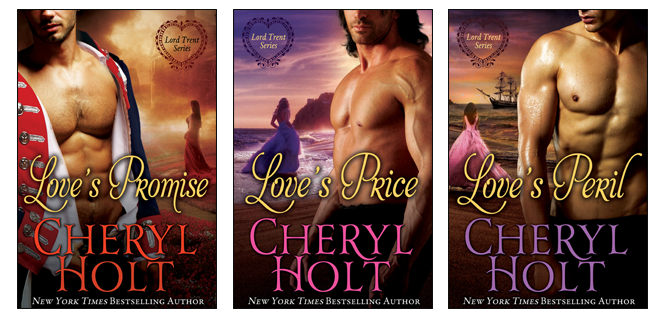 Speaking of SWEET SURRENDER, is there anything you would like to share about the inspiration for or insights into the characters, storyline or simply the project as a whole?
There are several favorite plot devices that occur in romance novels that readers enjoy.  They have to do with a secret love child or a hidden baby.  I'm always irked by those stories because I don't like heroines who "hide" a baby from a father.  So I decided to do my own twist on this type of story so I could give readers what I like to think is a better version.
I used a secret love child and a hidden, secret marriage, but it was the father—an aristocrat—who secretly married and sired a child against his family's wishes and without their knowing he'd done it.  The scenario set up numerous fun and interesting challenges for me as a writer, and it gives readers a really nice twist on an old and popular story device, without the exasperation some readers find in "secret baby" stories.
Also, I'm trying to incorporate more children into my stories.  When I wrote for the NY publishers, I was often told I couldn't write children into my books.  I was writing very steamy romances, and editors didn't feel that children fit well into that kind of plot.  But romance readers like stories about family and kids, so SWEET SURRENDER has a very nice, secondary story about two boys who meet and discover they are half-brothers.  They become life-long friends.  It's a really heart-warming storyline about two charming boys that I hope readers will cherish.
Do you have a preference towards writing contemporary novels vs. historical?
I started writing novels 15 year ago, when my kids were babies and I was stuck at home and trying to figure out how to earn an income with a home-based business.  I didn't know much about novels or writing, so I was reading constantly to figure out how novels were put together.  I tried to read every book that popped up on the bestseller lists, and many of them were romances.
I had never read a romance until I was forty years old.  I had always heard such dreadful stories about them, and I let my literary "snobbery" keep me from trying them.  But so many of them were bestsellers, and once I tried them, I was hooked.  I really, really liked the historical ones.  I wasn't too keen on the contemporaries.  So I began writing the ones I enjoyed reading myself—Regency Period historicals—and that's where I made a name for myself in the publishing industry.
Although, I must mention that I recently released a contemporary romance trilogy—it's been released in an anthology titled MARRY ME—that has sold like wildfire on Amazon.  It was fun to write, very well received by readers, and I plan to write more contemporaries in the future.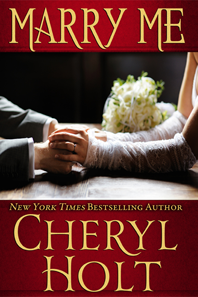 You recently released MARRY ME, a compilation of the entire "Merriweather" series in both e-pub and print formats, for those who still prefer the tangibility of a bound copy over digital format. How much does input from your fans impact the way you choose the format in which your work is published?
After my hiatus from writing in 2010-and 2011, I started in by writing e-books.  I had never done a demographic study of my fan base, and I quickly learned that many of my readers were older.  They didn't own digital devices and didn't plan on purchasing them in the future, so they were cut off from my new e-books.  And there were many readers who simply detested the entire notion of digital books.  I actually received many, many angry letters from readers who felt that I was "selling out" by moving to e-books.  But the marketplace had chased me there.
I'm releasing all my new, self-published books as e-book, but I'm also now releasing them as print books, too.  Amazon has developed a very nice print-on-demand service called Create Space.  Authors can take a digital book and turn it into a very beautiful print book without too much trouble, which I have started doing.  The books aren't available in stores, but my fans who don't own e-readers are able to buy my books again.  They can order a print copy at Amazon and have it in 2-3 days.
Do you have a personal preference towards epub or bound in the books that you read?
I'm much like so many of my fans.  I love print books, and I read print books, but I worry that the economy is going to push us all into e-books in the same way that music albums and CDs were lost and forced to digital downloads in the 1990s.  That's the world coming toward us at lightning speed.
When you take time out for yourself to read, what genres, authors, subjects do you enjoy the most?
I don't have a favorite genre or author.  I'm an avid reader, and I will read any well-written novel.  I don't care about the setting or time period or topic or anything else.  As long as the writing is good and it's fun to read, I devour the book.
Long before the market became flooded in the wake of "Fifty Shades of Grey" with books featuring sexually dominant male characters, your own books contained heroes who were very much the "Alpha Male" when it came to the sensual side of the character's relationships. What are your thoughts on the sudden popularity associated with this style of hero?
I'm always amazed that romance writers don't get credit for trends.  The sudden "discovery" of Alpha Males and erotica out in the general reading market is really frustrating to me.  It absolutely reminds of the TWILIGHT saga appearance a few years ago and the sudden explosion of vampire stories out into the general reading market.  The vampire industry had already been on fire for a decade in romance novels and was fading as readers were saturated and ready to move on to other stuff.  Suddenly, TWILIGHT appeared outside the romance genre, and it was hailed as a "new" trend.  Romance readers and authors were shaking their heads.
In my erotic romance career, where my Alpha Males are some of the yummiest, sexiest heroes ever penned, I began writing erotic romance in 2000.  For years, I was renowned as the "Queen" of erotic romance.  By 2007 or so, my fans were pretty much over it, and I moved on to less sexually-graphic stories.  But erotic romance and full-on erotica are still selling like hotcakes to romance readers.  Maybe some of these new "fans" of erotica should become romance readers!
And finally, what project are you currently working on and what do you have in store for us in 2013?
I have already finished the first two books of my Lord Trent trilogy, LOVE'S PROMISE and LOVE'S PRICE,  I am currently writing the third and final book in the trilogy, LOVE'S PERIL.  I just started it and will have it done at the end of February.  Since I'm publishing the books myself, I can get them out on the market very fast.  I'm shooting for June, July, August, 2013.  They books will be my "big" releases for 2013.
Then I'm writing and releasing a mainstream women's novel, titled THE WEDDING.  It will be out in autumn, 2013.
Then?  I don't know, but I'll be writing something new.  It's a habit I can't seem to break!

LOVE'S PROMISE
LOVE'S PRICE
LOVE'S PERIL
SWEET SURRENDER
MARRY ME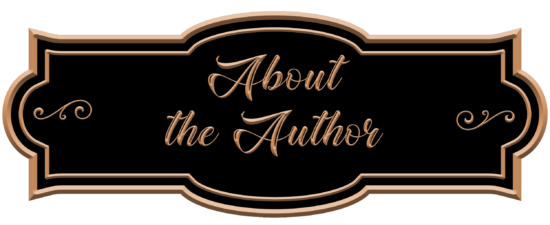 CHERYL HOLT is a New York Times, USA Today, and Amazon "Top100" bestselling author who has published over fifty novels.
Her books have been released to wide acclaim, and she has won or been nominated for many national awards. She is considered to be one of the masters of the romance genre. For many years, she was hailed as "The Queen of Erotic Romance", and she's also revered as "The International Queen of Villains." She is particularly proud to have been named "Best Storyteller of the Year" by the trade magazine Romantic Times BOOK Reviews.
She lives and writes in Hollywood, California, and she loves to hear from fans.