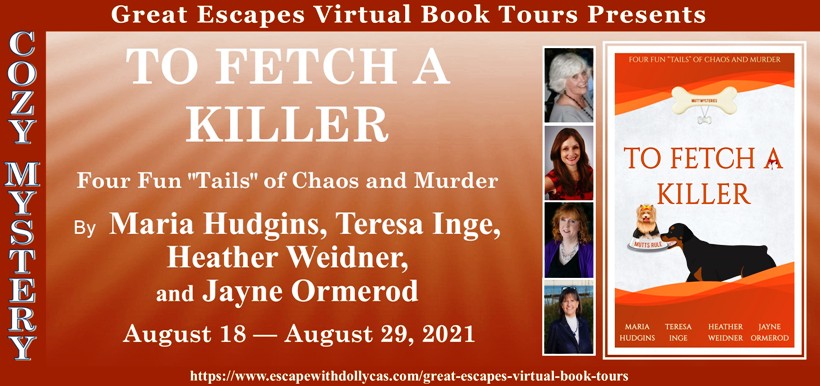 Thanks for all you do to promote cozy mysteries! We faithful readers are a crazy bunch, aren't we? And over at Mutt Mysteries, we are also crazy about dogs! Today each of the contributing authors in To Fetch a Killer, Four Fun "Tails" of Chaos and Murder, is sharing a "Crazy Dog Mom" anecdote about the crazy things we do to make our dogs' lives better.
Dog Names, Family Considerations, by Teresa Inge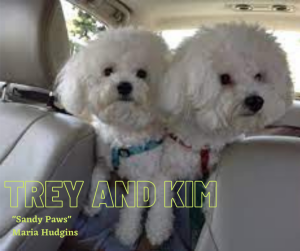 Since picking the perfect name for a pet can be both fun and overwhelming when searching for the one that fits the best; four-legged furry family members deserves the same attention to your pet's name just like when picking a name for your kids.
Which brings me to when my family and I got two mixed German Shepherd puppies. I remember we decided to pick out their names together as a family. And although naming my dogs may not be considered a crazy dog mom thing; it was the most important. I remember brainstorming a few names, but we could not decide what to name them. But later, when I suggested naming the dogs after my husband's grandparents, Luke and Lena, bingo, we are all in agreement with naming them after family members.
Luke and Lena are now seven years old, and it's been a cool experience to pay homage to the grandparents, which truly does make the dogs family.
Crazy Dog Mom by Heather Weidner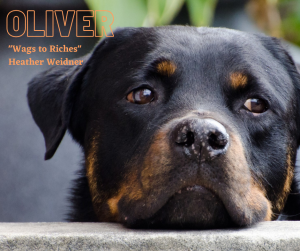 My dogs are my muses and my companions, especially during this crazy pandemic. They listen to me read dialog aloud, and they are always available to share snacks and cuddles. I have a brother and sister pair of Jack Russell terriers. Disney and her brother, Riley, are all about comfort. They have three dog beds in the office, a couch in the library, the couches downstairs, and the bed by the big window. We live in the woods, so they like to sit and watch the birds and the squirrels.
However, the Jacks squabble over the same dog bed. They always want what the other has. One time, I saw this really giant, comfy dog bed in the store. It was nice and fluffy and took up a huge space in the den. I put it on the floor and patted it. I put treats on it. I put toys on it. All the while, the crazy Jacks lay on the couch and stared at it. This went on for days. They'd have nothing to do with the big, expensive bed. Finally, one Sunday, when we were watching football, I used it as a beanbag chair. So, there we were. I'm on the giant dog bed, while they lounged on the couch watching me watching TV. When we moved, I finally donated the big bed to a dog charity. Hopefully, someone (besides me) got some use out of it.
Sleep with the Dogs, Wake Up with…A Neck Ache! by Jayne Ormerod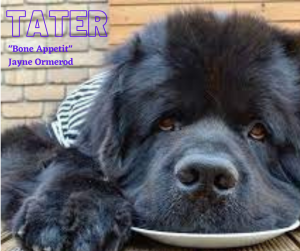 We rescued a rescue, which means he'd suffered a double-dawg disappointment in life. He came to us at about twelve pounds, eight weeks old, skinny and scared. As all good dog moms and dads do, we kenneled him at night. Right next to the bed. Close enough to reach out and rub his nose when he whined. One night about a month into our new parenthood, my husband and pup went to bed before me (as happens a lot…it's my best writing time). When I came to bed, the pup was in my spot. But he was little, and we had a queen-sized bed.
Except the dog grew and grew and grew. (Now a whopping 104 pounds!)
And we got another pup. Who grew and grew (up to about 50 pounds.)
The bed became very crowded. I woke many times during the night clinging to the very edge of the mattress, ready to tumble to the floor. Yes, it seemed I was that low in the pecking order When I tried to move one of the dogs, I got the old "you can sleep on the floor" look. I was waking up still tired, with sore shoulders and a stiff neck. Not a good way to start the workday.
To make a long story short, none of us were willing to give up our sleeping place. Time to upsize the bed. Make that supersize to a California-King with a super thick hybrid mattress. Which also needed a new box spring. And bed frame. And headboard. And sheets, bedspread, pillows, etc. All in all, I spent over $3,500 so that we could all sleep together and wake up rested and refreshed.
Crazy, huh?
The crazy part is that I still wake up clinging to the edge of the bed while my dogs stretch out horizontally between their two peoples.
Bacon Treats, by Maria Hudgins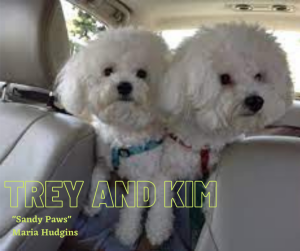 Everything I have done to make my dogs' lives better does not seem crazy to me or I would not have done it. This is about my neighbor's dog Gus, actually, not mine. Gus expects me to bring him two bacon treats when I visit. On occasion, I've forgotten to bring the treats and have walked back home to get them. But my neighbor keeps bacon treats in her kitchen and would be happy to loan them to me, but sometimes I think he wants my treats.
_____________
To Fetch a Killer is available in print at Amazon and all ebook platforms.
For more information about the authors and their stories, please check out the website at www.MuttMysteries.com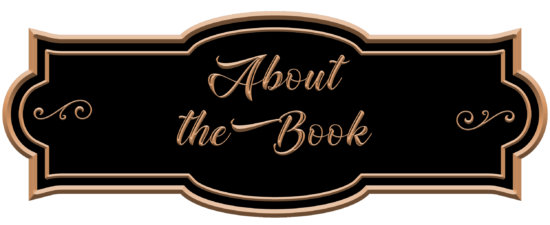 Mutt Mysteries: Book 1
Publication Date: July 30, 2021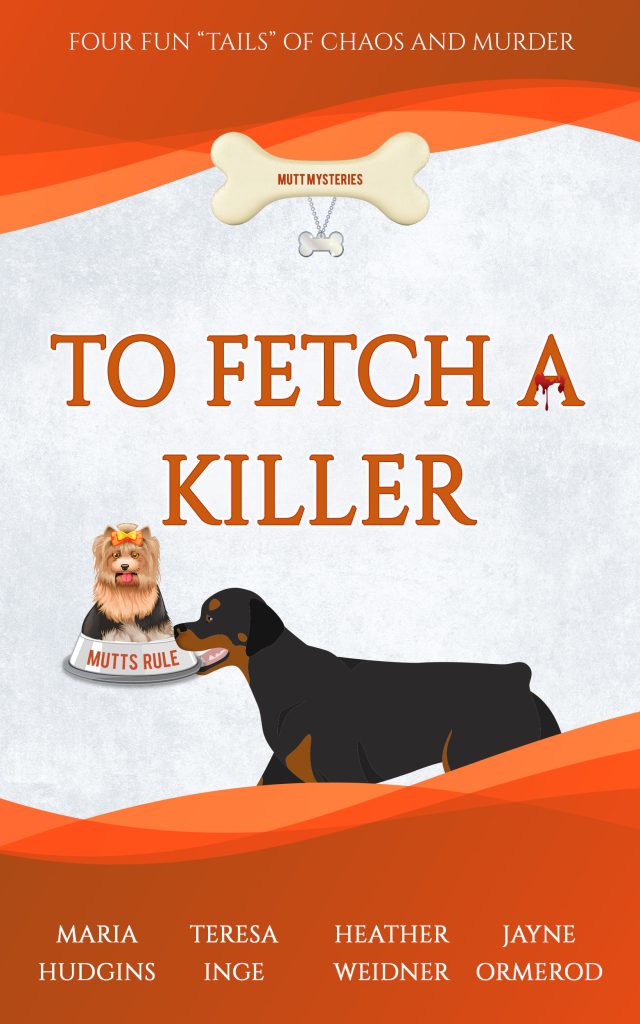 It's a dog-meet-dog world as a pack of canines team up with their humans to solve mysteries and track down killers. Four mutt-loving authors join their talents in creating this collection of canine-themed novellas which will transport you into the chaotic world of hero dogs who have a nose for murder. Grab a leash and hang on tight…the mutts are on the loose again!
This anthology includes four novellas.
"Sandy Paws" by Maria Hudgins
The Sand Fiddler's Writers Group has rented a beach house for its annual retreat, but the writers and their canine friends can't get much done after murder rears its ugly head.
"A New Leash on Death" by Teresa Inge
Catt Ramsey, owner of the Woof-Pack Dog Walkers, has a knack for finding dead bodies, but when she and her pups are on the case, there's no way the killer will get away with murder.
"Wags to Riches" by Heather Weidner
When a prickly guest ends up dead in his booth at the rummage sale, track owner, Cassidy Green and her Rottweiler Oliver have to sniff out clues and find the killer before another murder is forever linked to her business.
"Bone Appetit" by Jayne Ormerod
A dead guest at private chef Molly Perkins's dinner party draws her and house dog Tater in a chaotic search for the secret ingredient to murder.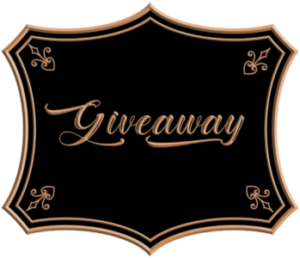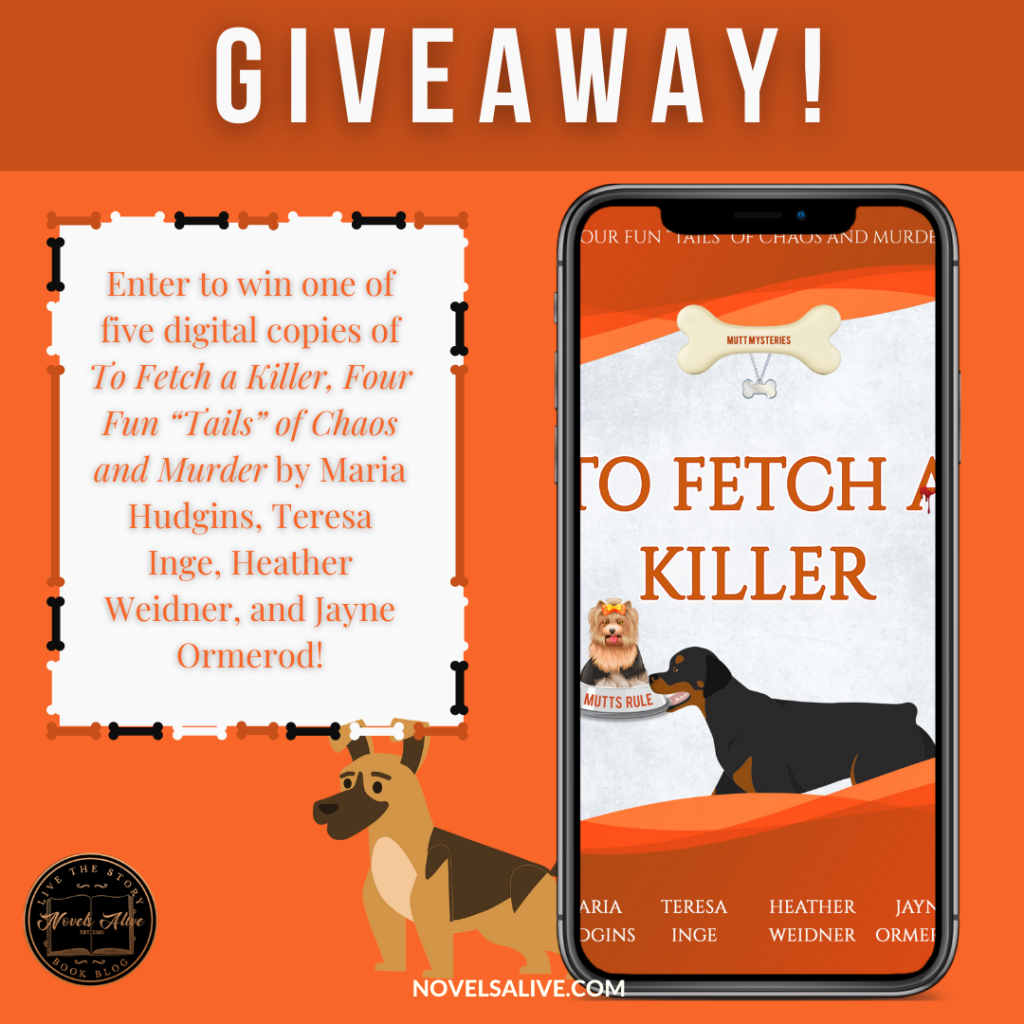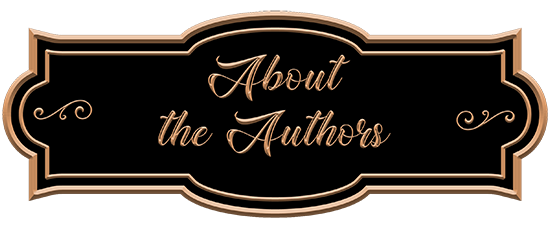 MARIA HUDGINS is a mystery writer from coastal Virginia and a lover of animals. She writes the Dotsy Lamb Travel Mysteries and the Lacy Glass Archaeology Mysteries. Her short stories appear in such publications as Virginia is for Mysteries, 50 Shades of Cabernet, Murder by the Glass, and Ellery Queen's Mystery Magazine. The two dogs, Trey and Kim, featured in this story are based on Hudgins's beloved Bichons, Holly and Hamilton, now gone but never forgotten.
TERESA INGE grew up reading Nancy Drew mysteries. Combining her love of reading mysteries and writing professional articles led to writing short fiction and novellas.
Today, she doesn't carry a rod like her idol but she hot rods. She juggles assisting two busy executives at a financial firm and is president of the Sisters in Crime, Mystery by the Sea chapter. Teresa is a contributing author to the Virginia is for Mysteries series, 50 Shades of Cabernet, Mutt Mysteries series, Coastal Crimes, and Murder by the Glass, Cocktail Mysteries.
She resides in Southeastern Virginia with her husband and two dogs. She can be reached on all social media or by posting a comment on her website.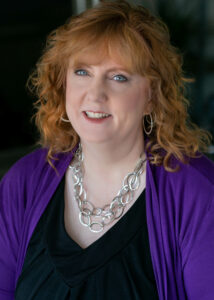 Heather Weidner has been a cop's kid, technical writer, editor, college professor, software tester, and IT manager. She writes the Delanie Fitzgerald mystery series set in Virginia (Secret Lives and Private Eyes, The Tulip Shirt Murders, and Glitter, Glam, and Contraband). Her new cozy series with vintage trailers and tiny houses, the Jules Keene Glamping Mysteries, launches in October 2021.
Her short stories appear in the Virginia is for Mysteries series, 50 Shades of Cabernet, Deadly Southern Charm, and Murder by the Glass, and her novellas appear in The Mutt Mysteries series (To Fetch a Thief, To Fetch a Scoundrel, To Fetch a Villain, and To Fetch a Killer).
She is a member of Sisters in Crime – Central Virginia, Sisters in Crime – Chessie, Guppies, International Thriller Writers, and James River Writers.
Originally from Virginia Beach, Heather has been a mystery fan since Scooby-Doo and Nancy Drew. She lives in Central Virginia with her husband and a pair of Jack Russell terriers.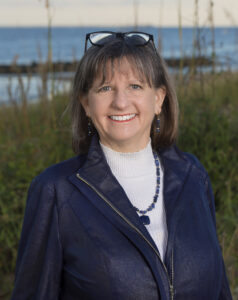 JAYNE ORMEROD grew up in a small Ohio town then went on to a small-town Ohio college. Upon earning her degree in accountancy, she became a CIA (that's not a sexy spy thing, but a Certified Internal Auditor.) She married a naval officer and off they sailed to see the world. After nineteen moves, they, along with their two rescue dogs Tiller and Scout, have settled into a cozy cottage by the Chesapeake Bay. Jayne's publishing credits include two novels, five novellas, and eight short mysteries, with more coming soon. A complete list can be found on her website.

August 18 – Novels Alive – GUEST POST
August 18 – My Journey Back the Journey Back – CHARACTER GUEST POST
August 19 – Ascroft, eh? – CHARACTER INTERVIEW
August 19 – Maureen's Musings – REVIEW
August 20 – Brooke Blogs – SPOTLIGHT
August 21 – My Reading Journeys – REVIEW
August 21 – MJB Reviewers – SPOTLIGHT
August 22 – Nesie's Place – SPOTLIGHT
August 22 – FUONLYKNEW – SPOTLIGHT
August 23 – Author Elena Taylor's Blog – AUTHOR INTERVIEW
August 24 – Christy's Cozy Corners – REVIEW, CHARACTER GUEST POST
August 24 – Sapphyria's Book Reviews – SPOTLIGHT
August 25 – Reading Is My SuperPower – GUEST POST
August 25 – Cassidy's Bookshelves – REVIEW
August 26 – Literary Gold – SPOTLIGHT
August 26 – I Read What You Write – REVIEW, AUTHOR INTERVIEW
August 27 – Diane Reviews Books – GUEST POST
August 27 – Celticlady's Reviews – SPOTLIGHT
August 28 – Laura's Interests – REVIEW
August 28 – Escape With Dollycas Into A Good Book – SPOTLIGHT
August 29 – BookishKelly2020 – SPOTLIGHT