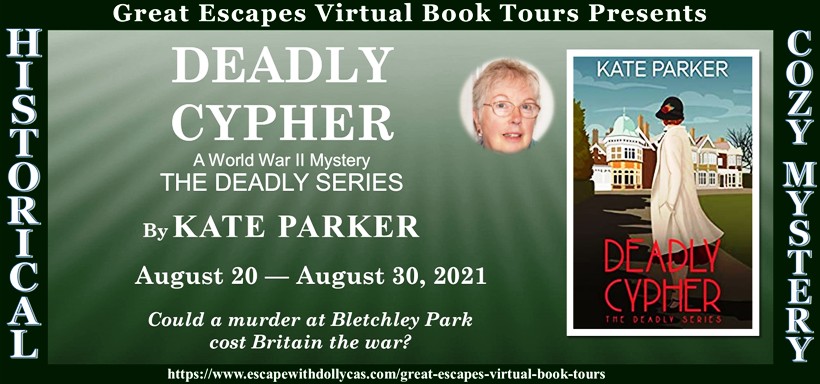 Can you imagine in today's world of constant internet, the 24-hour news cycle, and celebrity tell-alls, keeping a secret? Not only a secret but a series of secrets? And all of these secrets were necessary to protect your homeland from being invaded.
Thousands of people eventually worked at Bletchley Park, not just the 100-200 at the time of Deadly Cypher in late 1939. And yet during the six-year war, the Germans never discovered that Bletchley Park was trying and then succeeding in breaking the unbreakable Enigma codes. The British government read all of Germany's battle plans and the location of the U-boats long before the war ended, and the Germans never guessed, in large part because they believed their encoded transmissions were undecipherable.
The only reason Britain could do this was because the people of Britain understood the need for silence about anything having to do with the war and kept that silence. Those who worked at Bletchley Park had to keep that secret not only through the war but until the 1980s. Many of them took the secret to their graves after that time.
Those who worked there couldn't tell their families where they worked or what they were doing. To the people they were billeted with, they just said they were working on the air defense of London.
Even more interestingly, most people accepted that they should not ask their government-employed family members or friends what they were doing or where they were posted. Their parents might say they'd received a letter from their child and they were well, but that was all they'd say. Not where they were or what they were doing, in large part because they wouldn't know.
The letters they received, if their child was so indiscreet to say anything specific, would be blacked-out by the censors. Mail was read before it was sent on within the post office. I realize that sounds amazing, that private letters would be read and censored, but it was accepted as necessary as long as a war threatened their homes.
The time period Deadly Cypher takes place is during the Phony War. From the declaration of war on September 3, 1939, until the invasion of Denmark and Norway in April 1940, there was very little shooting going on. Most of September was spent by the German army in subjugating Poland and there was a small amount of naval warfare between the U-boats and British ships, but there was a great deal of training being done by both sides. Battle plans and redeployment of men and resources were taking place.
Included in all this was the training code being practiced by young German radio operators who were familiarizing themselves with how the Enigma machines worked. Their transmissions were picked up by British listening stations and sent to Bletchley Park, where the codebreakers practiced deciphering these simple messages to learn how to break the more difficult, and more importantly, messages they would have later.
Deadly Cypher looks at this practice Bletchley Park was able to get during the Phony War. In just a few months, shooting would start in earnest and everything both sides had developed in this time would be used in the war to their advantage.
Deadly Cypher is the seventh book in The Deadly Series of World War II mysteries by Kate Parker.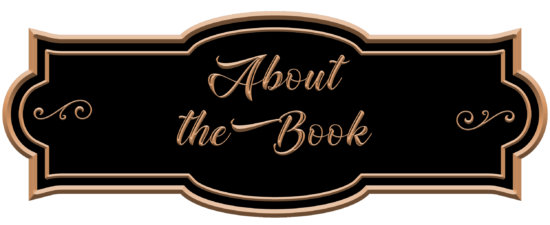 The Deadly Series: Book 7
Publication Date: August 24, 2021
Could a murder at Bletchley Park cost Britain the war?
November 1939. The British government has assembled a small group of intellectuals at an estate north of London as part of a top-secret codebreaking effort. Everything about it is clandestine. The facility is ringed with a veil of silence until one of the young female linguists is murdered.
Britain's counterintelligence spymaster tasks Olivia Redmond with finding the killer and the motive. Olivia is sent in alone, without clues or suspects.
Did the murder victim uncover a mole? Could Britain's program to break German Enigma cyphers be compromised?
If Olivia fails, it could mean the destruction of Britain.
Deadly Cypher will be on sale until August 30, 2021, when it will be sold at full price.
Deadly Cypher, book seven of the Deadly Series, is for fans of World War II era spy thrillers and classical cozy mysteries, of intrepid lady sleuths with spunk and smarts. No explicit cursing, sex, or violence.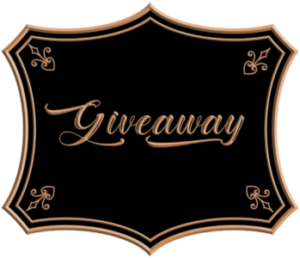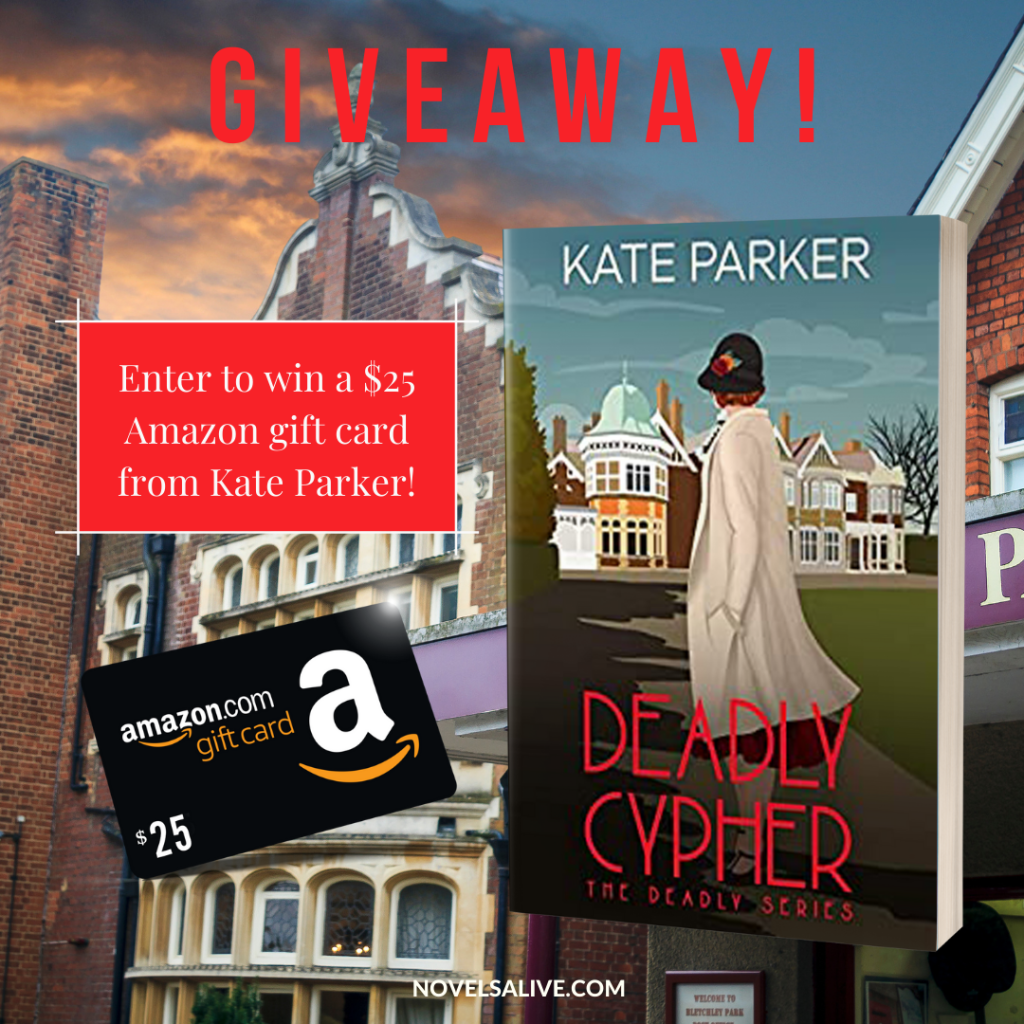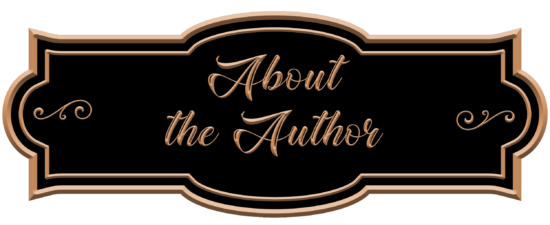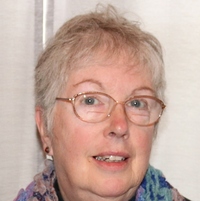 With her love of travel, Kate Parker sets her novels overseas. Once home from her research trips and armed with hot tea and chocolate, she can be found clicking away on her keyboard, hiking the hills of central North Carolina, and spoiling her 90-pound muse puppy. She'd tell you what she did before she retired, but then she'd have to use certain skills to eliminate you. She pens stories to entertain readers who enjoy action and murder in tales about plucky heroines, quirky characters, and difficult situations in a bygone era. Her stories are sweet, as in no graphic sex, violence, or language. Her heroines remain ladylike while chasing murderers and escaping danger. Well, as ladylike as scratching, punching, and kicking can be.

August 20 – Novels Alive – GUEST POST
August 20 – MJB Reviewer – SPOTLIGHT
August 21 – Brooke Blogs – SPOTLIGHT
August 21 – Sapphyria's Book Reviews – SPOTLIGHT
August 22 – I'm All About Books – SPOTLIGHT
August 22 – Diane Reviews Books – GUEST POST
August 23 – Literary Gold – AUTHOR INTERVIEW
August 23 – Christy's Cozy Corners – REVIEW
August 24 – FUONLYKNEW – SPOTLIGHT
August 24 – Elizabeth McKenna – Author – SPOTLIGHT
August 25 – Christa Reads and Writes – REVIEW
August 25 – Ascroft, eh? – CHARACTER INTERVIEW
August 26 – Laura's Interests – REVIEW, CHARACTER GUEST POST
August 27 – I Read What You Write – AUTHOR INTERVIEW
August 27 – Escape With Dollycas Into A Good Book – SPOTLIGHT
August 28 – Reading Is My SuperPower – REVIEW
August 28 – Celticlady's Reviews – SPOTLIGHT
August 29 – Cozy Up With Kathy – REVIEW, CHARACTER GUEST POST
August 29 – Maureen's Musings – SPOTLIGHT
August 30 – BookishKelly2020 – SPOTLIGHT