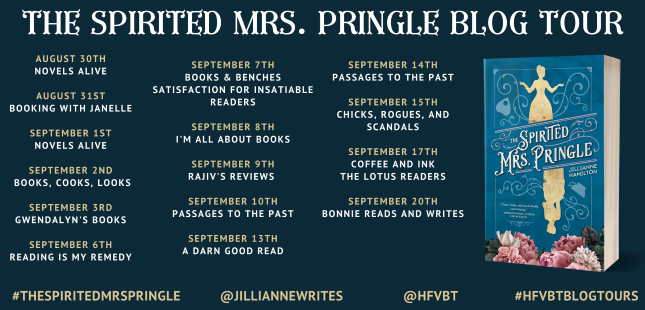 I first met my heroine, Cora Pringle, a few years ago in a very roundabout and random way.
In my new novel, The Spirited Mrs. Pringle, Cora is an adept mountaineer when it comes to climbing the social ladder. Upon the untimely death of her husband in 1888 London, Cora is forced to find an income of her own. Since employment opportunities were very limited for women in the late Victorian period and Cora has always had an interest in the stage, she turns to séances and becomes a performing spiritualist, contacting ghosts and acting a medium between herself and the other side.
Depending on your beliefs, some Victorian-era spiritualists really could have had abilities that allowed them to communicate with spirits—but Cora Pringle does not.
A few years ago, I found a Facebook group for letter-writing Jane Austen fans. The members would write letters to one another, role-playing as characters from within the Jane Austen universe—some created by Austen and some created by the fans. Participants were encouraged to use old-timey paper and writing implements. Considered a form of LARPing, it was such a unique activity and I was fascinated immediately.
Also, I wanted an excuse to buy a dip pen and ink.
With a nod of encouragement, I created a spin-off group for those interested in letter-writing as characters in other periods in history. I knew I wanted my character to be from 1888 London—when Jack the Ripper roamed the streets of Whitechapel—and Cora just kind of… showed up. I only wrote one letter from Cora's point-of-view before I realized there was more to her than could fit in a letter to a penpal.
Before Cora, I had given up writing fiction. I had decided to write non-fiction for a while and see how that went. That didn't last long. Cora would not go away.
Amelia Baxter is the other point-of-view character in The Spirited Mrs. Pringle. A suffragist and a reporter, Amelia vows to bring Cora's manipulative act to an end. Amelia didn't show up as easily or fully-formed compared to Cora and I wrote about a third of a completely different book with Cora and Amelia being sisters.
I was just brushing my teeth one morning, minding my own business, when I realized that Amelia couldn't be Cora's sister because Amelia had to be the one to bring Cora down. I literally stopped mid-brush, toothpaste and foam on my chin.
I then became fixated on the relationship of two very different women going head-to-head in a time when career choices were limited and expectations of a woman were very specific.
Cora and Amelia are more alike than they realize. This isn't by accident either; there was a visible overlap between the suffrage and spiritualism movements. In fact, the first woman to run for president in the United States was also a practicing spiritualist.
Although there is no one clear antagonist in The Spirited Mrs. Pringle, Cora is Amelia's villain and Amelia is Cora's—it's all about perspective. For an author who prefers writing in the first person, it's a fun dynamic to be able to play in and explore.
I'm grateful I listened to my writerly intuition. It took a while for everything to fall into place but I'm very proud of how this novel turned out. I hope you enjoy it as well.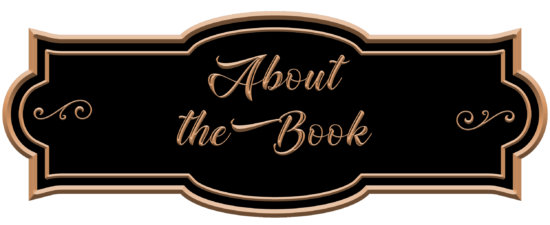 Publication Date: June 30, 2021
LONDON, 1888.
Upon the death of her husband, self-involved social climber Cora Pringle assumes her recent dalliance with a wealthy gentleman will be her second chance at a happily ever after. That is until her paramour turns out to be a penniless imposter. Despite his betrayal, Cora can't quite let go of the tug the handsome playwright has on her heart.
Desperate for an income, Cora becomes a séance-performing spiritualist and gets a taste for celebrity—and it's so delicious. So what if she can't actually communicate with the dead? Her eager patrons don't need to know that.
Amelia Baxter, an ambitious journalist and suffragist, is discouraged when her editor refuses to let her cover the horrific Jack the Ripper murders. Instead, Amelia pours her frustrations into bringing Cora's deceptive and manipulative act to an end, even if it means risking her family's reputation.
"Like the most memorable of its vividly drawn characters, The Spirited Mrs. Pringle is clever, lively, and unabashedly entertaining. Perhaps most enjoyable of all is the seemingly endless series of surprises. A string of sometimes astonishing pleasures to the last page." – Award-Winning Author Leo McKay Jr.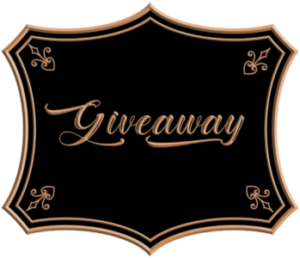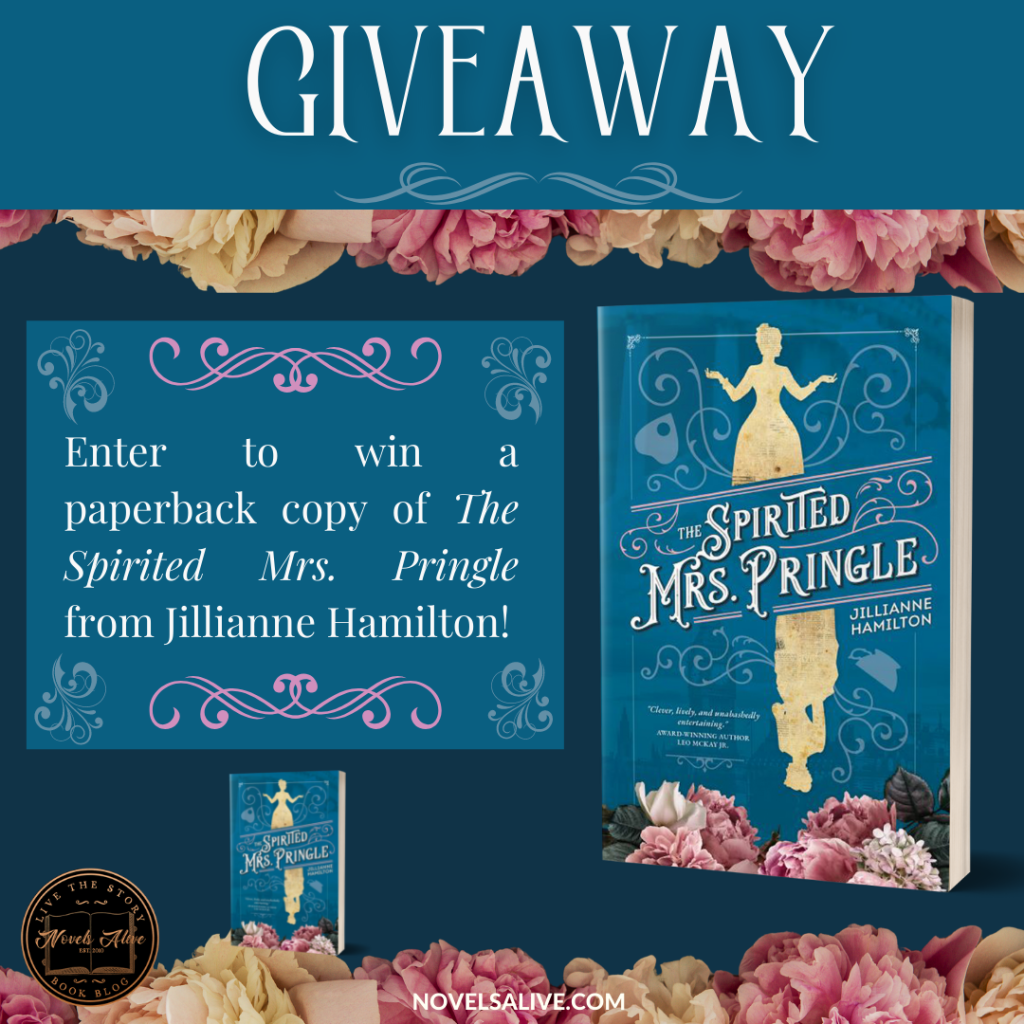 Enter to win a paperback copy of The Spirited Mrs. Pringle by Jillianne Hamilton!
The giveaway is open to US addresses only and ends on September 20th. You must be 18 or older to enter.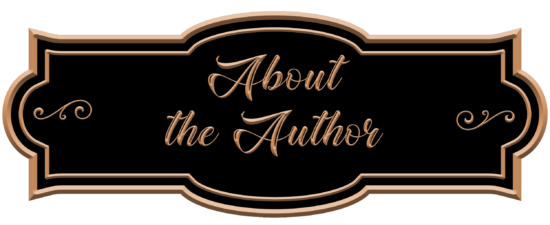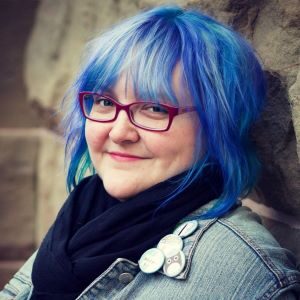 Jillianne Hamilton is the author of three novels and one non-fiction book. Her debut novel, Molly Miranda: Thief for Hire (2015), was shortlisted for the 2016 Prince Edward Island Book Award. The Molly Miranda sequels were published in 2016 and 2017.
Her lighthearted look at the 16th century, The Lazy Historian's Guide to the Wives of Henry VIII, was published in 2018.
Jillianne has been published in Macleans, the Truro Daily News, the Sackville Tribune-Post, and Career Options Magazine. She also blogs about history at The Lazy Historian. Jill graduated from Journalism at Holland College in Prince Edward Island in 2010.
She lives in Charlottetown on Canada's beautiful east coast.

Monday, August 30
Guest Post at Novels Alive
Tuesday, August 31
Review at Booking With Janelle
Wednesday, September 1
Review at Novels Alive
Thursday, September 2
Review at Books, Cooks, Looks
Friday, September 3
Review at Gwendalyn's Books
Monday, September 6
Review at Reading is My Remedy
Tuesday, September 7
Guest Post at Books & Benches
Review at Satisfaction for Insatiable Readers
Wednesday, September 8
Feature at I'm All About Books
Thursday, September 9
Review at Rajiv's Reviews
Friday, September 10
Review at Passages to the Past
Monday, September 13
Review at A Darn Good Read
Tuesday, September 14
Interview at Passages to the Past
Wednesday, September 15
Review at Chicks, Rogues, and Scandals
Friday, September 17
Review at Coffee and Ink
Review at The Lotus Readers
Monday, September 20
Review at Bonnie Reads and Writes