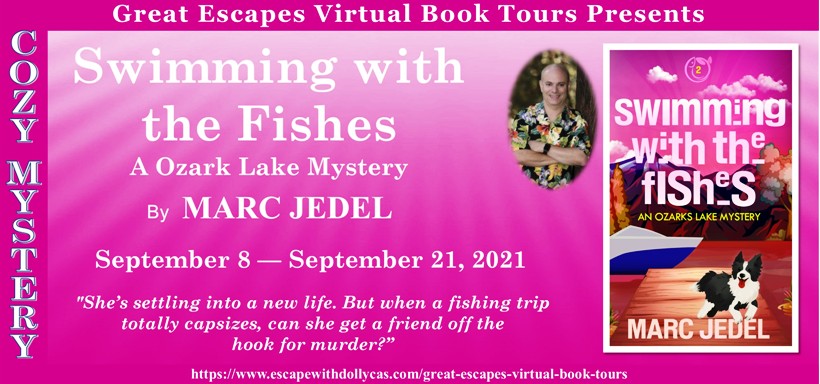 Are there any things you always put in your books?
Humor, quirky side characters, mostly realistic decisions made by characters, and a mystery that can be solved without having the police give the amateur sleuth a critical clue. That just feels like cheating to me.
Are there any things you never put in your books?
I write clean cozy mysteries where violence or sex takes place off the page, if at all—mostly because writing violent scenes when it's dark outside would probably frighten me and writing sex scenes would frighten my family and friends.
What's your favorite smell?
I like the smell of Italian food, Mexican food, Indian food, Chinese food,… I guess you could say I pretty much like the smell of food.
Is there something that makes you hold your nose?
I recently discovered that I hate the smell of boiling bones. Don't ask me how I know this. Let's just say the life of a mystery author has more strange aspects than you might think. And no, please don't call the police—they weren't human bones.
What's your favorite music?
If I'm just listening for pleasure, I like rock. When I'm writing, I need to have only instrumental music in the background. It drowns out the noise of my brain scurrying around looking for good sentences. Whenever I listen to music with lyrics while writing, I find that I end up writing down the lyrics and fitting them into the story. Sometimes I think this works out pretty well, and when my editor agrees, they stay in the book. A few of my books have this but I was more disciplined in listening to instrumental music while writing Swimming with the Fishes so I avoided that particular variety of silliness.
Is there any music that makes your ears bleed?
I hate loud, thumping, repetitive music that just repeats and repeats and … you get the picture. I'd tell you what kind that is, but I never stop on those stations long enough to figure it out. Just enough to know it's not for me.
What's the hardest thing about being a writer?
Compared to people who actually have hard jobs or difficult lives, it seems strange to complain that being an author is hard. For me, the writing part isn't difficult; it's figuring out the plot. Knowing who killed whom and why before I start writing is essential. Once I thought I could whip a novel together without doing this and I found myself changing the killer and victim several times during the story. Definitely not a reader-pleasing move!
Since then I figure out the outline first. I like to have all the main parts of the novel pretty much settled before I start writing.
What's the easiest thing about being a writer?
Besides working in an imaginary world where I can knock off anyone who displeases me in an instant? When I first started writing a novel, I was surprised to find that I was far better at dialogue than I had expected. My friends and family kept telling me that they weren't surprised that I could write about talking since I do that so much.
When I have a good outline, I find I can focus on crisp writing and coming up with funny situations/anecdotes to throw in. This also means less editing and I can hang on to what little sanity remains.
Are there any things you never want to run out of?
I used to answer this question by saying cheese. But now because of the pandemic, I think I'll change my response to toilet paper.
Are there any things you wish you'd never bought?
Percussion instruments for my kids. No wait, that was my sister who bought a drum set for my kids. So the thing I bought that I wish I hadn't would be a record player for my son. Do you know how hard it is to ship albums and a record player across country to college? Why can't he listen to Spotify like everyone else?
What word would best describe you?
It would be 'persistent'. I hate to give up when one more attempt might solve the problem. That's usually a sign of a good engineer. Or detective! It's not always a word that endears you to your spouse, however.
What word might describe you but you wish it didn't?
Some have called me 'obsessive' at times because I don't like to give up. Yet, one of my favorite bosses once told me that often a person's biggest strengths could often be described as their greatest weakness. So, I'll stick with 'persistent,' it's more positive.
Any last words for our readers?
SWIMMING WITH THE FISHES is available at: getbook.at/Swimming. The first book in the Ozarks Lake Mystery series, FISH OUT OF WATER is available at: getbook.at/Fish. You should also try my Silicon Valley Mystery series at: https://www.amazon.com/gp/product/B07PHNT7XM. The first three of those are also now out on audiobook from Tantor Audio, available everywhere audiobooks are sold. All of my books are free for Kindle Unlimited members.
I love to hear from readers as that motivates me to keep going on the next blank page.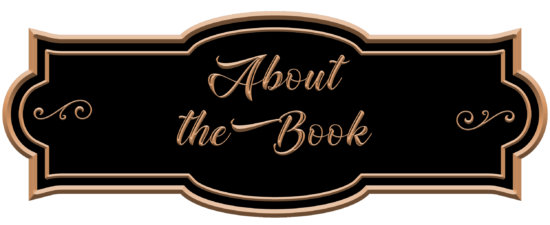 She's settling into a new life. But when a fishing trip totally capsizes, can she get a friend off the hook for murder?
Elizabeth Trout still feels awkward being back home. Discovering a BFF from her raucous high-school days has become the perfect mom is as weird as staying with her mother while awaiting construction of her new home. But she's shaken to her core when her newlywed husband and beloved dog are nearly blown out of the water in a dockside explosion which leaves another woman dead … and her bestie is arrested for the crime.
To clear her friend, Elizabeth and her spouse set out to reel in a killer by sifting through the murky depths of small town drama. But between missing money, ominous strangers, and a shady ex-husband, these amateur sleuths net more motives than they can handle.
Can this dynamic detective duo dig up an answer before the big one gets away?
Swimming with the Fishes is the sensational second book in the Ozarks Lake Mystery series. If you like clever couples, delightful lakeside settings, and a rollicking good time, then you'll love Marc Jedel's hilarious whodunit.

The first book in the Ozarks Lake Mystery Series, FISH OUT OF WATER, is free today only (9/8/2020!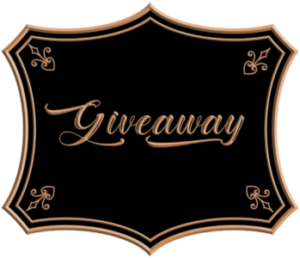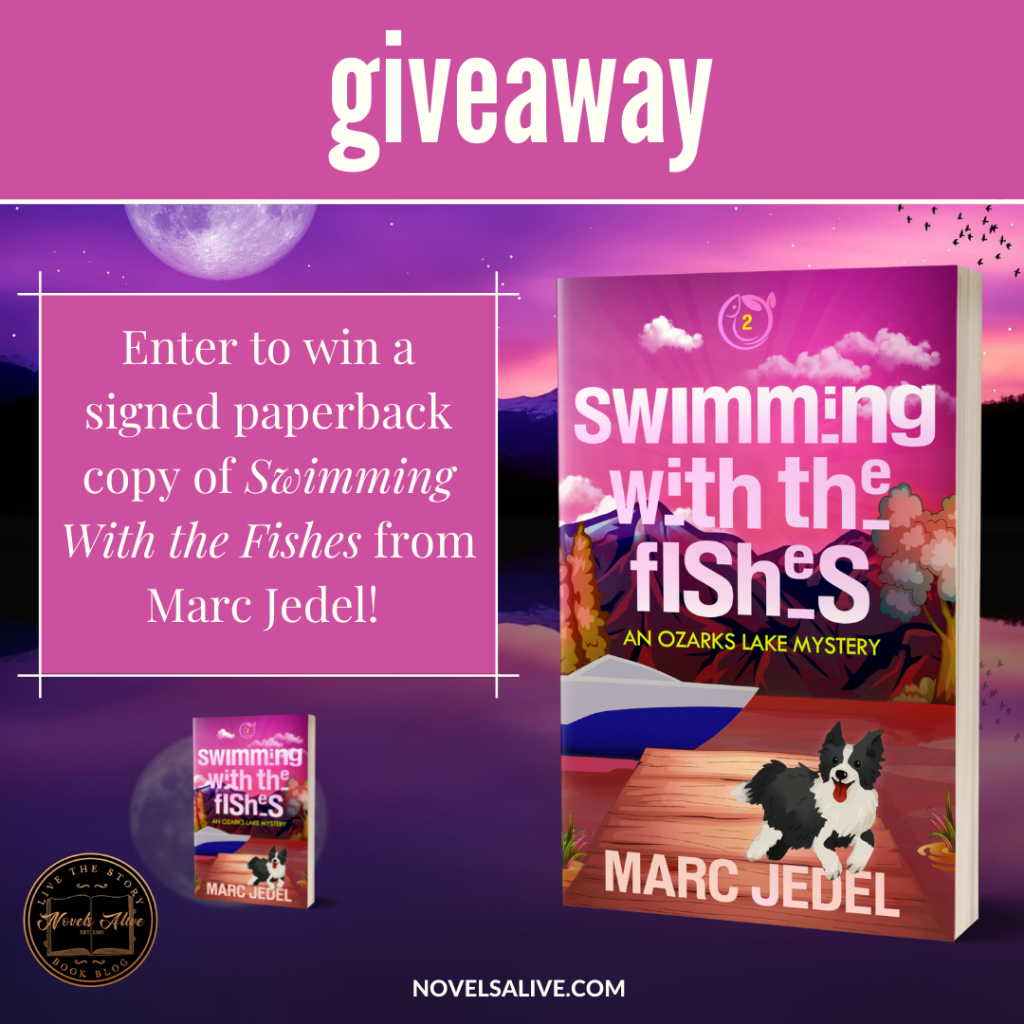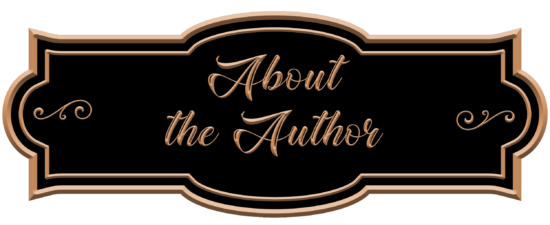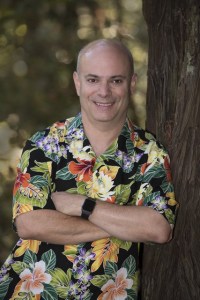 Marc Jedel writes humorous murder mysteries. He credits his years of marketing leadership positions in Silicon Valley for honing his writing skills and sense of humor. While his high-tech marketing roles involved crafting plenty of fiction, these were just called emails, ads, and marketing collateral.
For most of Marc's life, he's been inventing stories. As he's gotten older, he's encountered more funny and odd people and situations. This has made it even easier for him to write what he knows and make up the rest. It's a skill that's served him well, both as an author and marketer.
The publication of Marc's first novel, UNCLE AND ANTS, gave him permission to claim "author" as his job. This leads to much more interesting conversations with people than answering, "marketing." Becoming an Amazon best-selling author has only made him more insufferable.
Like his characters Jonas and Elizabeth from the Ozarks Lake Mystery series, Marc grew up in the South and spent plenty of time in and around Arkansas. Like his character, Marty from the Silicon Valley Mystery series, Marc now lives in Silicon Valley, works in high-tech, and enjoys bad puns. Along with all his protagonists, Marc too has a dog, although his is neurotic, sweet, and small, with little appreciation for Marc's humor.

September 8 – I'm All About Books – SPOTLIGHT
September 8 – Novels Alive – GUEST POST
September 9 – Mysteries with Character – GUEST POST
September 9 – Hearts & Scribbles – SPOTLIGHT
September 10 – Christy's Cozy Corners – REVIEW, CHARACTER GUEST POST
September 11 – FUONLYKNEW – SPOTLIGHT
September 11 – Brooke Blogs – SPOTLIGHT
September 12 – Maureen's Musings – SPOTLIGHT
September 12 – Carla Loves To Read – REVIEW, CHARACTER GUEST POST
September 13 – I Read What You Write – GUEST POST
September 13 – Sapphyria's Book Reviews – SPOTLIGHT
September 14 – My Reading Journeys – REVIEW
September 15 – Escape With Dollycas Into A Good Book – REVIEW
September 15 – StoreyBook Reviews – CHARACTER GUEST POST
September 16 – Novels Alive – REVIEW
September 16 – Literary Gold – AUTHOR INTERVIEW
September 17 – #BRVL Book Review Virginia Lee Blog – SPOTLIGHT
September 18 – My Journey Back the Journey Back – CHARACTER GUEST POST
September 19 – Celticlady's Reviews – SPOTLIGHT
September 19 – Books a Plenty Book Reviews – REVIEW, GUEST POST
September 20 – Reading Is My SuperPower – SPOTLIGHT
September 21 – fundinmental – SPOTLIGHT