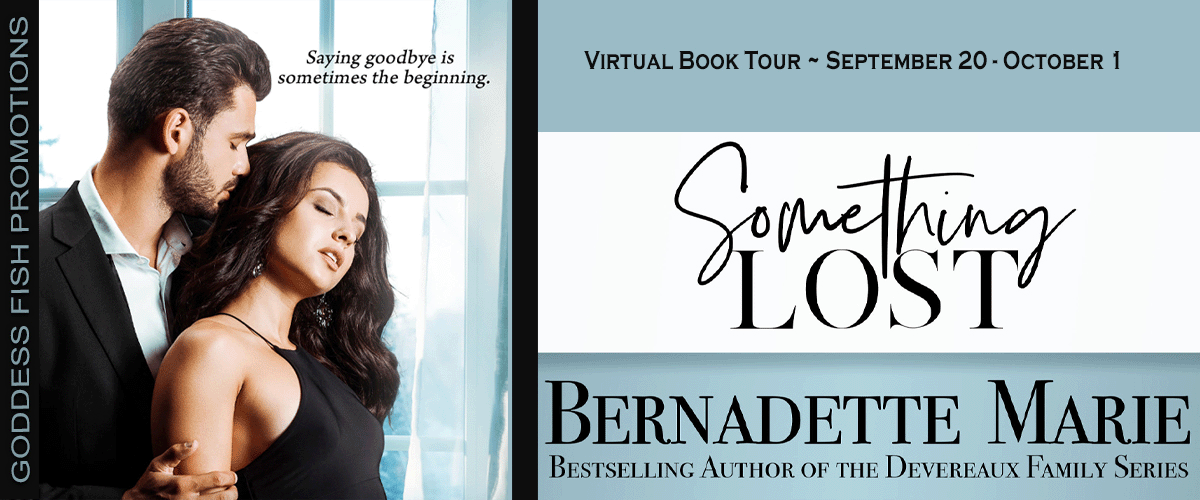 Today we welcome bestselling contemporary romance author Bernadette Marie to answer our quick questions.
Welcome, Bernadette!
What drives your story forward in your books the most, the characters or the plot, or do you feel they are intertwined?
Certainly, it is the relationship that builds between the characters, and therefore, the plot moves in that direction too. So, many times, they are intertwined.
If you were a character in one of your books, which would you be? The hero/heroine, mentor, villain, love interest, etc.?
I don't know if I'd be any one character, but I'd probably be the best friend. You know, the one that knows everything and wants what's best for my friend, but never finds love on their own.
Do people you know end up as characters in your book? Be honest…
All the time! I used to try extremely hard not to do this, but after a few books, it becomes a game. So now, I tell my friends and family to find themselves. They are scattered through out.
If you could meet a literary character, who would you most like to meet?
Rhett Butler, just to see how charming he really was.
Was there something in your first edit that didn't make it in the final copy?
Most often everything I write goes straight through. Nothing was taken out.
What do you do to prepare your mind to write? To get into the mind of your characters?
My gift is that I can write at any time, and I know those characters so well, I don't have to prepare to slip into their minds. Now, coming back out of writing, sometimes I have to prepare myself for the real world, and that takes time.
What book as a child/adolescent most influenced you as a writer?
I always loved Laura Ingalls books, though to be honest, I never read them. I carried the entire boxed set around with me like a golden treasure, but was not a reader until I was a teenager. But holding the books made me want to tell stories, which I always did.
How much research went into your last book?
My books are set in contemporary settings with everyday issues. So, not a lot of research goes into the stories. Though, if you searched my Google, it might tell you a different story.
What's one of the most important things you'd like your readers to know about you? What defines you most as an author?
I love happily ever afters, and you're always going to get that with me. I tell readers that I'm the antidote to their heavy reading hangover. If you read something dark and heavy, I'll lighten your heart.
What is one thing about you that may surprise your readers?
Many people think I'm organized and I have it all together, but, that's all a façade. If you think that of me, I've done my job of creating magic, and you'll never see behind the scenes.
Can you tell us what prompted you to write your latest release?
My latest release is part of a series that follows 5 college basketball stars years after they graduated and are all brought back together for their coach's funeral. I can't tell you exactly where the inspiration came from, but it all came together so beautifully. In this series, I knew I wanted to address mental health, and each book sprinkles that around. There is some hope that it will help to normalize our self-mental care.
What's next for you? What are you working on now?
I am just finishing up the series Funerals and Weddings, and then I will put the finishing touches on a Christmas novel. After that, I'm not sure, but I'm sure it'll come to me soon. That is my gift as well. I never run out of ideas.
Thank you so much for joining us today and sharing a little about your writing process and about you!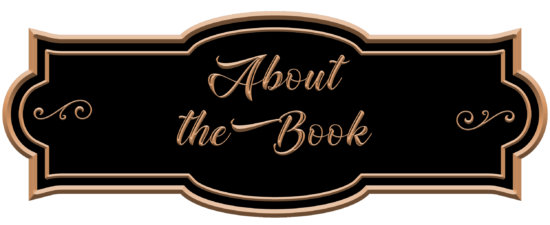 Saying goodbye is sometimes the beginning.
Craig Turner was Coach Diaz's star player, back in the day. He was held in high regard, until he broke the rules and dated the coach's daughter. Young and stupid, his affection for her lasted until graduation, and then it was time to face the real world–but his love for her would never leave him.
Rachel Diaz became who her father wanted her to be, a well educated, well traveled, successful woman, but she holds a well full of secrets from the outside world. As a high school therapist, she uses her past traumas to help others overcome their own.
When the Fabulous Five arrive at Coach Diaz's funeral, to pay their respects, a rekindling happens between them all—and between Craig and Rachel.
Is Rachel woman enough to face her demons and is Craig man enough to accept them? Or will their encounter be as brief as the affair they had a decade ago, behind her father's back?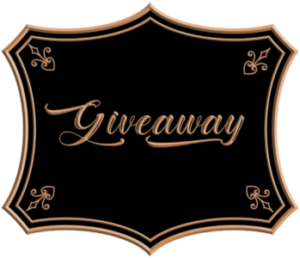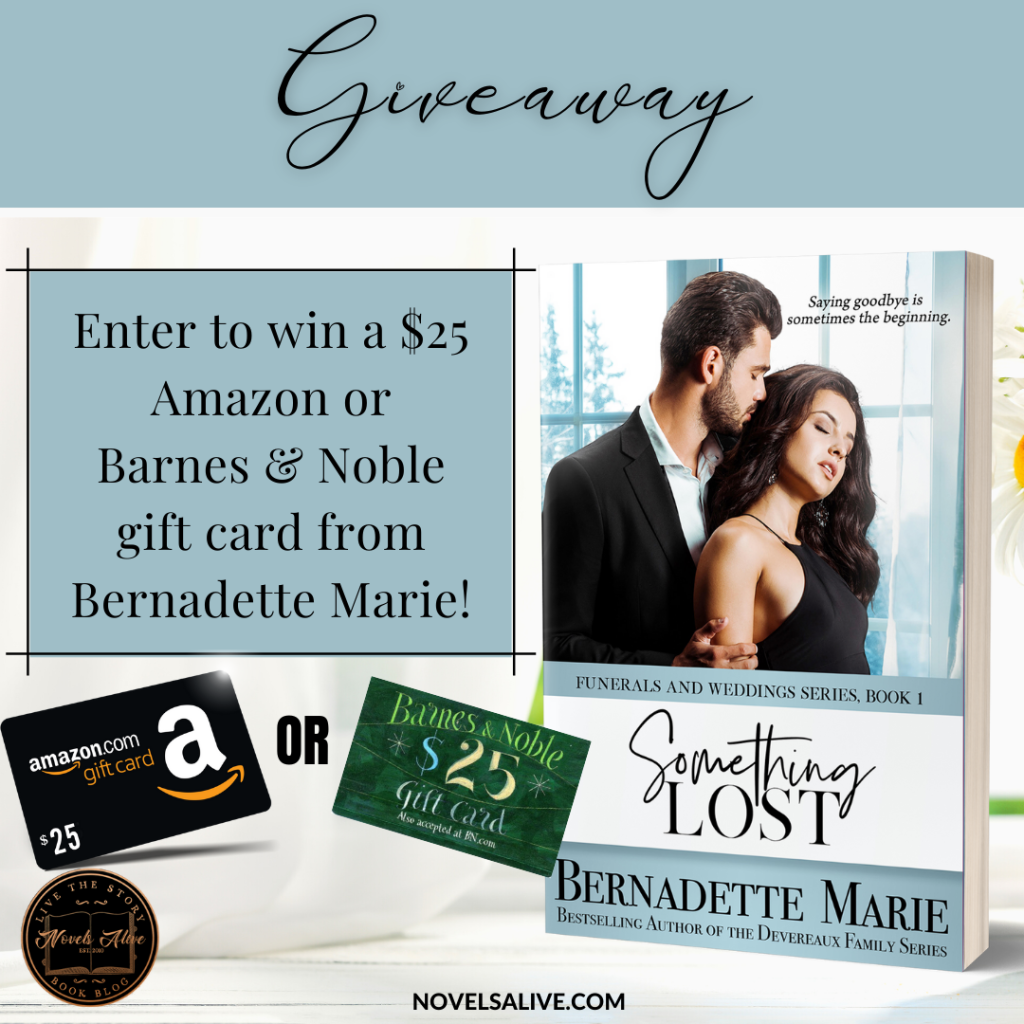 Bernadette Marie will be awarding a $25 Amazon or Barnes & Noble gift card to a randomly drawn winner via Rafflecopter during the tour.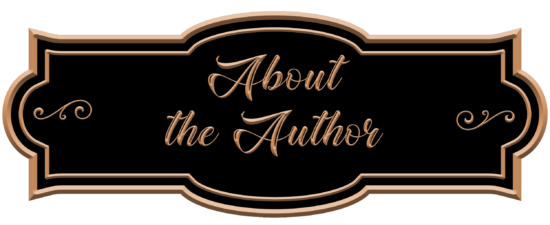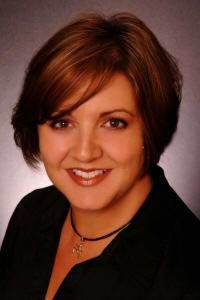 Bestselling Author Bernadette Marie is known for building families readers want to be part of. Her series The Keller Family has graced bestseller charts since its release in 2011. Since then she has authored and published over thirty-five books. The married mother of five sons promises romances with a Happily Ever After always…and says she can write it because she lives it.
Obsessed with the art of writing and the business of publishing, chronic entrepreneur Bernadette Marie established her own publishing house, 5 Prince Publishing, in 2011 to bring her own work to market as well as offer an opportunity for fresh voices in fiction to find a home as well.
When not immersed in the writing/publishing world, Bernadette Marie and her husband are shuffling their five hockey playing boys around town to practices and games as well as running their family business. She is a lover of a good stout craft beer and might have an unhealthy addiction to chocolate.