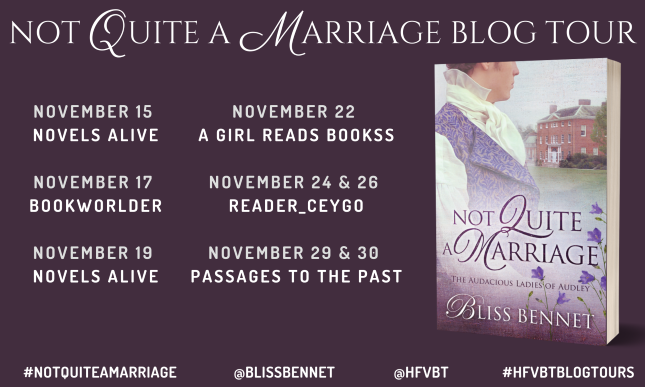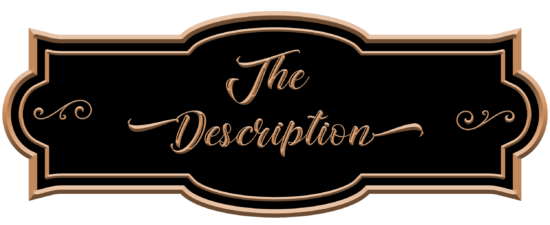 A rebellious viscount returns to England determined to prove his worth to his long-estranged his family, but the shy mouse of a woman he was forced to marry is equally determined not to forgive or forget…
Spencer Burnett, Viscount Stiles, once swore he'd left England for good. Yet after five years of self-imposed exile in West Africa, he's no longer the same spoiled, selfish boy who ran away from a domineering father, a disappointed grandmother, and a decidedly unwanted wife. Proving himself to the family he abandoned will be no easy task, but Spencer no longer shies away from a good fight. He hardly expects his formerly docile wife will be the hardest to convince. When Philadelphia refuses to accept his apologies—or to allow him back into her bed—Spencer finds himself tempting her into a bargain he cannot afford to lose.
Philadelphia Burnett's desires were once as vast as the sky. But now, after suffering one devastating loss after another, the only thing she allows herself to want is a home. So when her estranged rake of a husband returns from a five-years' absence to claim the estate promised to her, Delphie resolves to fight him every step of the way. Beechcombe Park will be a sanctuary for her, and for the wayward Audley cousins she'd promised her sister she'd always protect. She cannot, will not, suffer even one more loss.
Especially not the loss of her heart…
"Not Quite a Marriage is all about the longing. Two estranged spouses try to work their way back to one another under a rain of misunderstandings and Bennet's plumy prose ably guides the way, moving this reader utterly in the process…Not Quite a Marriage is a perfect romance, and comes with a high recommendation." All About Romance, Desert Island Keeper recommendation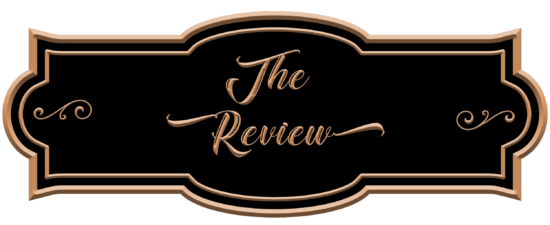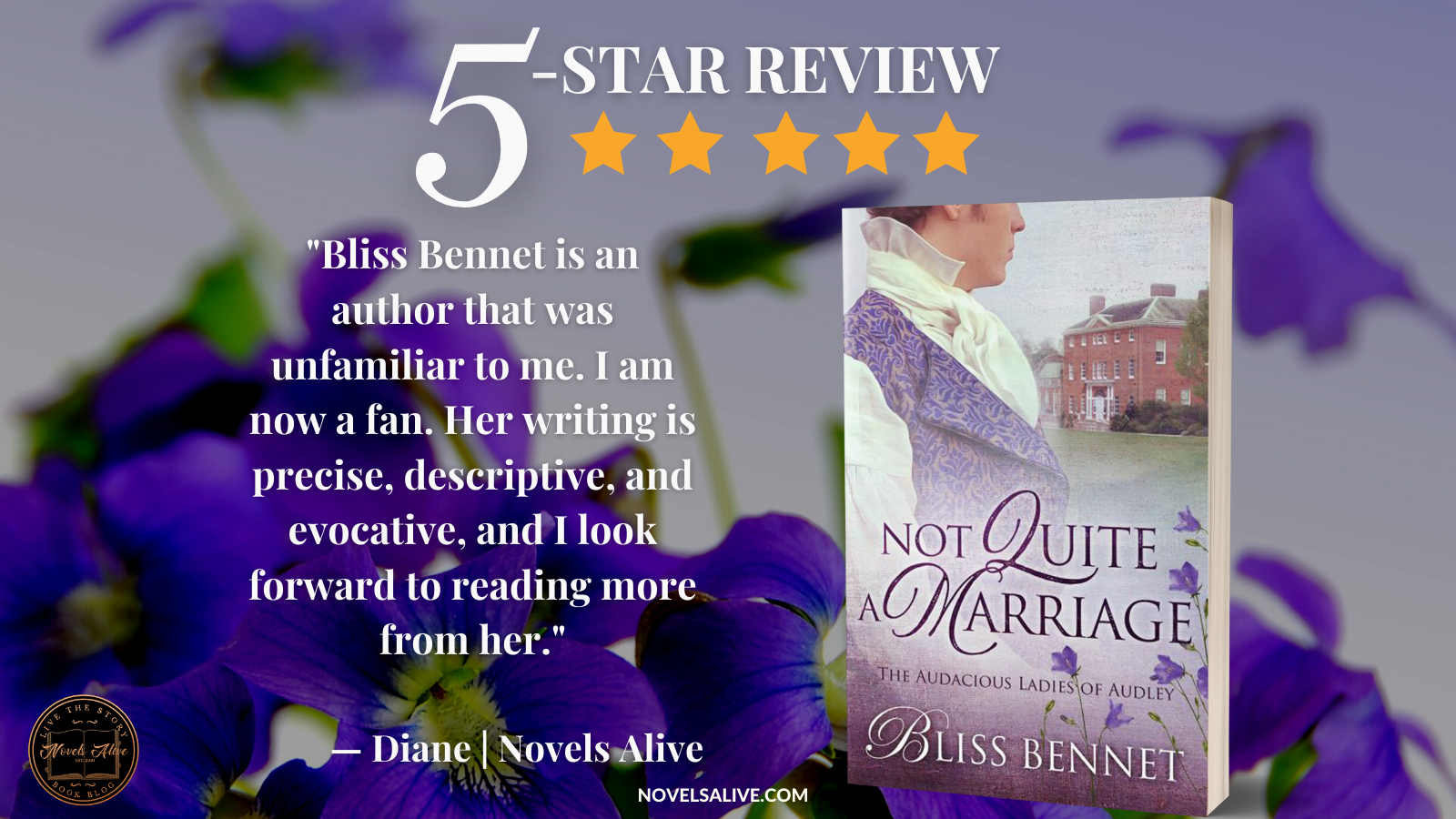 Not Quite a Marriage is a second chance historical romance with strong historical detail and the first book of The Audacious Ladies of Audley series. 
Philadelphia "Delphie" and Spencer Burnett, Lord Stiles, were married under difficult circumstances, and a tragic event caused Spencer to spend five years working in Sierra Leone. When he returns home a more mature, caring man, he struggles to overcome his past with Delphie and his father. 
Delphie is so hurt by the past that she is wary of Spencer and his motives. They both have a great deal of work to do to forgive themselves and each other and build a new relationship.
When reviewing a book, I always think—What did I like about it? What did I not like? Where was it strong? Where was it weak? With Not Quite a Marriage, I ended up scoring 100% liked it and 100% strong. The writing was excellent, with descriptions that painted an accurate picture. The historical information and detail were deeply researched. The human nature of the characters was genuine, even a little understated. I especially liked that religious inspiration was included as a natural part of life (this is a sensual romance, not an inspirational). I cried at the end, a sure sign of emotional investment. 
Bliss Bennet is an author that was unfamiliar to me. I am now a fan. Her writing is precise, descriptive, and evocative, and I look forward to reading more from her.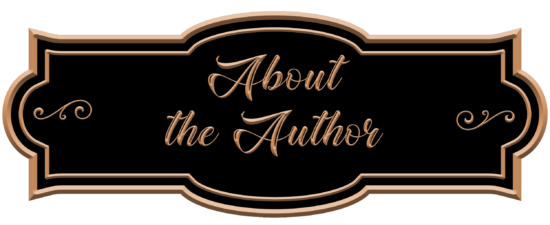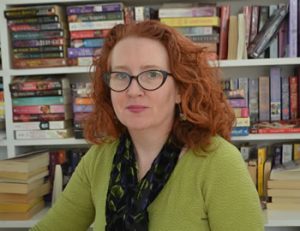 Bliss Bennet writes smart, edgy novels for readers who love history as much as they love romance. Her Regency-set historical romance series, The Penningtons, has been praised by the Historical Novel Society's Indie Reviews as "well worth following"; her books have been described by USA Today as "savvy, sensual, and engrossing," by Heroes and Heartbreakers as "captivating," and by The Reading Wench as having "everything you want in a great historical romance." Her latest book is Not Quite a Marriage, the first book in the Audacious Ladies of Audley series.
Despite being born and bred in New England, Bliss finds herself fascinated by the history of that country across the pond, particularly the politically-volatile period known as the English Regency. Though she's visited Britain several times, Bliss continues to make her home in New England, along with her husband, daughter, and one monstrously fluffy black cat.
Bliss's mild-mannered alter ego, Jackie Horne, writes about the intersection of gender and genre at the Romance Novels for Feminists blog.

Monday, November 15
Guest Post at Novels Alive
Wednesday, November 17
Review at Bookworlder
Friday, November 19
Review at Novels Alive
Monday, November 22
Review at A Girl Reads Bookss
Wednesday, November 24
Review at Reader_ceygo
Friday, November 26
Interview at Reader_ceygo
Monday, November 29
Review at Passages to the Past
Tuesday, November 30
Interview at Passages to the Past