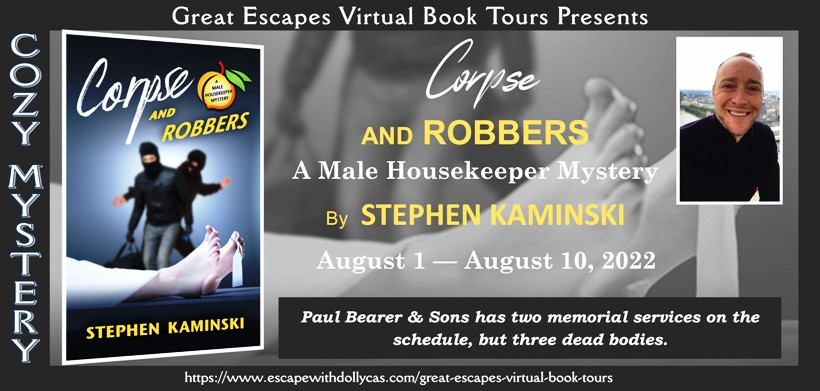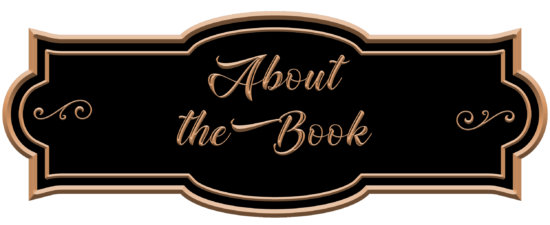 A Male Housekeeper Mystery: Book 2
Publication Date: May 13, 2022
Paul Bearer & Sons has two memorial services on the schedule, but three dead bodies. When Rusted Bonnet's funeral home becomes the site of a murder, Cam Reddick finds himself as a prime suspect. To distance himself from the allegations, Cam must untangle a host of clever cons and mini mysteries, from corpse robbing to a fine art scam to a modern-day treasure hunt. Cam soon discovers that Paul Bearer's more closely resembles a con artists' colony than a funeral home. With help from his ex-wife and mother, Cam ultimately unearths the most devious and deadly ploy of all.
Corpse and Robbers in the second installment of Stephen Kaminski's Male Housekeeper Mysteries series.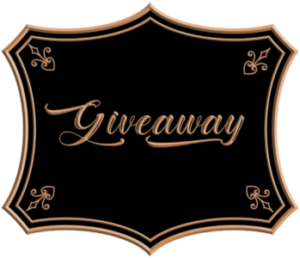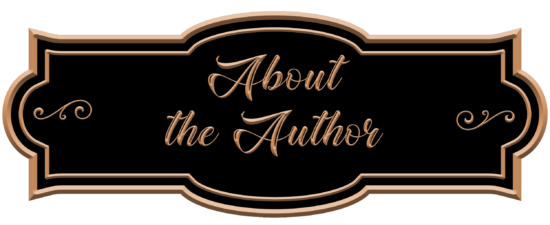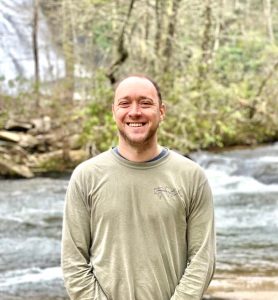 Stephen Kaminski is the author of two cozy mystery series: The Male Housekeeper Mysteries and the Damon Lassard Dabbling Detective series, both published by Cozy Cat Press.
"Corpse & Robbers" (2022) is the latest of Kaminski's Male Housekeeper Mysteries. The first installment of the series, "An Au Pair to Remember," was penned in 2019.
Each of Kaminski's Damon Lassard books — "It Takes Two to Strangle" (2012), "Don't Cry Over Killed Milk" (2013), and "Murder, She Floats" (2014) — was awarded the Reader Views Literary Award for the Mid-Atlantic Region, and Don't Cry Over Killed Milk was named Best Classic Cozy in the 2014 Murder & Mayhem Awards and was a 2013 Chanticleer Media CLUE Award Finalist.
Stephen is a graduate of Johns Hopkins University and Harvard Law School and currently serves as the chief executive officer of a national energy association. He lives with his 120 lb Swissie, Siberian forest cat, rescue kitty, and a gaggle of occasionally tolerable but always loveable humans in Bethesda, MD.

August 1 – Literary Gold – AUTHOR INTERVIEW
August 1 – Cassidy's Bookshelves – REVIEW
August 2 – Maureen's Musings – SPOTLIGHT
August 2 – Socrates Book Reviews – SPOTLIGHT
August 3 – StoreyBook Reviews – GUEST POST
August 3 – Novels Alive – SPOTLIGHT, EXCERPT
August 4 – Celticlady's Reviews – SPOTLIGHT, EXCERPT
August 4 – I Read What You Write – GUEST POST
August 5 – Books a Plenty Book Reviews – REVIEW
August 5 – Books to the Ceiling – REVIEW, EXCERPT
August 5 – fundinmental – SPOTLIGHT
August 6 – FUONLYKNEW – SPOTLIGHT, EXCERPT
August 6 – MJB Reviewers – SPOTLIGHT
August 7 – #BRVL Book Review Virginia Lee Blog – SPOTLIGHT
August 8 – Elizabeth McKenna – Author – SPOTLIGHT
August 8 – Nellie's Book Nook – REVIEW
August 9 – Mysteries with Character – AUTHOR INTERVIEW
August 9 – Escape With Dollycas Into A Good Book – REVIEW
August 10 – BookishKelly2020 – SPOTLIGHT
August 10 – Sapphyria's Book Reviews – SPOTLIGHT