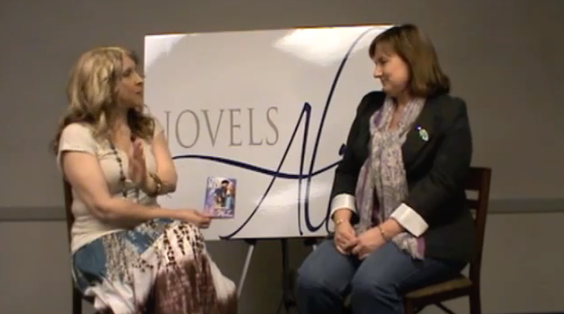 This week NovelsAlive.tv delves into the heart of romance with Cindy Holby and her newest release BREATH OF HEAVEN. This multi-published multi-genre writer may live in the shadow of Pilot Mountain, in North Carolina, but her medieval romance shines a bright light into the wiles of King Henry's court and the arranged marriage between "a knight who has known honor but never love" and "a mysterious huntress with a closely guarded secret." BREATH OF HEAVEN is one magical read you'll want to have and to hold.
[quote]
An Elusive Huntress…
She appeared out of nowhere, clad in form-fitting leathers and looking as magical as the mysterious woods she roamed. With flashing emerald eyes, she taunted the intruder, daring him to come deeper into her enchanted realm…
An Arranged Marriage…
Rhys DeRemy owed his life to her father, just as he owed unswerving obedience to his king. If he took the heiress of Aubregate to wife, he could clear the debts of the tormented boy he had been as well as the battle-hardened warrior he'd become. But it was Eliane herself who called out to the man in him, whose fierce pride cast a spell on him, whose silken bed promised… a Breath of Heaven.
[/quote]
Then watch out lovers of sequels and the unfolding of the love and fate on a grand scale. Cindy will sweep you away with her western family saga, the WIND Series. In CHASE THE WIND, it all starts with Ian Duncan's dream—"a dream of fertile acres, swift stallions, strong sons and beautiful daughters." For a poor Scottish immigrant with a gift of talking to horses, it all began with love. From the moment he set eyes on his beautiful Faith, Ian Duncan knew she was the only girl for him. But her unbreakable betrothal to his employer's vicious son forced him to steal his love away on the very eve of her marriage.
This exciting and emotional story paves the way for a rich tapestry of western romances to treasure:
[quote]WIND OF THE WOLF— She dreamed of him as a girl, seen their lives unfold in a vision that foretold both enduring love and unendurable loss. Now Chase was her husband and he nightly took her to heights beyond her imagining.But the winds of change were blowing, bringing unexpected tragedy and inconsolable tears. The country was on the brink of civil war, and Jenny dreamed of wolves outside the cabin door.[/quote]
[quote]CROSSWINDS– As the winds of war swept across a nation divided against itself, men sank to the level of beasts, or rose to become heroes…while their women conquered death with the gift of new life. Ty—He was honor bound to defend the land of his fathers even if battle took him from the arms of the woman he had pledged himself to protect. Cat—When her husband rode off to fight in Virginia, the feisty beauty swore she would be at his side, even if she had to risk the babe that grew beneath her heart.[/quote]
[quote]WINDFALL — Beset by the tragedies of war, a wounded nation struggles for survival while its men and women refused to surrender their dreams… Jake—He awoke from the months of unconsciousness with his body healed, but his mind full of unanswerable questions. Was there a woman waiting somewhere for him? A family? A place he belonged? Shannon—She had walked away from her abusive father and the only home she'd ever known. Could a soldier with no past be the future she prayed for?[/quote]
[quote]
FORGIVE THE WIND —Any cowboy can ride the range, rope steers, wrangle with rustlers. But it takes a true hero to rise above tragedy and triumph over adversity. Caleb Connors had returned from battle a changed man, uncertain whether he could still meet the rugged demands of ranching in Wyoming, unwilling to take up the drawing that had once been his life. With only half a leg could he really perform as a whole man?
[/quote]
[quote]WHIRLWIND — As the last remaining bachelor among all his friends, Zane Brody could always be counted on for incessant high jinks, indiscriminate womanizing, and irresistible charm. So when he set out for New York to retrieve a valuable thoroughbred mare to Laramie, he had no doubt he could handle any female he encountered, whether equine or human. What he didn't reckon on was an infernal goat called Lucifer and an independent-minded school teacher named Mary Dunleavy.[/quote]
[quote]RISING WIND — Last Of The Duncans. Leaving behind the Highlands for the New World at the tender age of ten, Connor Duncan quickly learned that only the fit and the fortunate survive. He was both, becoming a scout and an expert marksman….a man to be reckoned with. He knew his way through the backwoods as well as any Shawnee, but he was far less comfortable in the drawing rooms of Williamsburg. What was a rough-hewn frontiersman like he to do with a sheltered beauty like the governor's niece?[/quote]
[quote]
FALLEN— Betrayed by the girl he loved. Disgraced before his commander, wounded in battle and left for dead, John thought he'd hit rock bottom. But the sweet touch of a lover he'd never thought to see again taught him no matter how far a man falls, with the right woman at his side, he can always stand tall.
[/quote]
THEN COMING IN 2011: Cindy announces today that she has sold Abel Kane and a yet untitled western to Chris Keeslar at Dorchester Publishing! Abel Kane is the story of a woman who is torn between her brother, who is falsely accused of killing a woman, and the bounty hunter who is after him for the murder of his sister. ABLE KANE IS THE FIRST BOOK IN THE SECOND GENERATION WIND SERIES.
NovelsAlive.TV Interview
Support the Author by Purchasing Their Books: