Kira Seagram is frustrated by her husband Mason's zeal for the Lord, so she pours all of her attention into her work and reserves her soprano singing skills for the shower. Kira would rather not use them if she get can't the adoration and recognition she feels she deserves and doubts she'll find singing lead for Mason's choir. When a routine drop off at her son, Nate's private school turns into a ten-year reunion with her ex-boyfriend, Quincy McAdams, Kira isn't interested in Mason's half-hearted affection or willing to keep her voice to herself. With a firm offer from Quincy to help Kira cut a demo and possibly revive the love they let die, Kira has some choices to make. When Kira finds herself tempted to touch will she remain faithful to her husband or yield to the desires of her flesh?




Author is giving away one autographed copy of TEMPTED TO TOUCH and a $10.00 Amazon gift card.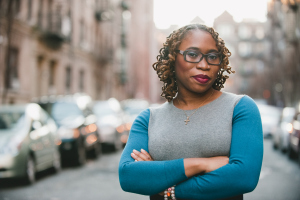 Nigeria Lockley possesses two master's degrees, one in English secondary education, which she utilizes as an educator with the New York City Department of Education. Her second master's degree is in creative writing. Nigeria's debut novel, Born at Dawn received the 2015 Phillis Wheatley Award for First Fiction. Nigeria serves as the Vice President of Bridges Family Services, a not-for-profit organization that assists student parents interested in pursuing a degree in higher education. She is also the deaconess and clerk for her spiritual home, King of Kings and Lord of Lords Church of God. Nigeria is a New York native who resides in Harlem with her husband and two daughters.