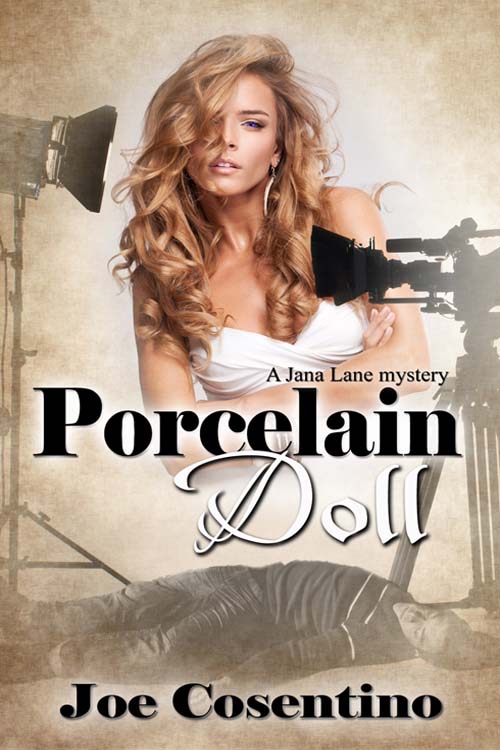 As a kid I had terrible insomnia. Believe it or not, what finally helped me sleep was reading cozy mystery novels. The colorful characters, humor, often exotic locations, romance, hidden clues, red herrings, plot twists and turns, shocking conclusions, and happy endings relaxed me. When I finished reading a novel, I felt as if I had solved a satisfying puzzle, and I drifted peacefully off to sleep.
I always had a vibrant imagination. As kids I remember my sister and me wearing blankets around our shoulders, pots on our heads, and waving wooden spoons, playing royal characters in our living room. That morphed into full scale musicals of our creation with makeshift sets, props, and costumes in the garage for the neighborhood. You probably figured out that I decided to major in theatre in college—to the horror of my mother who hoped I would join many of my cousins and become a lawyer. She was cutting vegetables for dinner in the kitchen when, as a teenager, I told her of my theatre plans. She handed me the knife and said, "Do me a favor. Take that knife and stick it in my heart." She soon came onboard, as did the rest of my family.
After majoring in theatre, I became a professional actor working opposite stars like Bruce Willis, Nathan Lane, Rosie O'Donnell, Holland Taylor, Charles Keating, David Paymer, and Jason Robards. Now I'm a college theatre professor/department head. A few of my students recently saw My Mother Was Never a Kid, a 1982 ABC-TV movie I did. One student said to me, "I couldn't believe it! You were cute when you were young." Another one added, "You must be really old, but you're very well preserved." Why did I become a college professor? Anyway, as I often tell my students, acting, singing, dancing, directing, and writing are all different aspects of the same art: storytelling. So after acting, directing, then writing plays, I decided to try writing novels. Given my background, I knew my books would include cozy mystery, show business, romance, and humor.
My other childhood passion was watching child stars like Shirley Temple, Hayley Mills, and Patty Duke, seeing their movies over and over and over. I recall my parents dragging me kicking and screaming out of the movie theatre, having patiently sat through three showings of The Parent Trap and refusing a fourth. So in my first novel, I created a heroine who was the biggest child movie star ever until she was attacked on the studio lot at eighteen years old and retired. Paper Doll tells that backstory. In 1980 Jana at thirty-eight lives with her family in a mansion in picturesque Hudson Valley, New York. Her flashbacks from 1960 become murder attempts in her future. Jana questions her father, sister, and best friend then ventures back to Hollywood to interrogate her old studio personnel, which helps her uncover a web of secrets about everyone she loves. She also embarks on a romance with the sexy son of her old producer. When Paper Doll was released in January, the reader response and reviews were amazing. For example:
"If you like novels that are filled with new and old Hollywood, and a range of sub-plots, you are going to love this!" Saguaro Moon Reviews
"I liked that there was enough evidence for each of the suspects to keep me guessing until the very end." Molly Lolly Reviews
"Joe Cosentino knows how to keep his readers' interest with every page." Universal Creativity Digital Magazine
So I wrote more Jana Lane mysteries. Each book is a complete story, and readers can read them in any order. I was thrilled when The Wild Rose Press contracting the next three novels. First is PORCELAIN DOLL my current release, where Jana makes a comeback film and uncovers who is being murdered on the set and why. In the process, she is attracted to her incredibly muscular and gorgeous romantic co-star, America's heartthrob Jason Adonis, with his boyish good looks and charm. The other suspects include Jana's James Dean type rebel without a cause young co-star, her older John Wayne cowboy type co-star, her children's Eve Harrington type nanny who seems to want Jana's role on camera and off, the film's gossipy makeup and hair artist who knows more than he lets on while teasing hair and teasing Jana, a local reverend trying to stop the film's production due to "immorality," and Jason's agent who also packaged the film.
The early reviews for PORCELAIN DOLL have been amazing. For example:
"Porcelain Doll is Joe Cosentino at his finest. We are drawn back to the fashions and attitudes of the 1980's in a character-driven story full of intrigue and passion." Kirsty Vizard, Divine Magazine
"Beautifully written and intensely detailed, Porcelain Doll is one not to be missed. Flirtatiously decadent with a strong moral undertone, set in a decade of extraordinary social change this is a story of its period that is as poignant today as it was then. Joe Cosentino controlled the emotions that the book encouraged with a deft but delicate touch. Suspenseful and mysterious, Porcelain Doll is a masterful creation, one that was impossible not to be affected by." Carol Fenton, BooksLaidBare Reviews
Releasing soon is SATIN DOLL, where Jana and family head to Washington, DC, where Jana shadows a female US senator as research for a new film, and becomes embroiled in a political murder and corruption at the senate chamber. She also embarks on a romance with Chris Bruno, the muscular detective who seems to be able to read her like a book.
Next is China Doll, where Jana heads to New York City to star in a Broadway murder mystery play authored by an Agatha Christie type elderly playwright newly married to a young stud serving as director. Enchanted by her gorgeous co-star Peter Stevens and in awe of his legend mother co-starring in the play, Jana is faced with murder on stage and off.
I just finished writing Ragdoll, where Jana stars in a television murder mystery series and once again life imitates art as Chris Bove plays her husband on the show and murder ensues. Through the course of the books, Jana not only solves the mysteries, but also reclaims the courage and fortitude she had as a child. As one reviewer wrote, she starts out as a wounded bird, and ends as tiger.
I set the series in the 1980's since I love the music, hair styles, clothing, and decadence of that era. I had great fun writing about Jana's mansion, wardrobe, makeup, and hairstyles. I was also able to incorporate some of the music, films, television shows, Broadway shows, and political and social events of the era, including the AIDS epidemic.
As another reviewer wrote that I use my insider knowledge of show business to devilish ends. Since I know my way around a movie set, television set, and theatre, I was able to incorporate many of my experiences into the Jana Lane mysteries. I'd love to come full circle and play Jana's funny, resilient, and fiercely loyal agent, Simon Huckby, in a television series called The Jana Lane Mysteries. Hear that, television networks!
And the ideas keep coming! Generally I get an idea for a shocking ending at about 3am. I leap out of bed and jot down notes on the pad on my night table. The next morning, if I can read them, I place them on the desk in my study. That evening I begin writing the outline and character biographies, plotting the clues, red herrings, plot twists and turns, and justified yet surprise ending. Since I was an actor, I let the characters talk to one another in my head and type what they say. The first draft is a no judgment draft. I polish it in the second draft. My spouse reads and gives me notes on the third draft. The completed fourth draft goes to the publisher. After notes from my editor, I write the final draft, which goes to the publisher's proofreader.
I think that little kid who couldn't sleep at night would be proud that his older self is writing cozy mysteries. I hope you join in the fun and read PORCELAIN DOLL. And let me know what you think! http://www.JoeCosentino.weebly.com.
Web site   FB    Twitter   Goodreads     Amazon
Buy Links