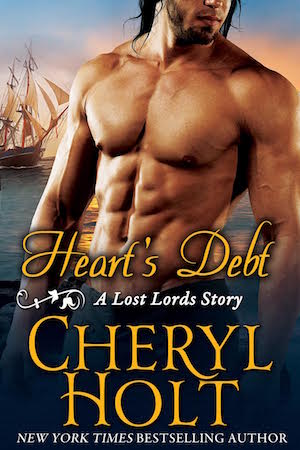 My new novel, HEART'S DEBT, will be released on March 15th.  If you haven't read one of my novels before (or if you have!), I'm renowned for creating some of the most macho heroes in women's fiction.  Damian Drummond, the hero in HEART'S DEBT, is probably the most virile, macho character I've created so far.
He was betrayed as a boy and wrenched from the safe, stable life he'd always known.  He ended up being transported to the penal colonies in Australia where he survived in the most trying, desperate conditions.  In HEART'S DEBT, he's an adult who's returned to England and is bent on revenge against those who wronged him.
Of all the heroes I've created over the years, I think Damian Drummond is probably the most cynical and damaged, which makes him a hero any woman would want to save.  My heroine, Georgina Fogarty is the perfect person to teach him how to love and care.
Have you had a chance yet to read my 'Lost Lords of Radcliffe' trilogy?  The three novels came out over the past summer, and the titles are HEART'S DELIGHT,HEART'S DESIRE, and HEART'S DEMAND.  The third book, HEART'S DEMAND, is very special to me because it's my 40th novel, so I've been celebrating all year.
HEART'S DEBT is a spinoff novel from the trilogy.  It's a stand-alone novel though, so you don't have to have read the first three to enjoy it, but it definitely makes the experience a whole lot more fun.  Damian Drummond appears as a secondary character at the end of HEART'S DEMAND, and he was such a mysterious, enigmatic fellow that I was deluged with letters from readers who wanted to know more about him.  I've finally had the chance to tell his story, and I hope all of you will help me celebrate his arrival!
Georgina Fogarty and Damian Drummond—coming in HEART'S DEBT on March 15!
Synopsis
Three little lost lords, cast to the winds of fate… 
CHERYL HOLT tantalized readers around the globe with her Lost Lords of Radcliffe trilogy. She continues to dazzle with yet another story from the trilogy. In the three novels, no character was more fascinating or intriguing than the mysterious Mr. Drummond…
DAMIAN DRUMMOND had his life ruined when he was wrongly convicted of a crime and sent to the penal colonies in Australia. He survived the ordeal by dreaming of the vengeance he would one day extract from those who'd wronged him. With his sentence complete, he's grown incredibly wealthy through criminal enterprise, and he's returned to England, intent on revenge. He begins by buying the bankrupt Kirkwood estate from the wastrel and gambler who betrayed him…
GEORGINA FOGARTY has never been anything but a poor relative. She grew up at Kirkwood with her rich, spoiled cousins. Though she's worked hard to earn their favor and show her gratitude, she's never felt welcome or appreciated. When Damian arrives and announces he owns Kirkwood, that her cousin has gambled it away, Georgina is willing to make any sacrifice to save her family's home. But when she begs Damian for mercy, she has no idea of the high price he will insist she pay…
Buy Links
Giveaway!
Read an Excerpt
What's Next For Cheryl?
This past Christmas, I participated in a holiday short-story event at the terrific blog site, Ramblings From This Chick.  I was given a Christmas topic and had to write a story about it.  My topic was, "Caught in a Compromising Situation on Christmas Eve."  (Click on link to read story.)
I told the story of the very unlucky Lady Theodosia Postlewaite who was in London and attending a Christmas Eve ball where her engagement was to be announced atmidnight.  She sneaked out of the ballroom for a few minutes, and managed to get herself trapped in a dark, secluded parlor with England's most notorious roue, Charles Sinclair, Lord Trent.  Of course she was discovered alone with him.  The entire encounter was very innocent, but because of Lord Trent's reputation, she was completely ruined.  Her fiance cried off, so her engagement was over before it could be announced.
I liked the set up—and Lady Theo—so much that I decided to tell her story and what happened to her after she was ruined.  I just started writing the novel and will have it done in a few months.  I'm planning for a June, 2016, summer release.  I don't have a title or any cover art yet, but I will keep everyone posted as the project comes together.
In the meantime, I hope you'll check out the short story that ignited my imagination so I decided to turn Lady Theo's dilemma into a novel!
About the Author
CHERYL HOLT is a New York Times, USA Today, and Amazon "Top 100" bestselling author who has published over forty novels.
She's also a lawyer and mom, and at age forty, with two babies at home, she started a new career as a commercial fiction writer. She'd hoped to be a suspense novelist, but couldn't sell any of her manuscripts, so she ended up taking a detour into romance where she was stunned to discover that she has a knack for writing some of the world's greatest love stories.
Her books have been released to wide acclaim, and she has won or been nominated for many national awards. She is considered to be one of the masters of the romance genre. For many years, she was hailed as "The Queen of Erotic Romance", and she's also revered as "The International Queen of Villains." She is particularly proud to have been named "Best Storyteller of the Year" by the trade magazine Romantic Times BOOK Reviews.
She lives and writes in Hollywood, California, and she loves to hear from fans. Visit her website at www.cherylholt.com.