My Lost Girls trilogy will be released on tomorrow, and I'm very excited for everyone to finally have a chance to read the three novels.
For the past few summers, I have been writing trilogies that have a single premise linking all three books. This year, I tried something very different from my usual choice of link premise. My lost girls are my three heroines. They were notorious as little girls when they were the sole survivors of a shipwreck in the Caribbean. They were rescued by British sailors and returned to England where they were separated and handed out to distant relatives.
The link premise is a common thread where I can bind all three books together. The plot thread begins with Book #1, and it continues to the end of Book #3. It lets me use recurring characters, and it gives me an interesting way to bind the three stories together to the final conclusion on the last page.
The 3 novels will be released on the same day, so you can read the whole series at once without having to wait for the next installment. They'll be available both as print books and e-books. My Lost Girls trilogy! Coming Tomorrow!
Tell us a little about your latest trilogy.
This year, I'm releasing my "Lost Girls" trilogy.
For several summer now, I've been writing linked trilogies that have a defined premise that carries the plot through all three novels. In this series, the link is that the heroines were traveling to Jamaica with their families when they were little girls, and their ship sank in a terrible storm. Against all odds, they were the only survivors. They were found on a deserted island by British sailors, but no one could figure out how they survived—and they were too young to explain much of what had happened to them.
They were returned to England, where they enjoyed a bit of notoriety. Then they were separated and doled out to distant relatives. They never saw each other again. When the novels start, it's the 20th anniversary of the shipwreck, and the three women's lives are pitched off in new and exciting directions where they meet the men of the dreams.
Have your writing habits had to change due to COVID-19?
I'm a very lucky person in that I've made enough money as a novelist to be able to stay home and write for a living for around 15 years now. It's every writers dream, and I've been able to live it. I work at home, so when the lock-down started, nothing really changed for me. I have a very quiet life, where I'm tied to my house and my computer.
That said, I live in LA, so we've been in lock-down for quite awhile now and have just been starting to reopen (with what is starting to look like disastrous results!) Mostly, what I've found is that I'm "itching" to go out and do things, which is funny, because I spend all my time at home, working. But with my being told I can't go places, I want to go places constantly. I'm contrary that way.
Is there anything else you'd like to share with your fans?
Thank you for buying and reading my books. I've been able to entertain people with my fun stories for twenty years now! I'm so lucky, and I was only able to do that because people were kind enough to let me into their lives.
I'm always grateful for everyone's kind attention.
RAFFLECOPTER CODE & CONTEST RULES
Cheryl is celebrating the release of her new LOST GIRLS series by running this contest. She will give away ten autographed print copies of Book #1, Someone To Love, to ten lucky winners. Since the first three novels in the series will be released together on August 11th, she will also give away one grand prize to one lucky winner of autographed print copies of Books 1, 2, and 3. The three books included in the Grand Prize drawing are: Someone To Love, Someone To Cherish, and Someone To Wed. So there will be eleven winners in all!
The contest begins on June 28, 2020, and entries will close on August 12, 2020. The drawing will be held the next day, August 13, 2020, and winners will be notified by email. You may enter as many times as you wish, but please be aware that Cheryl's books contain adult content. You must be 18 years of age or older to enter. All entrants' emails will be added to Cheryl's general mailing list. The email addresses are used to provide readers with information about Cheryl's career and her upcoming novels, and the list is never shared with anyone.
Cheryl can only ship prizes to U.S. addresses. Thank you for understanding.
SNEAK PEEK OF SOMEONE TO LOVE
ABOUT CHERYL HOLT
CHERYL HOLT is a New York Times, USA Today, and Amazon "Top100" bestselling author who has published nearly sixty novels.
Her books have been released to wide acclaim, and she has won or been nominated for many national awards. She is considered to be one of the masters of the romance genre. For many years, she was hailed as "The Queen of Erotic Romance", and she's also revered as "The International Queen of Villains." She is particularly proud to have been named "Best Storyteller of the Year" by the trade magazine Romantic Times BOOK Reviews.
She lives and writes in Hollywood, California, and she loves to hear from fans. Visit her website at www.cherylholt.com.
BUY LINKS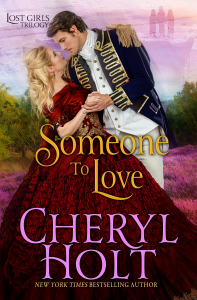 SOMEONE TO LOVE
Amazon: https://amzn.to/2YIBBmW
Barnes & Noble: https://bit.ly/2ZgUNcX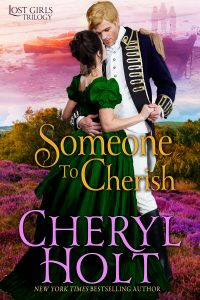 SOMEONE TO CHERISH
Amazon: https://amzn.to/3fdlZyV
Barnes & Noble: https://bit.ly/2ZWD7Tc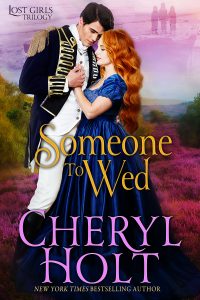 SOMEONE TO WED
Amazon: https://amzn.to/3j0Eedk
Barnes & Noble: https://bit.ly/3flrlYQ