THE GIRL AND THE RAVEN
Released: December 15, 2013
Good versus evil just got complicated.
Sixteen-year-old Lucy Walker just wants a normal life, until she learns she is half-witch, half-demon. Now she's got other problems, like keeping her demon dad from killing her boyfriend, the witches in her life from killing her demon dad, and her non-supernatural friends safe from both sides. She's walking a tightrope between good and evil, drawn to both, uncertain which she will ultimately choose.
BUY LINKS
THE GIRL OF THE GARGOYLE
(The Girl and the Raven #2)
Release Date: June 26, 2015
Dating a gargoyle is great, until his family gets involved.
Being half-witch/half-demon and dating Marcus, a gargoyle and demon enemy, is complicated enough for Lucy. She can almost tolerate Jude, her demon father, forcing her to undergo combat training. But when Marcus's long-lost family returns to Chicago, her world begins to crumble. Marcus's mother wants him to leave to join the gargoyle clan; his father wants him to help kill Jude. There's one major problem with this: if Jude dies, Lucy dies.
Marcus will do whatever it takes to save Lucy and her father. Meanwhile, Lucy has her own plan and with the aid of a surprise newcomer, seeks help from the most unlikely-and dangerous-source.
BUY LINKS
READ AN EXCERPT

GIVEAWAY
ABOUT THE AUTHOR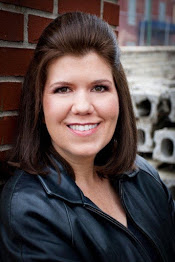 Pauline Gruber is a self-professed music junkie, cat wrangler, and travel nut. She went to Paris in the 90's where she discovered a love of three things: croissants, old cathedrals, and gargoyles. Deciding that the paranormal world could use a new kind of hero, Pauline translated her fascination with the protective gargoyle into a suspenseful love story. She is the author of the series: The Girl and The Raven, The Girl and The Gargoyle, and the forthcoming novel, The Girl and The Demon. By day, Pauline is a legal assistant for a Chicago law firm where she steals identities and incorporates them into her books. If you tell anyone, she'll deny, deny, deny.
Pauline lives outside of Chicago with her precocious black cats.
Book Blitz Organized By: