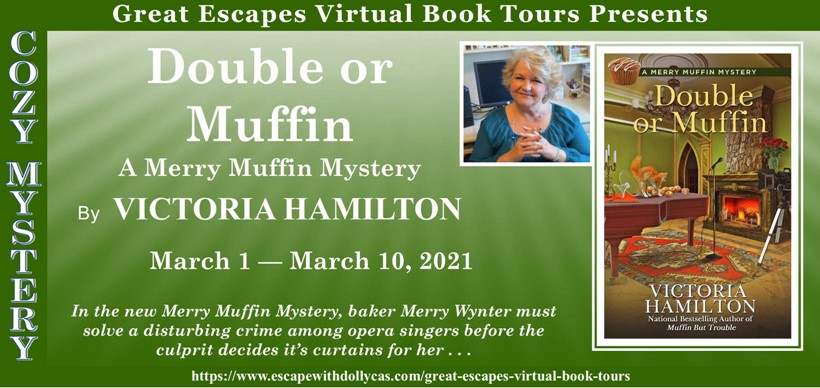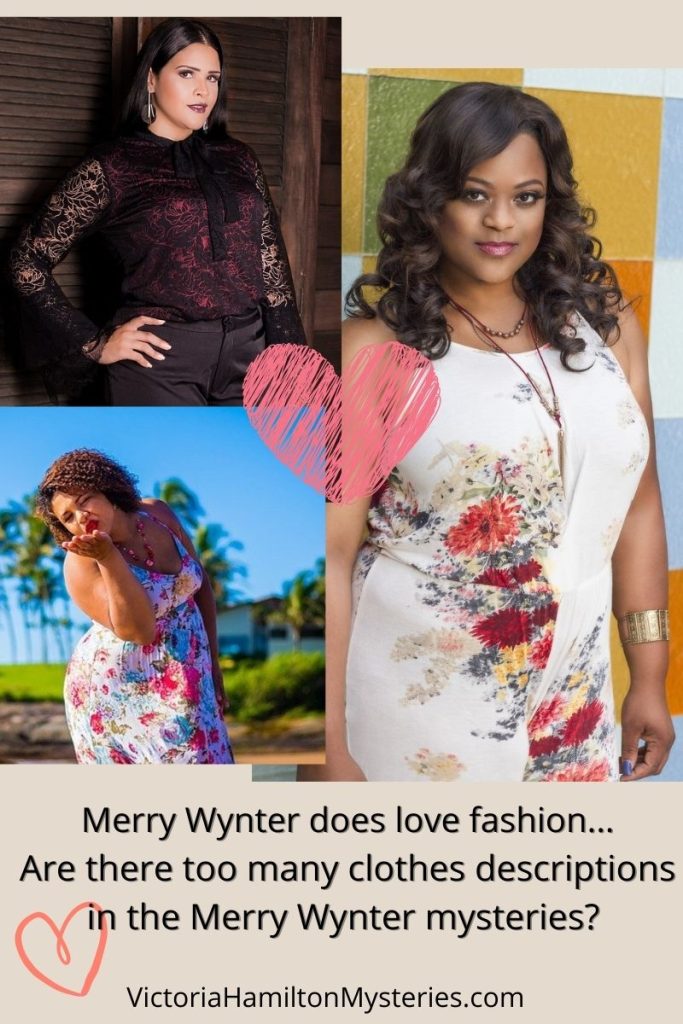 I've always loved clothes, but as a little larger woman, I've had a love-not-so-love relationship with my body. It's a struggle many women can relate to. When I envisioned the Merry Muffin Mystery series I created in Merry Wynter, a woman who not only loved herself, but also loved clothes so much she had made a living first as a plus-size model, and then as a stylist.
What is a stylist? She (or he) is a professional who coordinates outfits or even whole wardrobes for others. On a fashion shoot, they work in coordination with the fashion brand to bring together clothes, shoes, jewelry, bags, accessories, and even makeup and hairstyles to create a finished 'look'. That was Merry's job for a time, and how she met her late husband Miguel Paradiso, on a fashion shoot in the Caribbean.
That was then, this is now. She lost her beloved husband years ago and left behind that world when she left New York City. However, that doesn't mean she left behind her fashion sense. So throughout the Merry Muffin Mysteries, you will find great attention paid to Merry's clothes; that's kinda me, the author, dreaming about an ideal wardrobe for a (younger) me.
Some of the outfits Merry puts together for herself?
In the very first chapter of Double or Muffin Merry gets dressed for a day at the castle in boyfriend jeans with boots, a cinnamon-colored long cable-knit sweater, topped by a cloak, and with her beloved Birken bag. Later she will don a long skirt and tunic sweater belted at the waist, with black ankle boots. Later, dressing to hike in the woods (perhaps to find a body?) she puts on jeans, a hoodie topped by a cable-knit cardigan, and hiking boots. And when she is weary she slips on a Lane Bryant (a store with a lovely selection of plus size clothes) wide-legged ribbed sleep pants in deep wine, and a gold lace-edged tunic top.
Why take all this trouble over clothes on a book character?
Every series of novels has a feel, an individual sense of the central character and her life. In this case, fashion is an integral part of Merry Wynter, who she is and what she cares about. In my Vintage Kitchen Mystery series the main character, Jaymie Leighton Müller loves books, so she often mentions the book she's reading, or the romance authors she loves, as much as the vintage kitchen stuff she shops for, and the vintage recipes she cooks from.
Think of all the characters you love in mystery series; you can probably name a few notable habits or eccentricities. Kinsey Millhone (Sue Grafton's marvelous protagonist) loves her peanut butter and pickle sandwiches. Ariadne Oliver (an Agatha Christie creation) munched apples, while Agatha Raisin (the character created by the incomparable M. C. Beaton) goes nowhere without donning high heels.
I will always remember Kinsey Millhone's indestructible little black dress, the one that can be thrown in a gym bag and donned the next time the detective needs something decentish to wear to a party or funeral.
Merry Wynter, my reluctant sleuth and enthusiastic fashionista, has her carefully curated outfits.
For me, when reading, these little consistent details bring a character to life. I'm always interested in how memorable characters are to readers. So tell me… when you read, do you pay attention to what the characters are eating, or reading or… wearing?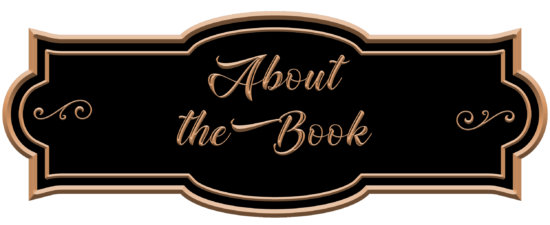 A Merry Muffin Mystery: Book 7
Publication Date: February 23, 2021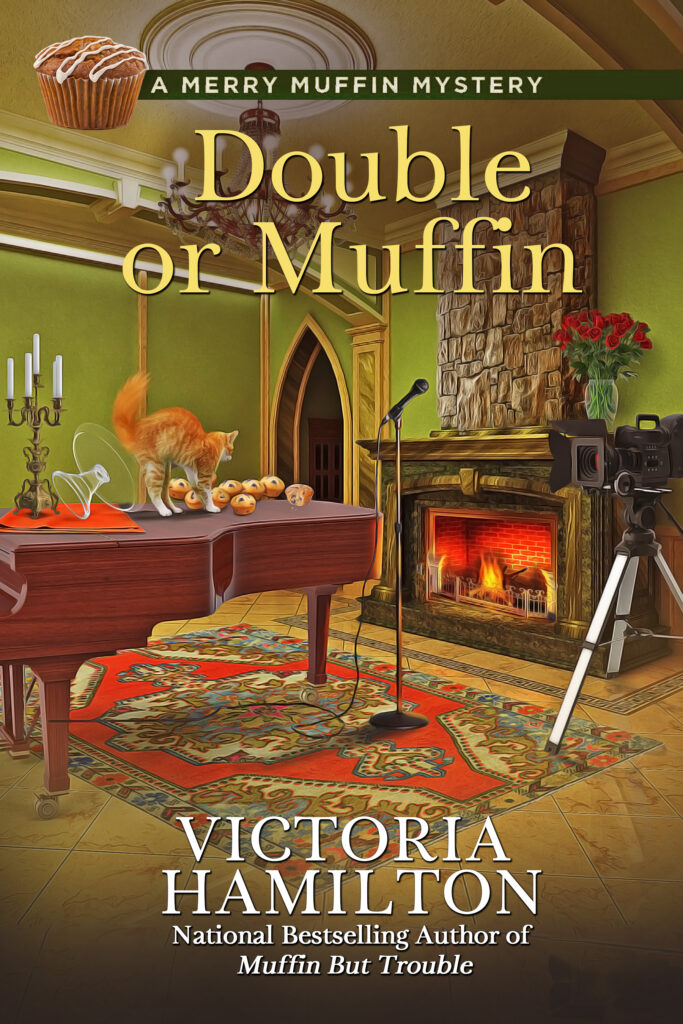 In the new Merry Muffin Mystery, baker Merry Wynter must solve a disturbing crime among opera singers before the culprit decides it's curtains for her . . .
When a reality TV show for aspiring opera singers descends on Wynter Castle, Merry's got her hands full catering to the endless demands of the distinguished judges and ambitious contestants. Then mysterious rumors about the cast and crew begin to surface, suggesting that some of their performances may be filled with false notes. When a dogged reporter with an eye for scandal who's been covering the competition is attacked and left for dead, Merry's determined to discover who orchestrated the heinous deed.
Her long list of suspects is filled with eccentric personalities, including a promiscuous tenor known for making unwanted overtures, a pampered young prodigy and her meddlesome mother, and a quiet up-and-comer whose shadowy uncle may have ties to the underworld. As the musical contest and Merry's investigation near their finale, she'll have to act fast to keep a conniving contestant from plotting out her final act . . .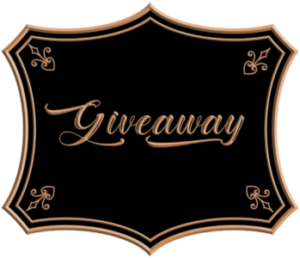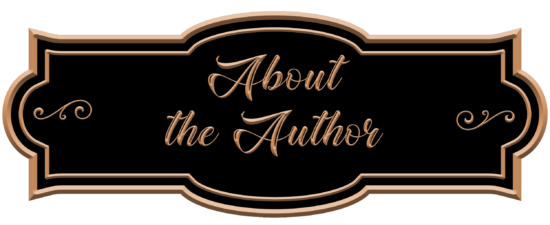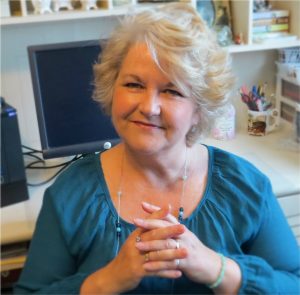 Victoria Hamilton is the bestselling author of several mystery series including the national bestselling Vintage Kitchen Mysteries and Merry Muffin Mysteries. She does, indeed, collect vintage kitchenware and bake muffins. She drinks tea and coffee on writing days, and wine other times. It doesn't do to confuse days. She crochets (a little), paints (a little), and reads (a lot). A solitary being, she can be coaxed out of her writing cave for brownies and cat videos.
She started her writing life as Donna Lea Simpson, bestselling author of Regency Romances, paranormal historicals, and historical mysteries, and still has a soft spot for the Regency period.
If you Google 'Victoria Hamilton', you will find listed first a famous actress who starred as the Queen Mother in the series The Crown and as Charlotte Brontë in In Search of the Brontës. That's not the Victoria who writes mysteries.
No, really, it's not!
You can find her buried in a good book, (entombed in a good tome?) or online at:

March 1 – Elizabeth McKenna – Author Blog – SPOTLIGHT
March 1 – StoreyBook Reviews – GUEST POST
March 1 – This Is My Truth Now – REVIEW
March 2 – Literary Gold – CHARACTER GUEST POST
March 2 – Maureen's Musings – SPOTLIGHT
March 2 – ebook addicts – SPOTLIGHT
March 3 – I'm All About Books – SPOTLIGHT
March 3 – Laura's Interests – REVIEW
March 3 – FUONLYKNEW – SPOTLIGHT
March 4 – Christy's Cozy Corners – CHARACTER GUEST POST
March 4 – Mystery Thrillers and Romantic Suspense Reviews – SPOTLIGHT
March 4 – Read Your Writes Book Reviews – SPOTLIGHT
March 5 – The Avid Reader – REVIEW
March 5 – Moonlight Rendezvous – REVIEW  
March 5 – Reading Is My SuperPower – REVIEW
March 6 – I Read What You Write – AUTHOR INTERVIEW
March 6 – Escape With Dollycas Into A Good Book – SPOTLGHT
March 7 – Reading, Writing & Stitch-Metic – RECIPE POST
March 7 – Baroness Book Trove – AUTHOR INTERVIEW
March 7 – Sapphyria's Book Reviews – SPOTLIGHT
March 8 – Socrates Book Reviews – SPOTLIGHT
March 8 – Ascroft, eh? – CHARACTER INTERVIEW
March 8 – Novels Alive – GUEST POST
March 9 – Mysteries with Character – AUTHOR INTERVIEW
March 9 – Diane Reviews Books – REVIEW
March 9 – Cozy Up WIth Kathy – REVIEW        
March 9 – Brooke Blogs – SPOTLIGHT
March 10 – The Pulp and Mystery Shelf – SPOTLIGHT
March 10 – Books a Plenty Book Reviews – REVIEW
March 10 – Christa Reads and Writes – SPOTLIGHT
March 10 – My Reading Journeys – REVIEW
Tour Organized By: