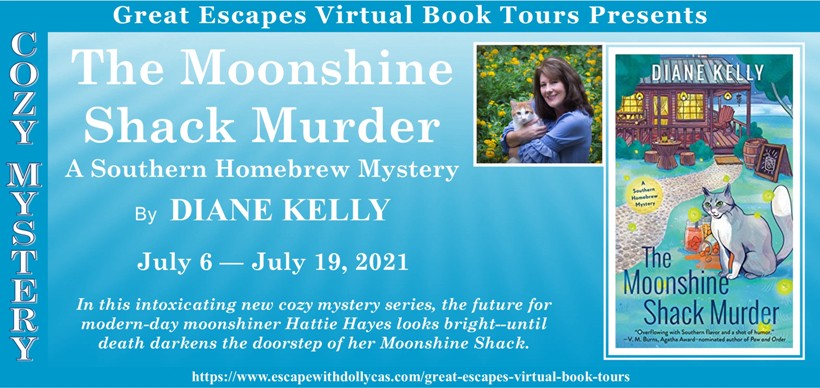 I'm so thrilled to be launching my new Southern Homebrew Mystery series, which begins with the first book The Moonshine Shack Murder. Hattie Hayes has resurrected her family's old moonshine recipe and put her own twist on it by adding fun, fruity flavors. She opens a 'shine shop in Chattanooga's touristy riverfront district. Of course, moonshine, murder, and mayhem ensue.
One of my favorite parts of writing this book was researching the history of moonshine. I learned that there is an entire lexicon associated with making moonshine. I thought you might enjoy learning some shine-speak, too.
Moonshine got its name because it was produced "by the light of the moon," meaning it was made illegally at night, often at stills hidden away in the backwoods of Appalachia. While moonshine is the most common term for the corn-based mash liquor, 'shine has a whole slew of monikers. Homebrew is one of them (and used in the name of my series). Radiator whiskey is another, as those making the stuff sometimes used automobile radiators to condense the alcohol. You might have also heard moonshine called rotgut, white lightning, hooch, corn liquor, corn squeezin', bootleg, bathtub gin, and even mountain dew, a name which was later appropriated by the soft drink company.
Besides the names, there are many other funny or interesting words associated with the shine production and sales process.
"Backins" is weak whiskey produced at the end of a run.
A "bootleg turn" is when someone hauling illegal whiskey would execute a sharp turn in a purposeful, controlled skid, most often to outrun the sheriff or the revenuers who were after him.
"Dropping the bead" means lowering the strength of the alcohol by mixing it with water or a lower-proof variety. This process is also referred to as "cutting" or "proofing."
The "foreshots" are the liquids that come out first during the moonshining process. The foreshots have a lower boiling point, and contain toxic level of methanol and other poisonous substances. Consuming the foreshots could lead to death or blindness. Smart shiners knew to toss out the first few ounces of each batch.
A "granny fee" is a bribe that moonshiners paid to law enforcement to encourage the officers to look the other way.
"Mash" is a combination of a grain (usually corn), water, malt, yeast, and sugar. The mash ferments for a while before being distilled into liquor.
A "still" is the apparatus used to distill the mash, and consists of a cap and a boiler. There are several types of stills, including a turnip still with a round, squat shape and a submarine still which is a low, large-capacity still with rounded ends.
When a still boils over, it is said to "puke." Lovely, huh? Ha-ha.
A "revenuer" is a government official whose job it was to catch moonshiners.
A "runner" is someone who hauled moonshine. They were often very skilled drivers who had to outrun law enforcement.
The "thumper" is the part of the still between the boiler and the coil that distills the mash.
A "worm" is a coil submerged in a container of water to cool it. The alcohol-laden steam condenses to liquid within the coil.
Now that you're knowledgeable in shine-speak, go on out and get yourself a mason jar of moonshine to sip while enjoying the book. Not a drinker? No worries. Lemonade or iced tea can be enjoyed from a jar, as well.
Thanks for visiting the blog today, and keep on shining!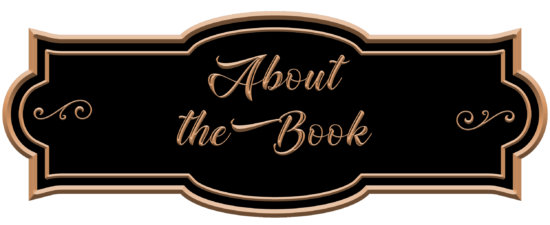 A Southern Homebrew Mystery: Book 1
Publication Date: 
In this intoxicating new cozy mystery series, the future for modern-day moonshiner Hattie Hayes looks bright–until death darkens the doorstep of her Moonshine Shack.
The Hayes family has made moonshine in Chattanooga since the days of Prohibition, and Hattie is happy to continue the tradition, serving up fun, fruity flavors in mason jars for locals and tourists alike. All signs indicate her new 'shine shop will be a smashing success. What's more, mounted police officer Marlon Landers has taken a shine to Hattie. For the first time ever, the stars seemed to have aligned in both her work and romantic life. But when a body ends up on her store's doorstep alongside a broken jar of her Firefly Moonshine, it just might be lights out for her fledgling business.
The homicide detective can't seem to identify the person who killed the owner of a nearby bar. The only witness is Hattie's longhaired gray cat, and Smoky isn't talking. When the detective learns that the victim and Hattie had a heated exchange shortly before his murder, she becomes her prime suspect.
Lest Hattie end up behind bars like her bootlegging great-grandfather a century before, she must distill the evidence herself and serve the killer a swift shot of justice.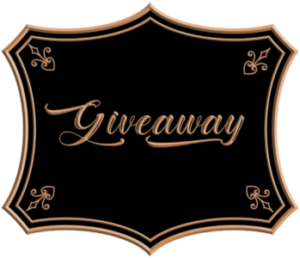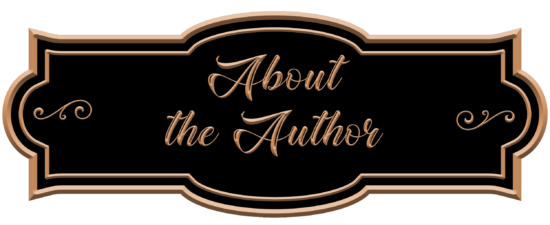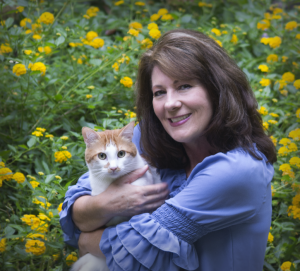 Diane Kelly writes stories that feature feisty female lead characters and their furry, four-footed friends. Diane is the author of over 30 novels and novellas, including the Death & Taxes, Paw Enforcement, and House Flipper mystery series. In 2021, she'll launch two new series, the Southern Homebrew Moonshine series and the Mountain Lodge Mysteries. Find Diane online at DianeKelly.com, on Twitter and Instagram @DianeKellyBooks, and on Facebook at her Author Diane Kelly page.

July 6 – Author Elena Taylor's Blog – AUTHOR INTERVIEW
July 6 – Christy's Cozy Corners – CHARACTER GUEST POST
July 7 – Escape With Dollycas Into A Good Book – REVIEW
July 7 – Baroness' Book Trove – REVIEW
July 8 – Novels Alive – GUEST POST
July 8 – MJB Reviewers – SPOTLIGHT
July 9 – The Avid Reader – REVIEW, RECIPE
July 9 – Novels Alive – REVIEW
July 10 – Literary Gold – SPOTLIGHT
July 10 – I Read What You Write – CHARACTER GUEST POST
July 11 – Cozy Up With Kathy – REVIEW, AUTHOR INTERVIEW
July 11 – Books a Plenty Book Reviews – REVIEW, CHARACTER INTERVIEW
July 12 – FUONLYKNEW – SPOTLIGHT
July 13 – Mysteries with Character – AUTHOR INTERVIEW
July 13 – Celticlady's Reviews – SPOTLIGHT
July 14 – Mochas, Mysteries and Meows – CHARACTER INTERVIEW
July 14 – My Reading Journeys – REVIEW
July 14 – Sneaky the Library Cat's Blog – CHARACTER INTERVIEW (moved from 12th)
July 15 – Ascroft, eh? – GUEST POST
July 15 – #BRVL Book Review Virginia Lee Blog – SPOTLIGHT
July 16 – Diane Reviews Books – REVIEW, CHARACTER GUEST POST
July 16 – ebook addicts – SPOTLIGHT
July 17 – Socrates Book Reviews – REVIEW
July 17 – Brooke Blogs – SPOTLIGHT, RECIPE
July 18 – Sapphyria's Book Reviews – SPOTLIGHT
July 18 – Maureen's Musings – SPOTLIGHT
July 19 – StoreyBook Reviews – REVIEW
July 19 – Melina's Book Blog – REVIEW
July 19 – BookishKelly2020 – SPOTLIGHT