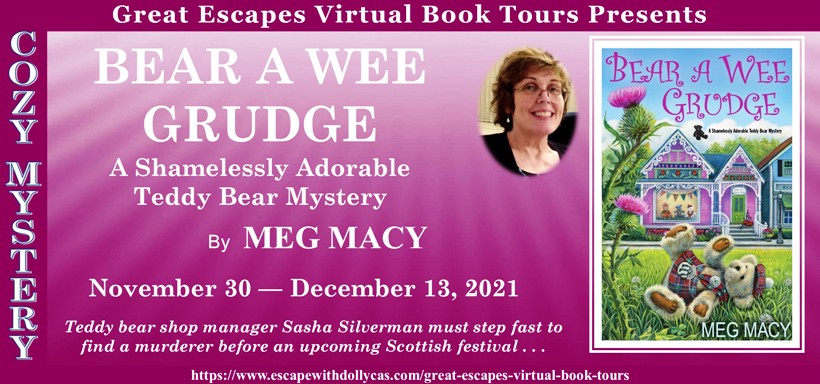 I've often been asked if the "Shamelessly Adorable" Teddy Bear books are for kids. Uh… no. It's not all cute and cuddly in the series—murders do happen! But thankfully "off the page," with as few gruesome details as possible. Unlike thrillers or private eye novels, cozies are meant to be "light" reads, more fun than frightening. Some have quirky characters, some are chock full of madcap humor, but they all have a solid mystery at their core. Readers love gathering the clues along with the amateur sleuth or sleuths and then guessing the killer's identity.
Due to my avid hobby of collecting teddy bears over the years, and the fact that the Chelsea Teddy Bear Factory once produced the toys in southeast Michigan (they've since moved to Missouri), I chose that business for my amateur sleuth. Sasha Silverman is divorced and manages the family teddy bear shop. She mans the front sales desk, gives tours, plans charity events (such as filling a high school football stadium with stuffed bears to establish a Guinness World Record), and has a boyfriend whose talent lies in woodcarving (of realistic bears and other animals).
Sasha also has an unfortunate knack of stumbling across dead bodies in her small town of Silver Hollow. And ends up assisting the homicide detectives who investigate the murders, despite being told to "stick to selling teddy bears." Sasha doesn't often listen to that advice, however. As in many other cozy mysteries, she ends up facing the killers in the long run. So far, she's managed to come out alive. But each time it shakes her to the core.
In Bear A Wee Grudge, Sasha Silverman is helping to plan a Highland Fling. The Silver Bear Shop & Factory will sell kilted teddy bears at the Fling as one of many vendors selling goods and food, such as Scottish shortbread, haggis, neeps and tatties, and more. But to Sasha's dismay, the former owner of a rival teddy bear company is causing trouble for her family. And when the businessman ends up a murder victim, past secrets spill out to magnify the problems.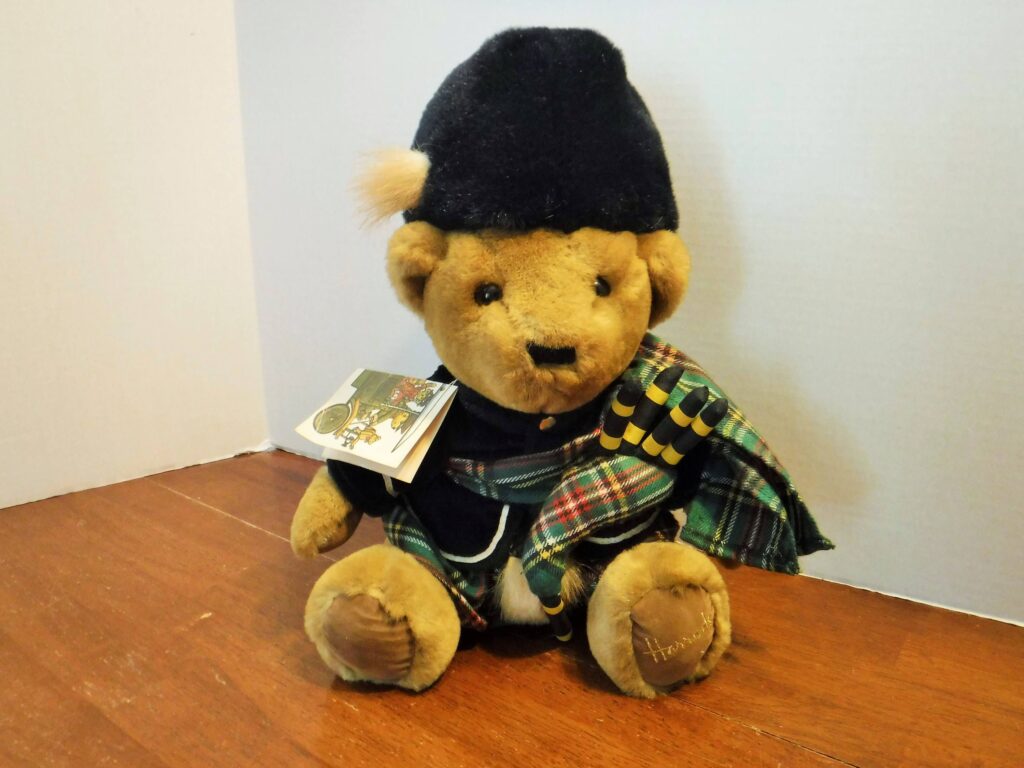 Worse yet, the homicide detective assigned to the case has zeroed in on her dad as the prime suspect. Sasha may have her hands full with choosing kilt fabric for the bears, plus planning a special birthday party for her aunt, but she's not about to let the incompetent (in her opinion) cop send her dad to jail for a crime he didn't commit. Sasha intends to nail the real killer, no matter what it takes.
In fiction, cozy sleuths have that gumption. In real life, however, plenty of homicides are never solved. Lucky for readers, they always get a satisfactory answer to the who "dunnit," the how, and the why before reading the last chapter. And if they believe they've outsmarted the amateur sleuth, they may even be fooled by an unexpected twist at the end.
Or so a cozy mystery author hopes!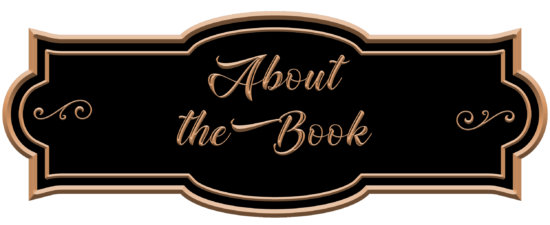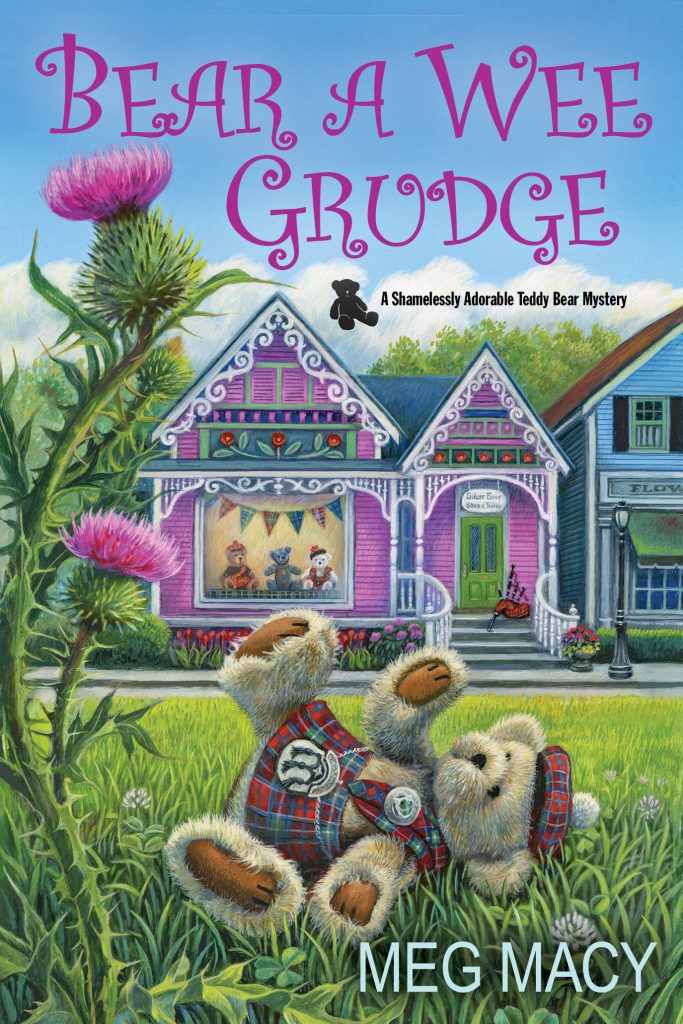 Teddy bear shop manager Sasha Silverman must step fast to find a murderer before an upcoming Scottish festival . . .
It's springtime in Silver Hollow, Michigan, and Sasha is looking forward to the village's inaugural Highland Fling weekend. Plans are underway for a Kilted 5K, athletic competitions, dancing, live music, and even a Hurl-the-Haggis contest. Meanwhile, Sasha's staff is busy crafting custom teddy bears in kilts for the Silver Bear Shop's vendor booth. But trouble's brewing behind the scenes, as the obnoxious Teddy Hartman, former owner of a rival teddy bear company, sows seeds of discord about town, targeting Sasha's family and their business.
Things go from plaid to worse when—just a week before the festival kicks-off—the disgruntled gossip is found murdered with an ax buried in his back. Sasha's dad is arrested, since he's a champion ax-thrower. But she doesn't give a dram what it looks like—Sasha knows that despite the old business rivalry with Hartman, her father is innocent. So with a spot of help from her friends, Sasha must bag the real killer before her first Fling also becomes her last.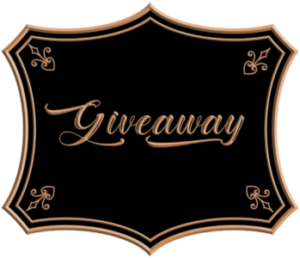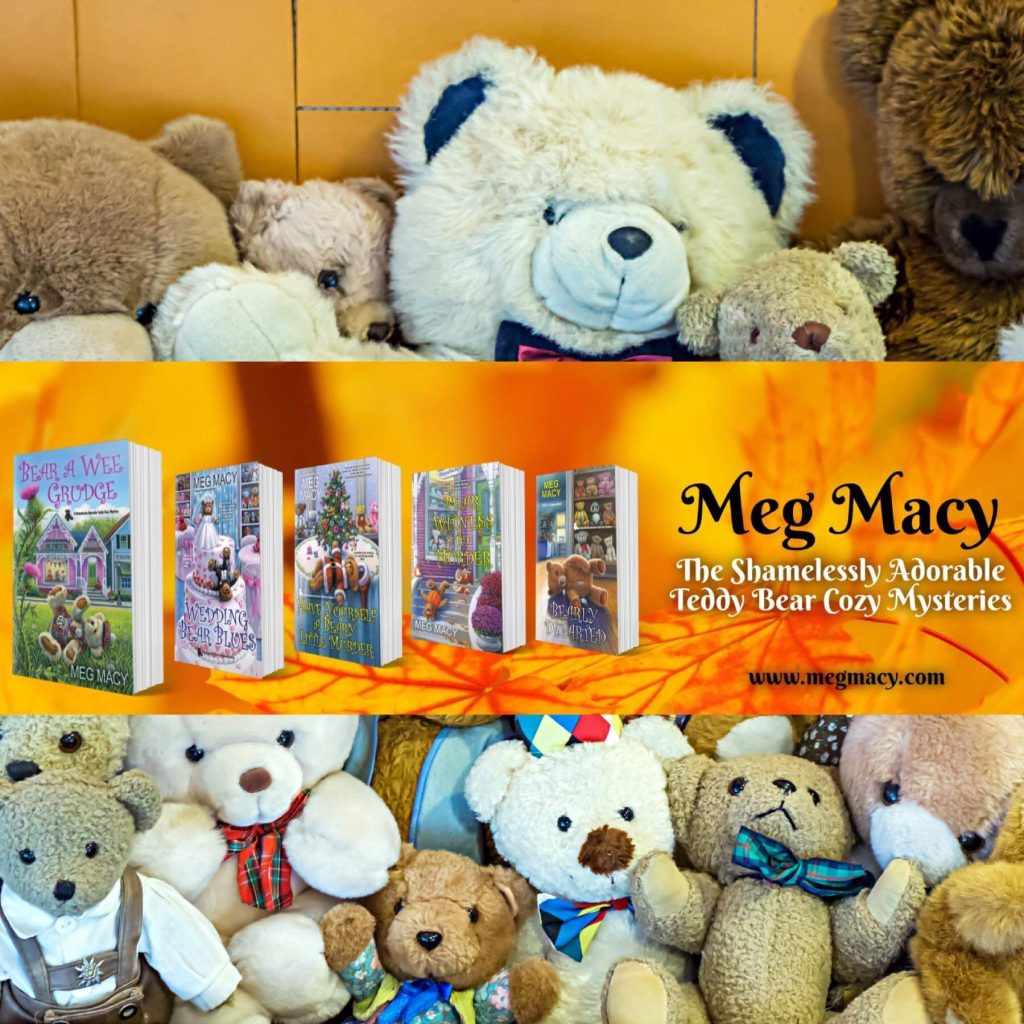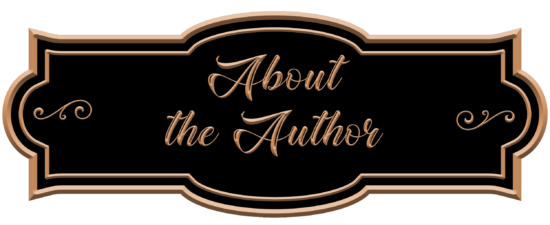 Award-winning mystery author Meg Macy lives in Southeast Michigan, close enough to Ann Arbor, Chelsea, and Dexter—the setting of her "Shamelessly Adorable Teddy Bear" cozy mysteries for Kensington. She is also one-half of the writing team of D.E. Ireland for the Eliza Doolittle & Henry Higgins mysteries; two books, Wouldn't It Be Deadly and Get Me to the Grave On Time were Agatha Award finalists for Best Historical. Meg's first published book, Double Crossing, won the 2012 Best First Novel Spur Award from Western Writers of America. Meg loves reading historical and cozy mysteries, gardening, crafts, and watercolor painting.

November 30 – The Avid Reader – REVIEW
December 1 – I'm All About Books – SPOTLIGHT
December 1 – Literary Gold – CHARACTER GUEST POST
December 2 – Socrates Book Reviews – SPOTLIGHT
December 2 – Ascroft, eh? – AUTHOR INTERVIEW
December 3 – Sapphyria's Book Reviews – REVIEW
December 4 – Books a Plenty Book Reviews – REVIEW, CHARACTER INTERVIEW
December 5 – Cozy Up WIth Kathy – REVIEW
December 6 – Novels Alive – GUEST POST
December 6 – Baroness' Book Trove – REVIEW
December 7 – I Read What You Write – AUTHOR INTERVIEW
December 7 – Maureen's Musings – SPOTLIGHT
December 8 – Valerie's Musings – REVIEW
December 9 – Mysteries with Character – GUEST POST
December 9 – Escape With Dollycas Into A Good Book – REVIEW
December 10 – Brooke Blogs – SPOTLIGHT
December 11 – FUONLYKNEW – SPOTLIGHT
December 12 – Celticlady's Reviews – SPOTLIGHT
December 13 – BookishKelly2020 – SPOTLIGHT