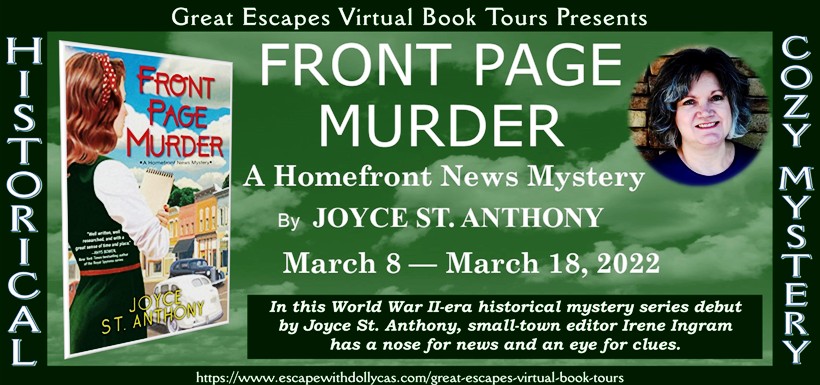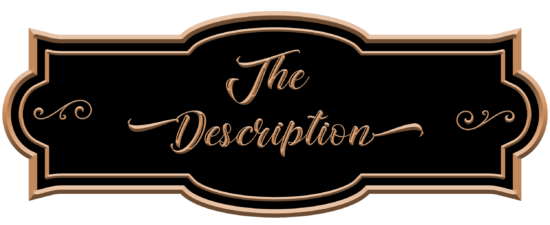 A Homefront News Mystery: Book 1
Publication Date: March 8, 2022
In this World War II-era historical mystery series debut by Joyce St. Anthony, small-town editor Irene Ingram has a nose for news and an eye for clues.
Irene Ingram has written for her father's newspaper, the Progress Herald, ever since she could grasp a pencil. Now she's editor in chief, which doesn't sit well with the men in the newsroom. But proving her journalistic bona fides is the least of Irene's worries when crime reporter Moe Bauer, on the heels of a hot tip, turns up dead at the foot of his cellar stairs.
An accident? That's what Police Chief Walt Turner thinks, and Irene is inclined to agree until she finds the note Moe discreetly left on her desk. He was on to a big story, he wrote. The robbery she'd assigned him to cover at Markowicz Hardware turned out to be something far more devious. A Jewish store owner in a small, provincial town, Sam Markowicz received a terrifying message from a stranger. Moe suspected that Sam is being threatened not only for who he is…but for what he knows.
Tenacious Irene senses there's more to the Markowicz story, which she is all but certain led to Moe's murder. When she's not filling up column inches with the usual small-town fare—locals in uniform, victory gardens, and scrap drives—she and her best friend, scrappy secretary Peggy Reardon, search for clues. If they can find the killer, it'll be a scoop to stop the presses. But if they can't, Irene and Peggy may face an all-too-literal deadline.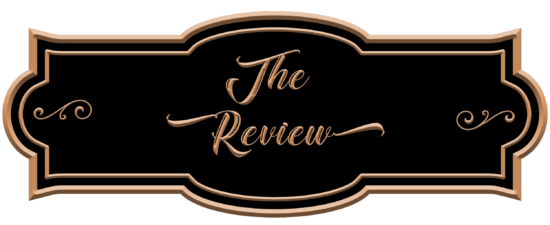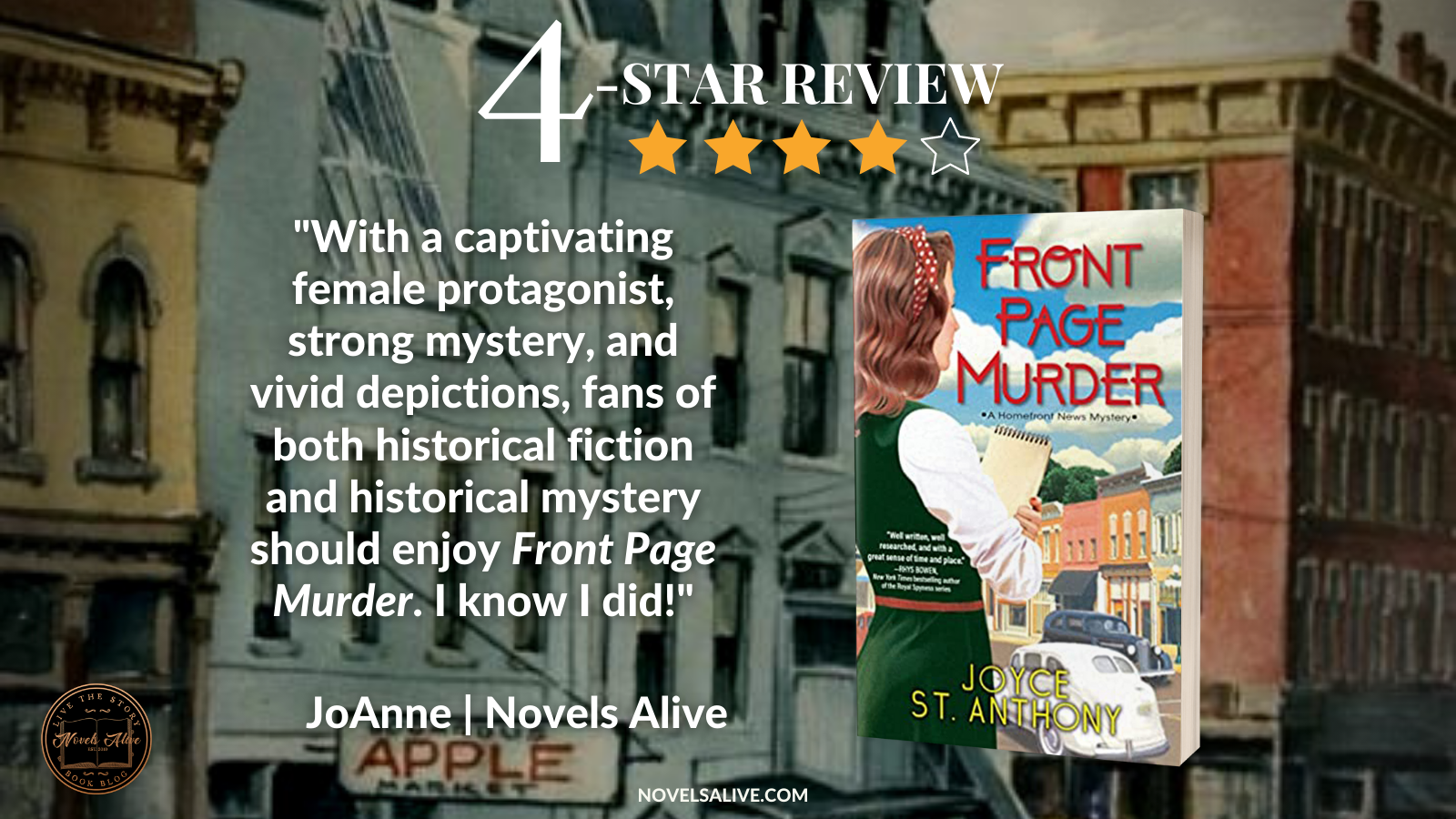 Front Page Murder is the first book in the Homefront News Mystery series by new-to-me author Joyce St. Anthony, who also writes as Joyce Tremel. It's a fast-paced whodunnit set in a small town in Pennsylvania during World War II. 
The Progress Herald is front and center with Irene as the editor when her dad passed the baton to her since he is now a war correspondent. I liked how each chapter started with a headline from the newspaper related to the war.
Irene has her work cut out for her since some of the men she works with and others she interviews don't think women should be in the workforce even while the men are off fighting the war. 
Irene's cousin, Donny, who works with her, is one of those men. He tries to trip her up at every turn, but she doesn't take any guff, and he finally seems to realize it. When a murder is ruled an accident, she starts digging for clues with her best friend, Peggy, her secretary at the newspaper. Katherine, a boarder at Irene's family home, is not who she seems. 
Katherine is woven throughout the story in different roles and becomes a confidante of Irene's as Irene tries to piece together the clues of what is going on at the plant in town. There are too many accidents and unexplained deaths to her liking, and Irene is always in the thick of things, much to the chagrin of the police chief, who is also her future father-in-law. 
The characters added layers to the richness of the story. I liked the detailed descriptions that made me feel like I was there. The story has a nice flow as clues are uncovered and dissected until the crimes are solved. Of course, Irene seemed to be one step ahead of the police force. 
There was nice closure, and I look forward to reading the next book in the series, Death on a Deadline. I liked the small-town feel of the cover.  
I felt the adrenaline as Irene uncovered clue after clue. She was always thorough in her interviews and sleuthing. My interest was held from the first page to the last as we got to know the characters and the town.
With a captivating female protagonist, strong mystery, and vivid depictions, fans of both historical fiction and historical mystery should enjoy Front Page Murder. I know I did!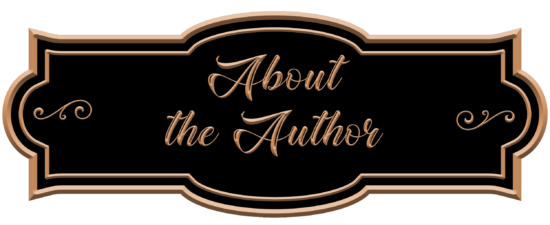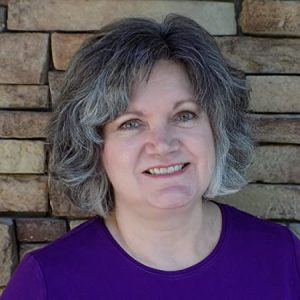 Joyce was a police secretary for ten years and more than once envisioned the demise of certain co-workers, but settled on writing as a way to keep herself out of jail. As Joyce St. Anthony, she is the author of the Homefront News Mysteries. The first in the series, Front Page Murder, will be (or was, depending on the blog date) released on March 8, 2022. Under her own name–Joyce Tremel–she wrote the award winning Brewing Trouble cozy mystery series. She is a native Pittsburgher and lives in the beautiful Laurel Highlands of Pennsylvania with her husband and two cats–Hops and Lager.

March 8 – The Avid Reader – REVIEW
March 8 – StoreyBook Reviews – GUEST POST
March 8 – Nellie's Book Nook – REVIEW
March 9 – Ascroft, eh? – CHARACTER INTERVIEW
March 9 – Brooke Blogs – CHARACTER GUEST POST
March 9 – Sapphyria's Book Reviews – SPOTLIGHT
March 10 – Maureen's Musings – SPOTLIGHT
March 10 – Christy's Cozy Corners – REVIEW
March 11 – View from the Birdhouse – REVIEW
March 11 – Novels Alive – GUEST POST
March 12 – Just Another Teen Reading Books – AUTHOR INTERVIEW
March 12 – Reading Is My SuperPower – REVIEW
March 13 – Cozy Up With Kathy – AUTHOR INTERVIEW
March 13 – #BRVL Book Review Virginia Lee Blog – SPOTLIGHT
March 14 – Literary Gold – AUTHOR INTERVIEW
March 14 – Girl with Pen – SPOTLIGHT
March 15 – Connie's History Classroom – REVIEW
March 15 – Mysteries with Character – AUTHOR INTERVIEW
March 15 – Celticlady's Reviews – SPOTLIGHT
March 15 – Here's How It Happened – SPOTLIGHT
March 16 – Tea Book Blanket – SPOTLIGHT
March 16 – Novels Alive – REVIEW
March 16 – Escape With Dollycas Into A Good Book – REVIEW
March 17 – The Mystery Section – SPOTLIGHT
March 17 – Christa Reads and Writes – REVIEW
March 18 – BookishKelly2020 – SPOTLIGHT
March 18 – I Read What You Write – CHARACTER GUEST POST