Although I write historical murder mysteries, I always try to include real life problems for Rees and his family. Events and the interactions between the characters will always affect them.
In Murder, Sweet Murder, Will meets his wife's family for the first time and quickly discovers how far away he is from the wealth and privilege of Lydia's background.
Although he is aware that Lydia has come from money, he doesn't think of it often. He met her in a Shaker community (A Simple Murder.) By the time of Murder, Sweet Murder, they have several children and are living on a small farm outside of Zion, the religious community with which they have the relationship.
In Murder, Sweet Murder, Lydia receives a frantic letter from her sister Cordelia. Their father, Marcus Farrell, has been accused of murder. Cordelia wants her sister and her sister's husband to come to Boston and discover the truth. Lydia, who has been estranged from her father for many years, is reluctant, especially since this in January and the wintery weather is poor. But it is her sister begging Lydia for a visit. Also, Lydia has wanted to show off her baby Sharon and bring adopted daughter Jerusha, who wants to become a teacher, to look at the Boston schools. And Marcus Farrell, despite the estrangement, is still her father. Lydia agrees and she, her husband, Sharon and Jerusha set off for Boston.
Although Boston is still a town at this point, it is a large urban setting, quite different from the small village in Maine where the Rees family live. It is startling even for Rees, a weaver as well as a farmer, who is accustomed to traveling from village to village with his loom. Of course, he gets lost a few times, especially during a frantic pursuit through the streets of Boston after a suspect, when he ends up at Faneuil Hall.
Rees is especially shocked by the wealth of Lydia's family. The Farrell family owns a fine large house near the State House in Boston and a carriage with the requisite four horses as well as several other vehicles. Servants take care of every need. A dressmaker is summoned to make new gowns for Lydia and Jerusha – Cordelia and her mother are scornful of the Rees's country clothes. Money, it seems, is no object. Marcus Farrell, and many of the successful merchants of the day, were millionaires (in today's money.)
Rees is thrown by some of the upper-class customs; he is rattled by the constant presence of the servants. He is dismayed when Sharon is relegated to the nursery under the care of a nursemaid instead of staying with her parents. Jerusha, a quiet studious girl, is housed with Cordelia whose life revolves around parties and clothes and making a good marriage. Isabeau Farrell, Cordelia's mother refers to Jerusha disdainfully as a 'bluestocking'.
The Farrells are also scornful of Rees. He is not wealthy or upper class, not their sort at all. In fact, Rees begins to feel that they are watching his every move and waiting for him to make a mistake. He is so conscious of their judgmental gaze at meals that he can barely eat.
He begins to wonder if Lydia regrets her decision to marry him. Until he discovers how Marcus Farrell made his money. He is a slave trader, engaged in the Triangle trade from Boston to Africa to the Caribbean Islands. Farrell's son James is also estranged from his father. James refused to captain any of the ships, even the ones that carried the molasses back to Boston to be distilled into rum. James, like Lydia, stepped away from 'that filthy trade'.
Because of her father's character, Lydia believes he might be the murderer. She is even more suspicious when Marcus's brother Julian, who runs the distillery, is murdered after a bad quarrel.
But the third murder, in contrast, takes place in a very ordinary tavern among an ordinary working family. Although the tavern is within walking distance, it is miles away in terms of wealth and lifestyle. Rees is drawn to the tavern several times, and not just because of its connection to the murders. He feels comfortable in the unadorned surroundings.
With the resolution of the case, Rees and his family gladly leave for home and family. Although Rees and Lydia constantly struggle to make ends meet, they would not switch their poor farm and large family for the wealthy, but morally bankrupt life in Boston.
Will Rees Mysteries: Book 11
Publication Date: February 1, 2022
Will Rees accompanies his wife to Boston to help clear her estranged father's name in this gripping mystery set in the early nineteenth century.
January, 1801. When Lydia's estranged father is accused of murder, Will Rees escorts her to Boston to uncover the truth. Marcus Farrell is believed to have murdered one of his workers, a boy from Jamaica where he owns a plantation. Marcus swears he's innocent. However, a scandal has been aroused by his refusal to answer questions and accusations he bribed officials.
As Will and Lydia investigate, Marcus's brother, Julian, is shot and killed. This time, all fingers point towards James Farrell, Lydia's brother. Is someone targeting the family? Were the family quarreling over the family businesses and someone lashed out? What's Marcus hiding and why won't he accept help?
With the Farrell family falling apart and their reputation in tatters, Will and Lydia must solve the murders soon. But will they succeed before the murderer strikes again?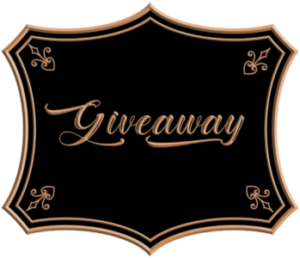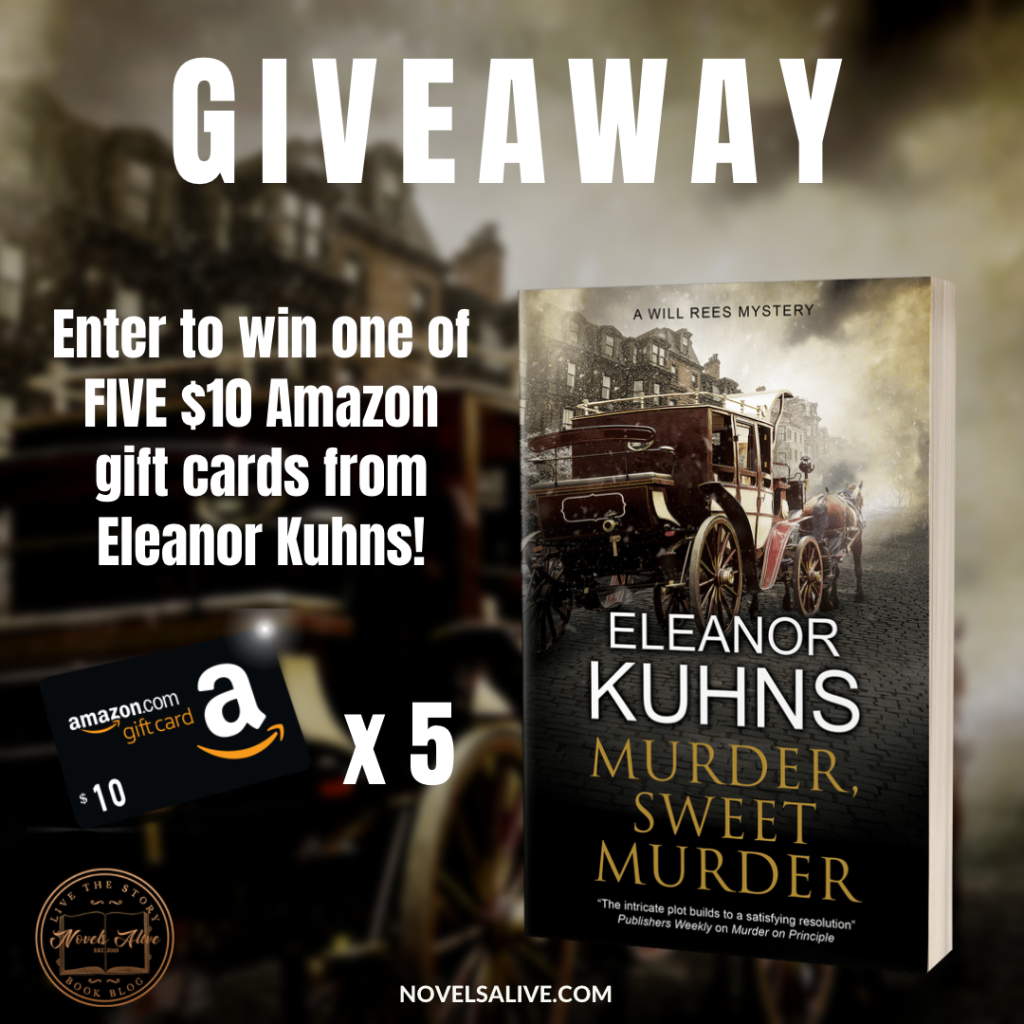 This is a giveaway hosted by Partners in Crime Tours for Eleanor Kuhns. See the widget for entry terms and conditions. Void where prohibited.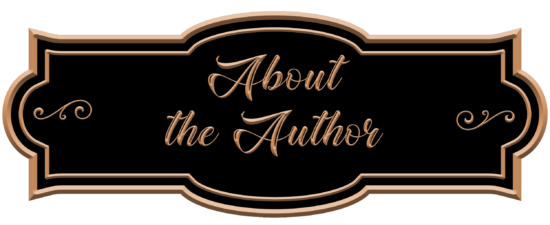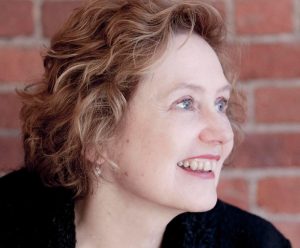 Eleanor Kuhns is the 2011 winner of the Mystery Writers of America/Minotaur first mystery novel. Murder, Sweet Murder is the eleventh mystery following the adventures of Rees and his wife. She transitioned to full time writing last year after a successful career spent in library service. Eleanor lives in upstate New York with her husband and dog.

04/12 Guest post @ The Book Divas Reads
04/13 Showcase @ Books Blog
04/14 Showcase @ Silvers Reviews
04/15 Showcase @ Im Into Books
04/17 Review @ Book Reviews From an Avid Reader
04/19 Showcase @ Brooke Blogs
04/20 Interview @ I Read What You Write
04/21 Interview @ Quiet Fury Books
04/24 Review @ Buried Under Books
04/25 Guest post @ Novels Alive
04/25 Showcase @ Celticladys Reviews
04/27 Review @ Novels Alive
04/28 Showcase @ Books, Ramblings, and Tea
05/03 Guest post @ Author Elena Taylors Blog
05/03 Review @ sunny island breezes
05/04 Review @ A Room Without Books is Empty
05/05 Review @ Pat Fayo Reviews
05/26 Interview podcast @ Blog Talk Radio
05/26 Review @ Just Reviews