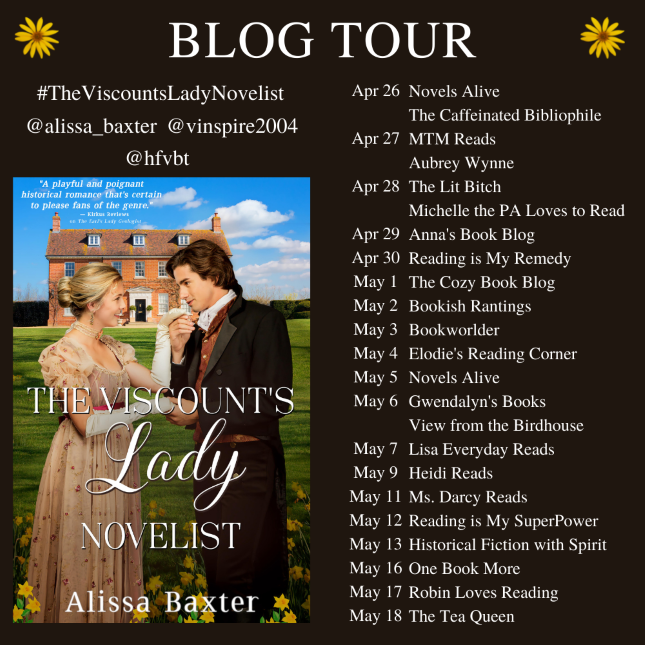 While researching my latest Regency romance novel, The Viscount's Lady Novelist, I found some fascinating information about the popular women novelists of the time. My heroine, Harriet Linfield, grew up reading Gothic novels. However, after her romantic ideals are shattered, she decides to move away from more fantastical storylines and create more realistic plots in the style of Jane Austen. It was an interesting exercise to compare Radcliff and Austen's different paths to fame. While Ann Radcliffe was far more successful during her lifetime than Jane Austen, Austen achieved more recognition after her death.
Ann Radcliffe was born Ann Ward in Holborn in London on 9 July 1764. She was an English author and the pioneer of Gothic fiction. In 1787, Ward married the Oxford graduate and journalist William Radcliffe (1763–1830), who was the part-owner and editor of the English Chronicle. He often came home late, and to occupy her time, Radcliff began to write.
The money she earned from her novels later allowed her to travel with her husband. In her final years, Radcliffe retreated from public life and was rumoured to have become insane due to her writing. These rumours arose because, after publishing five novels, Radcliffe stopped writing, even though the last three books were very successful. She remained secluded for 26 years, with no real explanation available to her many fans.
Her technique of explaining apparently supernatural elements in her novels has been credited with gaining Gothic fiction respectability in the 1790s. Radcliffe was the most popular writer of her day and was almost universally admired. Contemporary critics called her "the mighty enchantress" and the "Shakespeare of romance-writers", and her popularity continued throughout the 19th century.
Radcliffe published five novels during her lifetime, which she referred to as "romances." Her final novel, Gaston de Blondeville, was published posthumously in 1826. The average amount earned by an author for a manuscript at this time was £10. However, Radcliffe's publishers, G.G. and J. Robinson, bought the copyright for The Mysteries of Udolpho (1794) for £500, while Cadell and Davies paid £800 for The Italian (1797). This made Radcliffe the highest-paid professional writer of the 1790s. Her first successful novel was Romance of the Forest (1791).
Radcliffe portrayed her female characters as equal to male characters, allowing them to dominate and overtake the typically powerful male villains and heroes, creating new roles for women in literature. However, Radcliffe did not favour the direction in which Gothic literature was heading, and it is assumed that this frustration caused her to stop writing.
Interest in Radcliffe's work has revived in the early 21st century. She died on 7 February 1823 and was buried in a vault in the Chapel of Ease at St George's, Hanover Square, London.
Jane Austen (1775 –1817) was an English novelist known primarily for her six major novels, which interpret, critique and comment upon the British landed gentry and women's dependence on marriage for social and economic standing.
Jane was a clergyman's daughter and received an excellent education, far superior to the type of education given to most girls at the time. She lived at Steventon, her father's vicarage in Hampshire, where she wrote her first novels, Pride and Prejudice, Sense and Sensibility, and Northanger Abbey. On her father's retirement in 1801, the family moved to Bath for several years and then to Southampton before settling finally at Chawton Cottage, near Alton, Hampshire.
Jane Austen's works critique the novels of sensibility of the second half of the 18th century and are part of the transition to 19th-century literary realism. Modern critics, scholars, and popular audiences acclaim her use of social commentary and irony. Although her six full-length novels have rarely been out of print, they were published anonymously and brought her moderate success and little fame during her lifetime.
Sense and Sensibility (1811), Pride and Prejudice (1813), Mansfield Park (1814) and Emma (1816) were published while Austen was alive. Her other two novels, Northanger Abbey and Persuasion, were published posthumously in 1818.
Northanger Abbey is often classed as a parody of the gothic novels of the late 18th century, and it refers directly to Ann Radcliffe's The Mysteries of Udolpho, where Austen satirises her heroine's quest to seek out the supernatural and the mysterious in ordinary circumstances.
And in Sense and Sensibility, Austen states: "Marianne Dashwood was born to an extraordinary fate. She was born to discover the falsehood of her own opinions." This statement perhaps sums up Jane Austen's view of sentimentalism. However, the fact that she was familiar enough with these romances to critique them shows how widely read they were at the time. Austen evidently read quite a few of them herself!
Jane Austen was ill-paid for her novels, receiving only £684 from publishing four books in her lifetime (Honan 393). In 1833, Austen's novels were republished in Richard Bentley's Standard Novels series, and they gradually gained wider acclaim and popular readership after this date. Today, they are appreciated as masterpieces, while Ann Radcliffe's Gothic novels have faded into relative obscurity.
However, Austen's work might have been very different without this rich body of Gothic fiction to draw upon and critique.
Sources:
The Economics of Jane Austen's World, JASNA (Jane Austen Society of North America) Vol 36 no. 1.
Cynthia Whissell. "Northanger Abbey: Jane Austen's Connexion with Ann Radcliffe and the Gothic". International Journal on Studies in English Language and Literature (IJSELL), vol 5, no. 9, 2017, pp. 51-59. doi:http://dx.doi.org/10.20431/2347-3134.0509006.
https://en.wikipedia.org/wiki/Ann_Radcliffe
https://en.wikipedia.org/wiki/Jane_Austen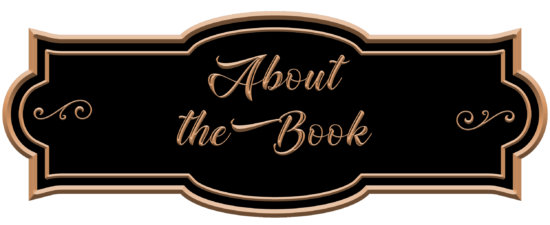 The Linfield Ladies: Book 2
Publication Date: April 26, 2022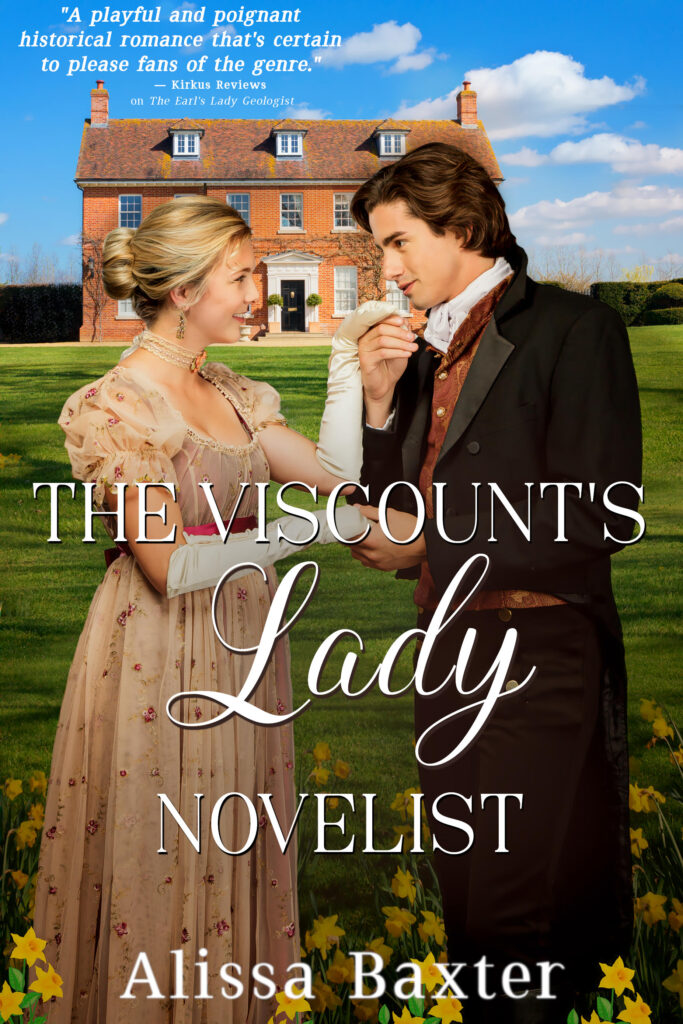 Harriet Linfield is a lady novelist who has been disillusioned by love. She sets out to write more realistic tales about the emotion when she returns home to Linfield Court for the summer. Vowing to avoid any romantic entanglements along the way, she focuses instead on her writing and her plan to turn the estate she inherited from her uncle into a refuge for orphans.
Oliver, Viscount Wentford, is determined to restore his family fortunes. But his plans for the estate he inherited are in direct opposition to the wishes of Harriet, his new neighbour. Upon meeting her, Oliver is amused when, in response to his provocative comments, she informs him that she intends to make him the villain of her next book. But his amusement swiftly turns to dismay when circumstances align to show him in that exact light.
When an enemy comes back into Harriet's life, she sees that love isn't as clear-cut as the romantic tales she pens. But will the viscount manage to discard his villainous mantle to become Harriet's real-life hero?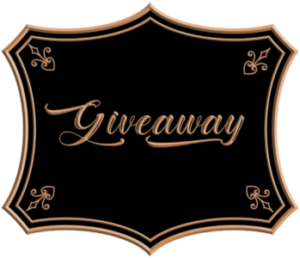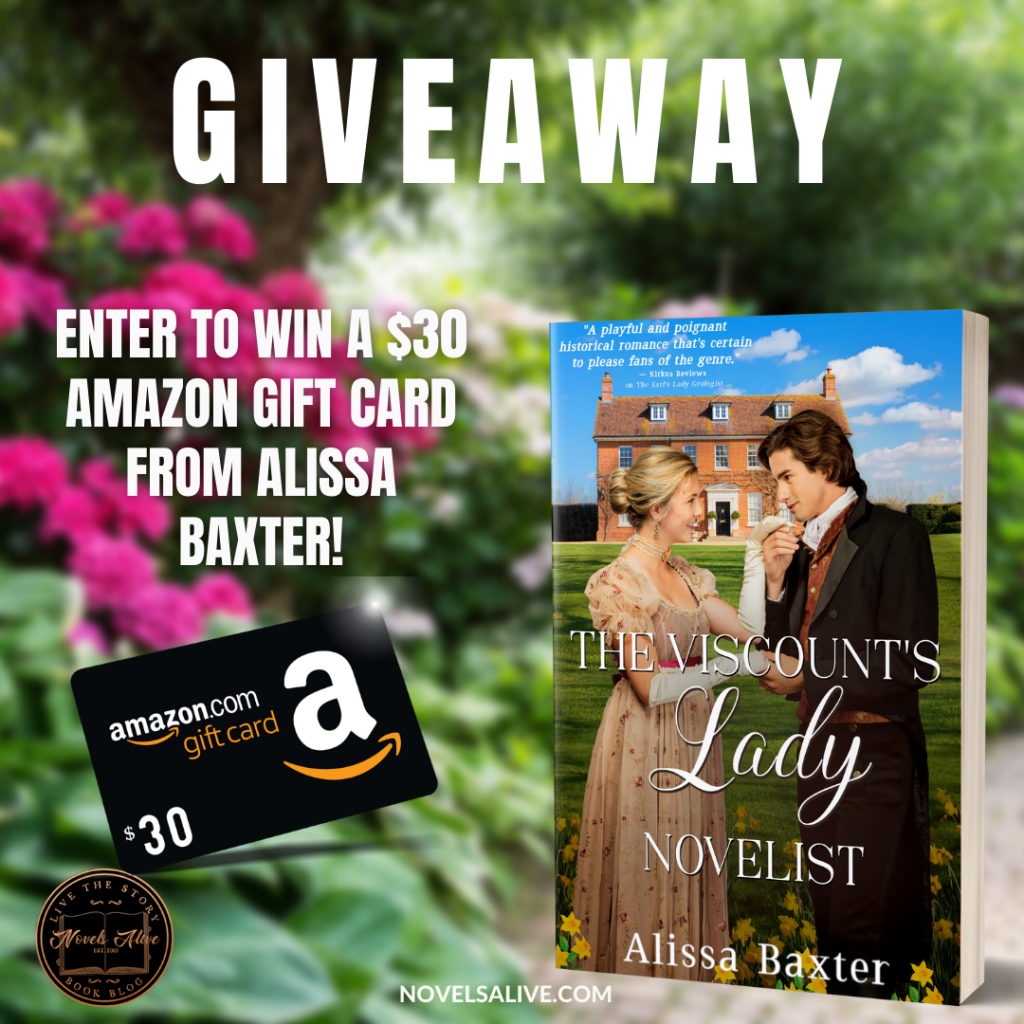 Enter to win a $30 Amazon Gift Card!
The giveaway is open to the US only and ends on May 18th. You must be 18 or older to enter.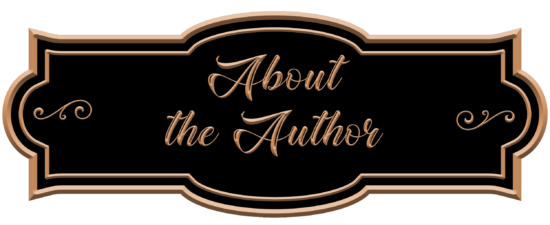 Alissa Baxter was born in a small town in South Africa and grew up with her nose in a book on a poultry and cattle farm. At the age of eleven, she discovered her mother's collection of Georgette Heyer novels. The first Heyer novel she ever read was Sylvester and she was hooked on Georgette Heyer after that. She read and reread her novels, and fell totally in love with the Regency period and Heyer's grey-eyed heroes!
After university, where she majored in Political Science and French, she began writing her first Regency novel, before moving to England, which gave her further inspiration for her historical romances.
Alissa has lived in Durban and Cape Town but she eventually settled in Johannesburg where she lives with her husband and two sons. Alissa is the author of two chick-lit novels, Send and Receive and The Blog Affair, which have been re-released as The Truth About Series: The Truth about Clicking Send and Receive and The Truth About Cats and Bees.
Alissa's Linfield Ladies Series features women in trend-setting roles in the Regency period who fall in love with men who embrace their trailblazing ways… at least eventually. The Viscount's Lady Novelist is the second book in this series, following on from The Earl's Lady Geologist.

Tuesday, April 26
Guest Post at Novels Alive
Excerpt at The Caffeinated Bibliophile
Wednesday, April 27
Review at MTM Reads
Excerpt at Aubrey Wynne: Timeless Romance
Thursday, April 28
Excerpt at The Lit Bitch
Review at Michelle the PA Loves to Read
Friday, April 29
Review at Anna's Book Blog
Saturday, April 30
Excerpt at Reading is My Remedy
Sunday, May 1
Excerpt at The Cozy Book Blog
Monday, May 2
Review at Bookish Rantings
Tuesday, May 3
Review at Bookworlder
Wednesday, May 4
Review & Excerpt at Elodie's Reading Corner
Thursday, May 5
Review at Novels Alive
Friday, May 6
Review at Gwendalyn's Books
Review at View from the Birdhouse
Saturday, May 7
Excerpt at Lisa Everyday Reads
Monday, May 9
Guest Post at Heidi Reads
Wednesday, May 11
Review at Ms. Darcy Reads
Thursday, May 12
Review at Reading Is My SuperPower
Friday, May 13
Review at Historical Fiction with Spirit
Monday, May 16
Review at One Book More
Tuesday, May 17
Review at Robin Loves Reading
Wednesday, May 18
Guest Post at The Tea Queen