Today we welcome Renaissance Man, and uber-talented, screenwriter, playwright, and author Gary Goldstein! 
What drives your story forward in your books the most, the characters or the plot, or do you feel they are intertwined?
Hopefully, the characters who are reacting to the story that's developing around them. Still, it's the plot or narrative—or at least the situations the characters may find themselves in—that propels the story so, yes, they are intertwined.
If you were a character in one of your books, which would you be? The protagonist, mentor, villain, love interest, etc.?
They say we're always our protagonists no matter how different they may be from us. But like actors, don't we all want to be a villain at least once?
If you had the power to make any of your books into a film, which would it be and why?
Well, since I've already written the screenplay for "The Last Birthday Party" I'm hoping that one! The story provides a strong part for a major lead actor of a certain age, which could be its primary selling point. Beyond that, I think it's a fun, relatable and moving story along the lines of such movies as "Little Miss Sunshine," "Sideways" and "The Descendants."
Is there a particular genre of fiction that you have always wanted to write, but haven't yet tackled?
I'd like to try my hand at a mystery, though it would probably be along more comedic lines. I've adapted several mystery novels into TV movies so was able to deconstruct and reassemble those stories for the screen. It was a huge learning experience.
If you could meet a literary character or author, who would you most like to meet?
Living or dead? Dead: F. Scott Fitzgerald, because think of the stories he'd have to tell! Living: Anne Tyler, one of my favorite contemporary authors and a big influence on my writing.
As with the rest of us, you have a real life to live.  So, in your most recent book, what was happening in your life and how did it influence your writing?
I wrote my second book, "The Mother I Never Had," last year at the same time "The Last Birthday Party" was being edited, marketed and brought out into the world. I'd learned so much from writing (and going through the editing process on) the first book that it definitely informed and, I think, streamlined the writing process for me. I was also working on a TV movie during part of the "Mother" writing so I had to do some hat-switching. But storytelling is storytelling and the more of it you can be doing can only help keep your head in the process. Of course, like everyone, the pandemic was still in high gear when I wrote my last book so maybe that gave me a little more time to write than I might have otherwise had. I can't say it informed the story, though.
Was there something in your first edit that didn't make it in the final copy that you sometimes wish you would have kept?
There was one short scene in The Last Birthday Party that was hard to cut but I eventually did so on the recommendation of my editor. Though she liked the scene, she felt it was maybe tonally off with the rest of the narrative and delayed the action at hand. I loved the scene, which involved my main character and an inquisitive ten-year-old tourist he meets. I felt it encapsulated some of the funny illogic of the screenwriting business, which is part of what the book is about.
My publisher gave me the choice and was okay with it either way, but I finally realized the overall sequence moved along better without it. Sometimes less is more. In the end, it's always best not to be too precious with your words. And who knows, maybe I can use it elsewhere down the line!
What do you do to prepare your mind to write? To get into the mind of your characters.
Sometimes I "cast" the characters in my head, who would play them in a film or TV series. Other times I think of people I've known or met in my life, how they talked, moved, acted, approached the world. I want my characters to be recognizable and relatable but unique in their own right.
What book as a child/adolescent most influenced you as a writer?
It's kind of a cliché, I know, but "The Catcher in the Rye." Not sure how I'd feel about it now, but I loved it back then.
How much research went into your last book?
On "The Mother I Never Had," a lot about the various California locations I chose as well as my main character's profession, which is landscape design. I had a decent knowledge base to start with but wanted to get all the details right, of course. And even though I live in L.A., where most of the book takes place, I was writing about several parts of the area I'm less familiar with but felt they'd be right for the story. So I went and visited them. The book also includes a few multi-cultural elements that I was careful about as well.
What's one of the most important things you'd like your readers to know about you? What defines you most as an author?
That, like all writers, I'm not just one thing. My first book was a kind of wry romantic comedy, my new book is a serious family drama (though when my editor first read it she mentioned how I was able to find humor in dark places, which I was happy to hear, even if it was inadvertent on my part!). As a screenwriter, I've written comedies, dramas, mysteries and thrillers. As a playwright, comedies, dramedies, and even a biographical drama. A writer writes. You just need to be inspired—and authentic.
What is one thing about you that may surprise your readers?
Interesting question… I've been told that, as a man, I write women well. See the answer above!
Can you tell us what prompted you to write your latest release?
It's a bit of wish fulfillment, I guess. My mother died when I turned 30, the same age that Nate, the protagonist of "The Mother I Never Had," is when he loses his father. The thought of having a mother again, after spending so many years without one myself, was a really compelling thought for me. A kind of "What if?" scenario.
Of course, in my personal fantasy, it all immediately works out: I lost a parent and now I have her again. In the book, it's anything but easy for Nate, for a variety of complicated reasons that he must work out along the way.
The point is, if you have a good relationship with a parent, you need to be really grateful to have them in your life. Like anyone we love, they can be gone in an instant.
What's next for you? What are you working on now?
Right now we're finishing up the last bits of editing on "The Mother I Never Had" and I'll be involved through the rest of the year (and likely beyond!) with the book's publicity and marketing. (It'll be out Oct. 11th.) I'm also working on a pair of TV movie scripts. Plus, I have an idea for my next book, a romantic comedy that flips between 1970s and contemporary Boston, that I'm hoping to get started on sooner than later.
Thank you so much for joining us so we could learn more about you. You are truly a fascinating man!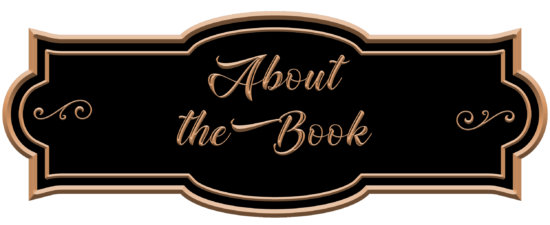 Publication Date: August 17, 2021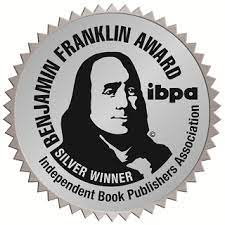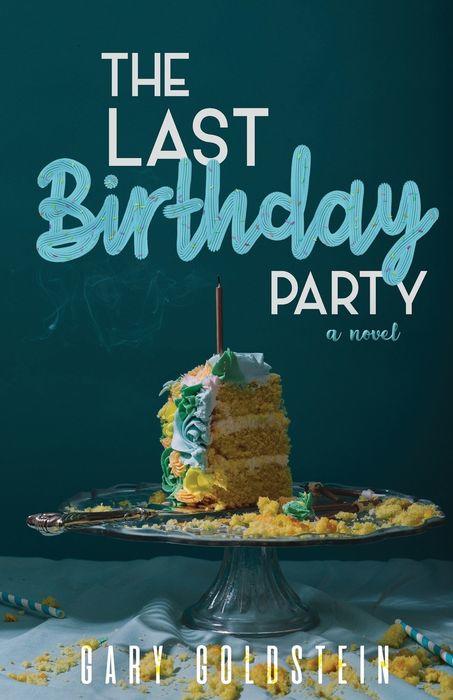 Gary's first novel, the romantic comedy The Last Birthday Party, was published August, 2021 by Hadleigh House. It won the Silver Medal for Excellence in Fiction: Romance at the 34th annual IBPA Benjamin Franklin Awards. His second novel, the family drama The Mother I Never Had, will be published Fall 2022.
There's nothing fabulous about 50 for L.A. film critic Jeremy Lerner, who loses his marriage, his job, and the use of his right arm just days after the birthday party he begged his now ex-wife not to throw him. But fate is a sly devil.
Jeremy's string of calamities leads to a game-changing emotional and creative rebirth after he meets the intoxicating Annabelle, a beguiling widow who comes to his rescue—and Jeremy to hers.
If only their baggage didn't match quite so well.
With the added support of his wise and spirited mom, Joyce, his capricious and big-hearted son, Matty, and Matty's steadfast new boyfriend, Gabe, Jeremy begins to change in ways that surprise, inspire, and galvanize him. All of this while his career makes a head-spinning leap. The thing is, can it last?
"The Last Birthday Party" combines wry observation with an everyday wistfulness for a warm, propulsive, humanly funny tale of second chances set against the alluring nuttiness of Hollywood.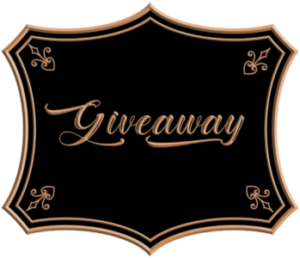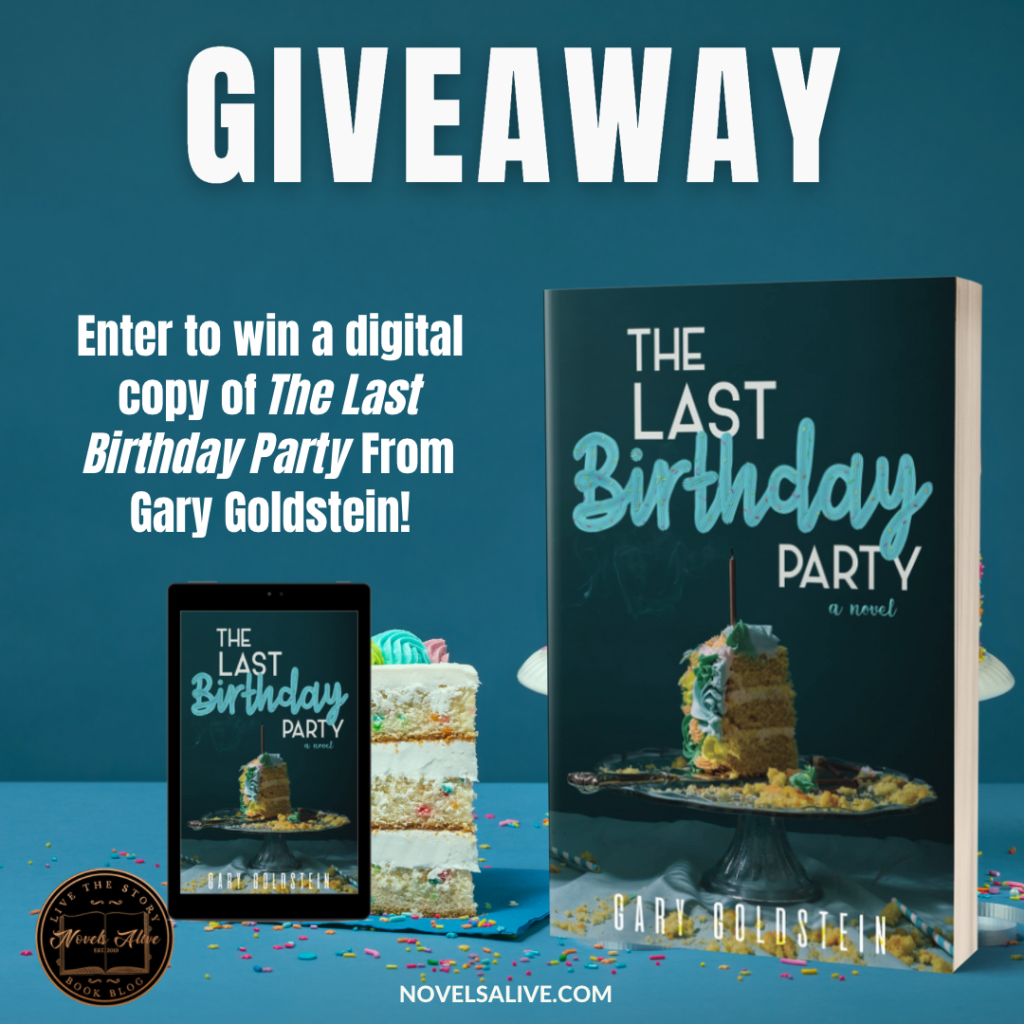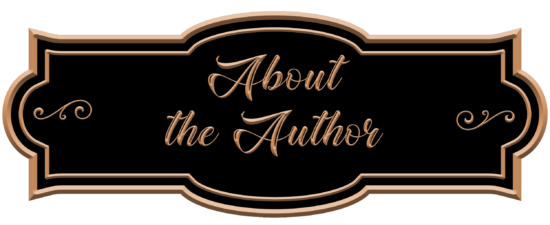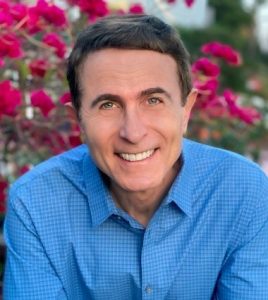 Gary Goldstein writes for TV, film and the stage—and is now also a novelist.
He has written more than 15 produced telefilms including the comedies "The Wish List," "Hitched for the Holidays," "This Magic Moment" and "My Boyfriends' Dogs," and the first two movies in the "Flower Shop Mystery" series starring Brooke Shields.
His feature film "Politics of Love," a romantic comedy set during the 2008 U.S. Presidential election, was released in theaters in 2011. He also wrote the feature romantic comedy, "If You Only Knew," starring Johnathon Schaech and Alison Eastwood. Gary's feature adaptation of the novel "Mr. 365" premiered on the streaming service Passionflix in 2018 and is available on Amazon Prime.
He is currently developing Mark Sarvas' acclaimed novel "Memento Park"—a  powerful drama involving fathers, sons, faith, art and the Holocaust—as a feature film.
Gary has also sold or optioned a number of original screenplays, has a string of episodic TV credits and has sold half-hour comedy pilots to both NBC and Warner Bros.
He was represented on the Los Angeles stage most recently with the World Premiere of his acclaimed three-sisters dramedy "April, May & June," produced as part of its subscription season by Theatre 40 of Beverly Hills. The play won five Broadway World award nominations including Best Local Production.
Other L.A. stage credits include the comedies "Just Men," "Parental Discretion" and "Three Grooms and a Bride," which all enjoyed long, well-reviewed runs. Gary's family drama "Curtain Call" premiered at Carmel, CA's Pacific Repertory Theatre, after winning the PacRep's national Hyperion Playwriting Competition.
In addition, his family dramedy "To My Children's Father," was selected by Monterey, CA's Paper Wing Theatre Company to premiere in their 2018 "5th Annual Play Reading Series." Gary's latest play, "Dinner at the Harbor Reef," a drama "based on fact, rumor and Hollywood," debuted in a staged reading in 2019 at Beverly Hills' Theatre 40.
Gary's first novel, the romantic comedy The Last Birthday Party, was published August, 2021 by Hadleigh House. His second novel, the family drama The Mother I Never Had, will be published Fall 2022.
Gary has also been a regular contributing film reviewer and arts feature writer for the Los Angeles Times since 2007.
A New York native, he resides in Los Angeles.