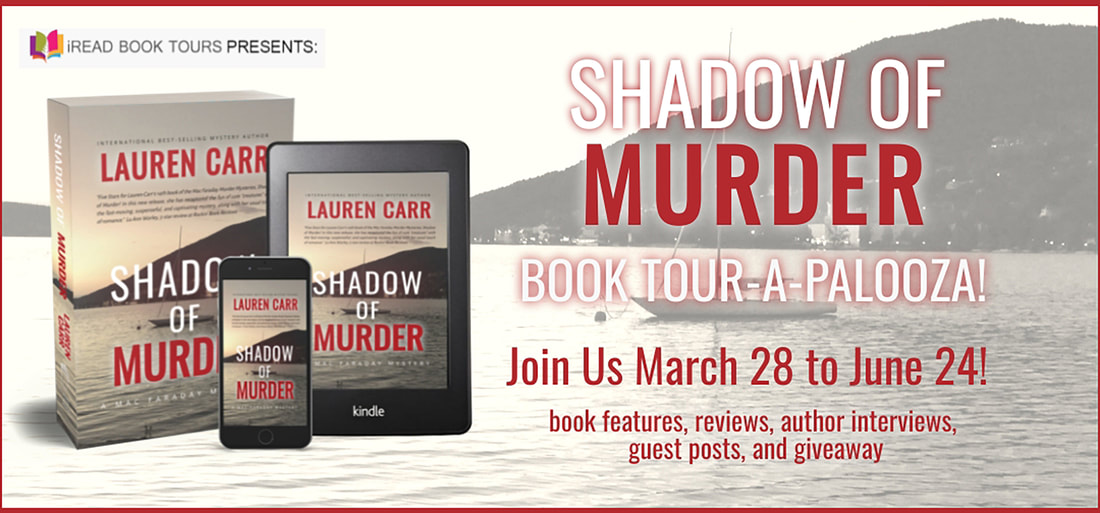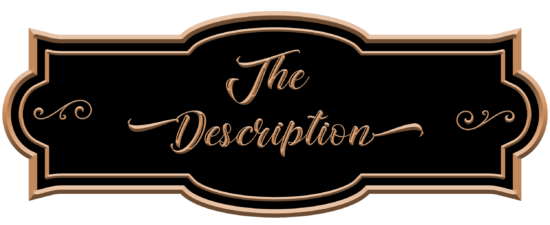 Mac Faraday Mystery: Book 14
Publication Date: March 30, 2022
You can't move to the next chapter of your life, without tying up loose ends in the previous.
True crime blogger, Erica Hart starts a new chapter in her life with a bang when a dark shadow darts into the mountain road to send her SUV off a cliff and to the bottom of Deep Creek Lake. Spencer's newest addition to the police force, Dusty O'Meara assumes it was a bear. Erica is not so sure.
Soon afterward, contractors discover Konnor Langston's body at the bottom of an abandoned swimming pool at the new summer home of Mac Faraday's son.
With Police Chief David O'Callaghan away on paternity leave, Deputy Chief Dusty O'Meara must lead the investigation in his first murder case since moving to Spencer. Not only does Dusty have to work under the shadow of the legendary Mac Faraday, but he also has to match his wits with Erica, who is determined to find justice for Konnor, her childhood friend.
Mac isn't so difficult. Even Gnarly, the town's canine mayor, is manageable if his authority is well-respected and he is kept entertained.
Erica Hart, Dusty finds, is more of a challenge. It wouldn't be so difficult if she wasn't so irresistible.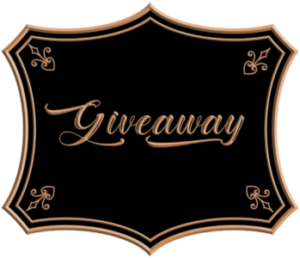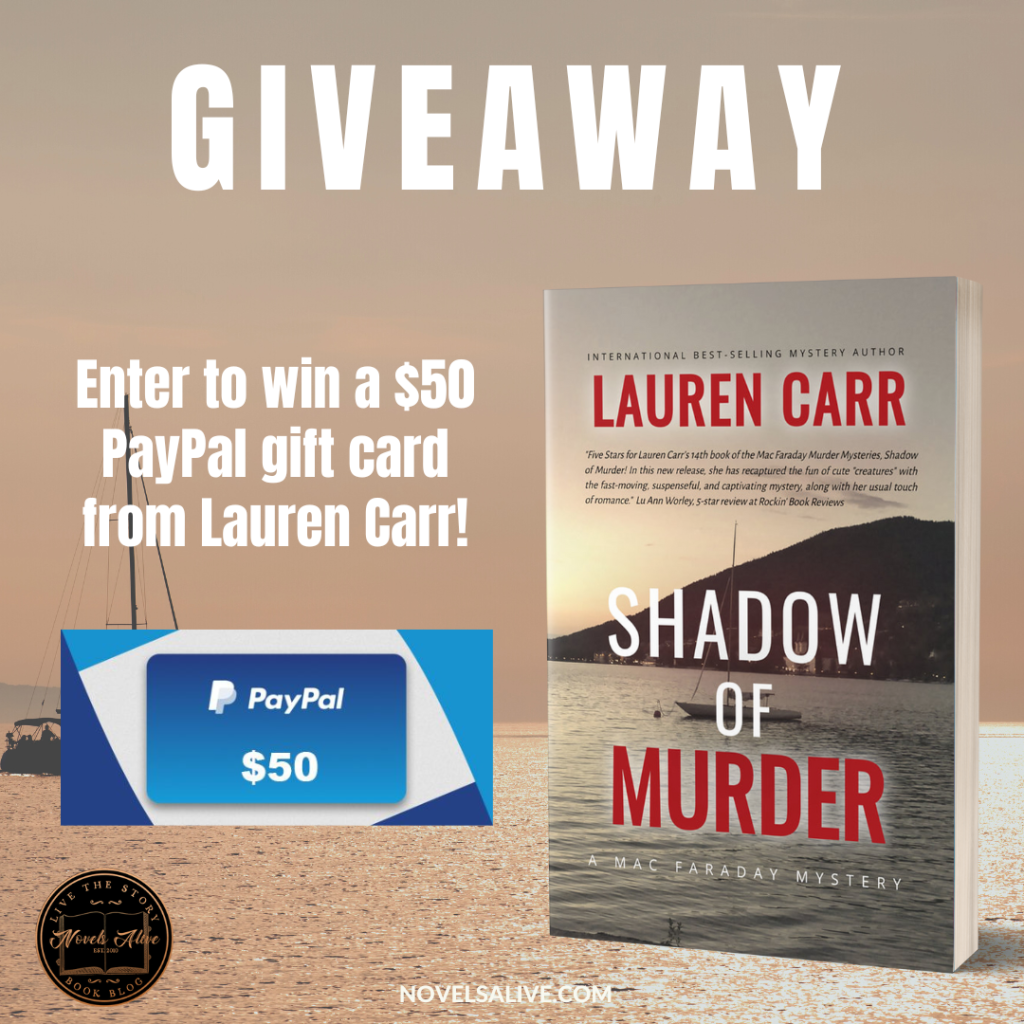 Prizes: ​ $50 PayPal Gift Card courtesy of Lauren Carr, author of SHADOW OF MURDER
(ends July 1)
SHADOW OF MURDER (Mac Faraday Mysteries) Tour Giveaway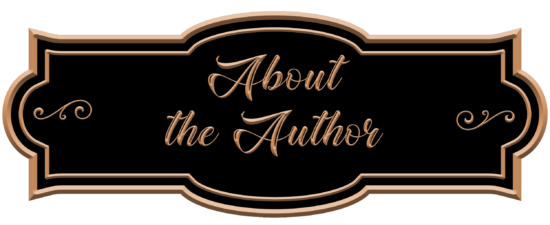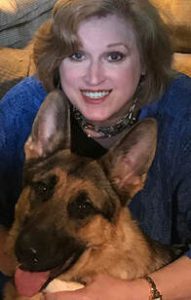 Lauren Carr is the international best-selling author of the Mac Faraday, Lovers in Crime, and Thorny Rose Mysteries—over twenty titles across three fast-paced mystery series filled with twists and turns!
Book reviewers and readers alike rave about how Lauren Carr's seamlessly crosses genres to include mystery, suspense, romance, and humor.
Lauren is a popular speaker who has made appearances at schools, youth groups, and on author panels at conventions. She lives with her husband, and three dogs on a mountain in Harpers Ferry, WV.

March 28 –Mystery Review Crew – book series spotlight / guest post / giveaway
March 28 –Cover Lover Book Review – book series spotlight / giveaway
March 29 –Olio by Marilyn – book review of IT'S MURDER, MY SON / giveaway
​March 29 – My Journey Back – book spotlight / book excerpt
March 29 – Rockin' Book Reviews – book review of SHADOW OF MURDER / guest post / giveaway
March 30 –Literary Flits – book review of SHADOW OF MURDER / giveaway
Mar 30 –Olio by Marilyn – book review of SHADOW OF MURDER / giveaway
Mar 30 –Olio by Marilyn – book spotlight of SHADOW OF MURDER / author interview / giveaway
March 31 – My Reading Journeys – book review of SHADOW OF MURDER / giveaway
April 1 – Kam's Place – book spotlight of SHADOW OF MURDER
April 4 – Kam's Place – book spotlight of IT'S MURDER, MY SON
April 4 – Rockin' Book Reviews – audiobook review of IT'S MURDER, MY SON / giveaway
April 5 –Literary Flits – book review of SHADES OF MURDER / giveaway
April 6 –Leels Loves Books – book review of SHADOW OF MURDER / giveaway
April 7 – Kam's Place – book spotlight of OLD LOVES DIE HARD, SHADES OF MURDER, BLAST FROM THE PAST
April 7 – Rockin' Book Reviews – audiobook review of OLD LOVES DIE HARD / giveaway
April 8 –Nighttime Reading Center – audiobook review of SHADES OF MURDER / giveaway
April 11 –Kam's Place – book spotlight of THE MURDERS AT ASTAIRE CASTLE, THE LADY WHO CRIED MURDER, TWELVE TO MURDER
April 12 – Book Corner News and Reviews – book series spotlight / giveaway
April 13 –Rockin' Book Reviews – audiobook review of SHADES OF MURDER / giveaway
April 14 – My Reading Journeys – book review of TWELVE TO MURDER / giveaway
April 15 – Gina Rae Mitchell – book review of IT'S MURDER, MY SON / giveaway
April 15 – Kam's Place – book spotlight of A WEDDING AND A KILLING, OPEN SEASON FOR MURDER
April 19 – Rockin' Book Reviews – audiobook review of BLAST FROM THE PASST / giveaway
April 19 – Library of Clean Reads – book review of SHADOW OF MURDER / giveaway
April 20 – Bound 4 Escape – book review of OLD LOVES DIE HARD / giveaway
April 20 – Novels Alive – book review of IT'S MURDER, MY SON / giveaway
April 21 – My Reading Journeys – book review of A WEDDING AND A KILLING / giveaway
April 21 – Rockin' Book Reviews – book review of THE MURDERS AT ASTAIRE CASTLE / giveaway
April 22 –Book Corner News and Reviews – book review of SHADOW OF MURDER / guest post / giveaway
April 25 – Novels Alive – book review of OLD LOVES DIE HARD / giveaway
April 26 –Literary Flits – book review of THE MURDERS AT ASTAIRE CASTLE / giveaway
April 26 – Books for Books – audiobook review of OLD LOVES DIE HARD
April 27 – Rockin' Book Reviews – audiobook review of THE LADY WHO CRIED MURDER / giveaway
April 28 – Novels Alive – book review of SHADES OF MURDER / giveaway
April 29 – Nighttime Reading Center – audiobook review of THE LADY WHO CRIED MURDER / giveaway
April 29 – Gina Rae Mitchell – audiobook review of OLD LOVES DIE HARD/ giveaway
May 2 – My Fictional Oasis – audiobook review of OLD LOVES DIE HARD / giveaway
May 3 – Dab of Darkness Audiobook Reviews – audiobook review of A WEDDING AND A KILLING / giveaway
May 3 – Books for Books – audiobook review of SHADES OF MURDER
May 4 – Kam's Place – book spotlight of THREE DAYS TO FOREVER
May 4 – Literary Flits – book review of TWELVE TO MURDER / giveaway
May 5 –Kam's Place – book spotlight of CANCELLED VOWS
May 5 – Novels Alive – book review of BLAST FROM THE PAST / giveaway
May 6 – My Fictional Oasis – audiobook review of SHADES OF MURDER / giveaway
May 6 – Kam's Place – book spotlight of CANDIDATE FOR MURDER and CRIMES PAST
May 9 – Splashes of Joy – audiobook review of OLD LOVES DIE HARD / giveaway
May 9 – Books for Books – audiobook review of TWELVE TO MURDER
May 10 – Celticlady's Reviews – book series spotlight / giveaway
May 10 – Novels Alive – book review of MURDERS AT ASTAIRE CASTLE / giveaway
May 11 – Locks, Hooks and Books – book review of THE MURDERS AT ASTAIRE CASTLE / giveaway
May 11 – My Fictional Oasis – audiobook review of THE LADY WHO CRIED MURDER / giveaway
May 12 – Rockin' Book Reviews – audiobook review of TWELVE TO MURDER / giveaway
May 16 – Novels Alive – book review of THE LADY WHO CRIED MURDER / giveaway
May 16 – Hall Ways Blog – audiobook review of SHADOW OF MURDER / giveaway
May 16 – Books for Books – audiobook review of A WEDDING AND A KILLING
May 17 – Locks, Hooks and Books – book review of A WEDDING AND A KILLING / giveaway
May 18 – Dab of Darkness Audiobook Reviews – audiobook review of OPEN SEASON FOR MURDER / giveaway
May 18 – My Fictional Oasis – audiobook review of A WEDDING AND KILLING / giveaway
May 19 – Deborah-Zenha Adams – book series spotlight / author interview / giveaway
May 19 – Library of Clean Reads – book review of OLD LOVES DIE HARD / giveaway
May 20 – Nighttime Reading Center – audiobook review of A WEDDING AND A KILLING / giveaway
May 20 – Bound 4 Escape – book review of BLAST FROM THE PAST / giveaway
May 23 – Rockin' Book Reviews – book review of A WEDDING AND A KILLING / giveaway
May 23 – Books for Books – audiobook review of OPEN SEASON FOR MURDER
May 24 – Mostly Mystery Reviews – book review of IT'S MURDER, MY SON / giveaway
May 24 – Novels Alive – book review of TWELVE TO MURDER / giveaway
May 25 – Locks, Hooks and Books – book review of SHADOW OF MURDER / giveaway
May 25 – My Fictional Oasis – audiobook review of THREE DAYS TO FOREVER / giveaway
May 26 – Dab of Darkness Audiobook Reviews – audiobook review of CANCELLED VOWS / giveaway
May 27 –Bound 4 Escape – book review of THE LADY WHO CRIED MURDER / giveaway
May 27 – Books for Books – audiobook review of CANCELLED VOWS
May 31 –Jazzy Book Reviews – book series spotlight / guest post / giveaway
June 1 – fundinmental – book review of SHADOW OF MURDER / giveaway
June 1 – Books for Books – audiobook review of CANDIDATE FOR MURDER
June 2 – Mostly Mystery Reviews – book review of SHADOW OF MURDER / guest posts / giveaway
June 2 – Novels Alive – book review of A WEDDING AND A KILLING / giveaway
June 3 – Rockin' Book Reviews – audiobook review of OPEN SEASON FOR MURDER / giveaway
June 3 – My Fictional Oasis – audiobook review of CANCELLED VOWS / giveaway
June 6 –Bound 4 Escape – book review of  TWELVE TO MURDER / giveaway
June 6 – Books for Books – audiobook review of CRIMES PAST
June 7 – Splashes of Joy – audiobook review of SHADES OF MURDER / giveaway
June 7 – Novels Alive – book review of THREE DAYS TO FOREVER / giveaway
June 8 – The Page Ladies – audiobook review of SHADOW OF MURDER / giveaway
June 9 – Dab of Darkness Audiobook Reviews – audiobook review of SHADOW OF MURDER / giveaway
June 9 – Bound 4 Escape – book review of  A WEDDING AND A KILLING / giveaway
June 10 – Nighttime Reading Center – audiobook review of SHADOW OF MURDER / giveaway
June 10 – Books for Books – audiobook review of SHADOW OF MURDER
June 13 – My Fictional Oasis – audiobook review of SHADOW OF MURDER / giveaway
June 13 – ​Rockin' Book Reviews – book review of CANDIDATE FOR MURDER / giveaway
June 14 – Bound 4 Escape – book review of  OPEN SEASON FOR MURDER / giveaway
June 14 – Novels Alive – book review of OPEN SEASON FOR MURDER / giveaway
June 15 – Bound 4 Escape – book review of SHADOW OF MURDER / giveaway
June 16 –Literary Flits – book review of THREE DAYS TO FOREVER / giveaway
June 17 – Novels Alive – book review of CANCELLED VOWS / giveaway
June 20 – Splashes of Joy – audiobook review of SHADOW OF MURDER / giveaway
June 21 – Novels Alive – book review of CANDIDATE FOR MURDER / giveaway
June 22 – Gina Rae Mitchell – audiobook review of SHADOW OF MURDER / guest post / giveaway
June 23 – Novels Alive – book review of CRIMES PAST / giveaway
June 24 – Adventurous Jessy – book review of SHADOW OF MURDER / giveaway
June 24 – Rockin' Book Reviews – book review of CRIMES PAST / giveaway
June 24 – Novels Alive – book review of SHADOW OF MURDER / giveaway