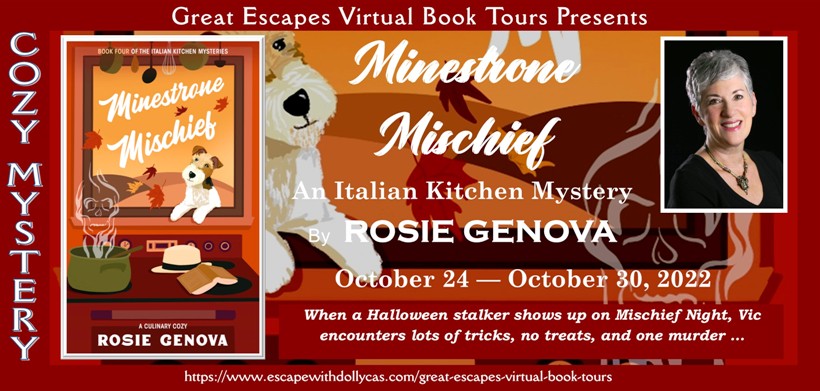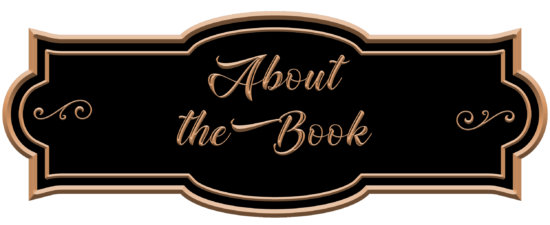 The Italian Kitchen Mysteries: Book 4
Publication Date: September 28, 2022
When a Halloween stalker shows up on Mischief Night, Vic encounters lots of tricks, no treats, and one murder …
It's the post-summer season in Oceanside Park, and mystery writer Victoria Rienzi's hometown is preparing for one last blast on the boardwalk—its annual Mischief Night parade, held the evening before Halloween. While Nonna keeps her busy making treat bags full of Italian candy, Vic dreams up the perfect costumes for herself and Tim: Nick and Nora Charles, the famed detective pair from The Thin Man movies. Completing their look is a canine scamp, Willie, borrowed to play the part of Nora's pet terrier.
But Victoria's excitement is dimmed by the presence of a stalker, Edward Millman, who's seen lurking around the Rienzi family restaurant. And who shows up at the Mischief Night parade dressed as Victoria's book sleuth, Bernardo Vitali. But halfway through the parade, Willie sniffs out trouble, leading Vic and Tim on a not-so-merry chase that brings them to a dead body—Victoria's stalker, Edward Millman. And in a scene straight out of Victoria's latest book, Millman is found with a knife sticking from his chest, along with a nasty note: You deserved this.
As Vic digs into the details of the victim's life, she wonders: Is it life imitating art? Or is there a more deadly form of mischief at work this Halloween?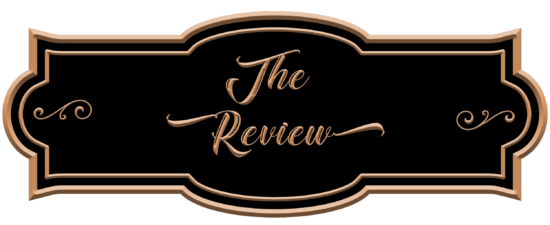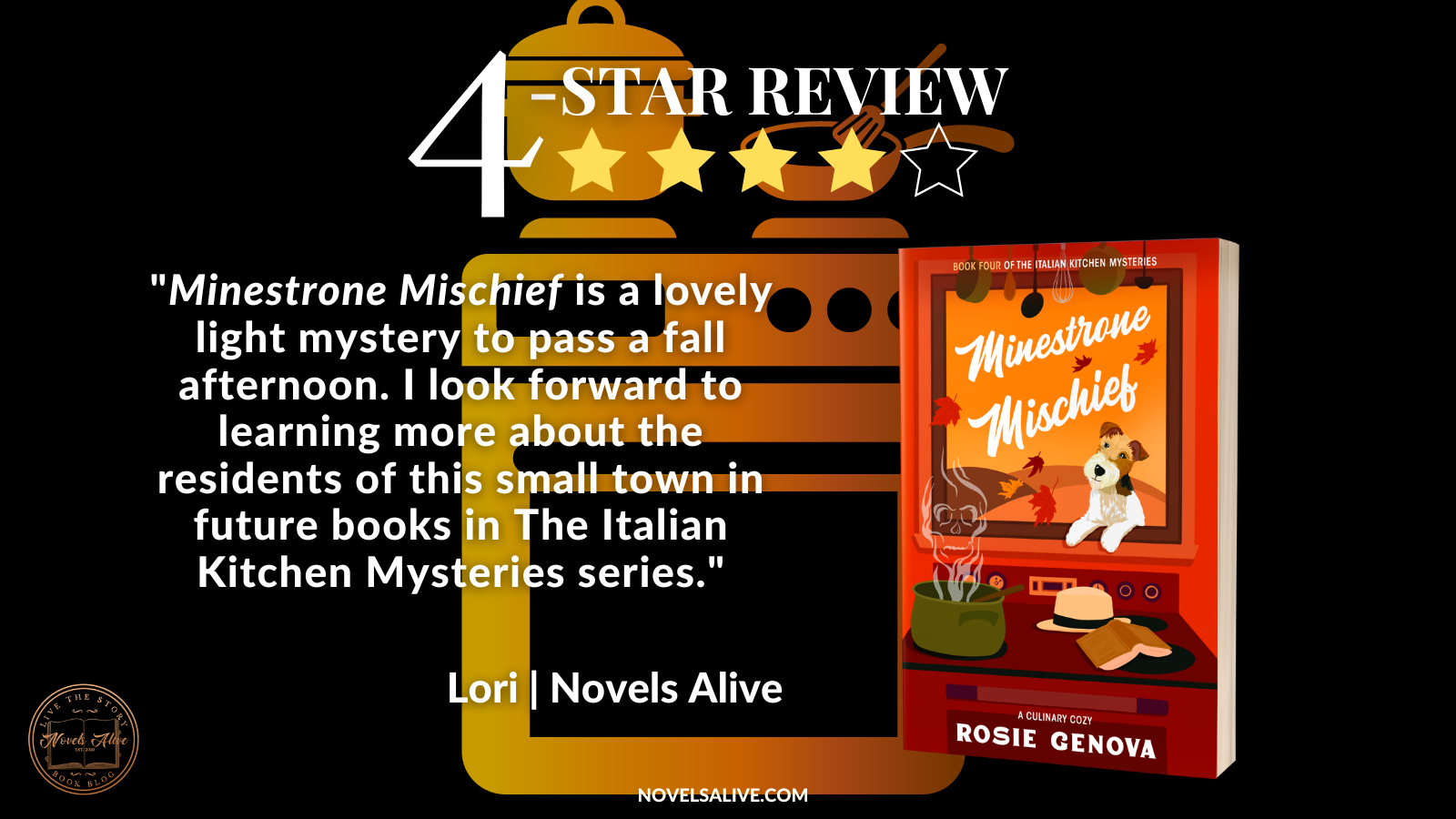 Minestrone Mischief by Rosie Genova is a cute, light, enjoyable cozy mystery. This is a standalone book, so reading the previous books is unnecessary.
I liked Victoria. She was a woman who loved her family. She was serious about her craft and about helping her family restaurant.
I also liked Victoria's sister-in-law. She was essential to help keep the story going, and she was funny.
I thought the plot moved quickly, I enjoyed the small-town vibe, and the story's timeline coincides with reality. It's autumn and almost Halloween, so I thought it was very appropriate for reading right now.  
I like that I didn't know who did it till the end. I don't like when it's too easy to figure out—not that I've been one to figure out who did it anyway. 
I thought Nonna was a tough nut to crack. I'm still unsure if I like her or not. I think I would be afraid of her in real life.  
I'm glad Victoria and Tim worked things out in the end. I'm a sucker for a happy ending where all the loose ends are tidied up.
Minestrone Mischief is a lovely light mystery to pass a fall afternoon. I look forward to learning more about the residents of this small town in future books in The Italian Kitchen Mysteries series.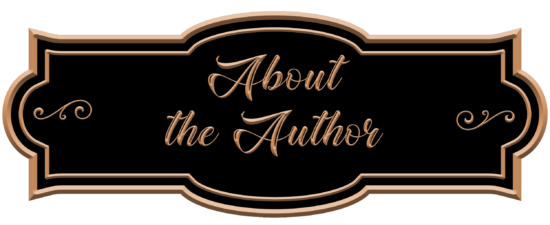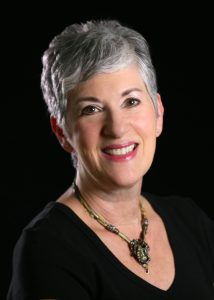 Bestselling and award-winning author Rosie Genova left her heart at the shore, which serves as the setting for much of her work. The inspiration for her cozy series, the Italian Kitchen Mysteries, comes from her deep appreciation for Italian food, her affinity for the New Jersey seaside, and her love of classic mysteries from Nancy Drew to Miss Marple. A former journalist and teacher, Rosie also writes women's fiction and suspense. The proud mama of three grown sons, she still lives in her favorite state with her husband and a charming mutt named Lucy.

October 24 – Diane Reviews Books – REVIEW
October 24 – Lady Hawkeye – SPOTLIGHT
October 24 – Reading Is My SuperPower – REVIEW
October 25 – Brooke Blogs – SPOTLIGHT
October 25 – Books a Plenty Book Reviews – REVIEW
October 25 – I'm Into Books – SPOTLIGHT
October 25 – Novels Alive – REVIEW
October 26 – Ascroft, eh? – AUTHOR INTERVIEW
October 26 – Christy's Cozy Corners – AUTHOR GUEST POST
October 26 – Maureen's Musings – SPOTLIGHT
October 27 – Hearts & Scribbles – SPOTLIGHT
October 27 – Literary Gold – AUTHOR INTERVIEW
October 27 – FUONLYKNEW – SPOTLIGHT
October 28 – Read Your Writes Book Reviews – REVIEW, AUTHOR GUEST POST
October 28 – #BRVL Book Review Virginia Lee Blog – SPOTLIGHT
October 28 – Elza Reads – AUTHOR INTERVIEW
October 29 – Sneaky the Library Cat's Blog – CHARACTER INTERVIEW
October 29 – Celticlady's Reviews – SPOTLIGHT
October 29 – Escape With Dollycas Into A Good Book – SPOTLIGHT
October 30 – Cozy Up With Kathy – REVIEW, RECIPE POST
October 30 – Sapphyria's Book Reviews – SPOTLIGHT