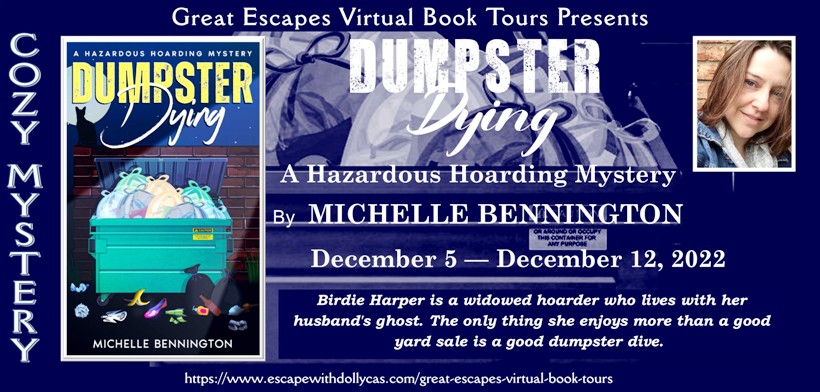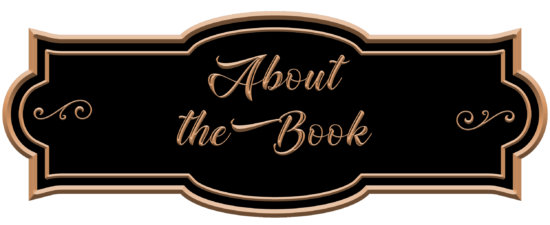 A Hazardous Hoarder Mystery: Book 1
Publication Date: September 7, 2022
Birdie Harper is a widowed hoarder who lives with her husband's ghost. The only thing she enjoys more than a good yard sale is a good dumpster dive. When she finds her latest treasure—a ceramic angel— she knows just who to bring it to.
Jenna Lawson is a cashier at the Blue Market convenience store where Birdie often shops. The two women have formed a strong bond to assuage the losses in their lives, and Birdie thinks of Jenna like the daughter she lost long ago. So, when Jenna goes missing, Birdie is determined to find out what happened to her.
As she works to unravel the mystery, a man at church, Neville Miller, shows interest in Birdie, leading her to wonder if the lonely days are finally coming to an end. But her ghostly husband, Walter, sure isn't going to like it.
Birdie is on a hunt that may claim the ultimate price—her own life.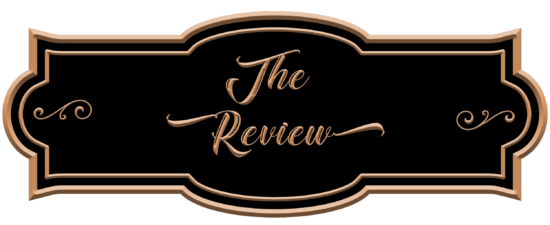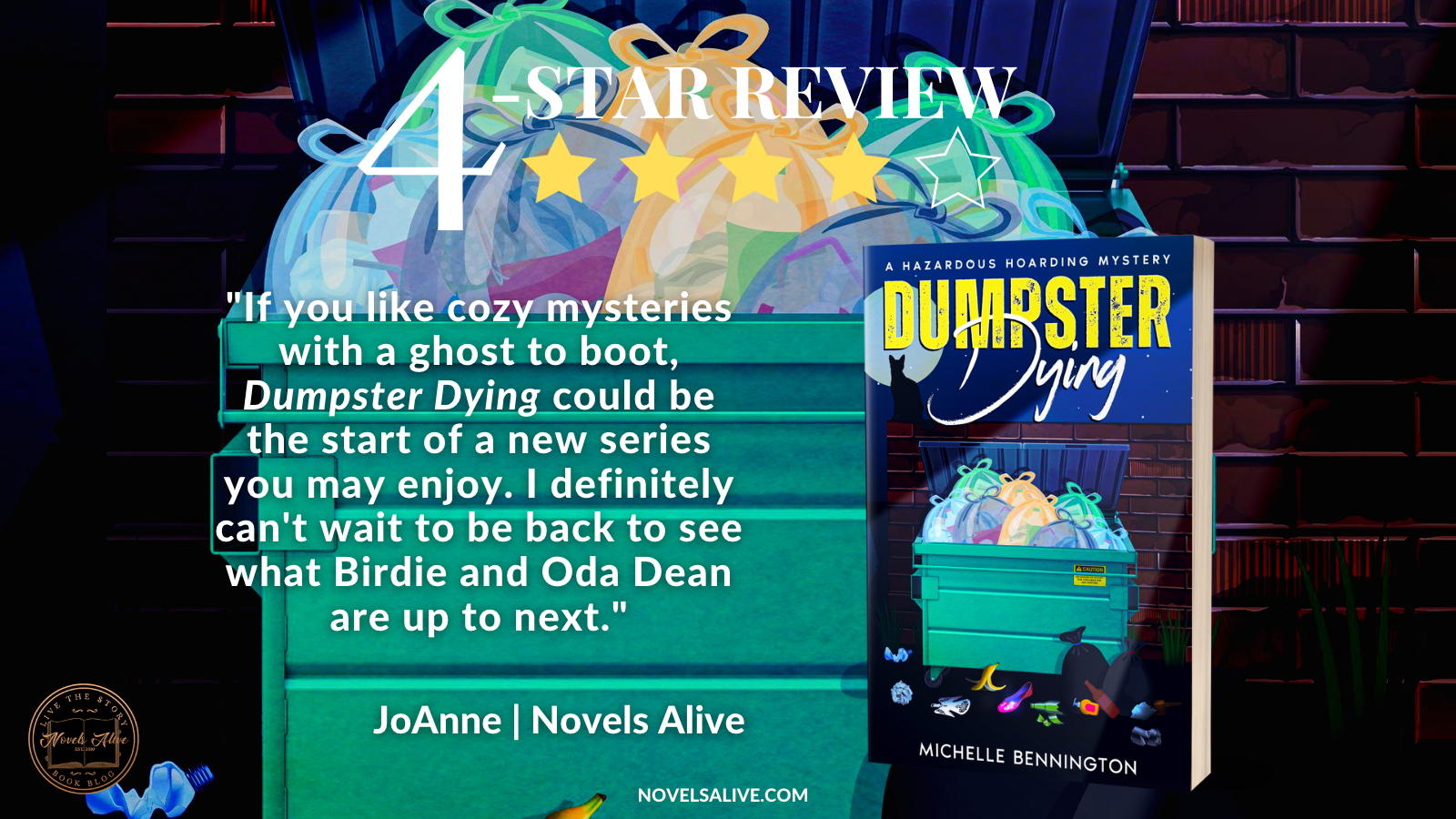 Dumpster Dying is the first book in the Hazardous Hoarder Mystery series by Michelle Bennington. It has an amateur sleuth, along with several murders and crimes committed. The two main characters—Birdie and her older sister Oda Dean—are senior citizens, adding another dimension to the story. 
Birdie not only dumpster dives and goes to yard sales but is also a hoarder who sees, hears, and smells the ghost of her husband, who has been dead for five years at their home.
There are plenty of clues sprinkled throughout and a trail to solve the murders and more dastardly crimes committed in their small town in Kentucky. 
As the story unfolds, we get to know the good guys and the bad guys, too. And Birdie seems to piece things together quicker than the sheriff and the others on the police force. She definitely pays attention to details as well as her surroundings but isn't always the best judge of others. She and her sister have affection for each other but also call each other out on ways to show their love.
The story has twists and turns as we try to figure out whodunnit in this cozy mystery. There are tears, fear, heartache, sadness, treasures, secrets, lots of food, and people who are not as they seem. The story tied up loose ends to solve the murders and get the bad guys but ended abruptly. I was definitely expecting a little bit more. There are a lot of pertinent details on the cover, and it fits the story. 
This is the first book I've read by Ms. Bennington, and I look forward to reading more of her books.
If you like cozy mysteries with a ghost to boot, Dumpster Dying could be the start of a new series you may enjoy. I definitely can't wait to be back to see what Birdie and Oda Dean are up to next.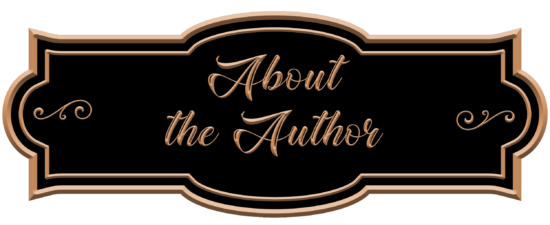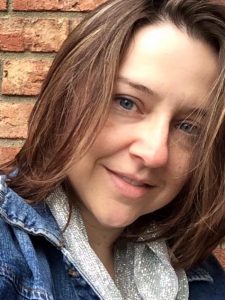 Born and raised in the beautiful Bluegrass state of Kentucky, Michelle Bennington developed a passion for books early on that has progressed into a mild hoarding situation and an ever-growing to-read pile. She delights in spinning mysteries and histories.

December 5 – I'm Into Books – SPOTLIGHT
December 5 – Lady Hawkeye – CHARACTER GUEST POST
December 5 – Cassidy's Bookshelves – SPOTLIGHT
December 6 – Baroness Book Trove – CHARACTER INTERVIEW
December 6 – Socrates Book Reviews – SPOTLIGHT
December 6 – The Mystery Section – SPOTLIGHT
December 7 – Island Confidential – SPOTLIGHT
December 7 – Ascroft, eh? – AUTHOR INTERVIEW
December 7 – Brooke Blogs – SPOTLIGHT
December 8 – Guatemala Paula Loves to Read – REVIEW
December 8 – Literary Gold – AUTHOR INTERVIEW
December 8 – #BRVL Book Review Virginia Lee Blog – SPOTLIGHT
December 9 – Novels Alive – REVIEW – SPOTLIGHT
December 9 – FUONLYKNEW – SPOTLIGHT
December 10 – Books a Plenty Book Reviews – REVIEW, CHARACTER GUEST POST
December 10 – Escape With Dollycas Into A Good Book – AUTHOR GUEST POST
December 11 – Cozy Up With Kathy – REVIEW*
December 11 – Celticlady's Reviews – SPOTLIGHT
December 12 – Christy's Cozy Corners – AUTHOR GUEST POST
December 12 – Maureen's Musings – SPOTLIGHT
December 12 – Sapphyria's Book Reviews – SPOTLIGHT