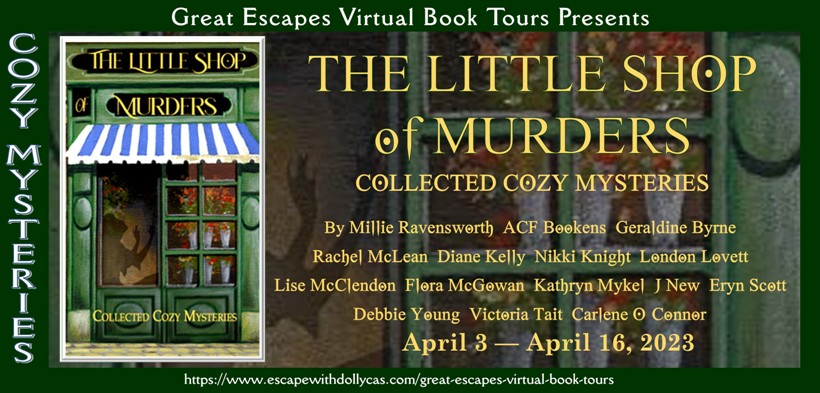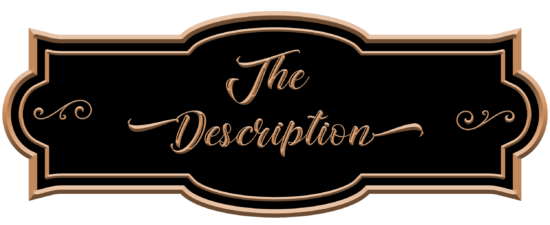 Cozy Mystery Anthology
Publication Date: April 1, 2023
Book shops, boutiques and small businesses are the lifeblood of small towns but what secrets lie behind those pretty display windows and in the alleyways behind these charming streets?
Step inside for a personal retail experience like no other!
'The Little Shop of Murders' collects together fifteen superb cozy mysteries written by some of the finest authors in the genre.
All author and publisher profits from the sale of this book go to children's charities, helping those most in need.
Stories include:
Don't Toy with Me by Diane Kelly
A Man With No Imagination by Millie Ravensworth
The Forget-Me-Not Antiques Mystery by Victoria Tait
It Was Our Song by Nikki Knight
Always and Furever by Eryn Scott
Wild Irish Dreams by Lise McClendon
Architect of a Murder by Carlene O'Connor
Blooms and Blackmail by London Lovett
Secondhand Murder by J. New
The Lady of the House by Flora McGowan
Requiem for a Violin by Geraldine Byrne
Nightly Nuisance by Kathryn Mykel
The Gift of Dragons by ACF Bookens
Nowhere to Hide by Debbie Young
Murder in the Bookshop by Rachel McLean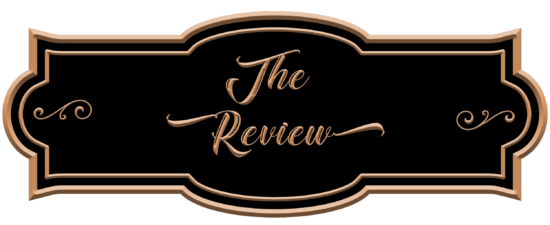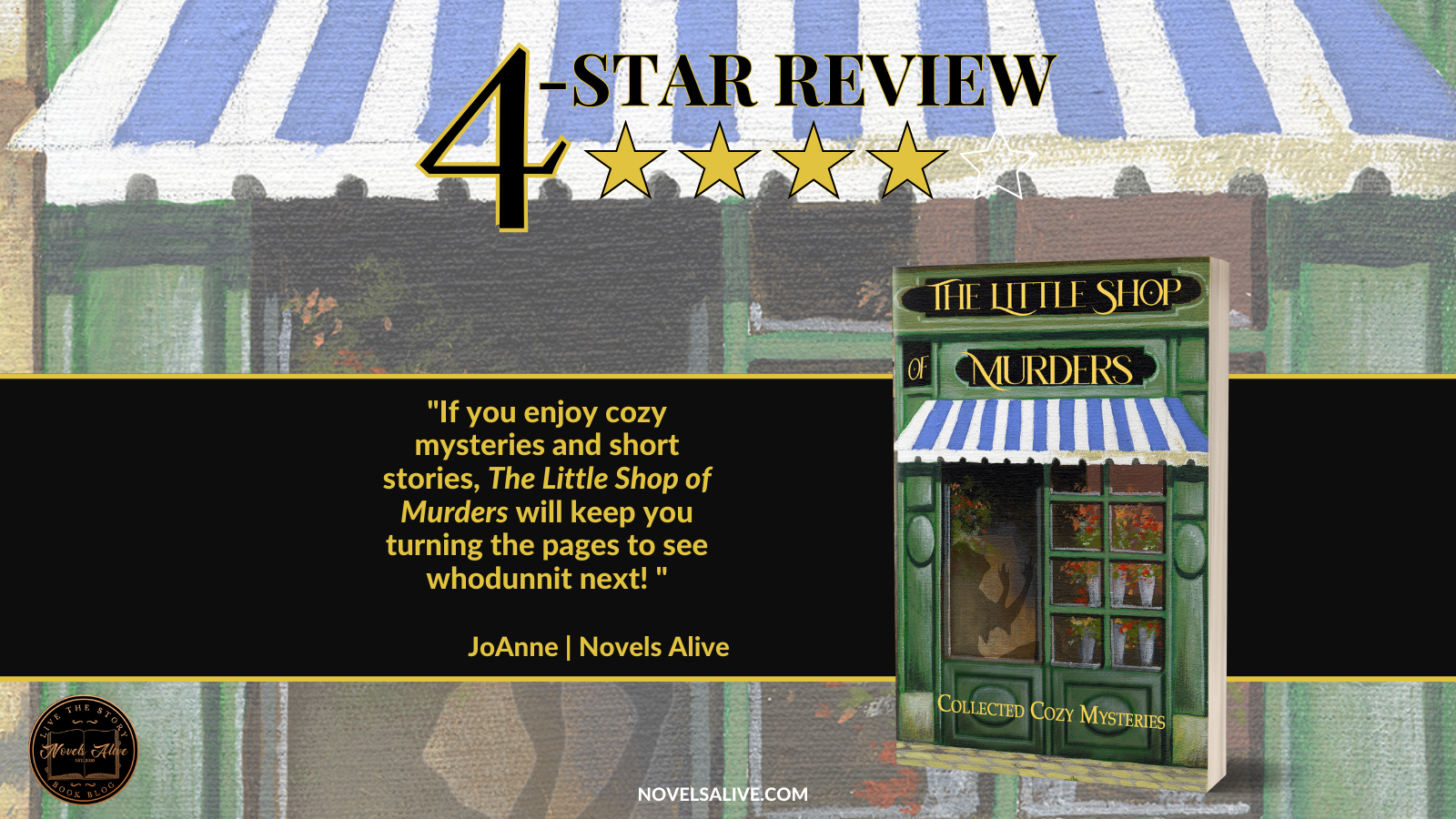 The Little Shop of Murders is an anthology of fifteen cozy mysteries by fifteen authors. The stories are set in small towns with small shops and shop owners who are amateur sleuths, and many involve antiques. 
Details involving their lives and businesses with crimes are central to the story. There is always a murder or a murder attempt, and the crimes are described in detail, and there are amateur sleuths who help to solve the whodunnit. 
There are several twists and turns, along with the requisite red herrings and, of course, the eventual whodunnit reveal. Some have surprise endings, but not all involve law enforcement.
The settings and locations of the stories are varied—some are set in the United States, others in England or Ireland. Each story is very short but well-developed. Some ended more abruptly than others. 
My favorite story was the first: "Don't Toy with Me" by Diane Kelly, and it was a lovely introduction to the anthology. While I enjoyed most of the others, my next favorite was "Secondhand Murder" by J. New.
All are new-to-me authors, but I recognized some of their names. At the end of each tale was information about the author and some of their books, plus an excerpt from one of them. The cover is spot on, and the title drew me in.
If you enjoy cozy mysteries and short stories, The Little Shop of Murders will keep you turning the pages to see whodunnit next!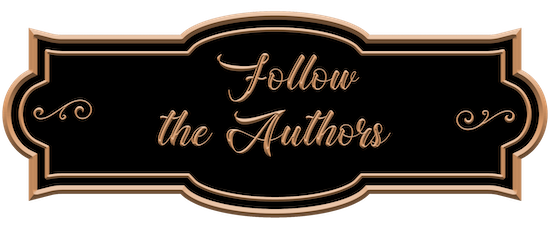 Victoria Tait
Victoria Tait was born and raised in Yorkshire, UK, and never expected to travel the world. She's drawn on her experiences following her military husband to write cozy murder mystery books with vivid and evocative settings. Her determined female sleuths are joined by colourful but realistic teams of helpers, and you'll experience surprises, humour and sometimes, a tug on your heartstrings.
Click on link to My Dotty Sayers series
Carlene O'Connor
Carlene O'Connor is the USA Today bestselling author of The Irish Village Mysteries, Home to Ireland Mysteries, and the new County Kerry Mystery series. Her mysteries have been translated into German, Estonia, and UK markets thus far and the Irish Village Mysteries have been optioned for television. Readers are encouraged to get in touch via Facebook, Goodreads, Book Bub, or through the contact form on CarleneOConnor.net. An admitted wanderer, Carlene spends as much time in Ireland as possible while currently residing in California and Chicago. She is always up for joining events via Zoom or in person.
Eryn Scott
Eryn Scott is the author of heartwarming cozy mysteries. Her Whiskers and Words cozy mystery series features deep friendships, strong families, a tight-knit small town, twisty mysteries, and a whole lot of adorable cats. She and her husband live in the Pacific Northwest with a handful of beloved animals. She enjoys knitting, hiking, skiing, horseback riding, and reading.
Click on link for my Whiskers and Words Mystery series
Flora McGowan
Flora McGowan is the author of the Carrie and Keith Mysteries, novels and short stories. Her stories combine a mix of mystery with the mystical and supernatural, often with an historical element as well as a touch of humour and a dash of romance. Flora was born in Dorset and has spent most, but not all, of her life there, and many of her stories are based in this locale. Flora enjoys travelling, taking inspiration from the places she visits. You can catch up with Flora via Goodreads, her blog, Facebook, Instagram or BookBub.
Nikki Knight
Nikki Knight describes herself as an Author/Anchor/Mom…not in that order. An award-winning weekend anchor at New York City's top all-news radio station, 1010 WINS, she writes mysteries including LIVE, LOCAL, AND DEAD, a Vermont Radio Mystery from Crooked Lane, and as Kathleen Marple Kalb, the Ella Shane and Old Stuff series. Her short stories appear online and in anthologies, and have been short-listed for Black Orchid Novella and Derringer Awards. She, her husband and son live in a Connecticut house owned by their cat.
Click on link for my Live, Local, and Dead Book (A Vermont Radio Mystery) 
Diane Kelly
Diane Kelly writes funny stories that feature feisty female lead characters and their furry, four-footed friends. Diane is the author of over three dozen novels and novellas, including the Death & Taxes white-collar crime series, the Paw Enforcement K-9 series, the House Flipper cozy mystery series, the Busted female motorcycle cop series, the Southern Homebrew moonshine series, and the Mountain Lodge Mysteries series. Find Diane online at DianeKelly.com, on Twitter and Instagram @DianeKellyBooks, and on Facebook at her Author Diane Kelly page.
Click on link to the first book in my House Flipper series – Dead as a Door Knocker
J New
J. New is the author of The Yellow Cottage Vintage Mysteries. Immerse yourself in country house murders, dastardly deeds at English Church fetes, daring escapades in the French Riviera and the secret tunnels under London, in the award-winning series readers call, 'Miss Marple' meets 'The Ghost Whisperer.' She also writes two contemporary mystery series: Tea & Sympathy featuring Lilly Tweed, former Agony Aunt now purveyor of fine teas and Finch & Fischer with mobile librarian Penny Finch and her rescue dog Fischer at the helm. Jacquie lives in the North of England with her partner and an assortment of rescue animals.
London Lovett
London Lovett is a cozy mystery author and connoisseur of delicious baked goods.
Many readers have called her Port Danby Cozy Mystery series a 'new favorite'. Port Danby features a small town florist with a powerful sense of smell. Lacey 'Pink' Pinkerton uses her impressive nose to help solve crimes as an amateur sleuth alongside her detective boyfriend, James Briggs. Blooms and Blackmail is a Port Danby short story.
You can keep up with London's books and access some delicious recipes on her website: www.londonlovett.com
Click on link to Marigolds and Murder
Debbie Young
Debbie Young writes two popular cozy mystery series featuring Sophie Sayers, set in a Cotswold village, and Gemma Lamb, set at a girls' boarding school. One book in each series was shortlisted for the Bookbrunch Selfies Awards for the best independently-published fiction in the UK. She is founder of the Hawkesbury Upton Literature Festival, UK Ambassador for the Alliance of Independent Authors, and a course tutor for Jericho Writers. She writes in the Plotting Shed at the bottom of her cottage garden. Her novels are now published by Boldwood Books and she is represented by the Ethan Ellenberg Literary Agency. https://www.amazon.co.uk/gp/product/B0BBQHC2G1
Click on Amazon UK link for the whole series (the 8th book is up for preorder and will be published on 15th March)
Here are the links for my website and social media: www.authordebbieyoung.com
Facebook: @AuthorDebbieYoung
Twitter: @DebbieYoungBN
Instagram: @debbieyoungauthor
ACF Bookens
ACF Bookens lives in Virginia's Southwestern Mountains with two hound dogs and a very energetic preschooler. When she's not writing, she enjoys watching shows with teenagers who are way cooler than she ever was and cross-stitch. You can find her books at acfbookens.com
Click on link to my first book on Amazon 
Kathryn Mykel
Kathryn Mykel is the author of the Award-Winning Sewing Suspicion – A Quilting Cozy Mystery. Kathryn is inspired by the laugh-out-loud and fanciful aspects of cozies. Kathryn Mykel aims to write lighthearted, humorous cozies surrounding her passion for the craft of quilting. Born and raised in a small New England town—Kathryn is an avid quilter.
Click on link for Sewing Suspicion
Lise McCLendon
Lise McClendon is the author of numerous novels of crime and suspense. Her bestselling Bennett Sisters Mysteries continue to charm readers worldwide. Her first mystery series was set in Jackson, Wyoming, featuring art dealer, Alix Thorssen. When not writing about foreign lands and dastardly criminals, Lise lives in Montana with her husband and has recently become a fan of sunny winters in the desert. She enjoys fly fishing, hiking, picking raspberries in the summer, and cross-country skiing in the winter. She has served on the national boards of directors of Mystery Writers of America and the International Association of Crime Writers/North America, as well as the faculty of the Jackson Hole Writers Conference.
Books: Bennett Sisters Mysteries: https://amzn.to/3Iyijt8. Alix Thorssen series: https://amzn.to/3W05kmY
Geraldine Byrne
Geraldine Moorkens Byrne is an Irish mystery writer, poet and educator. She lives with her family in Dublin where many of her stories are set, especially The Caroline Jordan series. When not dreaming up modern murder mysteries, she knits, crochets and teaches classes on Irish folk traditions. Until 2021 she owned Ireland's oldest family owned music shop, the basis for "Requiem for a Violin." Mrs. O'Brien and friends will return in their own series in 2023, The Music Shop Mysteries.
She also writes a magical cosy mystery series, The Old Bat Chronicles under the pen name Nina Hayes.
Geraldine Moorkens Byrne Author@celebratingwords.com Www.CelebratingWords.com
Millie Ravensworth
Millie Ravensworth has been writing (and sewing!) for years, and it seemed like a natural step to combine the two things in a series of cozy mysteries. She lives in England and has an adorable dog who likes to be at her side when she is sewing / writing, but he'd much rather she played fetch with his favourite toy!
Izzy King and Penny Slipper who appear in the story in this collection can also be found in the Cozy Craft Mystery books that are available to read now.
Click on link for Millie Ravensworth books
Rachel McLean
Rachel McLean is an award-winning crime author who writes UK-based police procedurals. She is best known for the Dorset Crime series and the DI Zoe Finch series set in her home city of Birmingham. Book 1 in the Dorset Crime series, The Corfe Castle Murders, won the Kindle Storyteller Award 2021. Her new McBride and Tanner series is set around Loch Lomond in Scotland. Link to Zoe books: https://geni.us/zoefinch
A full bibliography and reading order can be found at rachelmclean.com/bibliography

April 3 – Brooke Blogs – SPOTLIGHT
April 3 – Reading Is My SuperPower – AUTHOR GUEST POST
April 4 – Cozy Up With Kathy – REVIEW, AUTHOR GUEST POST  
April 4 – Maureen's Musings – SPOTLIGHT
April 5 – Celticlady's Reviews – SPOTLIGHT
April 5 – Nadaness In Motion – AUTHOR GUEST POST
April 6 – I'm Into Books – SPOTLIGHT
April 6 – Socrates Book Reviews – AUTHOR GUEST POST
April 7 – Ascroft, eh? – AUTHOR GUEST POST
April 7 – View from the Birdhouse – REVIEW
April 8 – StoreyBook Reviews – REVIEW
April 8 – Escape With Dollycas Into A Good Book – AUTHOR GUEST POST
April 9 – #BRVL Book Review Virginia Lee – SPOTLIGHT
April 9 – Guatemala Paula Loves to Read – REVIEW
April 10 – Ruff Drafts – SPOTLIGHT
April 10 – Carla Loves To Read – REVIEW, AUTHOR GUEST POST
April 11 – Christy's Cozy Corners – AUTHOR GUEST POST
April 11 – Sapphyria's Book Reviews – SPOTLIGHT
April 12 – Baroness Book Trove – SPOTLIGHT
April 12 – Novels Alive – REVIEW
April 13 – FUONLYKNEW – REVIEW
April 13 – Hearts & Scribbles – SPOTLIGHT
April 14 – Literary Gold – SPOTLIGHT
April 15 – MJB Reviewers – SPOTLIGHT
April 15 – Rebecca Douglass, Author – REVIEW, AUTHOR GUEST POST
April 16 – The Mystery Section – SPOTLIGHT