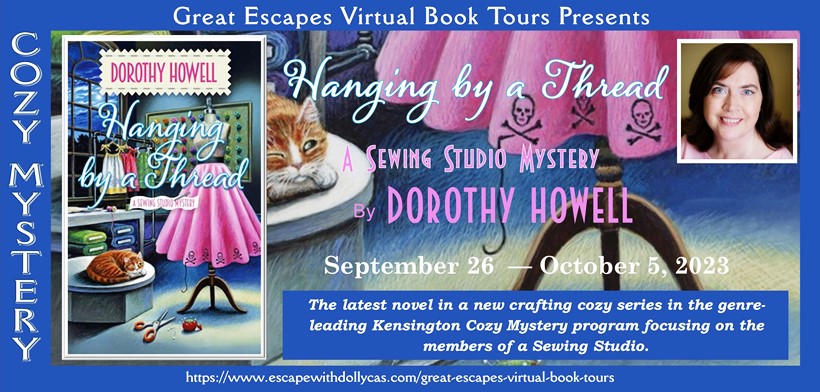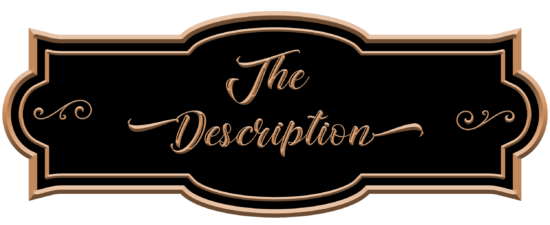 A Sewing Studio Mystery: Book 2
Publication Date: September 26, 2023
The latest novel in a new crafting cozy series in the genre-leading Kensington Cozy Mystery program focusing on the members of a Sewing Studio.
Some of the independent shops in this sleepy town are barely hanging on financially—and that includes Sarah's Sweets, Abbey's aunt's bakery. The shop's advantage—aside from the deliciousness of its products—is the fact that it's the only bakery in the area. But it looks like that's about to change. The second wife of a wealthy businessman wants her own bakery—and money is no object.
When murder unravels the plans for the competing shop, Aunt Sarah is an immediate suspect—and Hideaway Grove's merchants are on pins and needles about a big upcoming women's conference, fearing the organization will cancel their booking because of the crime. Abbey's doing her best to stay optimistic and stitch some custom tote bags for the attendees, but she's also concerned with patching up Aunt Sarah's good reputation. And when it comes to sorting through the possible motives of the victim's family members and associates, she's got a few tricks up her sleeve . . .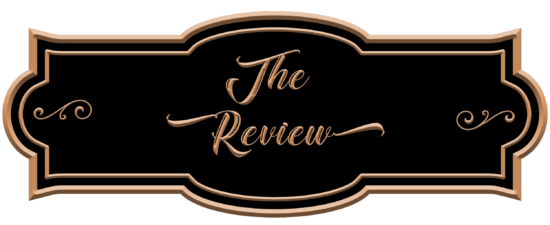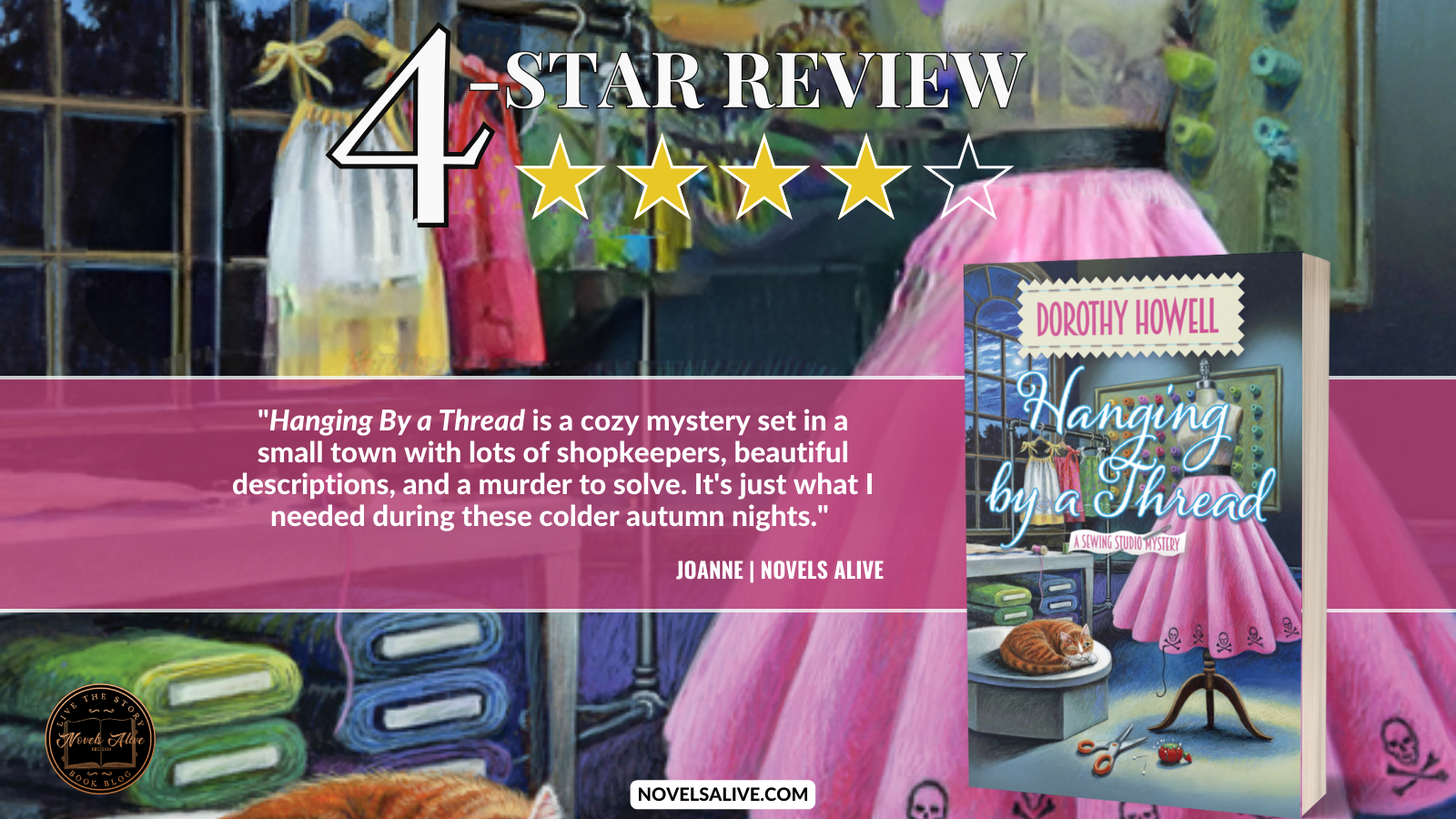 Hanging by a Thread is the second book in the A Sewing Studio Mystery, but the first I've read by Dorothy Howell. She runs the Sewing Studio and hopes to make a go of making and selling totes on a grander scale than she's currently doing and for the upcoming women's conference to be held in their small town. She's also been tasked with many other duties surrounding it, and we see her in action in her many different roles. But will it happen, or is it on the verge of being canceled, as many fear?
This cozy mystery is set in a small town where many small businesses are being run. I loved the types of companies and all their names. The characters who owned them all had unique personalities. Many seemed to have a half-glass-empty disposition, always thinking the worst was about to happen, especially after a murder was committed. Abbey seems better at gathering clues and creating a list of suspects than the police, much to the chagrin of Zack, her friend or romantic interest, who happens to be on the force. Which is he really?
There are many twists and turns to the story, along with several stories being threaded together. There is a fairly good flow to the story, and the suspected murderer became clear to me sooner than anyone else, it seems. There is some romance and many activities and details about the women's conference. There are hopes and dreams dependent on it. There are family and friends, anger, fear, lots of sweets created at Abbey's aunt's bakery, which I could taste, beautiful descriptions, and, of course, crimes to solve.
The murder wasn't always at the forefront, and neither were the thefts that only Abbey and the doll's owner seemed to know about. There is a cliffhanger ending, but also some loose ends of storylines not being brought to their conclusion—at least yet. It makes me want to read the next book in the series once it's released. The cover is colorful and has a lot of essential elements to the story depicted.
Hanging By a Thread is a cozy mystery set in a small town with lots of shopkeepers, beautiful descriptions, and a murder to solve. It's just what I needed during these colder autumn nights.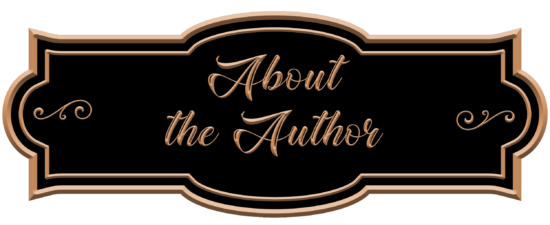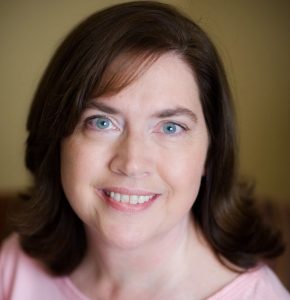 USA Today Bestselling author Dorothy Howell is the author of 49 novels. Her books have been translated into a dozen languages and sold worldwide. She writes the Sewing Studio mystery series, the Haley Randolph mystery series, and the Hollis Brannigan andDana Mackenzie mystery series. Dorothy also writes historical romance novels under the pen name Judith Stacy.  Dorothy lives in Los Angeles.

September 26 – Escape With Dollycas Into A Good Book – REVIEW
September 26 – Maureen's Musings – SPOTLIGHT
September 26 – Kenyan Poet – SPOTLIGHT
September 27 – Reading, Writing & Stitch-Metic – AUTHOR GUEST POST
September 27 – Lady Hawkeye – SPOTLIGHT
September 28 – Celticlady's Reviews – SPOTLIGHT
September 28 – Christy's Cozy Corners – AUTHOR GUEST POST
September 28 – Hearts & Scribbles – SPOTLIGHT
September 29 – Literary Gold – SPOTLIGHT
September 29 – Jane Reads – CHARACTER INTERVIEW
September 29 – Baroness Book Trove – SPOTLIGHT
September 30 – StoreyBook Reviews – AUTHOR GUEST POST
September 30 – Sapphyria's Book Reviews – SPOTLIGHT
October 1 – Cozy Up With Kathy – AUTHOR INTERVIEW
October 1 – FUONLYKNEW – SPOTLIGHT
October 2 – Mystery, Thrillers, and Suspense – CHARACTER GUEST POST
October 2 – Guatemala Paula Loves to Read – REVIEW
October 3 – Ascroft, eh? – CHARACTER INTERVIEW
October 3 – Socrates Book Reviews – SPOTLIGHT
October 4 – Novels Alive – REVIEW
October 4 – #BRVL Book Review Virginia Lee – SPOTLIGHT
October 5 – Angel's Guilty Pleasures – SPOTLIGHT
October 5 – My Reading Journeys – REVIEW