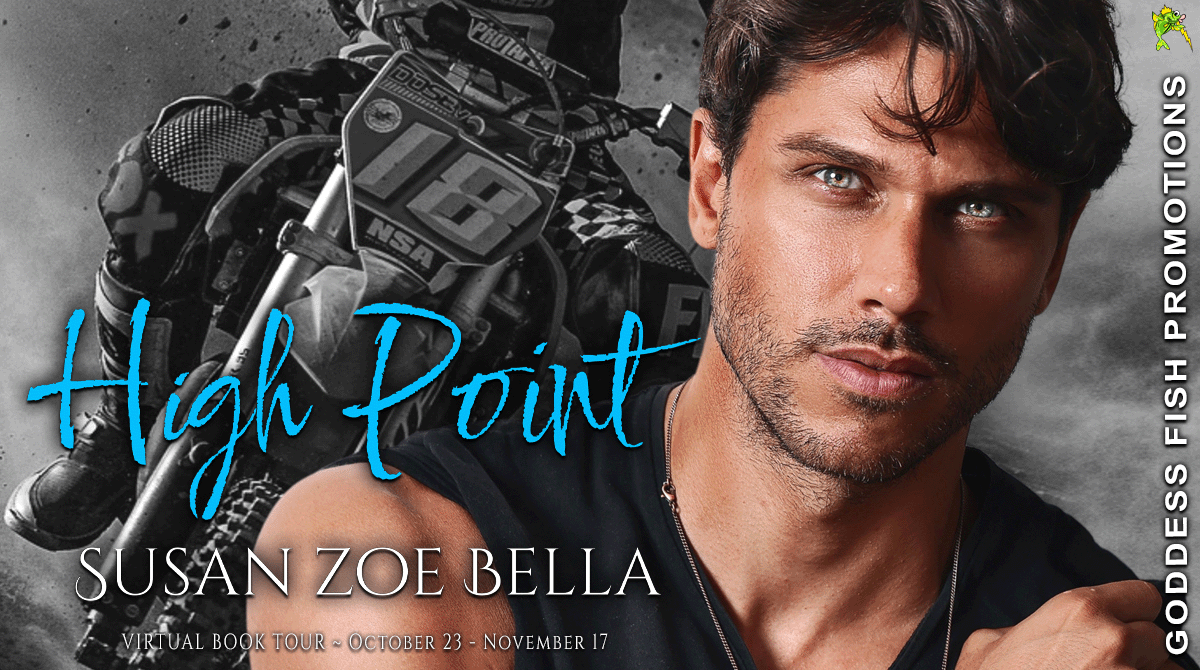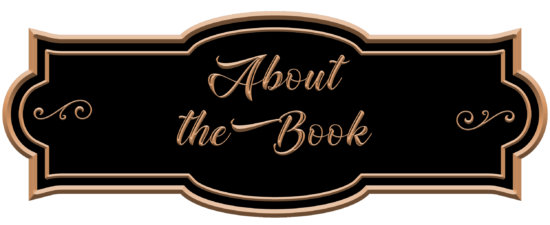 Publication Date: July 1, 2023
It's only rock and roll but I hate it. Groupies, parties, a cheating ex, and a dark night spawned a wake-up call. I'd shifted my focus to work and avoiding social media. Singing lead for a famous band had become nothing more than a steppingstone to my true dream of racing Pro Motocross. I hadn't dated in years. Then 'she' showed up and everything in me longed to be with her. I was stoked she'd agreed to join me at High Point Raceway for the weekend, even if it meant putting up with Mack. Better still, Mia wasn't a groupie, not even close. She wasn't even a fan of our music. If love at first sight had a name, it would be Mia Fringe and I had to make her mine. ~ Jett
I'd seen him in passing over the years. He was the neighbor of my best friend. But we'd never officially been introduced until the night Mackie badgered me into meeting him after attending his band's concert. I tried not to look awestruck, stunned that someone this gorgeous had been within my scope for years but had not caught my attention. He had success written all over him. Girls like me didn't end up with guys like him. Recently unemployed, still living on the family farm, and recovering from a nervous breakdown, I was a mess. But Jett saw something in me that nobody else ever had…worth. ~ Mia
Action, drama, and chaos kick off right from the start at High Point Raceway when Mackie has second thoughts about playing matchmaker between Mia and Jett. However, when the week of bliss comes to an end, Mia is heartbroken and confused as to why Jett doesn't keep his promise. She accepts a job as a reporter three thousand miles away to escape the pain.
Ten years later, Mia and Jett cross paths in the most startling way. She's about to discover the truth of what really happened so long ago. Will she be able to trust Jett again when he pleads for a second chance? Can love and forgiveness conquer a decade of hurt? It all goes down in the dirt during the last race of the season.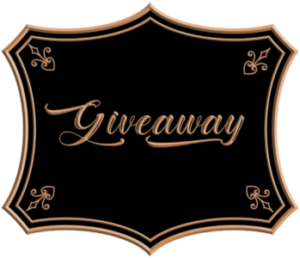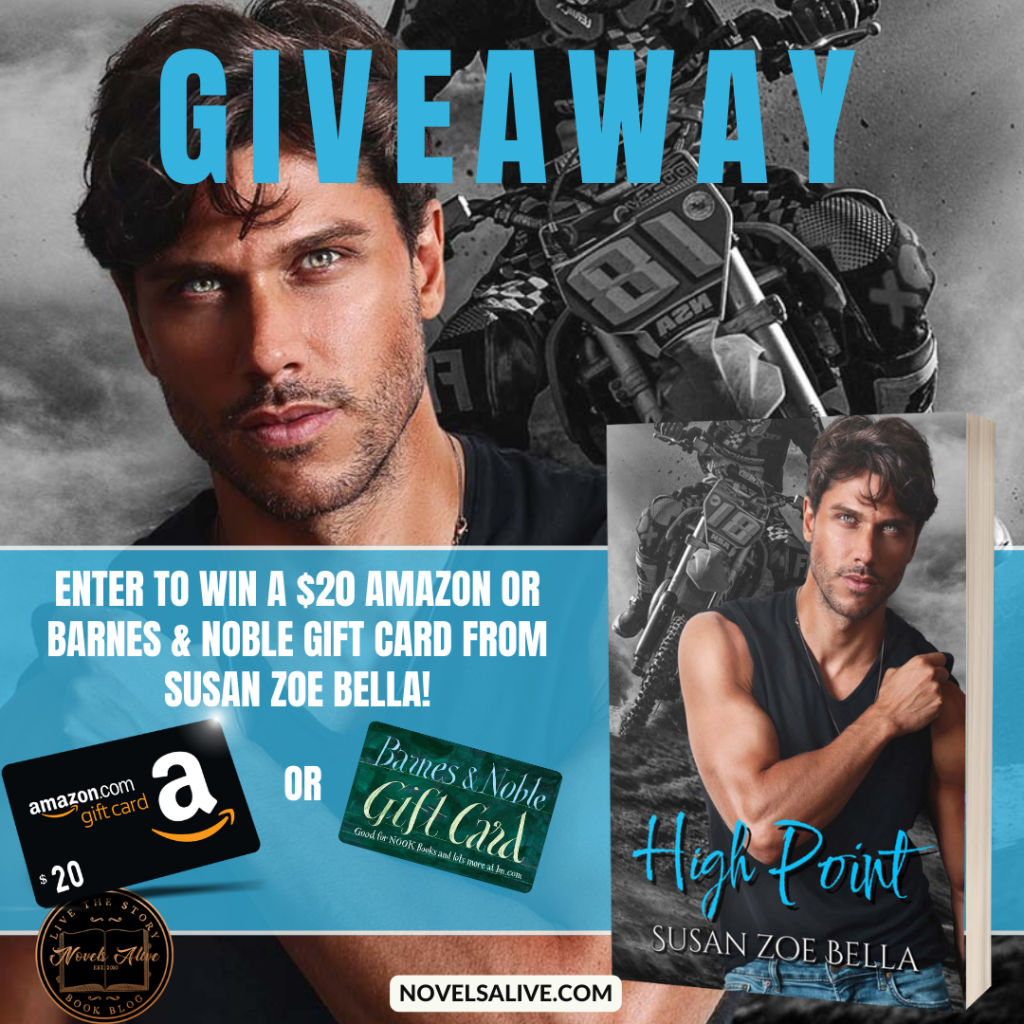 Susan Zoe Bella will be awarding a $20 Amazon or Barnes & Noble Gift Card to a randomly drawn winner via Rafflecopter during the tour.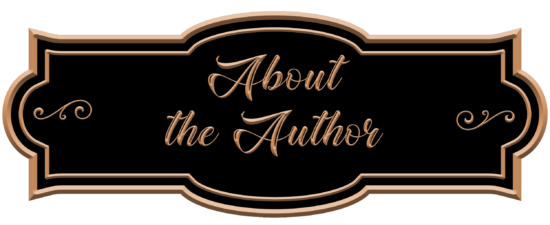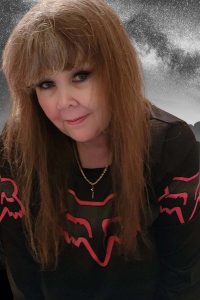 "I am a fan of happily ever after. My novels are too!"
Susan Zoe enjoys creating contemporary, paranormal, fantasy and romantic suspense stories with a gritty flair. Her stories are her own, and she typically writes outside the box. She's always been a leader not a follower. Writing is her mental filter and how she processes the world around her, a fictional place where she can control the outcome at her comfort level with justice and happy endings. Her imagination is her greatest strength as it carries her away from daily stress.
As a survivor of hardship and chronic disease, she takes one day at a time and treasures the simple things in life. Susan Zoe is a Christian, loves animals, and practices being kind and generous every day. When not immersed in new stories, she enjoys watching movies, Motocross and Supercross, playing Yahtzee with her fiancé, and hanging out with her loyal 24/7 companion and trained service dog. She's not a fan of sitcoms as they don't offer enough mental stimulation. Losing herself in an intense story gives her brain the workout it needs to manage OCD, anxiety, depression, and stress.
Her achievements thus far include The Golden Wings Award for her debut novel The Satellite, the UK Nobel Pin and Editor's Choice Award for her poem The Lonely Man, numerous 5 Star Reviews from Fallen Angels Reviews, Coffee Time Romance, InD'tale Magazine, Goodreads and more for current and retired novels. She was also a RONE Awards Finalist in 2017.
She loves to hear from readers and chat!
In her words, "Writing is the only time I'm truly free." She's happiest when her intriguing characters come to life and steal her away into their worlds where anything is possible.

October 23: Erotica For All
October 24: Sandra's Book Club
October 25: Lisa Haselton's Reviews and Interviews
October 26: Hope. Dreams. Life… Love
October 27: Tory Richards
October 30: Read Your Writes Book Reviews
October 31: Literary Gold
November 1: Fabulous and Brunette
November 2: Westveil Publishing
November 3: The Avid Reader
November 6: Wendi Zwaduk – Romance to Make Your Heart Race
November 7: Long and Short Reviews
November 8: It's Raining Books
November 9: Novels Alive – review only
November 10: Archaeolibrarian – I Dig Good Books! – spotlight
November 10: The Pen and Muse Book Reviews
November 13: The Key of Love
November 14: Gina Rae Mitchell
November 15: Dawn's Reading Nook
November 16: The Faerie Review – review only
November 17: Maggie Blackbird – review