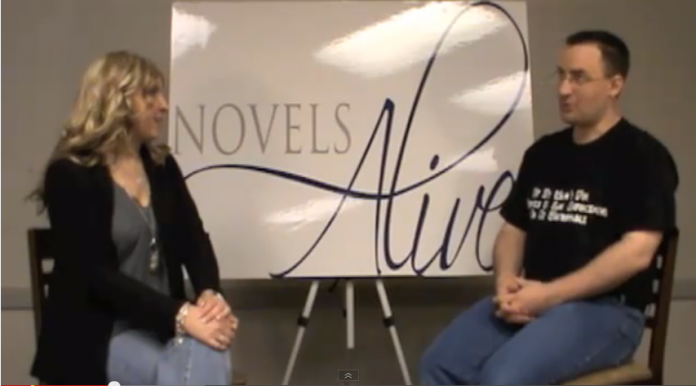 What do you get when you mix a hard-boiled Chicago P.I. with magic, a bit of dark humor, and a kick-ass attitude? Harry Blackstone Copperfield Dresden is what, the rough-edged hero of author Jim Butcher's New York Times bestselling series. Urban Fantasy readers are in for the best reading edgy-treat of their lives. The Dresden Files are set in an alternative reality of Chicago where magic and deadly paranormals make Wizard Harry's life hell.
CHANGES, the twelfth book in The Dresden Files Series came out earlier this year and left readers breathless from pulse pounding action and killing suspense. Butcher took the series to new heights as he reached deep into Harry's gut and draws everyone surrounding him into a race against time and death.
[quote]"Long ago, Susan Rodriguez was Harry Dresden's lover-until she was attacked by his enemies, leaving her torn between her own humanity and the bloodlust of the vampiric Red Court. Susan then disappeared to South America, where she could fight both her savage gift and those who cursed her with it. Now Arianna Ortega, Duchess of the Red Court, has discovered a secret Susan has long kept, and she plans to use it-against Harry. To prevail this time, he may have no choice but to embrace the raging fury of his own untapped dark power. Because Harry's not fighting to save the world… He's fighting to save his child."[/quote]
CHANGES brings exactly that to Harry's life. Finding out about his eight year-old daughter, Maggie, turns his world inside out and Harry turns his world upside down to save her. Nothing will ever be the same for Harry. The Dresden Files Series should come with a warning label that says, Caution: Addictive Material Inside! And just think, there are twelve books out for new readers to sink their teeth into. Novels Alive TV promises you that by the time you finish CHANGES you will be on the edge of your seat, hungering for more. And that more is here.
SIDE JOBS releases on October 26th and The Dresden Files Series fans don't want to miss this. For the first time ever is a compilation of Jim Butcher's short stories featuring Harry and his case-solving crew. [pullquote_right]"The tales range from the deadly serious to the absurdly hilarious."[/pullquote_right] Then be ready for the climax of SIDE JOBS, a new, never-before-published novella that picks up where the cliff-hanger ending of CHANGES left readers stunned and dying for more.
But twelve books and a novella isn't all there is to Harry's story. Butcher has plans for many more books and avid fans have two more added treats as well.  You can see Harry in action in a full season of the TV series, The Dresden Files. And you can play a role in Stand Against the Darkness, in The Dresden Files Role Playing game on his website,
So give yourself a ghoulish Halloween Treat this year and delve into Harry's dark world, where this far from ordinary P.I. wages war against all manner of beasts. Then lock your door at night and realize that's not going to keep evil beasts at bay. Only Harry Blackstone Copperfield Dresden can.

Please Support the Author by Purchasing Their Books: