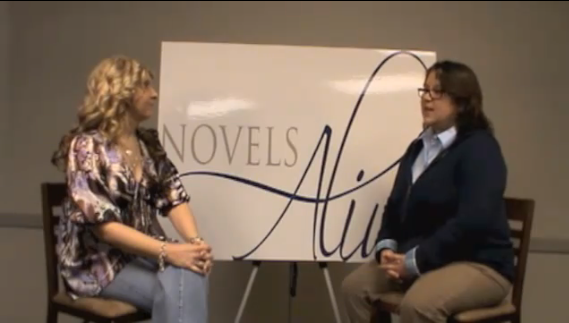 New York Times and USA Today Bestselling author Caridad Piñeiro brings a fresh, wickedly sensual taste of the paranormal to romantic suspense readers in her Sin Series. She is a magna cum laude graduate of Villanova University and earned her juris doctor from St. John's University. Born in Havana, Cuba, and raised in New York, Caridad has won a number of awards for excellence in writing with over twenty published novels in several genres. This attorney, wife, and mother does it all.
There are currently two books in her new Sin series, where she not only brings a scientific facet to the paranormal genre, but also keeps readers on the edge of their seats with her pulse pounding suspense and her steamy sensuality. Just released this week is, STRONGER THAN SIN.
[quote]"Dr. Liliana Carrera (introduced in book one SINS OF THE FLESH) has had a few rough months. First her fiancé's depression turns her into his punching bag. Then her brother – a gun for hire – involves her in a dangerous assignment to save world famous cellist Caterina Shaw. Now Liliana has even made a new life for herself and has found a new friend in her brother Mick's newlywed wife. With stability returning to her life, Liliana turns her attention to keeping Caterina healthy and overcoming the trauma of the violent incidents which have colored her life in recent months.

Jesse Bradford had wanted only one thing when he approached Wardwell Laboratories in order to participate in their gene therapy trials – to stop the deterioration of his bones brought so he could return to his career as a football player. Jesse had never imagined that the cure would be worse than the disease.
Liliana knows of Jesse's checkered past as a high profile celebrity and sees the rage in Jesse. Both bring back painful memories and awaken fear in Liliana. But she cannot be blind to Jesse's suffering and just walk away. Especially when Liliana begins to see the honorable and caring man struggling to emerge. Together, Liliana and Jesse will battle to recover Jesse's humanity and explore the dangerous love taking hold in their hearts.[/quote]

In book one, SINS OF THE FLESH, Liliana's brother takes center stage when he's hired to find a killer. [quote]"Caterina Shaw's days are numbered. Her only chance for survival is a highly experimental gene treatment – a risk she willingly takes. But now Caterina barely recognizes herself. She has new, terrifying powers, an exotic, arresting body – and she's been accused of a savage murder, sending her on the run.

Mick Carrera is a mercenary and an expert at capturing elusive, clever prey. Yet the woman he's hunting down is far from the vicious killer he's been told to expect: Caterina is wounded, vulnerable, and a startling mystery of medical science. Even more, she's a beautiful woman whose innocent sensuality tempts Mick to show her exactly how thrilling pleasure can be. The heat that builds between them is irresistible, but surrendering to it could kill them both…for a dangerous group is plotting its next move using Caterina as its deadly pawn."[/quote]
New York Times Bestsellers agree:
[quote]L. A. Banks says, "SINS OF THE FLESH explodes on the page with page-turning action and sizzling love scenes as only Caridad Piñeiro can deliver!"[/quote]
[quote]Angela Knight says, "SINS OF THE FLESH, Caridad Piñeiro has written a sexy adventure with a luscious hero and an amazing heroine. Mick is a delicious Alpha Male, and Caterina has guts, intelligence and courage. The plot is fascinating, and the romance is delightful. I couldn't put it down!"[/quote]
NovelsAlive.TV invites you to delve in to the delicious and dark world of Caridad's Sin Series at Caridad.com and enjoy a taste of passion with your chills and thrills this fall.
Please Support the Author by Purchasing Their Books: