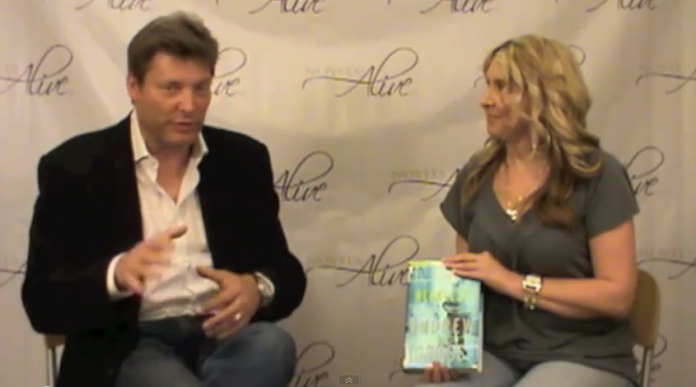 The mark of great suspense hinges on a heartbeat and New York Times Bestselling author Andrew Gross is a master of the genre. He creates a comfortable ordinary, yet layered, slice of life, one every person imagines themselves living. He grabs a reader with complex, yet ordinary characters. Characters with heart who are men and women just like you and me. Then he rips their world apart in a heartbeat, with edge of your seat, high-octane suspense that you can't put down.
In New York Times Bestseller, RECKLESS, Andrew shows us all with chilling clarity just how fragile our financial world is, and how unnervingly vulnerable we all are to the whims of ruthless men who hunger for money and power. RECKLESS will be released in paperback on February 22, 2011! Hero, Ty Hauck, first introduced in THE DARK TIDE and then in DON'T LOOK TWICE, returns with driving force in RECKLESS. This time, Andrew takes Ty into the complex world of international finance, where billions are lost or gained on the click of a mouse.
[quote]
"Ty Hauck hunts the murderer of a friend—and steps into the crosshairs of a sinister conspiracy — in this most electrifying novel yet from New York Times bestselling thriller master Andrew Gross.
Ty Hauck is shattered by the news. A close friend from his past, along with her husband and daughter, has been brutally murdered in their home by vicious intruders. Now he will risk everything he loves to avenge her death…
A wealthy banker, seeing his world about to crumble around him, knows his family is in unfathomable danger…
A US government agent watches the sudden bank transfers of millions in cash and suspects that this is the first step in a plot to unleash a wave of global panic…
Private security investigator Ty Hauck, with Naomi Blum, a tenacious agent from the U.S. Department of Treasury, unravels the evidence that joins these seemingly unrelated events—revealing a reckless scheme that stretches from New York to London to Central Europe and gives new meaning to the phrase 'too big to fail.' What began with a tragedy that opened a door to Hauck's past—a door that he thought was long closed—ends with a frantic race to avert a disaster that could shake the very security of our country—and even the world."
[/quote]
Andrew didn't start out being a thriller writer. He majored in English then went on to get his Masters in Business Administration from Columbia and had a successful career in the clothing business before taking on the task of becoming a novelist. He sharpened his thriller bite by writing five books with James Patterson then struck out on his own, climbing the  New York Times list with thrillers you don't want to miss.
The hero of RECKLESS, Ty Hauk first hit the scene in THE DARK TIDE where a woman unravels secrets from her dead husband's past and ends up running for her life.
[quote]
"An explosion rips through New York City's Grand Central Station one morning, destroying the train Karen Friedman's husband, a successful hedge fund manager, is riding in to work. Days later, with dozens of bodies still unidentifiable, Karen resigns herself to the awful truth: her husband of eighteen years is dead.
On the same day, a suspicious hit-and-run accident leaves a young man dead in Karen's hometown of Greenwich, Connecticut. Ty Hauck, the head of the local detectives there, reminded of a tragic moment from his own dark past, finds a clue that shockingly connects the two seemingly unrelated events.
Months later, two men show up at Karen's home digging into Charles' business dealings. Hundreds of millions of dollars are missing—and the trail points squarely to Charles. With doubt suddenly cast on everything she has ever known, Karen, with Hauck, steps into a widening storm of hedge fund losses, international scams and murder. And, as the investigations inevitably converge, these two strangers, touched by tragedy, are pulled into an ever-deepening relationship and open the door to a deadly world of cover-up—and conspiracy."
[/quote]
Then in DON'T LOOK TWICE, a drive-by shooting rocks the posh suburb of Greenwich, Connecticut-and leaves an innocent bystander dead. Hauck plunges into what seems like a vicious case of retribution and follows the trail to a sinister gambling scheme at an upstate casino. Until Annie Fletcher, a young restauranteur in the midst of rebuilding her life, witnesses something she shouldn't have—and immediately runs to him with what she knows. Suddenly, Hauck is pulled into a rising storm far greater than it first appeared—a storm wide enough to encompass corruption inside Greenwich's circle of wealthy and powerful citizens. And punishing enough to consume Hauck's own family, and to tear brothers apart forever…if it doesn't kill them first."
Andrew goes to the heart of his characters with gripping emotion that adds depth and that extra something to his nail-biting thrillers that keeps you hooked and eagerly waiting for more.
In July, his next thriller, EYES WIDE OPEN, will be released and I can't wait for it. Here's a taste.
[quote]
"Jay Erlich is a successful and respected surgeon and dad enjoying a romantic twentieth wedding anniversary on the beach when a call comes with the shocking news that his twenty-one year old nephew has been found dead at the bottom of a famed landmark cliff, ruled a suicide. Years before, Jay's older brother Charlie, a wayward child of the Sixties, set out for California, where he fell under the sway of a charismatic, but deeply disturbed cult figure. A horrible tragedy ensued, lives were destroyed, but as the decades passed, Charlie married and raised a family, living a quiet, secluded life in a Central California beach town, under the radar. But the demons from his past have never completely disappeared.
When Jay, to help his grieving brother, heads out West, he begins to suspect that his nephew's suicide may not have been what it appeared at all. At first against his will, and then determinedly, Jay delves into his brother's dark past—a labyrinth of secrets, terror, and lies buried in the Sixties, with sons fighting against fathers, broken music dreams, mental illness, and a thirty year old vendetta from an infamous killer as real today was it was back then. With eyes wide open, Jay puts his "happy" life at risk to uncover the truth, a quest that goes beyond the edge of madness and a family brought to the edge…straight into the depths of evil."
[/quote]
In a heartbeat, that's how long it will take me to buy Andrew's next book. Don't you miss out.
All books published by Harper-Collins.
Please Support the Author by Purchasing Their Books: