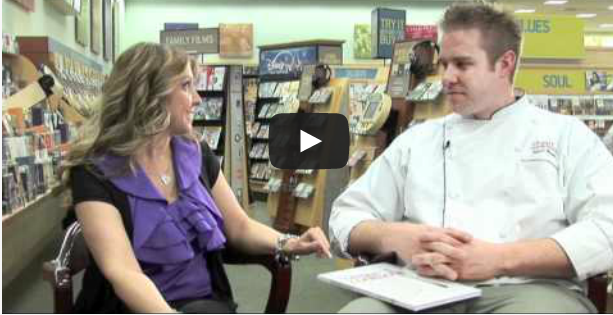 A good foundation is the key to great things and the secret to success. The First-Timer's Cook Book by Shawn Bucher delivers just that to anyone and everyone who wants to learn not only what to cook but HOW to cook. Culinary masters create exciting, irresistible meals because they understand the basics cooking. Now is your chance to learn this for yourself. Shawn provides simple techniques and easy step-by-step instructions that will make you a proficient and maybe even spectacular cook. I can't wait to get my hands on this book for me as well as for my three kids ages 24, 22, and 18—their future spouses will adore me for it.
I have always wondered how chefs knew what they knew to come up with the mouth-watering meals they do and now I will know! The First-Timer's Cook Book is a must and so is Shawn Bucher's Blog. I for one complete agree with his, "Forget the new year's resolutions, let's talk about Cooking Ribs." The succulent rack of ribs pictured had me yearning for BBQ right that minute. Go to www.firsttimerscookbook.com and check Shawn out and then go to his blog tab to find anything and everything you can imagine about the culinary industry along with your next treasured recipe.
[pullquote_left]"Forget the new year's resolutions, let's talk about Cooking Ribs."[/pullquote_left]Shawn has earned the right to tempt our taste buds and to give us the in's and out's of becoming our own great chef. He is a professional chef turned entrepreneur and author. Having traveled the country and worked professionally in most aspects of the food service industry for over 12 years, Shawn has held positions such as Teacher, Food and Beverage Director, Purchasing Manager, Sous Chef and interim Executive chef of a large hotel, Training Chef, and a General manager of both full service and quick service casual restaurants.
Shawn holds a Culinary Certificate, Business degrees and Accounting & Professional Sales Certificates. He is the recipient of the Best in Category and Best in Show award for the 1999 Junior Member President's Culinary Salon, put on by the American Culinary Federation's Beehive State chef's chapter. He currently is a chef instructor for The International Culinary Schools at The Art Institute in Salt Lake City.
Bon Apetite!

Please Support the Author by Purchasing Their Books: