Please join Novels Alive and Be My Bard.com in welcoming back, Award-Winning Author…JESS MICHAELS!
Thank you for joining us for this 4th edition of "10 Questions With…"! Since this new edition begins/began in February it's only fitting to ask first…When it comes to traditional Valentine's day gifts would you rather have a big bouquet of flowers or a heart-shaped box of chocolates?
Oh gosh. My cats eat flowers. And I am not currently eating chocolates. I'd probably rather get notebook. Are notebooks an option?
You have won an all expenses paid vacation to visit a place you have written about in one of your stories (real or fictional), which one would you choose and why?
I'd probably go to London, as that is where most of my stories are set. And also I'd like to go to London because it's awesome. 🙂
The cover of one of your books features the hero and heroine, but instead of models they are the actual people who inspired the character. Who would they be?
Well, my March release, THE SCOUNDREL'S LOVER, Karl Urban and Emilia Clarke are the semi-basis for the hero and heroine (Marcus and Annabelle). I tend to start with actor/actress stand ins, but by the time I get to about a third of the way through writing, the characters start to become themselves rather than "Amelia Clarke AS Annabelle Flynn", if that makes sense.
What was the best advice anyone ever gave you about writing? The worst?
Keep going was always the best advice. I needed it. And once a writer who I thought was a friend told me to quit and it was so hurtful. So that was the worst. Bookends. LOL
Some of the most epic love stories ever told concluded with an unhappy ending. Have you ever considered giving your couple a tragic ending versus a triumphant one? Why or Why not?
I write genre romance. And my audience expects and deserves the paramount element of romance which is the satisfying romantic ending. I don't think I'd want to disappoint them. And honestly, I don't want to write sad and depressing stories. Life has enough of that. I want to write uplifting, romantic stories. So I don't foresee tragedy coming in my books any time soon.
You have been asked to re-write a classic romance novel in which you take the characters and move them to another time and place. Which story would you choose and where would it take place?
I was once asked to write a re-work of LITTLE WOMEN where they were witches. I did a write up of it and it was fun, so maybe I'd pursue that. Although I like coming up with my own stories rather than rehashing and changing someone else's.
When you have finally written the last page in a new book are you more likely to indulge in a celebratory toast, simply sigh of relief that the project is finished or do you dive right back in to start on the next project?
I usually get a nice meal out or a nice meal made by my husband. I try to take at least a few days off to decompress. But my schedule and my personal drive pretty much don't let me take more than a week off between projects. I do take the week off of any release day. That week is usually so stressful and busy that I can't focus on anything except the release.
Many authors get asked the question about what three books would they want with them if they were ever stranded on a deserted island. BUT, if given the choice of WHERE in this scenario you were stranded, would you rather be stuck in an isolated mountain cabin, a haunted castle in Europe, an abandoned ghost town in the desert or would you stick with the tropical island?
I think isolated mountain cabin actually sounds nice. Assuming I have good food to eat and possibly some internet access.
If you had your choice of anyone (past, present or even fictional) to be stranded with you…who would it be?
My husband. Period, the end. I can't imagine being stranded with anyone better, fictional, past or present.
Please tell us a little bit about your latest book and what you will be working on next?
My next book is THE SCOUNDREL'S LOVER on March 10. It's the second in my Notorious Flynns series and features youngest Flynn Annabelle who is trying to escape the notorious reputations of her brothers. Only she stumbles into a very sexy club, run by my hero Marcus and has to decide if she wants a staid life, or one of passion. As for next, I've already finished the third book in the series, THE WIDOW WAGER, which will be out in April. And I've started work on a novella related to the series that will be out in May!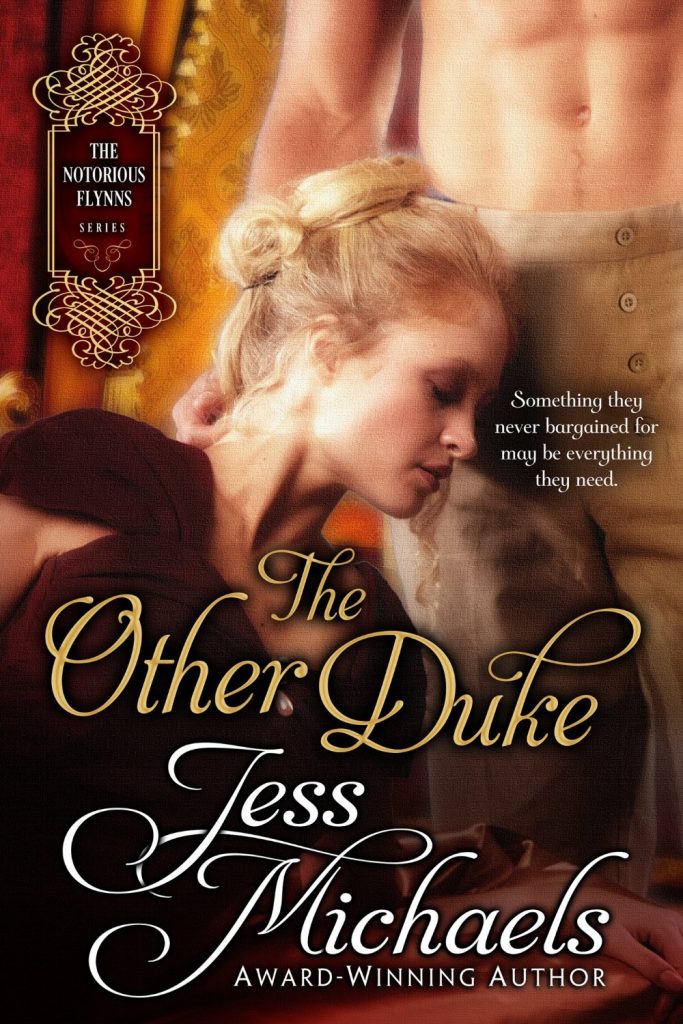 THE OTHER DUKE
The Notorious Flynns, Book 1
For years Serafina McPhee has been engaged to marry the heir to the Duke of Hartholm and for almost as long, she has been struggling to find a way out of that engagement. When he suddenly dies, she does not mourn but thrills at the idea that she will be free. Unfortunately, best laid plans go awry when the next in line for the title, her intended's cousin, Raphael "Rafe" Flynn is forced to take over the engagement. But Serafina knows Rafe's reputation as a libertine and wants nothing to do with him, either, even if he is devastatingly handsome.
She proposes an arrangement: she will agree to the marriage and provide Rafe with his heir and spare. Once she has done her duty, he will let her go. Rafe is intrigued both by her beauty and by her utter disgust with the idea of being his bride. Women normally fall at his feet, not cringe away from him. However, since their arranged marriage is not something he can escape, he agrees to her terms.
But when he finds out on their wedding night the truth about her torture at the hands of his predecessor, he finds himself driven not just to fulfill his bargain with his new bride, but to introduce her to desire. While they move closer together, surrendering to wicked pleasures, dangerous emotions may violate every agreement they've made.

Jess Michaels began writing full-time in 1999 after being encouraged by her husband to follow her dream. In 2003, she sold her first novella, an erotic historical romance about an Egyptian tomb and a very sexy curse. Since then she has published nearly 50 novels and novellas under three different pen names with several major publishers, small presses and via self-publishing. Her erotic historical romances have been national bestsellers and won awards from booksellers and readers.www.authorjessmichaels.com