I'm frequently asked if I put people I know in my books. Mostly not. But I borrow names like crazy. Finding names for my characters has become a challenge. Sometimes I latch onto one letter, like "D." One of my Nugget books has a Dana, Donna and Darla. Kind of a linguistic nightmare for readers. It's a series, so by the time I realized what I had done it was too late. All the characters had appeared in other books, just not all at the same time.
I once used Kylie and Kendall and my agent had to hit me over the head. "Are you obsessed with the Kardashians?" she asked. "Change those names!"
The truth is I don't know anything about the Kardashians (this is not a lie) and must've seen Kylie and Kendall's names (apparently they're Jenners) in the media and they stuck. If I have a bad association with a name—like say it was attached to a boss I hated—I can't use it, even if I like the name. And there are certain men's names that in my mind don't conjure images of heroes. I'm not saying what they are because my idea of a studly name may not be yours. But if I'm writing the guy, I have to think the name is sexy.
In Borrowing Trouble I used the full, real name of a dear friend of mine. Unfortunately I had to kill him. I'm sorry, Kevin. You were just in the wrong place at the wrong time.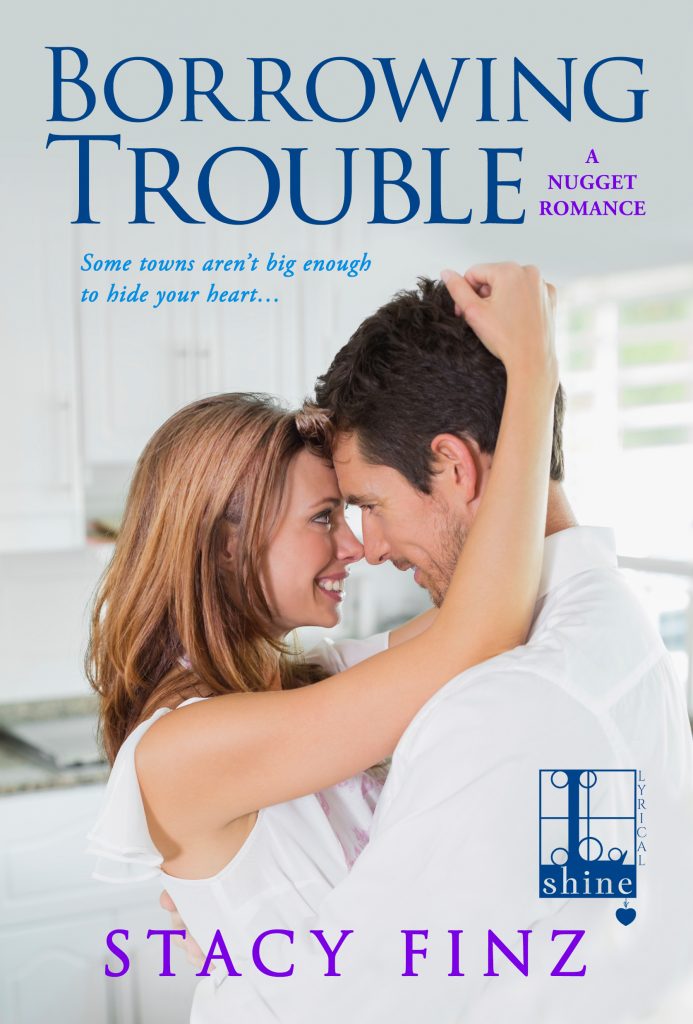 In the beautiful mountain town of Nugget, California, staying out of the limelight is easy, but staying out of love is a bit more challenging…
Back in Los Angeles, Sloane McBride was a great police detective, but after she uncovered corruption on her own squad, the job became nearly impossible. In the bucolic hills of Nugget, she can start to imagine a life after all that, where she keeps her head down, does her work, and doesn't bother anyone. But her delicious next door neighbor isn't going to make it easy to keep to herself…
Brady Benson's wildest dreams came true in LA—but they were paired with a living nightmare. As executive chef of a searing-hot restaurant, he was lauded, adored… and then found himself caught in the sights of a lovelorn stalker. Now, laying low in Nugget, he finds his own heart ensnared by the beautiful new cop with her own reasons to start over.
Neither Sloane nor Brady came to town looking for love, but it seems to have found them. Trouble is, so have their pasts. And they'll have to stop hiding from both if they hope to come out the other side together…

"Finz is a unique new voice. Nugget, California is a charming small town filled with inventive characters and sweet romance."—Jill Shalvis, New York Times bestselling author of the Lucky Harbor Series
"Tender and touching, Stacy Finz writes romance with heart."—Marina Adair, #1 National bestselling author of Summer in Napa



Stacy Finz is an award-winning former newspaper reporter. After more than twenty years covering notorious serial killers, naked-tractor-driving farmers, fanatical foodies, aging rock stars and weird Western towns, she figured she finally had enough material to launch a career writing fiction. She is the author of the Nugget Romance series (Kensington/Lyrical Press) about a small mountain town that has a strange way of giving people unexpected reasons to start over and find the most irresistible chances to fall in love.