Do you have a favorite ring?
I love my wedding ring. It's plain and thin and made of gold. It was an estate ring, and I've often believed it must have been worn for many years by a woman who loved her husband as much as I love mine.
And as the unofficial "Queen of Sparkle," I adore my engagement ring with its lovely old mine-cut diamond taken from a ring that belonged to my great grandmother.
But I think my favorite ring is one that was given to me not long ago by one of the finest women I'll ever know—my Auntie Anne. It's a rainbow moonstone. Its iridescent, milky cabochon is held tight by the wings of two sterling and golden dragonflies. It's gorgeous, and powerful, overflowing with positive energy. If you look closely, you can see it on my right hand in my author photo. I wear it most every day.
Not only is the ring beautiful but it was given to me by my aunt just days before her passing. I've always felt it was her special way of saying, "So long for now. Just remember that I love you."
When I wear it, I feel closer to her. Remembering how much she meant to me. It gives me courage knowing that somehow she's with me—watching over me, cheering me on. I used to call her my biggest fan.
In my new release Within A Captain's Treasure, my heroine, Alice Tupper wears a very special ring given to her by the finest woman she's ever known. Her name is Annalise (Anne—Anna…coincidence? I think not.).
Alice's ring was made from a locket belonging to Annalise. I won't spoil the story for you, but that locket featured prominently in the first book of this series—Within A Captain's Hold. I'll just say some bad energy tarnished Annalise's locket and she decided to rid her treasured necklace of the evil that had touched it, with fire. A jeweler's crucible to be exact.
From her locket, Annalise had the jeweler craft two matching rings. Each with an elaborate "A" engraved upon its face. One for Annalise—one for her dearest friend, Alice, to wear as she headed off to a new life in America. It was to be a visual reminder of their shared love and friendship that time and distance could never alter. "So long for now. Just remember that I love you."
What about you? Do you have a favorite ring, or a treasured piece of jewelry that means something special to you? I'd love to hear about it. Tell me the story.
Lisa's newest book in the Captain of the Scarlet Night Series, WITHIN A CAPTAIN'S TREASURE, is available May 24th! Follow Annalise's locket and Alice's ring from one side of the wide Atlantic to the other.
This pirate's latest prize may be love. . .
With a single pistol shot and the swing of a cutlass, Alice Tupper saves her mistress's life. But no lady's maid in polite society has ever killed a duke–at least, not on purpose. So Alice sets sail for America and her new destiny—only to find herself battling pirates on the high seas. Aboard her rescue ship, The Scarlet Night, she is hailed a hero and earns her place among the crew. . .as well as the ire of Captain Gavin Quinn.
Gavin chose this pirate's life, but he knows it's no place for a woman, especially one as exasperating–and beautiful–as Alice. Despite his desire for her, Gavin is determined to do the right thing and deliver her to the new world. But Alice's deepest wish is a life by Gavin's side. Will his heart overrule his sense, and will he risk everything to pursue his greatest treasure of all?
BUY LINKS
ABOUT THE AUTHOR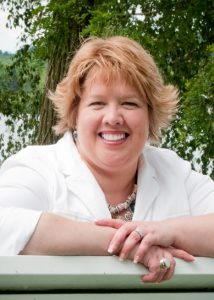 Lisa is an artist/writer living in her dream house nestled among the lakes in New England. She loves getting lost in a steamy book, finding the perfect pair of sexy shoes, and hearing the laughter of her men. Being an estrogen island in a sea of testosterone makes her queen. She believes in ghosts, silver linings, the power of a man in a tuxedo, and happy endings.