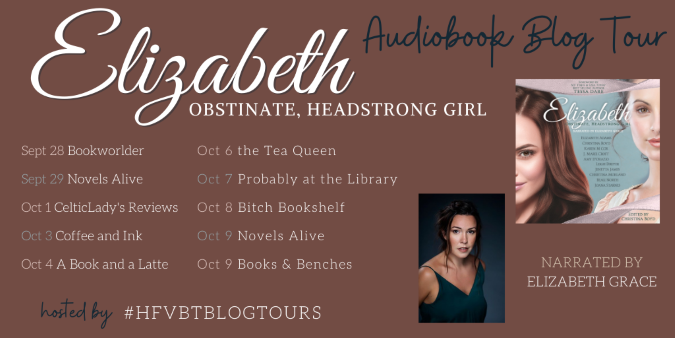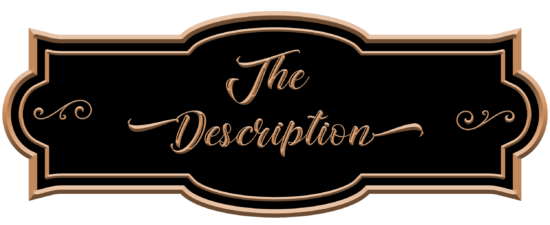 Narrator: Elizabeth Grace
Audiobook Release Date: August 31, 2020
"Obstinate, headstrong girl!"
For over 200 years, the heroine of Pride and Prejudice, Elizabeth Bennet has enchanted and inspired readers by being that "obstinate, headstrong girl" willing to stand up to the arrogance and snobbery of her so-called betters. Described by Austen as having a "lively, playful disposition," Elizabeth embodies the perfect imperfections of strong-willed women everywhere: she is spirited, witty, clever, and loyal.
In this romance anthology, 10 Austenesque authors sketch Elizabeth's character through a collection of re-imaginings, set in the Regency through contemporary times. In Elizabeth: Obstinate, Headstrong Girl, she bares her most intimate thoughts, all the while offering biting social commentary about life's absurdities. Elizabeth overcomes the obstacles of others' opinions, not to mention her own flaws, to find a love truly worthy of her – her Mr. Darcy – all with humor and her sparkling charm. "I think her as delightful a character as ever appeared in print…" wrote Jane Austen in a letter to her sister Cassandra, in January 1813, and we think so too!
Foreword by New York Times and USA Today best-selling author Tessa Dare.
Stories by: Elizabeth Adams, Christina Boyd, Karen M. Cox, J. Marie Croft, Amy D'Orazio, Leigh Dreyer, Jenetta James, Christina Morland, Beau North, and Joana Starnes.
Each anthology in the Quill Collective series is a standalone book.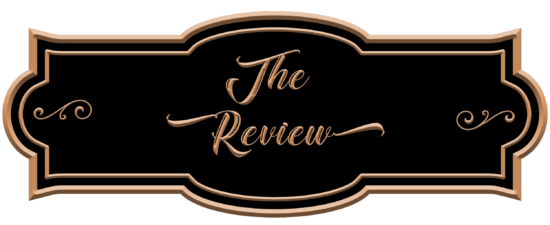 Ten fun audio romps into the imaginations of ten creative writers! Each story is solid reinforcement that Jane Austen's beloved character, Elizabeth Bennet, knows no limit of century or circumstance.
I enjoyed each installment, but one of my favorites was Love in Limelight by Beau North, with Hollywood as the setting and "our" Mr. Darcy as the CEO of Pimberley Pictures.
The audio narration performed by Elizabeth Grace is as diverse as the characters, using varied vocal accents, pitches, and inflections. I actually verified that, indeed, only one actor performed all ten stories and the characters within.
For anyone who yearns for more material regarding their favorite literary couple, dear Elizabeth Bennet and Fitzwilliam Darcy, then you need look no further than Elizabeth: Obstinate, Headstrong Girl.
*Audiobook provided by the publisher in exchange for an honest review.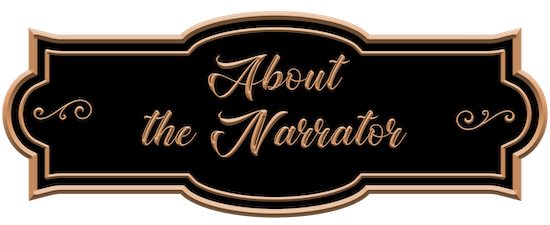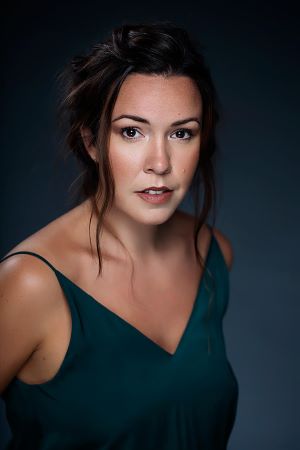 Originally from the East Midlands in the UK, Elizabeth Grace now lives in South London (via two years in Amsterdam). She is a full time actor, voice over artist, and narrator.
Elizabeth began her professional performing career a little later in life and has been studying at Identity School of Acting in London since 2019. Prior to that, she had a career agency side in Marketing which explains her penchant for client services.
Since 2019, she has been growing her professional portfolio on top of the amateur theatre work she began in her formative years. She has now been a part of many projects from short films and web series to audio dramas and audiobook narration.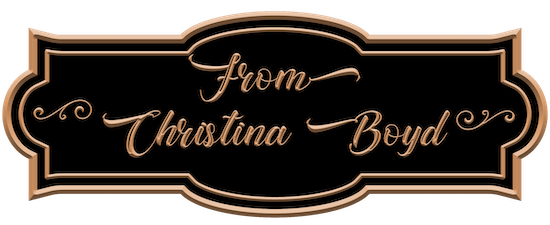 This Dream Team of authors–Elizabeth Adams, Karen M Cox, J. Marie Croft, Amy D'Orazio, Leigh Dreyer, Jenetta James, Christina Morland, Beau North, and Joana Starnes–joined me on another adventure with no promise of success but countless hopes. Like many journeys, we encountered unexpected turns, and even a few disappointments, but "it was our business to be satisfied" and prefer to "think only of the past as its remembrance gives you pleasure." I am forever indebted for their creativity, inspiration, great suggestions, and adherence to schedule. And for bolstering my own offering of an Elizabeth story. I can easily count you all as my friends. I am really proud of their work and how well this collection of stories came together.
In my previous anthologies, we were blessed to have such stellar Austen academics like Dr. Claudine DiMuzio and Dr. Devoney Looser write our forewords, and it was doubly important to find someone who really understood Austen, especially Elizabeth Bennet, for this project as well. I had heard that New York Times and USA Today bestselling Regency romance author Tessa Dare had once upon a time written Jane Austen fan fiction. When author Beau North suggested we ask her to write the foreword, there was a resounding "Yes!" You might say we were audacious to even ask but, in the temperament of Lizzy Bennet, our "courage always rises…" When she ardently accepted, you can imagine us: "What delight! What felicity!"–well, more like fangirl squeals! Tessa's love of Elizabeth Bennet and her deft understanding for the scope of this anthology left me wholly gratified, knowing we asked the right person to introduce this fifth anthology of the QuillCollective series.
We hope this homage to one of Jane Austen's best-beloved heroines will not disappoint, especially those that suggested an "Elizabeth" anthology back in 2017. Like Darcy, we "had never been so bewitched by any woman" and writing this collection has been diverting/gratifying/delightful. Please accept these stories in the same affectionate spirit they were written. Elizabeth:Obstinate Headstrong Girl is dedicated to "the Elizabeth Bennet in all of us" because I'd like to think she resides in our hearts, even if but a little spark of courage, wit, loyalty–and whether we reveal her to the outside world or not, she is there inspiring us to find our own felicity and dignity. – Christina Boyd, editor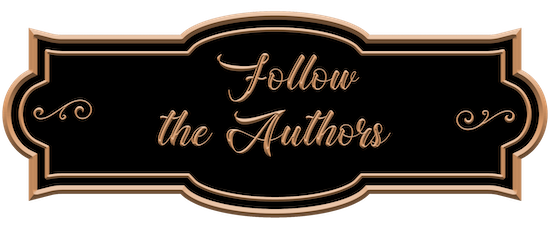 Elizabeth Adams https://eadamswrites.com
Christina Boyd https://www.thequillink.com
Karen M Cox https://karenmcox.com/
J. Marie Croft https://jmariecroft.wixsite.com/j-marie-croft
Amy D'Orazio https://m.facebook.com/profile.php?id=100030788056041
Leigh Dreyer https://m.facebook.com/authorleighdreyer
Jenetta James https://m.facebook.com/jenettajameswriter
Christina Morland https://christinamorland.wordpress.com
Beau North http://beaunorthwrites.com
Joana Starnes http://www.joanastarnes.co.uk/news
Tessa Dare https://tessadare.com

Monday, September 28
Review at Bookworlder
Tuesday, September 29
Excerpt at Novels Alive
Thursday, October 1
Feature at CelticLady's Reviews
Saturday, October 3
Feature at Coffee and Ink
Sunday, October 4
Review at A Book and a Latte
Tuesday, October 6
Excerpt at Encouraging Words from the Tea Queen
Wednesday, October 7
Review at Probably at the Library
Thursday, October 8
Excerpt at Bitch Bookshelf
Friday, October 9
Review at Novels Alive
Interview at Books & Benches