Release Date: October 30, 2020
A demon wants her dead. Now that she's vulnerable, he's about to make his move.
Lucy Walker is tired of magic ruining her life. With her protector boyfriend out of town among his own kind, she worries he won't come back to Chicago. And things only get worse when her school's resident mean girl holds a séance and accidentally summons an evil spirit.
Forced to reveal her abilities to her squad to defend them, Lucy lets slip that a vicious being is determined to destroy her. And when her BFF dabbles in forbidden magic to try to save her, she again catches the attention of the most powerful devil there is: Lucifer.
Can Lucy rescue her friends and herself before all hell breaks loose in the Windy City?
The Girl and The Demon is the third book in the The Girl and The Raven YA paranormal romance series. If you like complex plotlines, epic twists and turns, and refreshing takes on supernatural characters, then you'll love Pauline Gruber's wicked tale.
Previous Books in the Series:
The Girl and the Raven (The Girl and the Raven #1) on Goodreads
The Girl and the Gargoyle (The Girl and the Raven #2) on Goodreads


Irresistible Force – Jane's Addiction
Roads – Portishead
There's a Wolf – Silences
Dark Necessities – Red Hot Chili Peppers
Young Blood – Noah Kahan
Cherry – Moose Blood
River – Ibeyi
No You Girls – Franz Ferdinand
Blindsided – Bon Iver
Easier – Mansionair
Hang Me Up To Dry – Cold War Kids
Unison – Bjork
The Gold – Manchester Orchestra
Cross Bones Style – Cat Power
The Lunatics (Have Taken over the Asylum) – Fun Boy Three
I Need My Girl – The National
Old Pine – Ben Howard
Landfill – Daughter
Car Radio – Twenty One Pilots
Gonna Raise Hell – Cheap Trick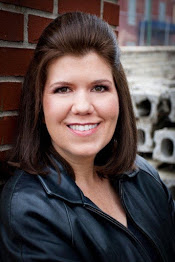 Pauline Gruber is a self-professed music junkie, cat wrangler, and travel nut. She went to Paris in the 90's where she discovered a love of three things: croissants, old cathedrals, and gargoyles. Deciding that the paranormal world could use a new kind of hero, Pauline translated her fascination with the protective gargoyle into a suspenseful love story. She is the author of the series: The Girl and The Raven, The Girl and The Gargoyle, and the forthcoming novel, The Girl and The Demon. By day, Pauline is a legal assistant for a Chicago law firm where she steals identities and incorporates them into her books. If you tell anyone, she'll deny, deny, deny.
Pauline lives outside of Chicago with her precocious black cats.
Blog Tour Organized By: