Release Date: October 7, 2020
Meira Sokolow had the misfortune of being born to Jewish parents in Warsaw, Poland, in 1912. Before she took her first breath, her fate had been sealed.
Residing in the Jewish Quarter of the city, Meira's early life was typical. She fell in love with a local boy, got married, and had a daughter. Then the German army marched into Warsaw and everything changed. Forced into the ghetto with her family, she found survival to be a daily struggle. Hunger, disease, and unimaginable cruelty were her stark realities. When the ghetto was purged and she was sent to a concentration camp, Meira still had her family, and that was all that mattered. Then the camp was liquidated, and only a handful of survivors remained out of thousands. Meira Sokolow was one of them.
No longer a wife or mother, Meira emigrated to New York City. After World War II, the world wanted to move on and start a new chapter, but Meira couldn't turn the page so easily. She walked through her days alone, like a ghost with nothing to tether her to the earth. Then she met Max, a handsome American, who first mistook her for one of the boring socialites he encountered every day. He soon learned she was unlike anyone he had met before, seeing her strength and resilience, even when she couldn't. Max knew he could breathe life into her again, if only she would let him.
Tragic and heartfelt, Where Butterflies Go is based on the harrowing true story of one woman's survival during the Nazi occupation of Poland, and her struggle to find meaning in the aftermath.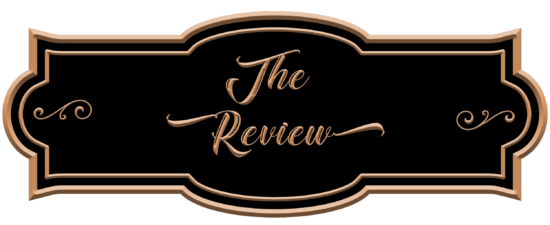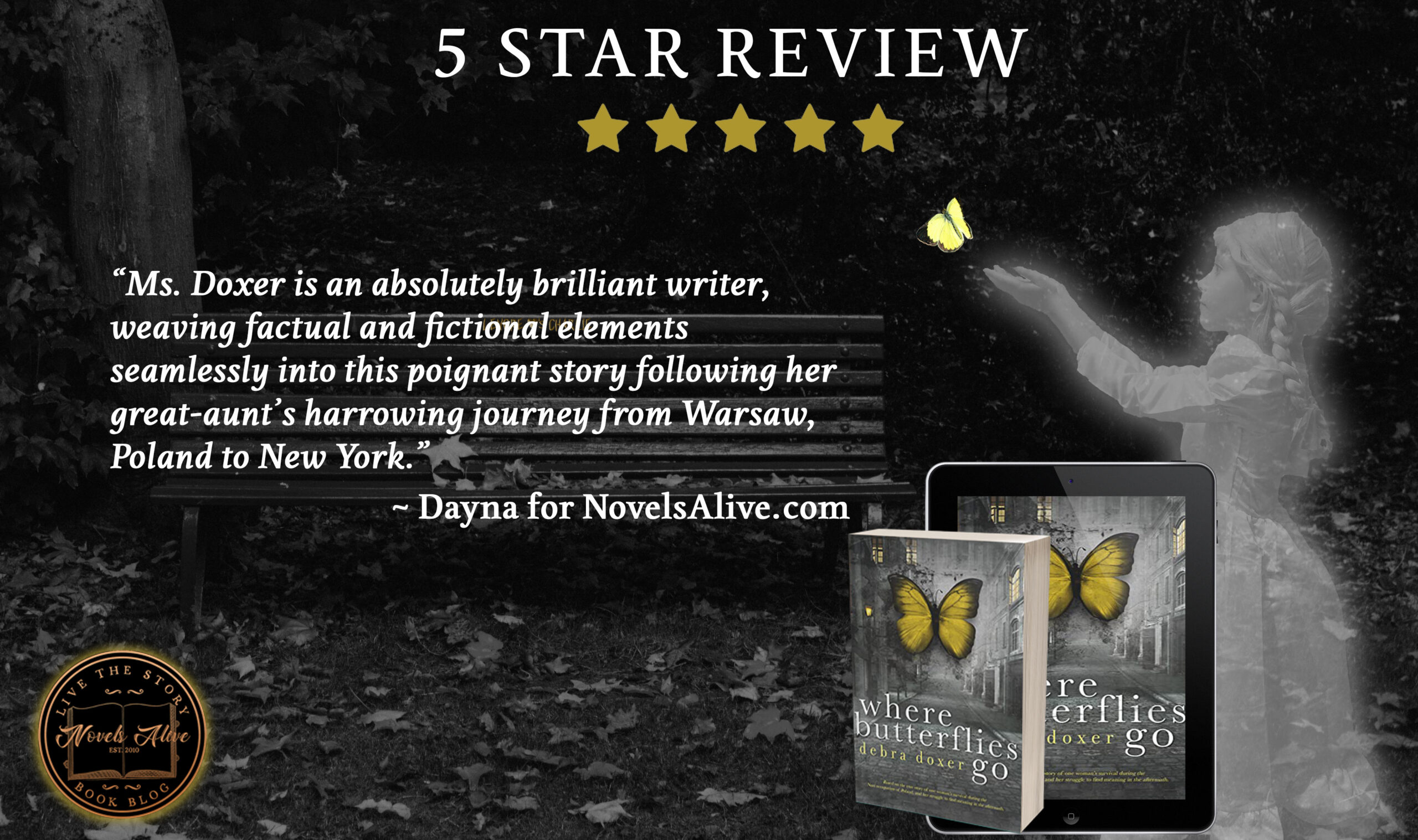 Where Butterflies Go by Debra Doxer is told in first-person and in two parts. The first part of the book starts in Warsaw, Poland, in 1932, and the second part of the book begins in 1948 as Meira immigrates to Great Neck, New York.
We follow Meira's family as the Nazis invade Poland, and hostilities increase daily and year after year until family members are lost, and those who survive are starving. Finally, Meira's family is packed onto a train and sent to a concentration camp.
As Part I climaxes to its end, it left me scarcely able to breathe. That night, I wasn't able to sleep. I don't want to give spoilers away, but I recommend you have plenty of tissues nearby when you read this book.
The first part of the book is written in chilling and heartbreaking details. From the depravity of the Nazis' actions to the desperation of the ghetto dwellers as they fight to exist in a world of cruelty and heartlessness. Meira's thoughts as a daughter, wife, and especially mother are heart-wrenching in their candor, and I challenge anyone not to be moved by them.
As Ms. Doxer moves us to the second part of the book, the tone lightens—as it should—but as we reside in Meira's thoughts, we feel her despair, loss, and emptiness as well. Ms. Doxer has such a profound gift with character development and creating that all-important ambiance which pulls the reader in so we become part of the story. Though some of the characters were unlikable, that was intentional.
Each character had an arc, but our primary focus was on Meira and her journey. While I loved Max, Karen, Avrom, and so many other characters, and of course, sweet little Tovah, I adored Mr. Diamond. We all need a Mr. Diamond in our lives. He was the shoulder to cry on, the understanding heart, the wise advice, and the little push Meira required at just the right moment.
As Meira walks through her journey of healing, we, the reader, walk through it with her, and I felt myself profoundly changed because of it. I recognized those feelings of emptiness and earth-shattering grief, of pain so deep you fear you'll never recover. Ms. Doxer's ability to tap into that human consciousness and communicate those emotions in such an evocative way continued to draw me deeper and deeper into Meira's story. I wanted so desperately for her to find love, but most of all, peace.
Ms. Doxer is an absolutely brilliant writer, weaving factual and fictional elements seamlessly into this poignant story following her great-aunt's harrowing journey from Warsaw, Poland to New York. Blending family stories, archival information from Yad Vashem, and her incredible vision, she has created an extraordinary book of hope, love, and renewal. In the end, you are left with a powerful reminder that through tremendous loss, you can heal.
I've read many books on WWII and the Holocaust. All of them have moved me and left an impression on me, but the manner in which Ms. Doxer presented this particular story in all its starkness, brutality, beauty, and humanity will stay with me for a very long time.
*I was given the book by the author in exchange for an honest review.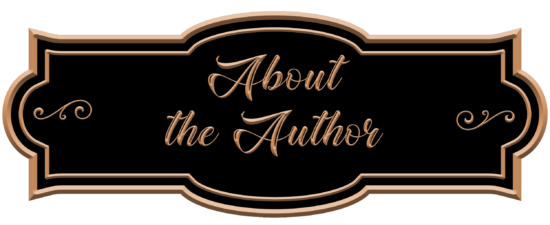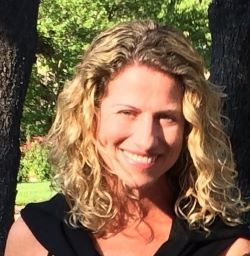 Debra Doxer was born in Boston, and other than a few lost years in the California sunshine, she has always resided in the Boston area. She writes fiction, technical software documents, illegible scribbles on sticky notes, and texts that get mangled by AutoCorrect. She writes for a living, and she writes for fun. When not writing, she's walking her Havanese puppy and forcing her daughter to listen to new wave 80s music.

Monday, October 12
Review at Passages to the Past
Tuesday, October 13
Review at Amy's Booket List
Wednesday, October 14
Guest Post at Novels Alive
Monday, October 19
Excerpt at Coffee and Ink
Tuesday, October 20
Review at Chicks, Rogues, and Scandals
Thursday, October 22
Review at Books, Writings, and More
Feature at Books In Their Natural Habitat
Saturday, October 24
Review at Reading is My Remedy
Monday, October 26
Feature at I'm All About Books
Wednesday, October 28
Review at Robin Loves Reading
Review at Tangents and Tissues
Friday, October 30
Interview at Novels Alive
Sunday, November 1
Review at YA, it's Lit
Wednesday, November 4
Interview at Books & Benches
Thursday, November 5
Review at Girl Who Reads
Friday, November 6
Feature at The Lit Bitch
Monday, November 9
Review at History from a Woman's Perspective
Tuesday, November 10
Feature at CelticLady's Reviews
Thursday, November 12
Review at Novels Alive
Friday, November 13
Review at Bookramblings