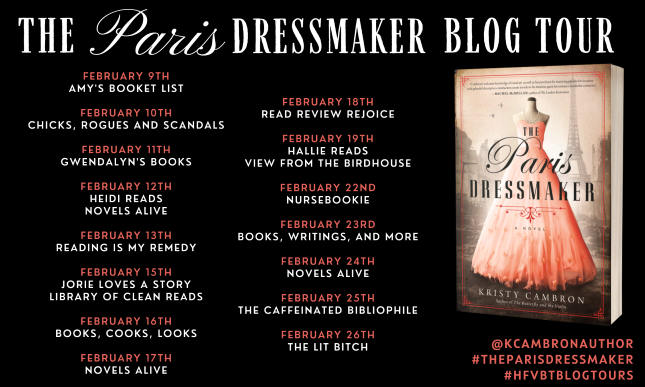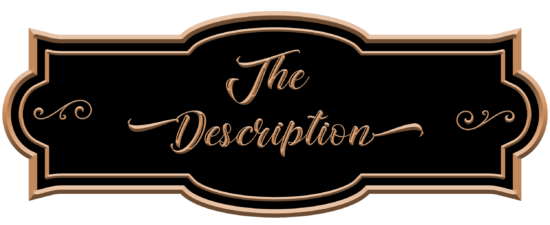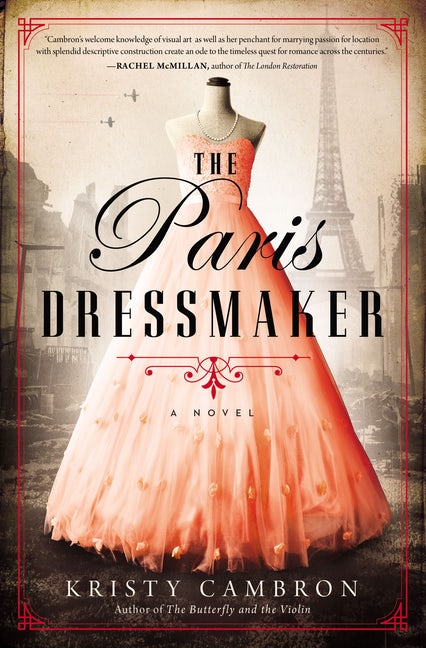 Based on true accounts of how Parisiennes resisted the Nazi occupation in World War II—from fashion houses to the city streets—comes a story of two courageous women who risked everything to fight an evil they couldn't abide.
Paris, 1939. Maison Chanel has closed, thrusting haute couture dressmaker Lila de Laurent out of the world of high fashion as Nazi soldiers invade the streets and the City of Lights slips into darkness. Lila's life is now a series of rations, brutal restrictions, and carefully controlled propaganda while Paris is cut off from the rest of the world. Yet in hidden corners of the city, the faithful pledge to resist. Lila is drawn to La Resistance and is soon using her skills as a dressmaker to infiltrate the Nazi elite. She takes their measurements and designs masterpieces, all while collecting secrets in the glamorous Hôtel Ritz—the heart of the Nazis' Parisian headquarters. But when dashing René Touliard suddenly reenters her world, Lila finds her heart tangled between determination to help save his Jewish family and bolstering the fight for liberation.
Paris, 1943. Sandrine Paquet's job is to catalog the priceless works of art bound for the Führer's Berlin, masterpieces stolen from prominent Jewish families. But behind closed doors, she secretly forages for information from the underground resistance. Beneath her compliant façade lies a woman bent on uncovering the fate of her missing husband . . . but at what cost? As Hitler's regime crumbles, Sandrine is drawn in deeper when she uncrates an exquisite blush Chanel gown concealing a cryptic message that may reveal the fate of a dressmaker who vanished from within the fashion elite.
Told across the span of the Nazi occupation, The Paris Dressmaker highlights the brave women who used everything in their power to resist darkness and restore light to their world.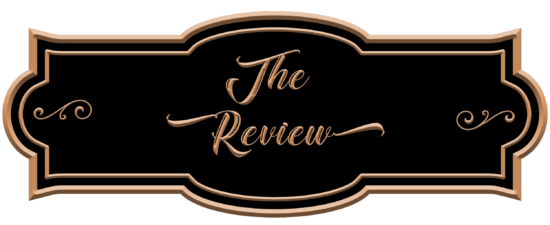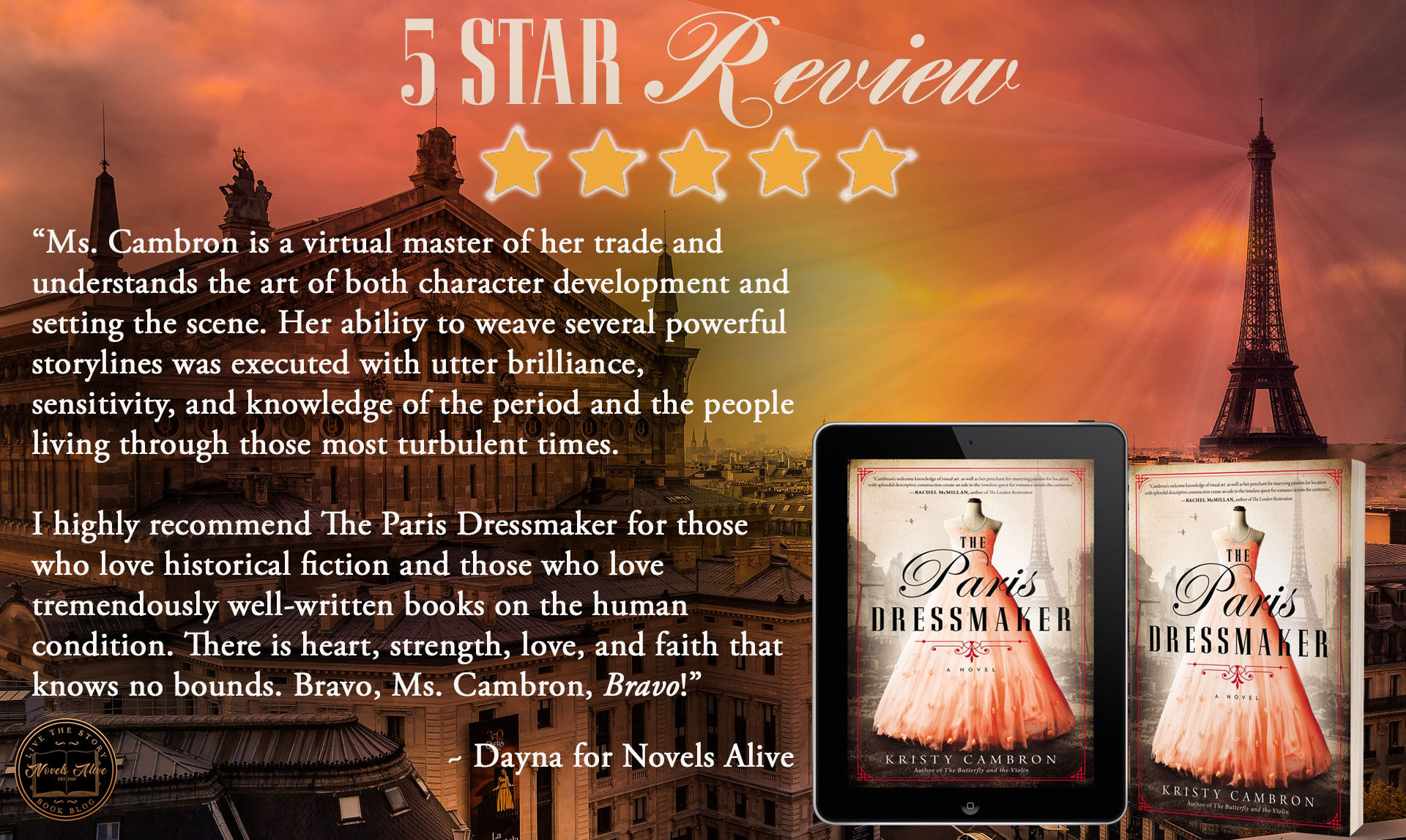 Two women. Two lives. Two heroines.
The Paris Dressmaker by Kristy Cambron is the story of Lila and Sandrine. Two women who live very different lives—Lila works in the fashion salons creating wearable masterpieces for the wealthy and stylish Parisiennes, and Sandrine, who works in her husband's family book shop. That is until the Vichy government collaborates with the Nazis and their lives turn on a dime.
Ms. Cambron weaves a beautiful tale of strength, betrayal, treachery, wits, glamour, depravity, but above all, faith. 
The story revolves around Lila, who starts in Paris's fashion houses designing beautiful apparel for the French elite and falling in love with a wealthy Jewish socialite at the cusp of the Nazi expansion and invasion. 
And Sandrine, the wife of a missing French soldier who, along with her son, lives with her in-laws and works in their family bookstore.
After the French capitulation in 1940 by the Vichy government, both lives would be forever changed. The fashion houses would close, and the bookstore would be destroyed. Both women would be forced to work for Nazis in ways they could barely stomach, teetering on the edges of collaboration to feed information to La Résistance, and for Sandrine, saving precious art pieces right under the Nazis' noses. 
The author takes us from past to present, to different perspectives on a wild and wooly ride through the ravaged streets of Paris and countryside beyond. Ms. Cambron did an excellent job creating multi-dimensional characters—from main characters to ancillary. There wasn't one I wasn't fully invested in and eager to discover their fate.
As Lila and Sandrine struggle to survive without being detected by the Nazis, the stakes are raised evermore, and duplicity is their constant companion. Sandrine relies heavily on her faith to sustain her through the ever-darkening abyss, and it is that faith that preserves her.
Ms. Cambron is a virtual master of her trade and understands the art of both character development and setting the scene. Her ability to weave several powerful storylines was executed with utter brilliance, sensitivity, and knowledge of the period and the people living through those most turbulent times.
I highly recommend The Paris Dressmaker for those who love historical fiction and those who love tremendously well-written books on the human condition. There is heart, strength, love, and faith that knows no bounds. Bravo, Ms. Cambron, Bravo!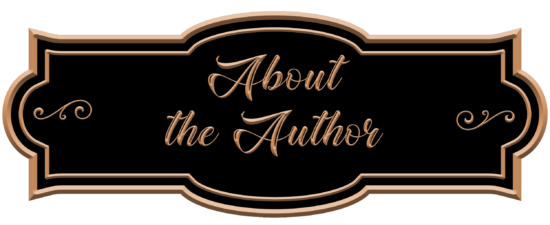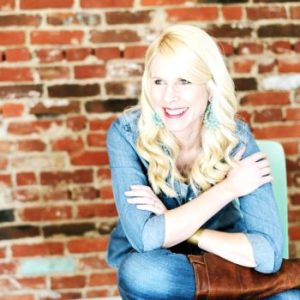 Kristy Cambron is an award-winning author of historical fiction, including her bestselling debut The Butterfly and the Violin, and an author of nonfiction, including the Verse Mapping Series Bibles and Bible studies. Kristy's work has been named to Publishers Weekly Religion & Spirituality TOP 10, Library Journal Reviews' Best Books, RT Reviewers' Choice Awards, received 2015 & 2017 INSPY Award nominations, and has been featured at CBN, Lifeway Women, Jesus Calling, Country Woman Magazine, MICI Magazine, Faithwire, Declare, (in)Courage, and Bible Gateway. She holds a degree in Art History/Research Writing and lives in Indiana with her husband and three sons, where she can probably be bribed with a peppermint mocha latte and a good read.

Tuesday, February 9
Review at Amy's Booket List
Wednesday, February 10
Review at Chicks, Rogues and Scandals
Thursday, February 11
Review at Gwendalyn's Books
Friday, February 12
Excerpt at Heidi Reads
Guest Post at Novels Alive
Saturday, February 13
Review at Reading is My Remedy
Monday, February 15
Review at Jorie Loves A Story
Review at Library of Clean Reads
Tuesday, February 16
Review at Books, Cooks, Looks
Wednesday, February 17
Interview at Novels Alive
Thursday, February 18
Review at Read Review Rejoice
Friday, February 19
Review at Hallie Reads
Review at View from the Birdhouse
Monday, February 22
Review at Nursebookie
Tuesday, February 23
Review at Books, Writings, and More
Wednesday, February 24
Review at Novels Alive
Thursday, February 25
Review at The Caffeinated Bibliophile
Friday, February 26
Review at The Lit Bitch