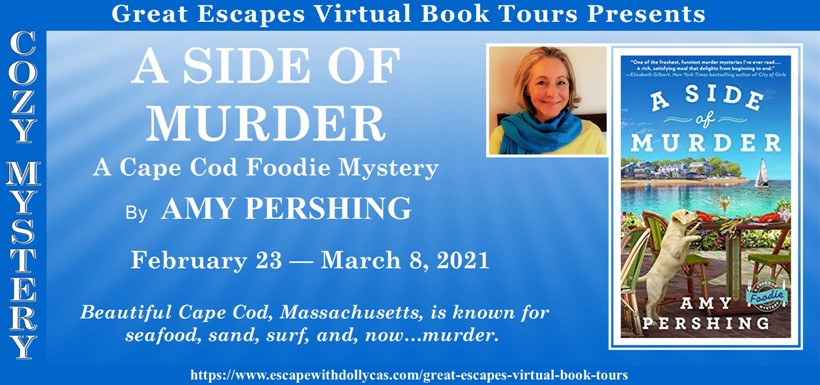 The nineteenth-century French journalist and epicure Charles Pierre Monselet once famously wrote: "The pleasant hours of our life are all connected by a more or less tangible link with some memory of the table." I agree with that sentiment wholeheartedly. It is at the table where we have what I consider all the necessary ingredients for happiness—family, friends, laughter, love, and, of course, good food (and drink!).
But I would go further. The memories, in my case, are not just of cheerful times eating together. They are also of lively hours in steamy kitchens with my mother, my grandmother, and my great-grandmother preparing the dishes that would become treasured family recipes.
Every summer, my family would join our vast—and extremely loud—clan on Cape Cod sailing, swimming, clamming, and, of course, eating. Steamed clams with melted butter, grilled bluefish pulled that morning from the bay by my Uncle Harry, my mother's chicken, and dumplings, my Maw Maw's fudge—I could go on and on.
But best of all was my grandmother's clam chowder made with quahogs that we'd dug ourselves. To this day, that chowder is a memory brought to life—of my golden summers on the Cape and my rather stern but to me ever-fascinating grandmother, Margaret Jane.
In A Side of Murder, the first of the Cape Cod Foodie mysteries, disgraced chef Samantha Barnes remembers happier days as a child making clam chowder with her Great Aunt Ida. The recipe below is my best re-creation of Margaret Jane's/Aunt Ida's chowder. Enjoy!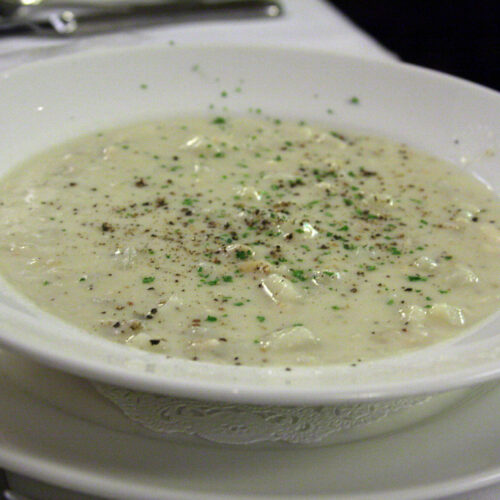 Cape Cod Clam Chowder
A real Cape Cod clam chowder is a thing of modest beauty.  It is not thickened or overly creamy. It is nothing more than tender clams, little crispy cubes of salt pork (or bacon), some minced onion and celery, a couple of diced potatoes – all swimming in a rich, milky, buttery broth redolent of the sea. 
In A Side of Murder, Sam remembers Aunt Ida and herself as a child digging their own quahogs, but any reputable fishmonger should have fresh hard-shell clams on hand. If these aren't available to you, frozen or canned clams are a perfectly respectable substitute. 
Ingredients
2½

pounds

hard-shell clams 

OR

1

pound

shucked frozen clams 

OR

2

cups

canned chopped clams

1/4

pound

salt pork (or thick-cut bacon)

cut into ¼ inch cubes

2

tbsp.

butter

1

medium onion, finely chopped

2

stalks

celery, finely chopped

4

cups

bottled clam broth

(if using canned or frozen clams)

1

quart

whole milk

2

2 bay leaves

1-1/2

pounds

russet (baking) potatoes, peeled and cut into cubes no larger than ½ inch

about 3 cups

Salt and freshly ground black pepper

1

cup

heavy cream (not traditional, but it does make it extra yummy)

OPTIONAL
Instructions
If using fresh clams, rinse them under running water to clean the shells and set aside. If using frozen clams, thaw them in the refrigerator overnight and chop them roughly, if necessary. Canned clams can be used right out of the can.

Put the cubed salt pork (or bacon) into a heavy-bottomed stock pot or Dutch oven over medium heat. Cook until it has begun to get brown and crispy. Add the butter, minced onion and celery and cook for about 5 minutes or until onions are softened but not browned.

If using fresh clams: Add the clams and 1 cup of water to the pot and turn the heat to high. Cover and cook, opening the lid every once in a while to stir the clams, until they begin to open, which should take about 3 minutes. As the clams open, remove them with tongs into to a large bowl, keeping as much juice in the pot as possible and keeping the lid shut as much as possible. After 8 minutes, discard any clams that have not yet begun to open. Roughly chop the clam meat and put it into a separate bowl with any of their juices. 

Add the milk and bay leaves to the pot, and add the cubed potatoes. Bring to a boil, then reduce the heat and simmer for about 20 minutes or until the potatoes are very tender and starting to break down. Add salt and pepper to taste.   

If using canned or thawed clams: Stir the bottled clam juice and the milk and bay leaves into the pot and add the cubed potatoes. Bring to a boil, then reduce the heat and simmer for about 20 minutes or until the potatoes are very tender and starting to break down. Add salt and pepper to taste.   

Add the chopped clams to the pot. Add the cream if you are using it, bring to a simmer and cook for two or three minutes (one minute for canned clams).  Serve immediately. (I like it with a pat of butter melting on the top, but that's just me.)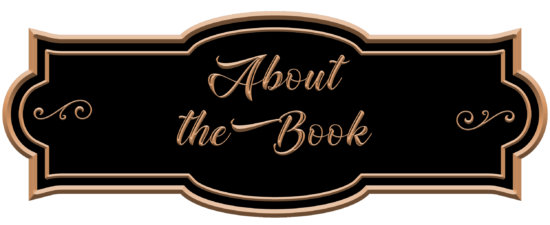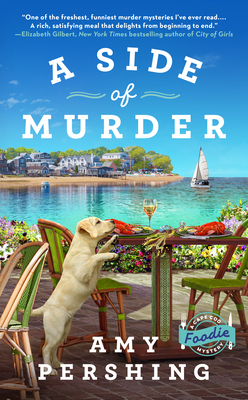 Beautiful Cape Cod, Massachusetts, is known for seafood, sand, surf, and, now…murder.
Samantha Barnes was always a foodie. And when the CIA (that's the Culinary Institute of America) came calling, she happily traded in Cape Cod for the Big Apple. But then the rising young chef's clash with another chef (her ex!) boils over and goes viral. So when Sam inherits a house on the Cape and lands a job writing restaurant reviews, it seems like the perfect pairing. What could go wrong? Well, as it turns out, a lot.
The dilapidated house comes with an enormous puppy. Her new boss is, well, bossy. And the town's harbor master is none other than her first love. Nonetheless, Sam's looking forward to reviewing the Bayview Grill—and indeed the seafood chowder is divine. But the body in the pond outside the eatery was not on the menu. Sam is certain this is murder. But as she begins to stir the pot, is she creating a recipe for her own untimely demise?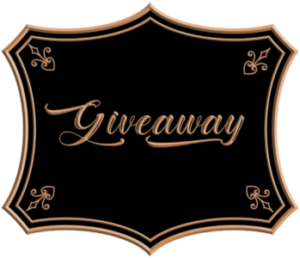 a Rafflecopter giveaway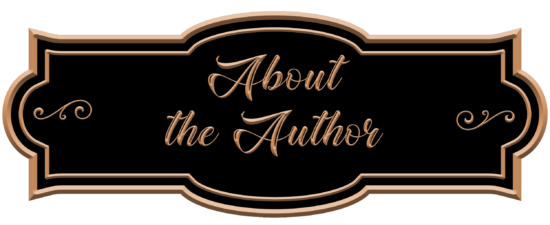 In the immortal words of Julia Child, "People who love to eat are always the best people," so I'm delighted to meet you! I'm Amy Pershing, the author of the Cape Cod Foodie Mysteries and a pretty dedicated foodie myself!
I'm also an unapologetic cheerleader for Cape Cod, where I spent every summer of my childhood sailing, swimming, and never, as far as I can remember, putting on a pair of shoes from June to September. It was paradise. It still is.
As a lifelong mystery lover and wordsmith, I've been an editor, a restaurant reviewer and a journalist before leading employee communications at a global bank. A few years ago (with the final college tuition bill paid!), I waved goodbye to Wall Street to write full time (and spend more time sailing on the Cape!). A Side of Murder, the first of the Cape Cod Foodie mysteries, is my first novel.

February 23 – Ascroft, eh? – CHARACTER INTERVIEW
February 23 – I'm All About Books – SPOTLIGHT
February 24 – Maureen's Musings – SPOTLIGHT
February 25 – Christy's Cozy Corners – GUEST POST
February 25 – Escape With Dollycas Into A Good Book – REVIEW
February 26 – I Read What You Write – CHARACTER GUEST POST
February 26 – The Avid Reader – REVIEW
February 27 – Moonlight Rendezvous – REVIEW  
February 27 – Sapphyria's Book Reviews – SPOTLIGHT
February 28 – Literary Gold – CHARACTER GUEST POST
February 28 – Books a Plenty Book Reviews – REVIEW
March 1 – Socrates Book Reviews – SPOTLIGHT
March 2 – Novels Alive – REVIEW
March 2 – Novels Alive – GUEST POST
March 2 – Mysteries with Character – AUTHOR INTERVIEW
March 3 – Ruff Drafts – RECIPE
March 3 – Mystery Thrillers and Romantic Suspense Reviews – SPOTLIGHT
March 4 – My Reading Journeys – REVIEW
March 5 – Cozy Up With Kathy – REVIEW, AUTHOR INTERVIEW
March 6 –  ebook addicts – SPOTLIGHT
March 7 – Diane Reviews Books – GUEST POST
March 8 – Melina's Book Blog – REVIEW