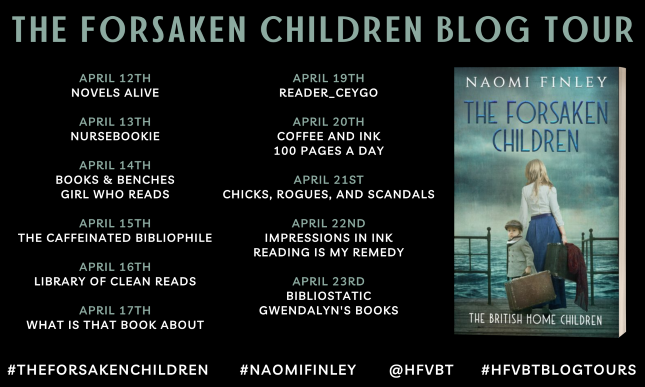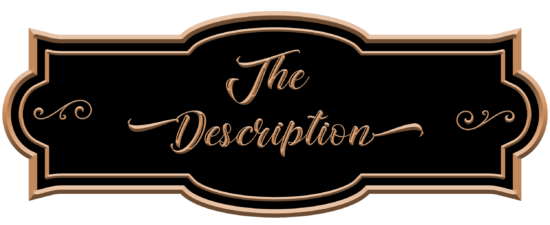 A riveting tale of endurance and resilience, illustrating the spirit of a child and the bond between siblings.
It's 1921. Fifteen-year-old Hazel Winters and her six-year-old brother, William, are placed on a ship by an organization that relocates British orphans and children of poverty to new homes in Canada. Arrivals in the new land are exported to distributing houses, where devastation and heartache greet the youngsters as headmistresses govern their fate.
The assurance of a better life across the ocean is far from what Hazel experiences. Through hardships and loneliness, she is determined to survive. Finding refuge in memories of the past, she clings to the dream of returning to her homeland while preserving a reunion in her heart.
In 1890, orphaned Charlotte Appleton and her sister Ellie were scooped up from London's streets and sent to new homes across the ocean. Although mere miles kept them apart, Charlotte never knew her sister's whereabouts until a chance interaction reunites them. Together the siblings vow to make a difference for the families and home children of an institution in Toronto, Ontario.
Can an unexpected guardian give Hazel renewed strength and resolve for a future of promise?
Based on the child emigration movement that occurred from 1869 through the late 1930s, this poignant tale follows the lives of siblings who were burdensome byproducts of Britain's poverty.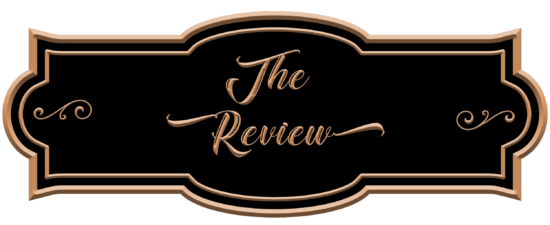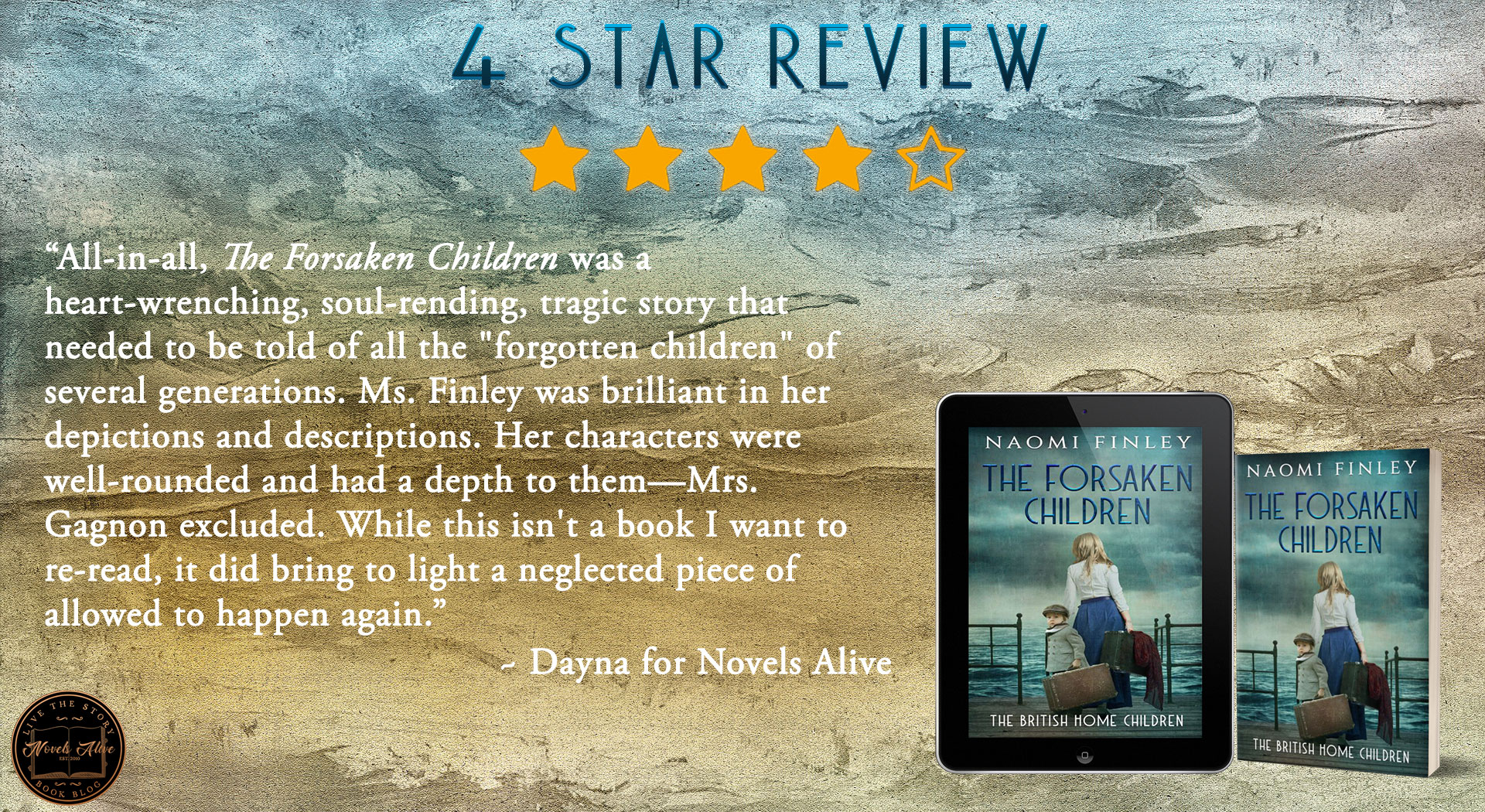 The Forsaken Children is the first book in The British Home Children Series by Award-Winning author Naomi Finley. I was drawn immediately to the cover, which is very compelling and exceptionally well done.
The book starts with the prequel to The Forsaken Children, The British Home Children. It tells the story of William and Hazel in Liverpool in 1921 prior to being brought to the orphans' home by their mother after descending into homelessness and despair. Their mother makes it clear to the warden she will be back to pick up her children in a few weeks after finding a job and a place for them to live and that the home was only a temporary situation and made sure the children knew this as well. However, the home thought otherwise and thus begins the plight of William and Hazel.
This book was not an easy read as it included quite a bit of abuse of children, which tore my heart apart. If this is something that triggers bad memories for you, I would advise you not to read this book. However, I feel it is essential to know what happened during a very long period of time to these "forgotten children." Though this book focused on British children dispersed to Canada, some of these children were also conveyed to Australia, New Zealand, and South Africa. Having recently watched a documentary about "lost children" in the USA, there were similar things happening here in the States. 
Some of these "forgotten children" were taken off the streets and were listed as orphans and put on a ship, whether they had parents or not. They were then placed with families as indentured servants to those families who took them on as their "Christian duties." Most of these children worked long hours as farmhands, domestics, nannies, etc., for room and board. Some were sheltered and fed very poorly and treated roughly and disparaged. The children were rarely checked on to ensure they were well-cared for, so abuse or neglect was seldom discovered or remedied.
The book first follows Hazel, a street urchin who once had a home and a happy family until her father leaves to fight during the Great War and returns an addict and a shell of the man he once was. Not long after, he is murdered, and the family is on their own. Hazel is a little hustler who steals and does whatever is necessary to help feed her mother and little brother William. Until the day her mother loses her job, and they lose their home. This is the beginning of the end of her life in Liverpool.
We next meet Charlotte. Charlotte was once a "forgotten child" herself who has attained a position at the home she was brought to in Canada in hopes of finding her sister, whom she was separated from 30 years prior. She is loving and compassionate and tries to bring humanity to a place that has little.
The book switches perspectives between Charlotte and Hazel and gives us Charlotte's backstory in bits and pieces.
When Hazel and her 6-year-old brother, William, are brought to Canada, they are split up, which has destroyed Hazel. Hazel is very spunky and full of attitude, but she quickly learns the home's current warden, Miss Keane, will not put up with her attitude and has absolutely no compassion for what Hazel has lost. She soon finds out the hard way that crossing Miss Keane or causing disorder to Miss Keane's ordered world meets with harsh repercussions—ones Hazel did not want to repeat.
Hazel finds out she is to be placed with a family, which is where her real troubles begin. Mrs. Gagnon is overbearing and abusive in every way possible, and if not for her kindly but weak husband, the farmhands and Hazel would be starved and even more abused than they already are. Again, the descriptions of the abuse are very stark, and I warn readers who have been abused or are triggered by these events to be warned. Mrs. Gagnon was abusive to her own children, but she was an absolute monster to Hazel and the farmhands. 
The story is very depressing, and there is little hope for Hazel in her dreary life. While this was a very challenging book to read, it was exceptionally well-written, and I think the book honestly depicts what happened to far too many "forgotten children" who were brought over and should have been cared for and loved but weren't. There should have been checks in place to make sure they weren't abused, but that didn't come until much later, and unfortunately, too many children in the system still are not cared for as they should be.
While very well-written, edited and constructed, I did have issues with the ending. I felt the author should have had an Epilogue and an Author's Note explaining more about the British system to bring children over to Canada and the other countries and some stats about how many children were conveyed during the 70+ years they employed this scheme. So, I researched for myself and found the British Home Child Group International. I find Author's Notes to be very compelling and add quite a bit to books like these which are based on historical fact. A nod to the author's resources for her research may also be nice on an Acknowledgment page. The Epilogue could have tied up some loose ends that were not explained in the book because there were several. I understand more books are planned in the series, and perhaps these future books will address those loose ends.
All-in-all, The Forsaken Children was a heart-wrenching, soul-rending, tragic story that needed to be told of all the "forgotten children" of several generations. Ms. Finley was brilliant in her depictions and descriptions. Her characters were well-rounded and had a depth to them—Mrs. Gagnon excluded. While this isn't a book I want to re-read, it did bring to light a neglected piece of history that should be brought to light and never allowed to happen again.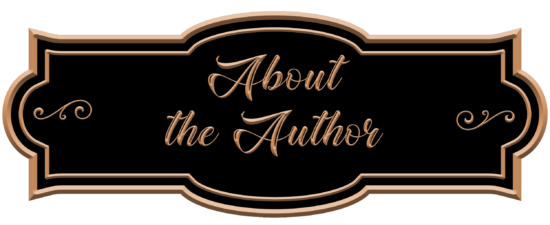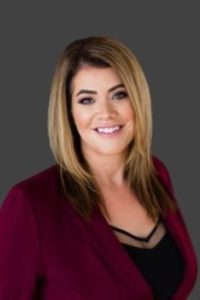 Naomi is an award-winning author living in Northern Alberta. She loves to travel and her suitcase is always on standby awaiting her next adventure. Naomi's affinity for the Deep South and its history was cultivated during her childhood living in a Tennessee plantation house with six sisters. Her fascination with history and the resiliency of the human spirit to overcome obstacles are major inspirations for her writing and she is passionately devoted to creativity. In addition to writing fiction, her interests include interior design, cooking new recipes, and hosting dinner parties. Naomi is married to her high school sweetheart and she has two teenage children and two dogs named Egypt and Persia.

Monday, April 12
Review & Excerpt at Novels Alive
Tuesday, April 13
Review at Nursebookie
Wednesday, April 14
Review at Girl Who Reads
Excerpt at Books & Benches
Thursday, April 15
Review at The Caffeinated Bibliophile
Friday, April 16
Review at Library of Clean Reads
Saturday, April 17
Excerpt at What Is That Book About
Monday, April 19
Review at Reader_ceygo
Tuesday, April 20
Excerpt at Coffee and Ink
Wednesday, April 21
Review at Chicks, Rogues, and Scandals
Thursday, April 22
Excerpt at Reading is My Remedy
Friday, April 23
Review at Bibliostatic
Excerpt at Gwendalyn's Books