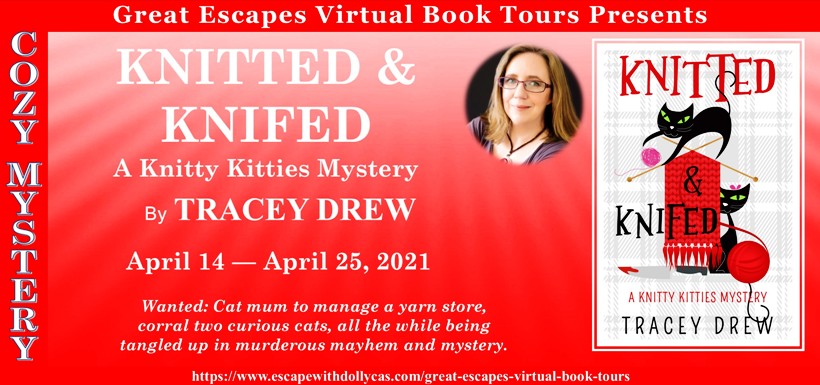 Today we welcome cozy mystery author, Tracey Drew! Thanks for joining us.
What drives your story forward in your books the most, the characters or the plot, or do you feel they are intertwined?
I feel they are very much intertwined. Because my books are written in the first person POV, the plot is guided by what kind of woman Tessa Wakefield is. And because she's a former guidance counsellor part of her skill set is listening and really hearing the people around her, her actions and reactions to those people are what drive the plot.
If you were a character in one of your books, which would you be? The hero/heroine, mentor, villain, love interest, etc.?
If I'm completely honest, I'd be the nosy old lady who wants to know everyone's business and what kind of skeletons are in their closet!
Do people you know end up as characters in your book? Be honest…
Um, kinda… I tend to—er—steal parts of people I know. Like the funny or interesting stories they tell, and their quirks and expressions. One I'll admit to (as my friend thinks it's a hoot) is the expression 'gee, whiskers' that my main character often says/thinks. As I always warn my friends when we get together…this is probably going to end up in a book!
If you could meet a literary character, who would you most like to meet?
I don't know that if I could pick just one without overthinking it! But if I had to narrow it down, I'd love to meet any of Kristan Higgins' female characters. They're so relatable and multi-faceted and kind, that I could easily imagine becoming friends with them.
Was there something in your first edit that didn't make it in the final copy?
About two thousand words! I tend to write loooong, and my editor has to cull my words down. Nothing got left out that a reader would miss, though.
What do you do to prepare your mind to write? To get into the mind of your characters?
I'm constantly thinking about the people who populate Cape Discovery (where the Knitty Kitties Mysteries are set) so when it comes to writing them, the problem is getting them to talk one at a time. And also to shut up when I'm trying to figure out who's telling me the truth…and who's telling a whopper of a lie.
What book as a child/adolescent most influenced you as a writer?
I used to love Enid Blyton's The Famous Five books, and from there I graduated to Trixie Beldon and Nancy Drew. I guess I've always loved the puzzle of a whodunnit.
How much research went into your last book?
Without giving too much away, my latest book (Hanks and a Hitman) touches on internet dating and the ways this can go wrong. Since I'm happily married I don't frequent dating sights, but my husband is an IT guy so I picked his brain about the computer-ish parts.
What's one of the most important things you'd like your readers to know about you? What defines you most as an author?
I cut my writerly teeth on writing/publishing contemporary romances since 2013 under the penname Tracey Alvarez, and I learned that character relationships and heartfelt emotions are right up my alley. That has continued in my cozies, with the main character navigating relationships with family, friends/frenemies and two distracting men—one of whom is an off-limits police detective! I guess my tagline 'Cozy Mysteries with Heart & Humor' says it all.
What is one thing about you that may surprise your readers?
I graduated from a fashion design school when I was eighteen, but have never really worked in the industry. And considering my everyday outfits usually include comfy leggings, sweaters, and fleece-lined Ugg boots, my former education is not something that even Tessa Wakefield could easily sniff out.
Can you tell us what prompted you to write your latest release?
I'm hooked on the MTV show 'Catfish', which might give you a big hint as to the theme of Hanks and a Hitman! On the flipside, I know a number of happy couples who met their partner online. So the romantic in me hasn't quite given up on it working out for some people.
What's next for you? What are you working on now?
I'm working on the fourth Knitty Kitties Mystery, Striped and Strangled. And planning further adventures and a rising body count in Cape Discovery for Tessa Wakefield to get tangled up in.
Thank you so much for joining us today, Tracey. We enjoyed your delightful answers to our interview questions!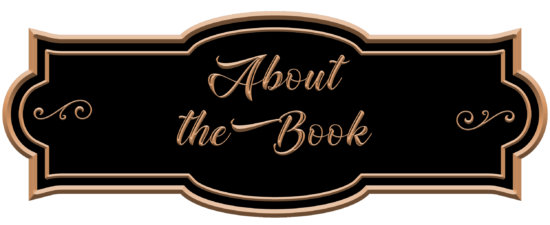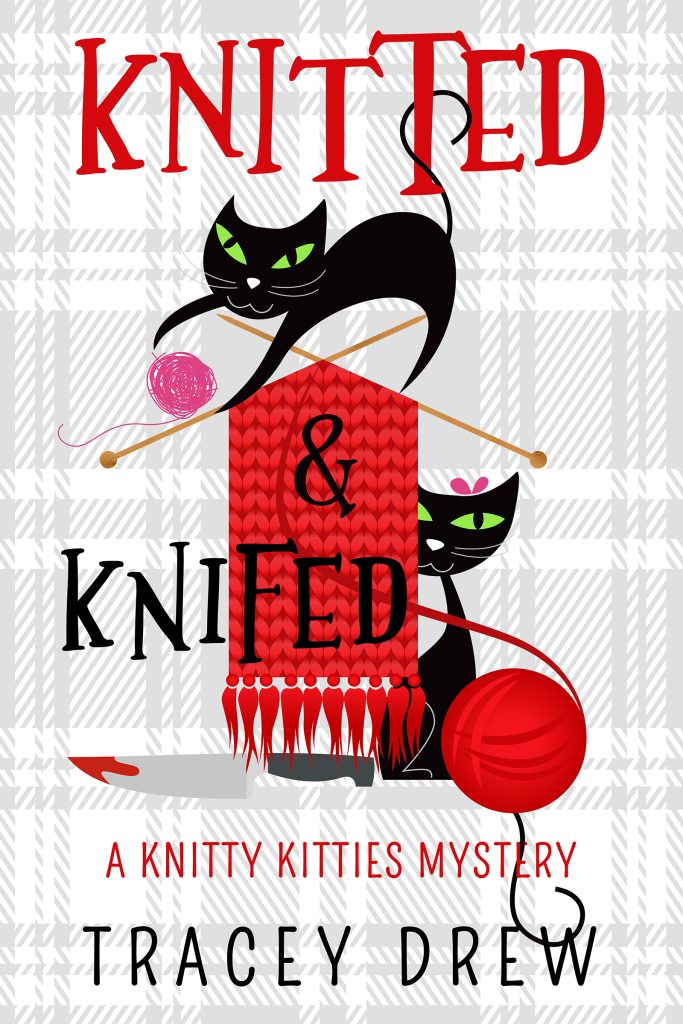 Wanted: Cat mum to manage a yarn store, corral two curious cats, all the while being tangled up in murderous mayhem and mystery.
A smart woman would dump her cheating ex, move from the city, and give herself a chance for a well-deserved do-over. A smarter woman—smarter than me, anyway—wouldn't jump out of that same frying pan and return to Cape Discovery, a seaside village where her family is the nuttiest of all the nut-ball residents.
I'm a former high school counselor, middle-child peacemaker, and current curator of lots of squishy/fuzzy goodness at my granddad's little yarn store. Temporary assistant. Until I decide what to do with the rest my life. There's only one knotty problem to untangle first. The knife sticking out of the most unpopular man in town, and the police detective trying to pin the murder on the donkey—otherwise known as my younger brother. With a pair mischievous cats determined to be underfoot and a craft group of Serial Knitters and Happy Hookers wanting the inside scoop, a girl could lose her mind. And if the killer has their way, maybe even my life…
Tessa Wakefield has her hands full juggling a cozy craft store, her crazy family, and two men who'd rather poke out their eyes than describe themselves as cute. Which they totally are. Cute, charismatic, and occasionally on her mind when she's not stumbling over dead bodies and using her newfound sleuthing skills to track down murderers. Lucky she's an excellent multi-tasker because digging beneath Cape Discovery's surface can unearth secrets that kill.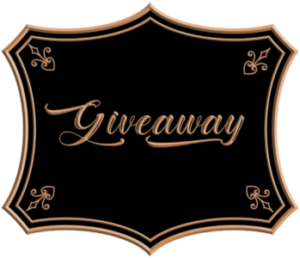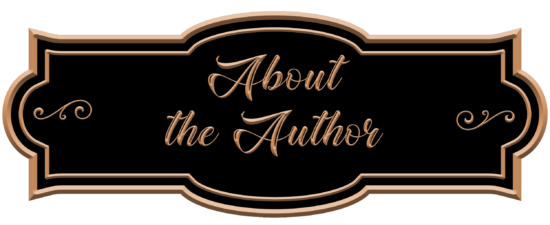 Tracey Drew lives Down Under with her husband—who's given up complaining about her yarn addiction–and two madcap tabby cats called Kevin and Alfie. The feline brothers constantly battle with her while she's trying to write her books by demanding lap-time, but they also provide constant inspiration for her fun & quirky cozy mysteries.

April 14 – Novels Alive – AUTHOR INTERVIEW
April 14 –Brooke Blogs – SPOTLIGHT
April 15 – I'm All About Books – SPOTLIGHT
April 15 – Escape With Dollycas Into A Good Book – REVIEW
April 16 – Christy's Cozy Corners – REVIEW
April 16 – Sapphyria's Book Reviews – SPOTLIGHT
April 17 – Reading Is My SuperPower – REVIEW
April 18 – Diane Reviews Books – REVIEW
April 19 – Literary Gold – REVIEW
April 19 – Maureen's Musings – SPOTLIGHT
April 20 – FUONLYKNEW – SPOTLIGHT
April 20 – Laura's Interests – REVIEW
April 21 – Socrates Book Reviews – SPOTLIGHT
April 21 – I Read What You Write – REVIEW, AUTHOR INTERVIEW
April 22 – Celticlady's Reviews – SPOTLIGHT
April 22 – Novels Alive – REVIEW
April 23 – Mochas, Mysteries and Meows – SPOTLIGHT
April 23 – Baroness' Book Trove – SPOTLIGHT
April 24 – Ruff Drafts – AUTHOR INTERVIEW
April 24 – StoreyBook Reviews – SPOTLIGHT
April 25 – #BRVL Book Review Virginia Lee Blog – SPOTLIGHT