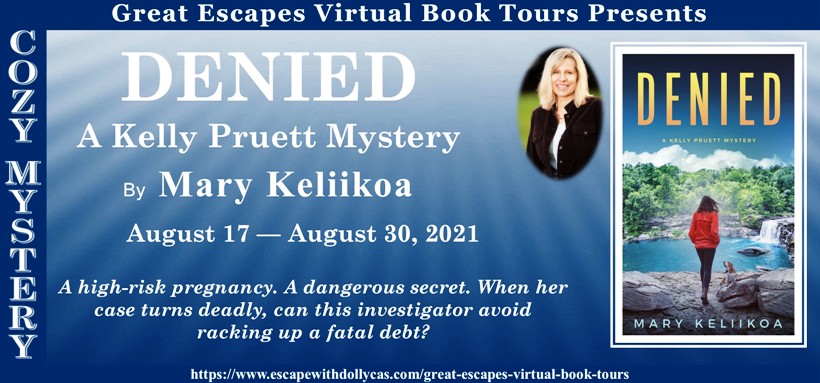 Today we welcome cozy mystery author Mary Keliikoa and ask her our questions about her latest book in the Kelly Pruett Mystery series, Denied.
What drives your story forward in your books the most, the characters or the plot, or do you feel they are intertwined?
My stories are driven by a combination of both character and plot. Kelly Pruett, for example, is on a case. As she begins to investigate, what she learns will take her to her next place of inquiry. But equally important is her inner drive to succeed and step out from the shadow of her father and be as good of an investigator. And there are of course relationships with her daughter and the desire to be a good mom, and her ex-husband and mother-in-law that drive her to make decisions about the case she's working. I enjoy exploring the dynamics of family in a book, and as long as it nods back to the case and who the main character is, and how they handle the different situations based on those influences, it makes for a fuller story.
If you were a character in one of your books, which would you be? The protagonist, mentor, villain, love interest, etc.?
I would want to be the protagonist, mostly because I get her, but also because I'm not one to sit on the sidelines. I'd want to be in the thick of the action, driving the story forward.
If you had the power to make any of your books into a film, which would it be and why?
My latest book, Denied, would make a good movie. With the element of organized crime, small-town politics, family angles that make for an explosive scenario, along with a budding romance, I think it would be entertaining.
Is there a particular genre of fiction that you have always wanted to write, but haven't yet tackled?
In novel writing, I feel grounded in mystery and suspense. But I do have ideas for a screenplay in the genre of romantic comedy. Movies like When Harry Met Sally, Something's Gotta Give, Bridget Jones' Diary, Pretty Woman, Sleepless in Seattle are among my favorite romcoms. At some point, I would enjoy creating one along those lines.
If you could meet a literary character or author, who would you most like to meet?
I would have loved to have met Mary Higgins Clark and Sue Grafton. As far as a character, Kinsey Milhone. Although I think J.A. Jance's Sheriff Joanna Brady would be fun to have coffee with one afternoon!
As with the rest of us, you have a real-life to live. So, in your most recent book, what was happening in your life and how did it influence your writing?
When I was writing Denied, my agent was shopping the first book in the series to publishers. We hadn't sold it yet, but I was hopeful, so I went ahead and drafted the second book in the series. The only influence I had was that I didn't have to have approval for the book, and that was very freeing during the writing process. I was able to create Kelly and create the plot that I wanted.
Was there something in your first edit that didn't make it in the final copy that you sometimes wish you would have kept?
No, the publisher was really quite happy with the second book. And other than a few scenes that needed smoothing out, there weren't a lot of changes to it.
What do you do to prepare your mind to write? To get into the mind of your characters.
Before I start editing or writing in the day, I always go back and read what I wrote the previous day. Or if I'm in the beginning stages of writing a book, I will start from the beginning and read forward. That practice grounds me in the story and in the voice of the character that I'm writing. Other than that, I just have coffee at the ready and away I go.
What book as a child/adolescent most influenced you as a writer?
I hadn't found my love of mystery yet at the point in life. I really enjoyed Jean Aul's Clan of the Cave Bear series, and J.R.R. Tolkien's The Hobbit and Lord of the Rings. I then gravitated to more crime after I graduated high school and got into the legal field myself. Patricia Cornwell, Faye Kellerman, Sue Grafton, Mary Higgins Clark. I would say those writers influenced me most as a writer.
How much research went into your last book?
A lot of my research in Denied had to do with speaking with a local detective and visiting the different sites that are referenced in the novel. I was extremely happy that I was able to visit the Portland Meadows and get the feel of the race tracks before they tore the building down, and I made several trips to the city where Riverview, WA is based. I also had to do some light Google searches on gambling as well.
What's one of the most important things you'd like your readers to know about you? What defines you most as an author?
My tagline as a writer is Twisting Mysteries where Justice Prevails. You can always count on the fact that I will make sure the villain is caught and that there will be a twist at the end. I think what also defines me is the fact that there will be a dose of family and emotional baggage in my books. Who we are is so defined by the families we've come from and those shared experiences. My characters will have emotional scars or issues in their lives, but they're going to at least be on the path to self-awareness to resolve some of those issues.
What is one thing about you that may surprise your readers?
I think people often assume that as a mystery writer, that I would be binge-watching crime shows, and that's not the case for me. I do enjoy a few British shows (Broadchurch was one of my favorites), but I gravitate to much lighter television—comedies or romcoms for example.
When I read, however, I tend to read mostly mystery and suspense, and a few thrillers.
Can you tell us what prompted you to write your latest release?
Denied was previously planned and part of the three-book series. But when I was thinking about what case I wanted Kelly to be working on, it came rather organically from the first book in the series, Derailed. In that novel, Kelly finds out some disturbing secrets about her father, and many of those feelings were unresolved. I felt the second book needed a way to marry the emotional aspects of those secrets, and a case that would drive her own dad issues. Thus, the plot for Denied, where Kelly is helping a former classmate find her missing father, was created.
What's next for you? What are you working on now?
The third book in the PI Kelly Pruett series, Deceived, is done and approved by the publisher. It will be out May 2022. I also have a new series that will launch in September 2022 with Hidden Pieces. That series features a Portland homicide detective turned small-town sheriff.
In the meantime, I have been working on a mystery standalone. That book features an overachieving paralegal who discovers her boss murdered as her sister is fleeing the scene. And of course, you know the two events are inextricably linked. I will be looking for a home for that book in the near future.
Thank you, Mary, for your insightful answers! It gives us a little glimpse into you as a writer and into your new novel, Denied!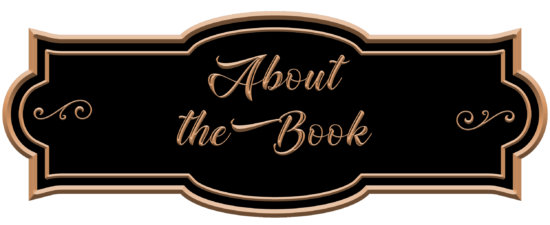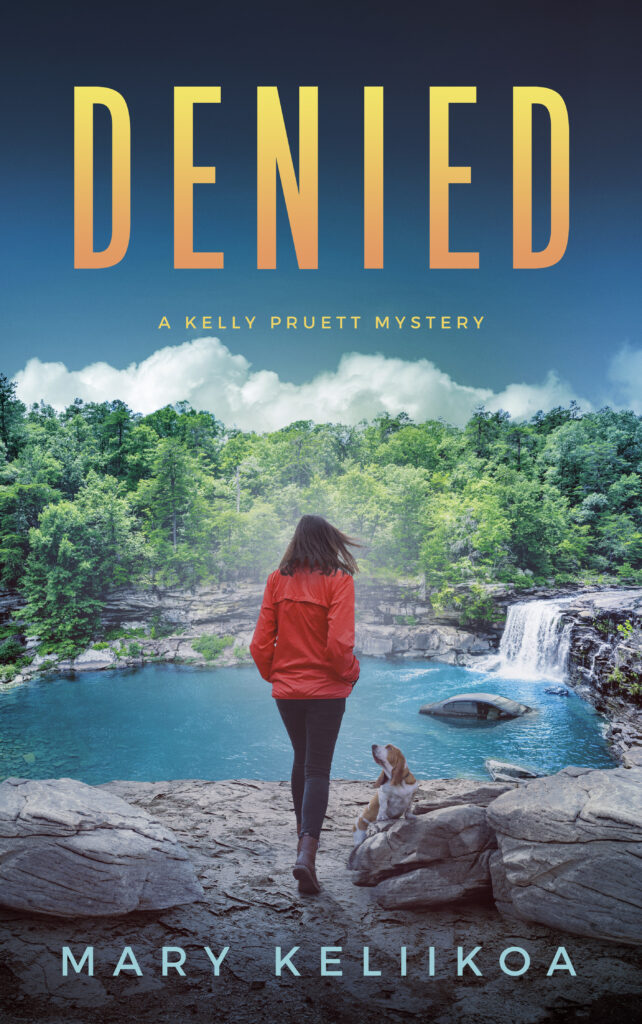 A high-risk pregnancy. A dangerous secret. When her case turns deadly, can this investigator avoid racking up a fatal debt?
Despite her injuries, PI Kelly Pruett is eager to get back to work. So when a mommy-to-be hires her to locate her estranged dad, Kelly is thankful for the straightforward missing-persons case. But as she rummages through his trash in search of clues, she uncovers gambling debts to gangsters… and a blood-soaked severed finger.
With her investigation no longer cut-and-dried, Kelly's hunt takes a deadly turn when her quarry is found driven off a cliff to his doom. And she'll need more than her cop boyfriend's help to expose the truth when the mob sends her a cease-and-desist notice with an explosive ending.
Can the determined detective take on the mafia and make it out alive?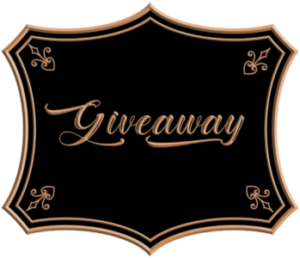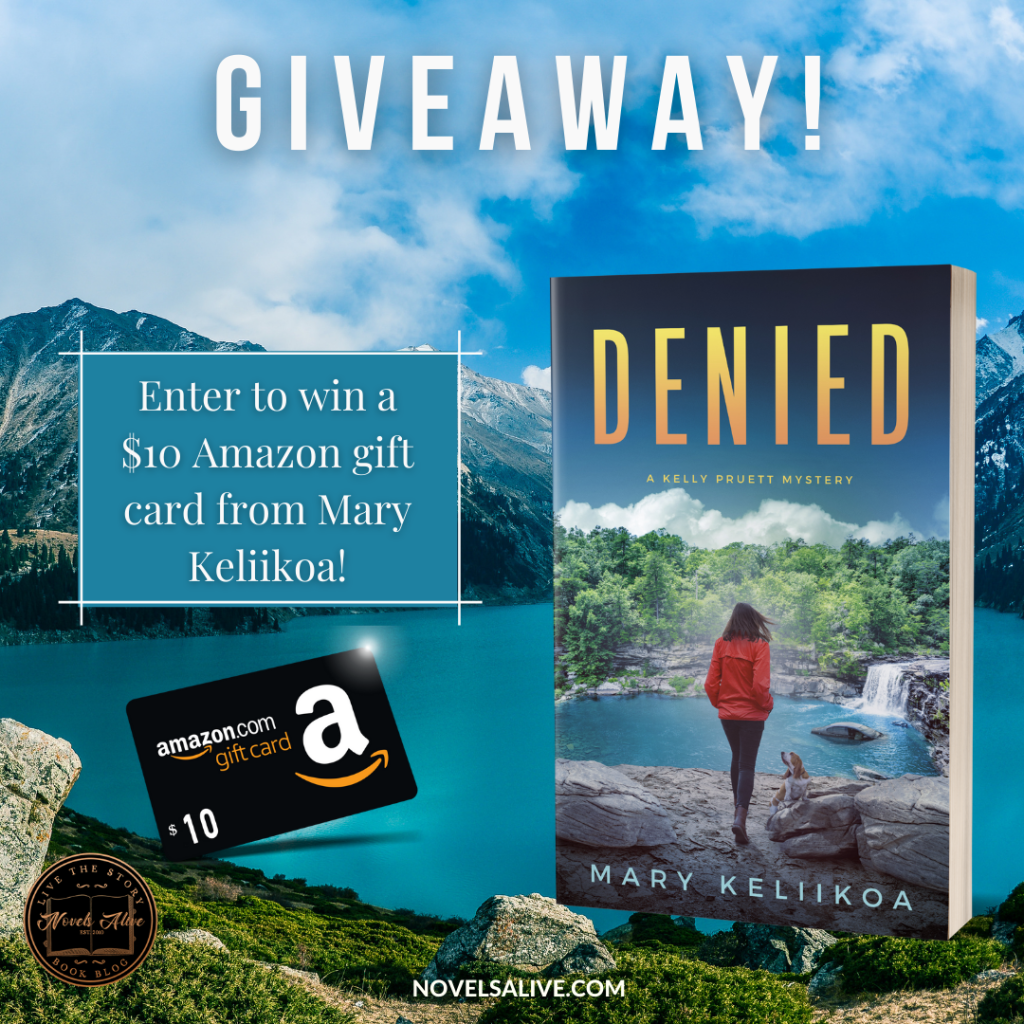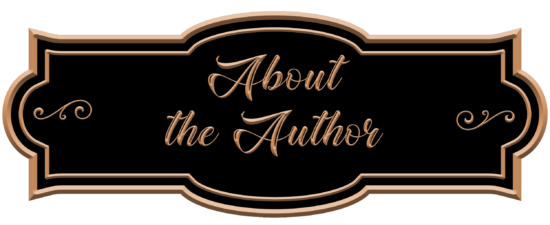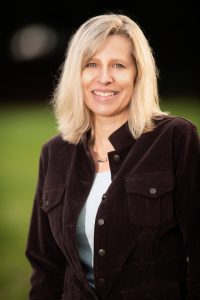 Mary Keliikoa is the author of the Shamus finalist and Lefty, Agatha and Anthony award-nominated PI Kelly Pruett mystery series and the upcoming Misty Pines mystery series featuring Portland homicide detective turned small-town sheriff slated for release in September 2022. Her short stories have appeared in Woman's World and in the anthology Peace, Love and Crime: Crime Fiction Inspired by Music of the '60s. A Pacific NW native, she spent a part of her life working around lawyers. Combining her love of legal and books, she creates a twisting mystery where justice prevails.
When not in Washington, you can find Mary on the beach in Hawaii where she and her husband recharge. But even under the palm trees and blazing sun, she's plotting her next murder—novel that is.

August 17 – Novels Alive – AUTHOR INTERVIEW
August 17 – I'm All About Books – SPOTLIGHT
August 18 – Island Confidential – SPOTLIGHT
August 18 – FUONLYKNEW – SPOTLIGHT
August 19 – Christy's Cozy Corners – REVIEW
August 20 – Author Elena Taylor's Blog – CHARACTER INTERVIEW
August 20 – Sapphyria's Book Reviews – SPOTLIGHT
August 21 – Laura's Interests – SPOTLIGHT
August 21 – Escape With Dollycas Into A Good Book – SPOTLIGHT
August 22 – Celticlady's Reviews – SPOTLIGHT
August 23 – Books a Plenty Book Reviews – REVIEW, CHARACTER INTERVIEW
August 24 – Baroness' Book Trove – SPOTLIGHT
August 25 – #BRVL Book Review Virginia Lee Blog – SPOTLIGHT
August 26 – ebook addicts – REVIEW
August 27 – Literary Gold – AUTHOR INTERVIEW
August 28 – Brooke Blogs – SPOTLIGHT
August 29 – The Book's the Thing – SPOTLIGHT
August 30 – BookishKelly2020 – SPOTLIGHT