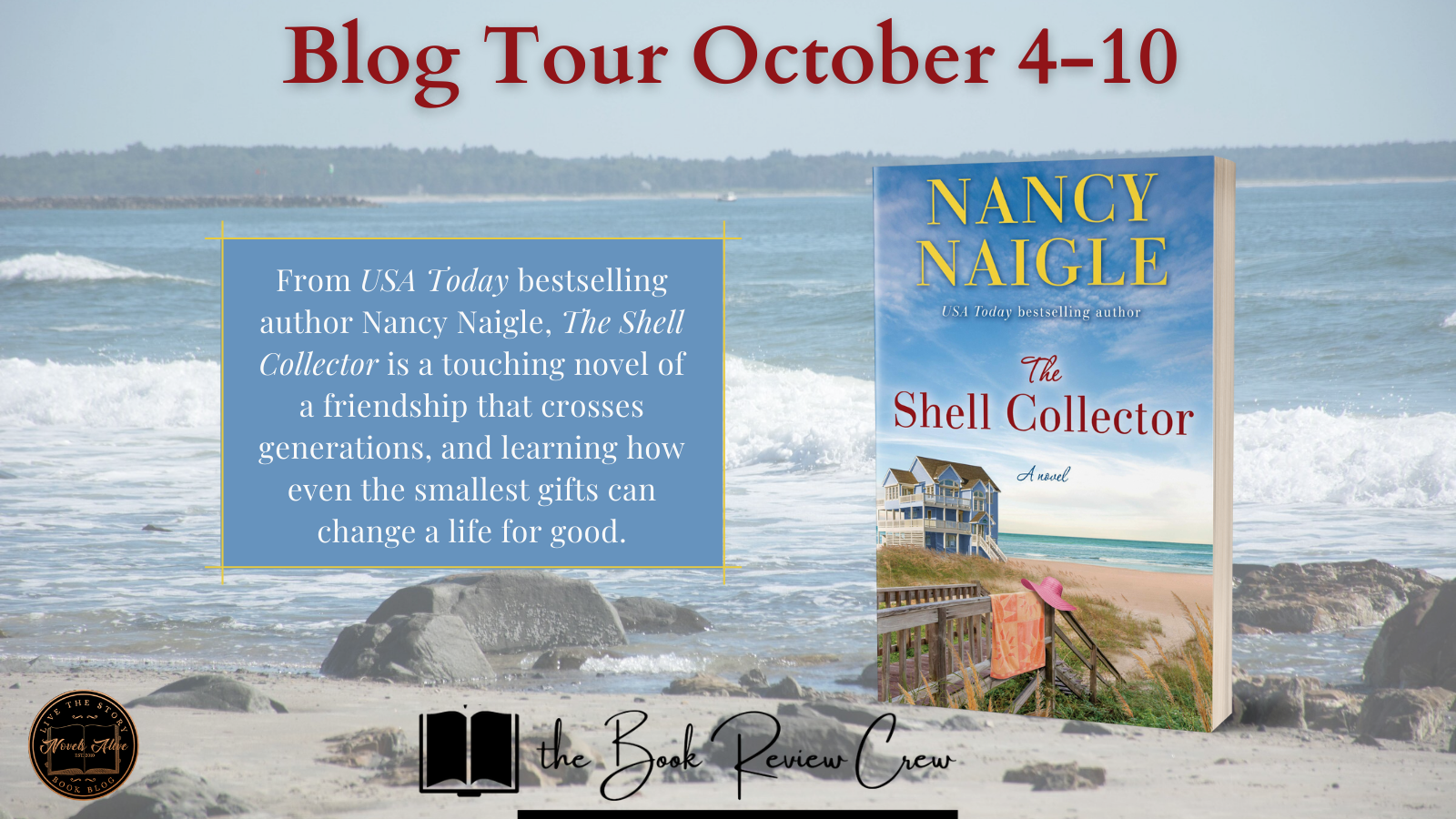 Some people think beach books are just for summer reading, but growing up on the beach in Virginia I'm here to tell you that the other seasons have just as much appeal.  The Shell Collector is a story that will find a way into your heart no matter the season.
Some stories come from tiny nuggets—a place or person or maybe even a circumstance—and then a "what if?" story begins to develop around it. The Shell Collector was different. I knew it was special, but it took years before I was able to tell this story.
The inspiration behind The Shell Collector received its first spark back in 2011, when my cousin told me a story about the mother of a close friend of hers who lived in Kitty Hawk, NC. The woman had walked those beaches for years, but one afternoon as she was wrestling with a particularly heavy worry, she stumbled upon a very special shell. One with a scripture written inside.
The message in the shell comforted her so much that she shared the story with others. No one else had ever found a shell like it, and all agreed it was special. Six years later, another special shell washed up at her feet. She couldn't help but wonder how and why she was so fortunate to be delivered not one, but two of these shells. A year later, on the very same day, she found another.
It seemed remarkable, so I went online to see if others had found similar shells. I didn't find any similar reports on the Outer Banks, but I did read about a woman who wrote in permanent marker on thousands of shells and cast them to the sea hoping they'd be found by people who needed an uplifting surprise. Below the message or picture she wrote her phone number. Such a simple act, yet over the years she's been contacted by people who were blessed by her special messages. Her story and these special intimate moments between strangers captured my heart and attention and planted the seeds for The Shell Collector.
In 2014, I lost my husband of twenty years to a very short battle with lung cancer. A month later, my cousin Diane who had first told me the story of the shells also died of cancer after having fought her battle for years. I could have used a boatload of those special shells that year. I didn't have the shells, but I had a friend who kept me buoyed through all of it; and out of those experiences, the story of The Shell Collector began to weave into something that followed me everywhere and just begged to be written down. Not just to incorporate the shells, but also to incorporate the importance of family and friendships and my own journey of surviving the grief in the loss of my husband. In truth, these themes were so personal that it took me a while to get to a place in my own life where I could write this story.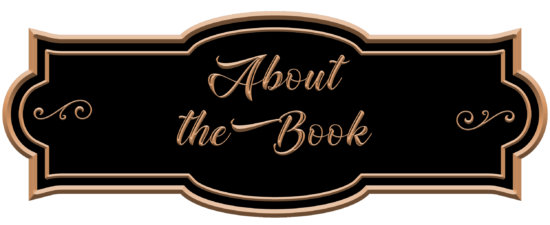 Publication Date: May 11, 2021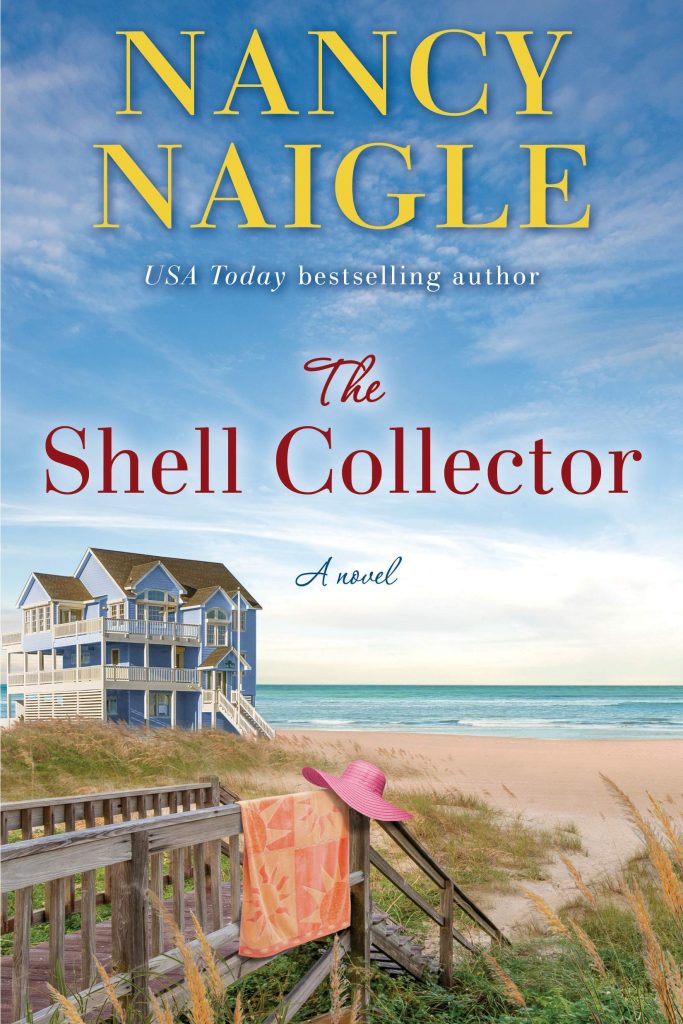 "The Shell Collector is a beautiful story full of love, loss, and second chances."—#1 New York Times bestselling author Debbie Macomber
From USA Today bestselling author Nancy Naigle, The Shell Collector is a touching novel of a friendship that crosses generations, and learning how even the smallest gifts can change a life for good.
Two years after her husband's death, Amanda Whittier has two children to raise alone, an abandoned dream of starting a business, and a fixer-upper cottage by the sea. She has no room in her life for anything else and little interest in moving on after losing the man she loved.
Paul Grant is a relative newcomer to the area, and his work with former military dogs needing rehabilitation has been good for the town. Though he loved once before, he's convinced he's not suited for romance and is determined to find meaning—alone—through his work and role in the community.
Widowed Maeve Lindsay was born and raised on Whelk's Island. Spirited, kind, and a little mischievous, she pours her life into the town. But she carries a secret that shapes her every move.
Together, these three souls find encouragement in the most mysterious places and discover a love that's bigger than their pain, healing their wounded hearts in ways none of them could have hoped for or expected.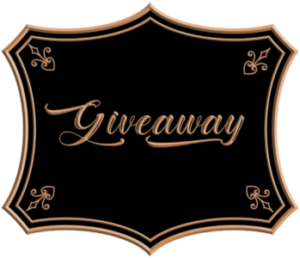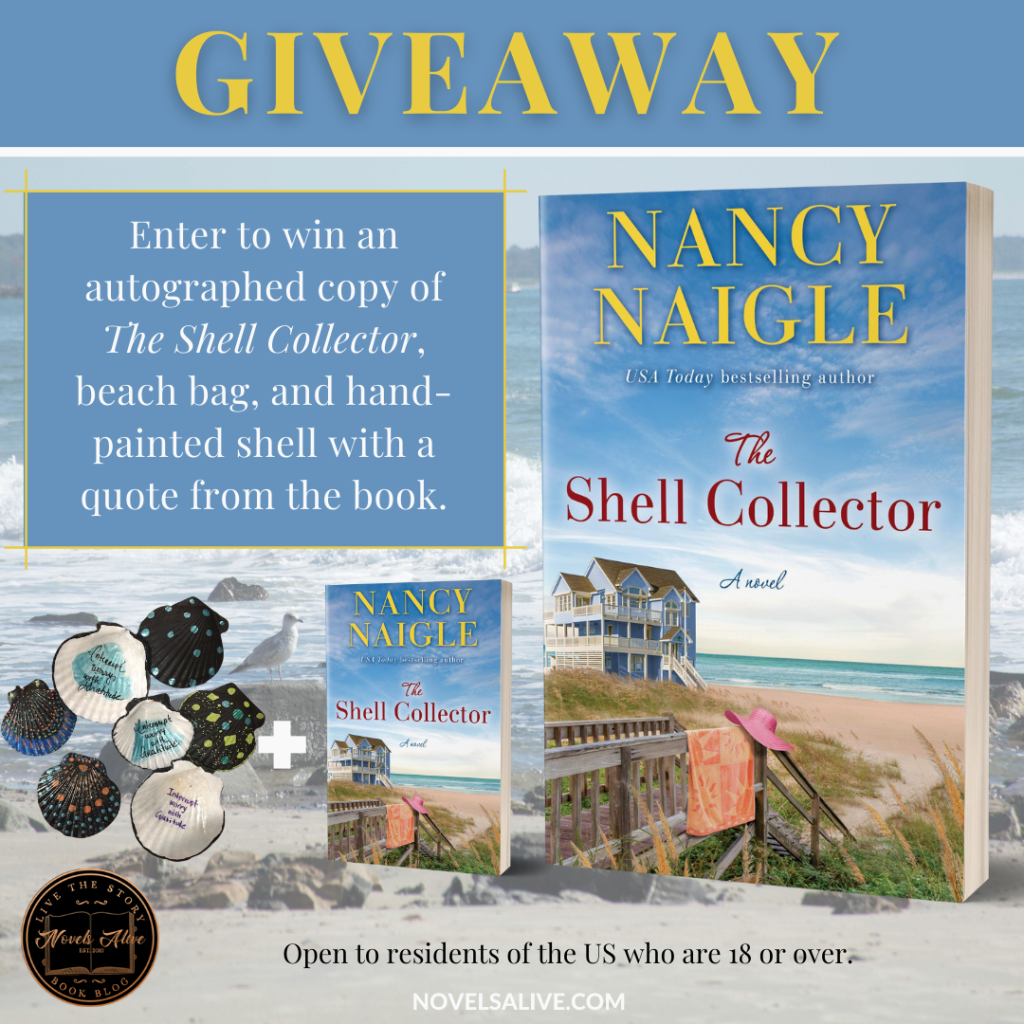 Autographed copy of the book, beach bag, and hand-painted shell with a quote from the book.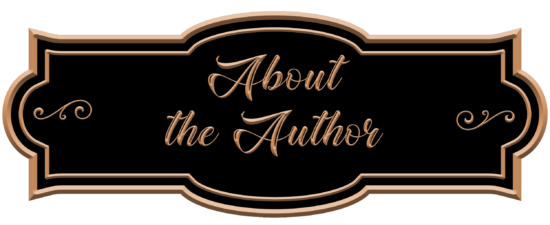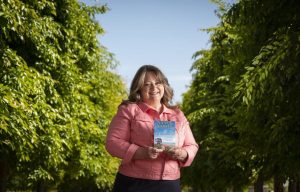 USA TODAY Bestselling author, Nancy Naigle, writes love stories from the crossroad of small town and suspense.
With a career spent on the cutting edge of technology in the banking industry, she never let go of her dream to write. Now she works full-time writing stories that are a calming blend of community, family, and the simple things in life. She writes the kind of stories she hopes will provide an escape from the hectic day-to-day in the make believe worlds she creates.