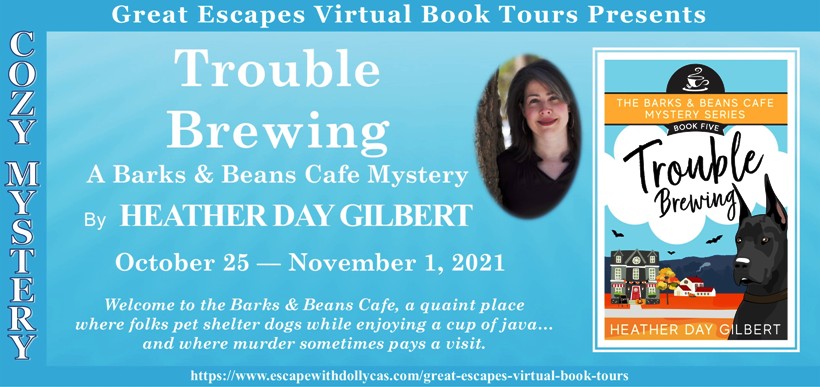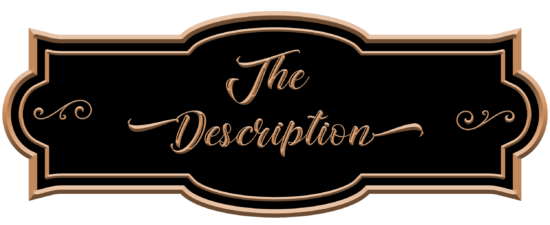 Convinced that the elderly lady in her care didn't die of natural causes, Macy's friend Della determines to look into the broken relationships surrounding the woman. She books a Halloween-themed getaway at a local inn and talks Macy into coming along with her to spy on her prime suspect.
As they join a ghost tour of the candlelit town, Macy and Della feel their guide is a little too fanatical as he shares his spooky tales. He tells the story of the Greenbrier ghost, a newlywed who supposedly came back from the grave to tell her family that her husband murdered her.
When a disturbing apparition makes its presence known, guests at the inn become apprehensive…and for good reason, because soon after, a young bride turns up dead. Although everything points to a copycat killer replicating the historical Greenbrier murder, Macy has her doubts. She's discovered that the inn harbors secrets of its own, and when she pokes into one darkened corner too many, she might not stand a ghost of a chance.
Join siblings Macy and Bo Hatfield as they sniff out crimes in their hometown…with plenty of dogs along for the ride! The Barks & Beans Cafe cozy mystery series features a small town, an amateur sleuth, and no swearing or graphic scenes.
The Barks & Beans Cafe cozy mystery series in order:
Book 1: No Filter
Book 2: Iced Over
Book 3: Fair Trade
Book 4: Spilled Milk
Book 5: Trouble Brewing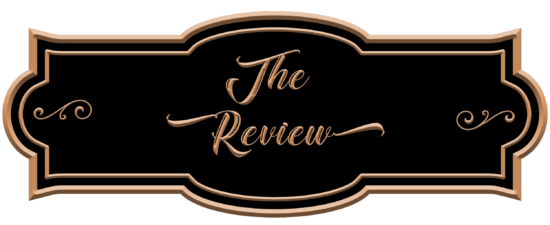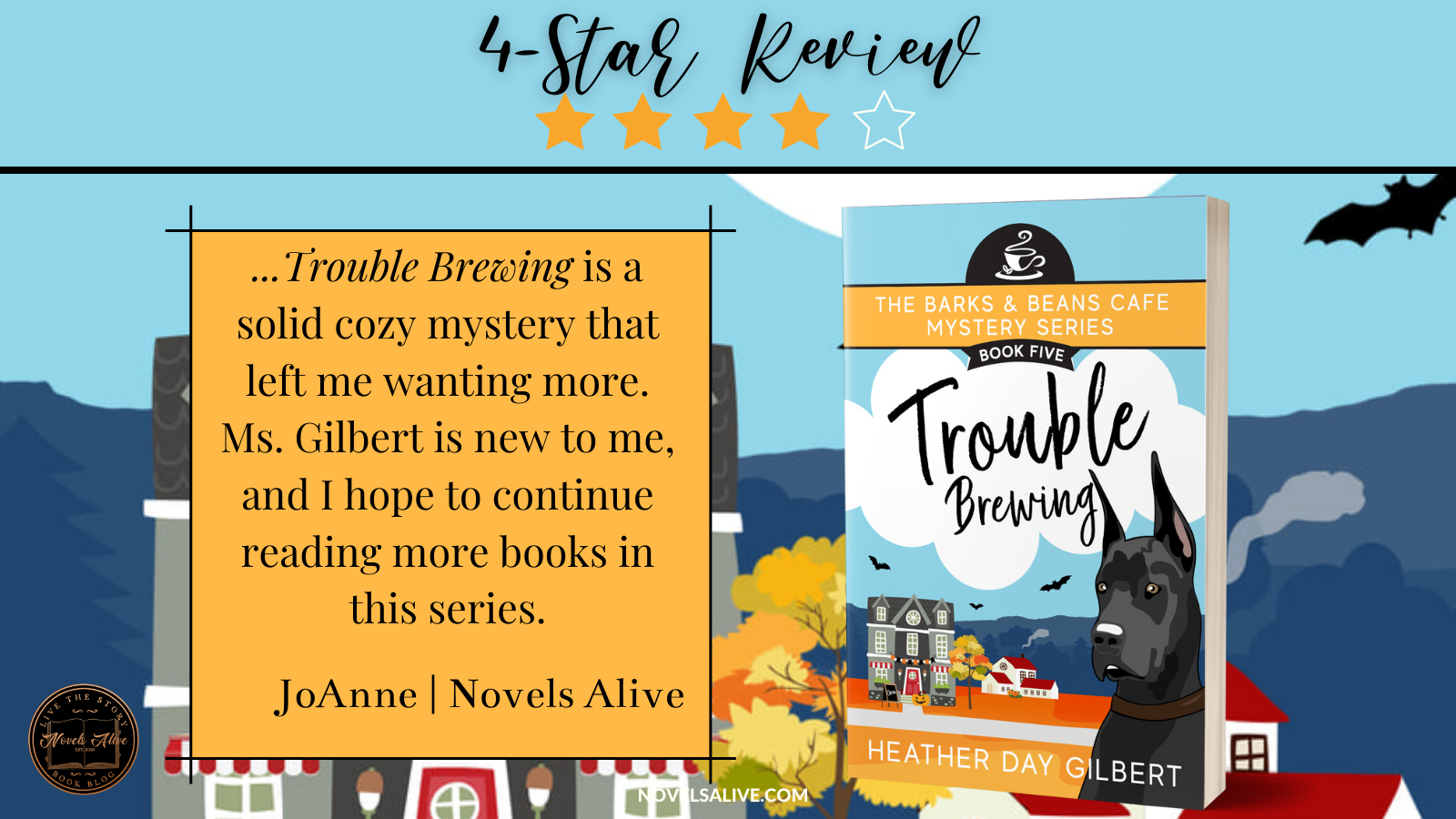 A fun cover, along with a cute title and series name, Trouble Brewing by Heather Day Gilbert, drew me in from the first page to the last. This is the first book in the Barks & Beans Café Cozy Mystery series that I've read, but it was easily read as a stand-alone. There was enough background information that helped to give the book a nice flow and not feel choppy. The book is set in West Virginia at Halloween.
Macy and her brother Bo own the Barks and Beans Café. They have a good relationship, and it comes through the pages. Bo takes care of the coffee side, and she's in charge of the doggie section where they have dogs from the local shelter visit to hopefully get adopted. Bo's girlfriend, Summer, owns the shelter. Multiple stories are going on, several of course involving a murder, and they mesh nicely together.  
Macy and one of her best friends, Della, decide to go away for a Spooks and Screams weekend at a local inn. They had multiple reasons for choosing that location, and the reasons are always front and center as the story unfolds. There are many twists and turns, some spooky activities, arguments, anger, secrets, sleuthing, clues to piece together, crimes committed, some scary moments, lots of characters, relationships, and dogs. 
The characters had a depth to them since what you saw was not always their true makeup and disposition. We get to know the characters a little at a time and get different vibes from them at different times. There are beautiful and vivid descriptions of the businesses, the inn and its grounds, some of the activities, and the mountains.  
There was an air of mystery throughout and lots of clues to sink your teeth into. There was closure with solving the mysteries and finding out whodunnit, but the story ended too abruptly for me. There were the possibilities of some happily ever afters, but we won't find out until we continue reading the series. 
All in all, Trouble Brewing is a solid cozy mystery that left me wanting more. Ms. Gilbert is new to me, and I hope to continue reading more books in this series.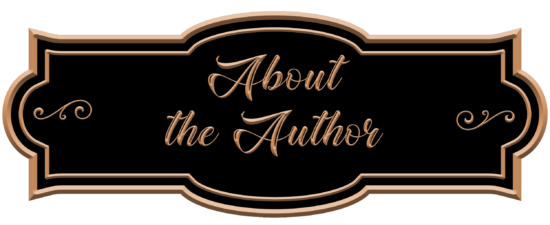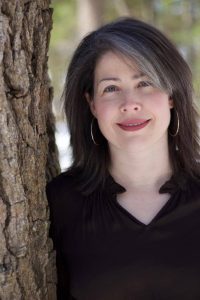 Award-winning novelist Heather Day Gilbert enjoys writing mysteries and Viking historicals. She brings authentic family relationships to the page, and she particularly delights in heroines who take a stand to protect those they love. Avid readers say Heather's realistic characters—no matter what century—feel like best friends. When she's not plotting stories, this native West Virginia gal can often be found hanging out with her husband and four children, playing video games, or reading Agatha Christie novels.

October 25 – Christy's Cozy Corners – REVIEW
October 25 – I'm All About Books – SPOTLIGHT
October 25 – Nellie's Book Nook – REVIEW
October 26 – Mysteries with Character – AUTHOR INTERVIEW
October 26 – Cozy Up With Kathy – REVIEW
October 26 – Baroness Book Trove – CHARACTER INTERVIEW
October 27 – Socrates Book Reviews – SPOTLIGHT
October 27 – Cassidy's Bookshelves – REVIEW
October 27 – Hearts & Scribbles – SPOTLIGHT
October 27 – Escape With Dollycas Into A Good Book – REVIEW
October 28 – Novels Alive – AUTHOR INTERVIEW
October 28 – Reading, Writing & Stitch-Metic – SPOTLIGHT
October 28 – Ascroft, eh? – CHARACTER INTERVIEW
October 29 – Books a Plenty Book Reviews – REVIEW
October 29 – Brooke Blogs – SPOTLIGHT
October 29 – Christa Reads and Writes – SPOTLIGHT
October 29 – Novels Alive – REVIEW
October 30 – Reading Is My SuperPower – REVIEW
October 30 – Maureen's Musings – SPOTLIGHT
October 30 – FUONLYKNEW – SPOTLIGHT
October 31 – Literary Gold – AUTHOR INTERVIEW
October 31 – #BRVL Book Review Virginia Lee Blog – SPOTLIGHT
October 31 – Sapphyria's Book Reviews – SPOTLIGHT
November 1 – Celticlady's Reviews – SPOTLIGHT
November 1 – Elizabeth McKenna – Author – SPOTLIGHT
November 1 – My Reading Journeys – REVIEW
November 1 – BookishKelly2020 – SPOTLIGHT