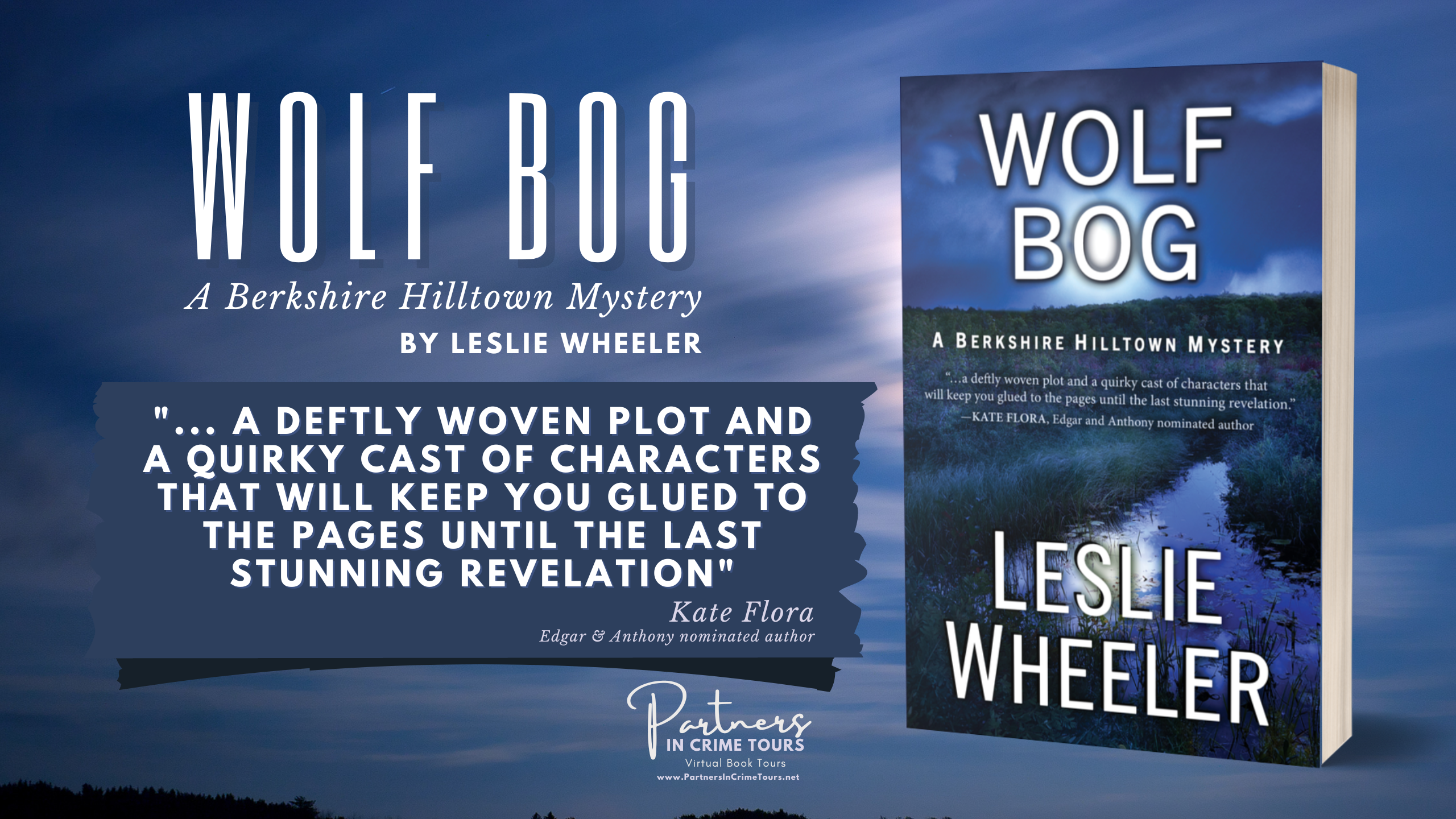 One of the things that makes writing series mysteries easier than writing standalones is that you don't have to create a whole new fictional world for each book. After your first book, you have elements you can draw upon in writing subsequent books. But in order to do this effectively, you need to take a close look at the fictional world that already exists.
Let's start with characters. Obviously, your main character will be in play in all your series books. But does he/she have any unresolved issues from one book that you can address in another? These can either stem from actions that occur in the preceding book, or from something in the character's back story. For example, in Rattlesnake Hill, book 1 of my Berkshire Hilltown Mysteries, a real estate agent seeks buyers for the Berkshire house my main character, Kathryn Stinson, has been renting. Then in book 2, Shuntoll Road, the agent sells the property to a New York City real estate developer, which creates problems for Kathryn, who ends up battling him. An example of a back story issue that appears in book 1 involves Kathryn's estrangement from her mother. In book 3, Wolf Bog, that issue becomes important after her lover, Earl Barker, indicates he and his family are eager to meet Kathryn's mother.
Then there's the question of secondary characters. First off, you need to decide which characters will continue from one book to the next. As a writer who believes in listening to her characters, I tend to choose those who make a strong case for themselves. Toward the end of book 2, for example, I found myself writing POV (point of view) scenes for a female and a male character. To me, this was their way of saying, "Hey, I'm an interesting person, and deserve to not only reappear in the next book, but also play a more prominent role." Which Charlotte Hinkley and Steve Reikart both do. In Charlotte Hinckley's case, a deep dive into her back story revealed that she'd been sitting on a big secret for many years. Much of book 3 is devoted to finding out what that long-ago secret is.
Moving on to setting, I made a decision at the outset that all my series books would take place in the same town, a fictionalized version of the Berkshire town where I have a house in real life.  I'm fortunate that my real-life town has both a diverse population and geography that I can draw upon. In book 3, for example, the focus is on a vast area of wetlands called Many Acre Swamp in the novel. Book 3 also features a mansion up the hill from the house Kathryn rents. The mansion itself is an example of how a structure that's already there can be put to good use. It's mentioned briefly in book 1, then in book 2 Kathryn meets and befriends the mansion's current owners. But it's not until book 3 that the mansion moves to center stage with the story of the Whittemores, the wealthy family who built it. They have one daughter, whom they dote on. As a teenager, the daughter throws fabulous parties in which local boys mingle with the offspring of the wealthy. But the parties end tragically when a local boy disappears, and the Whittemore daughter is killed in a car accident shortly afterward. And guess whose big secret is linked to those fabulous parties?
As for book 4, tentatively titled Wildcat Academy, remember Kathryn's estrangement from her mother mentioned in book 1, and again in book 3, when Earl says he wants to meet her? Well, she just might show up in book 4 with unexpected consequences.
Readers, do you have a preference for series mysteries or standalones, or do you enjoy them both? If so, why?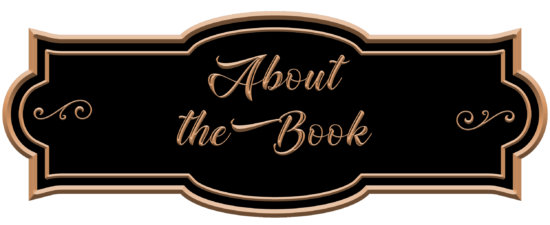 A Berkshire Hilltown Mystery: Book 3
Publication Date: July 6, 2022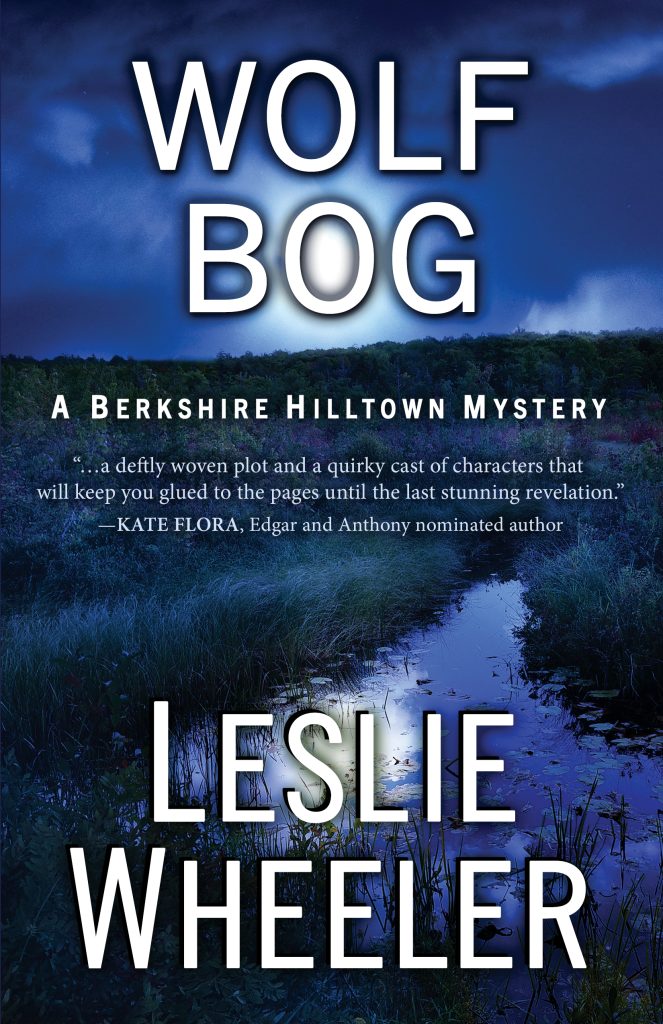 It's August in the Berkshires, and the area is suffering from a terrible drought. As wetlands dry up, the perfectly preserved body of a local man, missing for forty years, is discovered in Wolf Bog by a group of hikers that includes Kathryn Stinson. Who was he and what was his relationship with close friend Charlotte Hinckley, also on the hike, that would make Charlotte become distraught and blame herself for his death? Kathryn's search for answers leads her to the discovery of fabulous parties held at the mansion up the hill from her rental house, where local teenagers like the deceased mingled with the offspring of the wealthy. Other questions dog the arrival of a woman claiming to be the daughter Charlotte gave up for adoption long ago. But is she really Charlotte's daughter, and if not, what's her game? Once again, Kathryn's quest for the truth puts her in grave danger.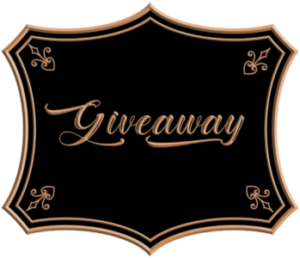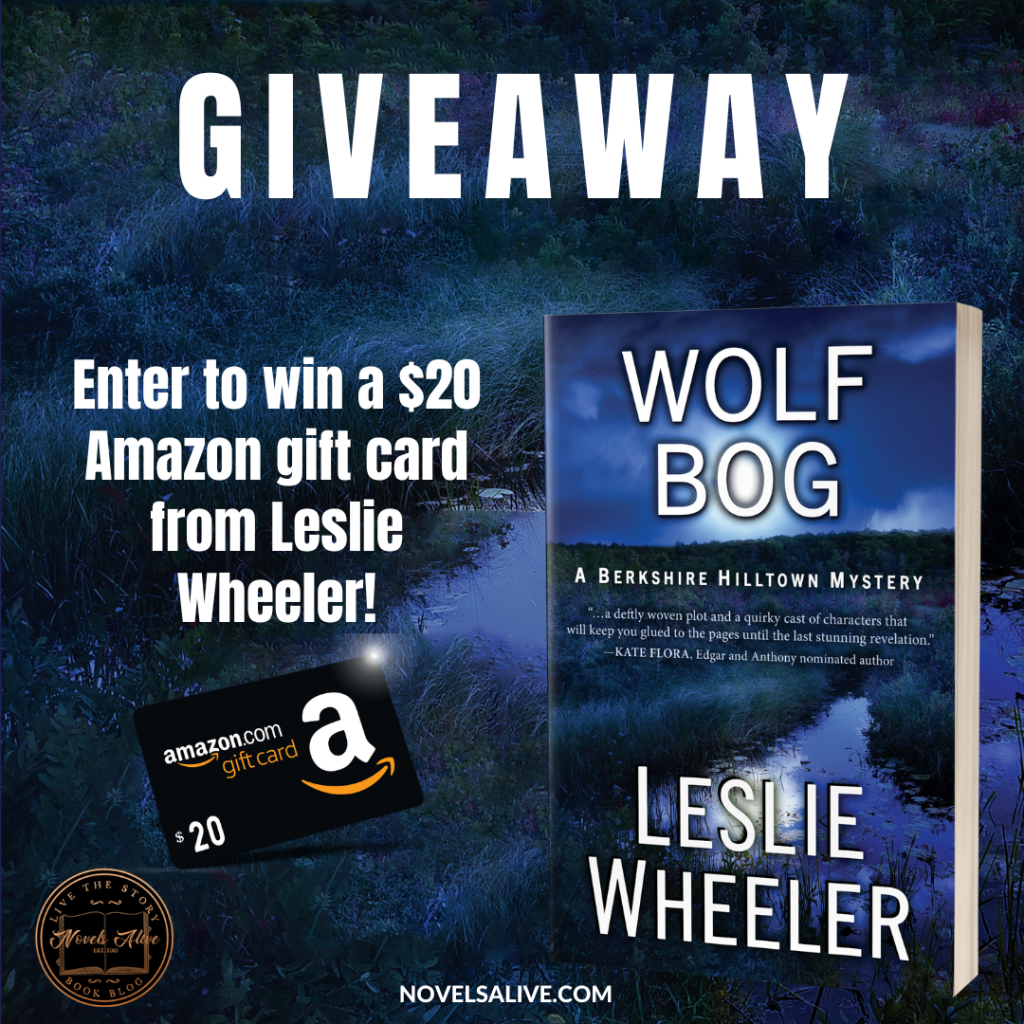 This is a giveaway hosted by Partners in Crime Virtual Book Tours for Leslie Wheeler. See the widget for entry terms and conditions. Void where prohibited.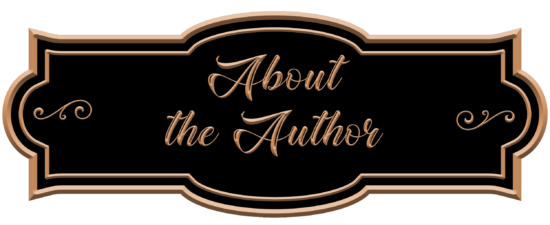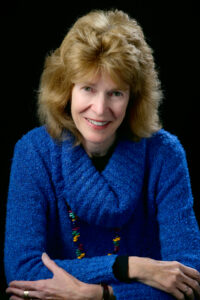 An award-winning author of books about American history and biographies, Leslie Wheeler has written two mystery series. Her Berkshire Hilltown Mysteries launched with Rattlesnake Hill and continue with Shuntoll Road and Wolf Bog. Her Miranda Lewis Living History Mysteries debuted with Murder at Plimoth Plantation and continue with Murder at Gettysburg and Murder at Spouters Point. Her mystery short stories have appeared in numerous anthologies. Leslie is a member of Mystery Writers of America and Sisters in Crime, and a founding member of the New England Crime Bake Committee. She divides her time between Cambridge, Massachusetts, and the Berkshires, where she writes in a house overlooking a pond.

07/05 Showcase @ The Reading Frenzy
07/06 Showcase @ Celticladys Reviews
07/07 Showcase @ BOOK REVIEWS by LINDA MOORE
07/08 Showcase @ Books to the Ceiling
07/09 Guest post @ The Mystery of Writing
07/13 Review @ Novels Alive
07/14 Interview @ I Read What You Write
07/14 Showcase @ Ilovebooksandstuffblog
07/15 Review @ nanasbookreviews
07/16 Review @ Book Reviews From an Avid Reader
07/17 Review @ Review Thick and Thin
07/18 Review @ FUONLYKNEW
07/18 Showcase @ Nesies Place
07/19 Guest post @ Novels Alive
07/19 Review @ sunny island breezes
07/20 Review @ The Page Ladies
07/21 Review @ Reading Is My SuperpPower
07/22 Guest post @ The Book Divas Reads
07/23 Interview @ The Scribblings of Sarah E. Glenn
07/27 Showcase @ 411 ON BOOKS, AUTHORS, AND PUBLISHING NEWS
07/29 Review @ tea. and. titles bookstagram
07/31 Review @ Pat Fayo Reviews