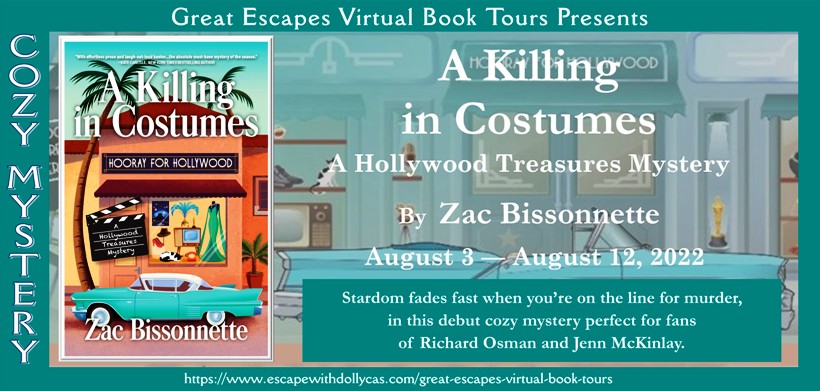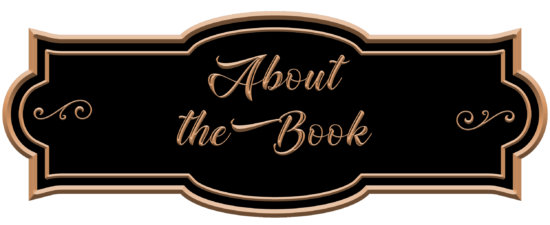 A Hollywood Treasures Mystery: Book 1
Publication Date: August 9, 2022
Stardom fades fast when you're on the line for murder, in this debut cozy mystery perfect for fans of Richard Osman and Jenn McKinlay.
Jay Allan and Cindy Cooper were soap opera stars in the late '90s, a wholesome young husband-and-wife duo who combined musical talent with humor and charisma. When the truth about their sexual orientations came to light, their marriage and TV careers ended, but decades later they have remained friends. Together, they open Palm Springs' chicest movie memorabilia store, Hooray for Hollywood–but no customers and dwindling finances spell trouble.
A Hail Mary arrives in the form of Yana Tosh, a ninety-year-old diva of the silver screen who has amassed a valuable collection of costumes and props and is looking to sell. But first, Jay and Cindy have to beat their competition, a vice president from a mega-auction house with ten times their resources. And when he winds up dead, they become prime suspects in the murder.
With their freedom and livelihoods on the line, Jay and Cindy desperately need to clear their names. There are plenty of other potential suspects, but they'll have to solve it soon before they're forced to trade in their vintage costume collection for two orange jumpsuits.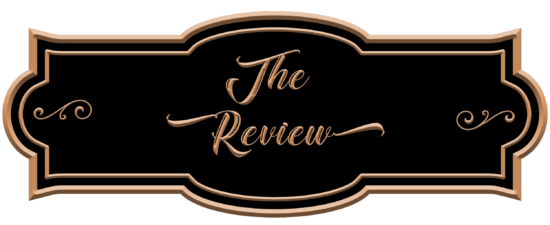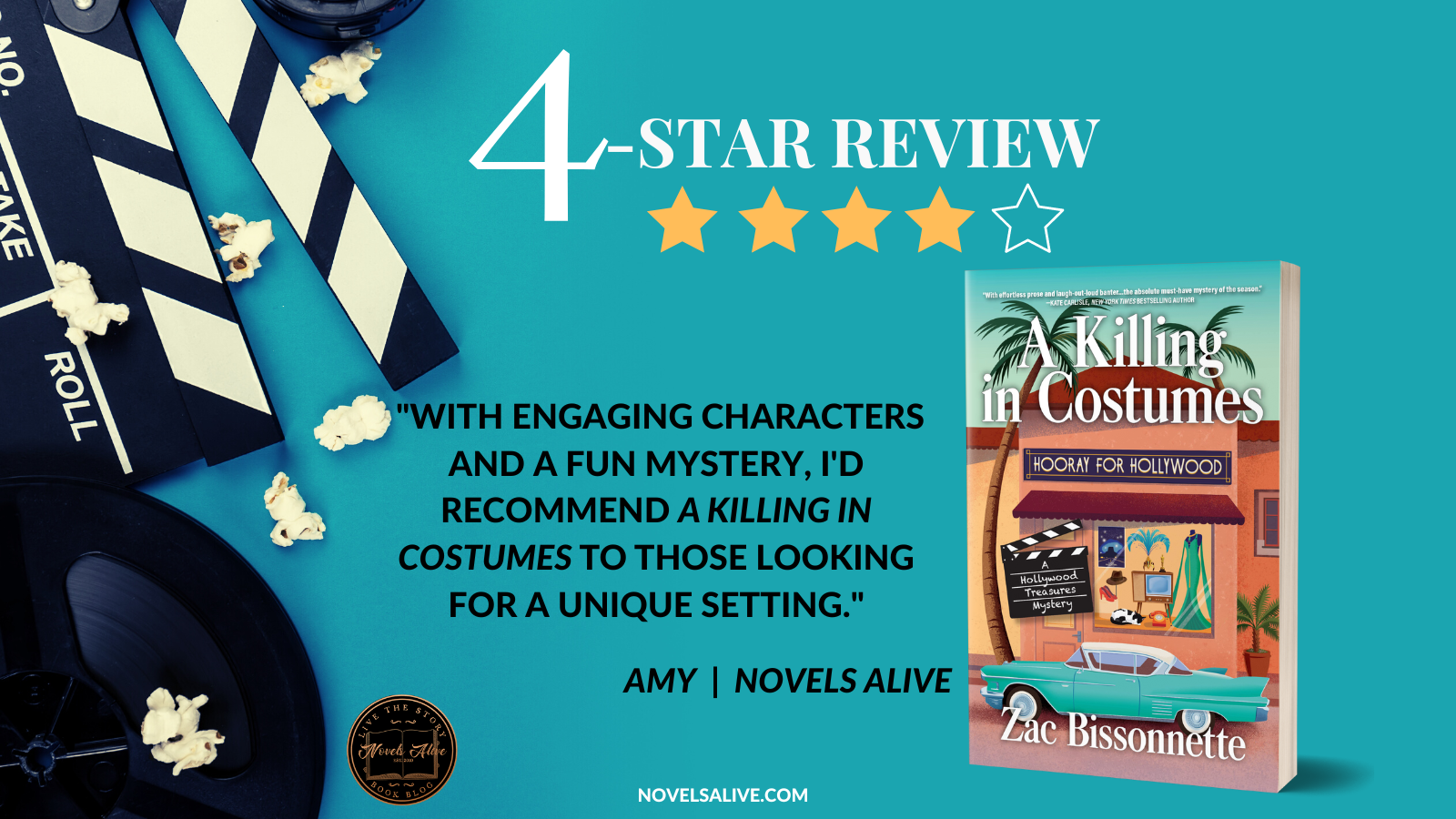 I love finding new authors and starting new cozy series. So, when a request to review A Killing in Costumes by Zac Bissonnette came to me, I decided to jump on the chance. The idea of a Hollywood memorabilia shop as the setting of the series was super intriguing, and I couldn't wait to see where it went.
Jay and Cindy were childhood friends who ended up getting married and actually made a name for themselves in show business. But then they each realized they were gay and got divorced. The fallout pretty much ended their careers. 
Now 20 years later, Cindy has recently lost her wife, and she and Jay reunite to be business partners in a memorabilia shop. But the store is losing money, and they have a chance to win a contract to sell a bunch of costumes and props. However, their competitor ends up dead, and Jay and Cindy are the prime suspects.
Both Jay and Cindy grew on me as the story progressed. It definitely took a while for me to warm up to each of them. They both have pretty strong personalities that were off-putting from time to time. I think a lot of it has to do with all the character and relationship building that needed to occur. In the end, I liked the pairing and can't wait to see what comes in the future for them.
The secondary characters were varied and quite interesting. Honestly, the only one that really annoyed me was Simon, the homicide cop and Jay's love interest. I didn't particularly enjoy the banter between Jay and Simon, and he often seemed pretty inept at his job. I'm hoping that he improves as the series continues.
The mystery was also a little slow to get moving, but it kept me on my toes. I liked the idea, and ultimately, I found the conclusion quite satisfying. It was evident the author did their research when it comes to memorabilia sales, and he developed a pretty complex mystery.
For a debut novel, A Killing in Costumes hit many of the right notes. The story started a little slow with all the character and world-building, but I couldn't stop turning the pages once it got going. 
With engaging characters and a fun mystery, I'd recommend A Killing in Costumes to those looking for a unique setting.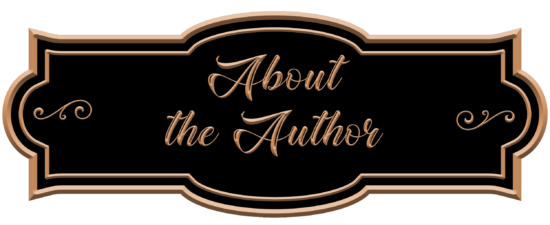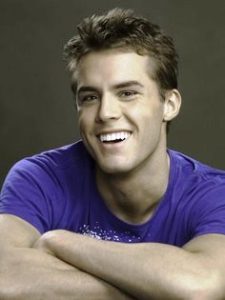 Zac Bissonnette is the New York Times bestselling author of several nonfiction books, including The Great Beanie Baby Bubble: Mass Delusion and the Dark Side of Cute.
His favorite singer is Perry Como. His favorite author is Agatha Christie. His favorite tea is Harney & Sons Hot Cinnamon Spice.

August 3 – Escape With Dollycas Into A Good Book – REVIEW
August 3 – Ruff Drafts – SPOTLIGHT
August 3 – I Read What You Write – SPOTLIGHT
August 4 – FUONLYKNEW – SPOTLIGHT
August 4 – Socrates Book Reviews – SPOTLIGHT
August 5 – The Editing Pen – AUTHOR INTERVIEW
August 5 – Maureen's Musings – SPOTLIGHT
August 6 – Books a Plenty Book Reviews – REVIEW, CHARACTER INTERVIEW
August 6 – StoreyBook Reviews – SPOTLIGHT
August 7 – Lady Hawkeye – SPOTLIGHT
August 7 – Books Blog – SPOTLIGHT
August 8 – Celticlady's Reviews – SPOTLIGHT
August 8 – Moonlight Rendezvous – REVIEW  
August 9 – Literary Gold – AUTHOR INTERVIEW
August 9 – #BRVL Book Review Virginia Lee Blog – SPOTLIGHT
August 10 – Ascroft, eh? – GUEST POST
August 10 – Novels Alive – REVIEW
August 10 – Novels Alive – SPOTLIGHT
August 11 – Elizabeth McKenna – Author – SPOTLIGHT
August 12 – Sapphyria's Book Reviews – SPOTLIGHT
August 12 – BookishKelly2020 – SPOTLIGHT