Brett Battles delivers a knockout punch this June in SHADOW OF BETRAYAL. You must pick up a copy of this pulse-pounding thriller and take a ring-side seat as ultimate Magic Man Jonathan Quinn takes terror by the horns and wrestles it to justice. He's in the clean-up business, a necessary evil amid the world's deadly super spies. He makes bodies disappear.
In SHADOW OF BETRAYAL, Quinn is on the hook for three jobs, no questions. That was the deal he had struck with his client at the Office. Unfortunately for him, Ireland was just the first and it didn't go well. Now Quinn, along with his colleague and girlfriend—the lethal Orlando—have a new assignment touched off by the killings in Ireland. Their quarry is a U.N. aide worker named Marion Dupuis who has suddenly disappeared from her assignment in war-torn Africa. When Quinn finally catches a glimpse of her, she quickly flees, frantic and scared. And not alone. For Quinn the assignment has now changed. Find Marion Dupuis, and the child she is protecting, and keep them from harm. If it were only that easy.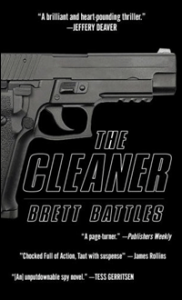 SHADOW OF BETRAYAL is just the latest installment in the gripping thrill ride of the Jonathan Quinn Series. You and your emotions will go on an action packed journey that will leave you gasping for air when you begin with THE CLEANER. Brett's "electrifying debut novel," featuring Quinn's whose "latest assignment will change everything in Quinn's life, and "ignite a harrowing journey of violence, betrayal, and revenge."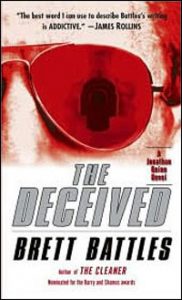 Then in THE DECEIVED, Jonathan is hired to "vanish all traces of Steven Markoff, one of his best friends and a former agent with the CIA, his job suddenly hits too close to home. This time, it's personal. Quinn is determined to get justice for Markoff. Racing from the corridors of power in Washington to the bustling streets of Singapore, events quickly spiral dangerously out of control with an addicting momentum and a fascinating array of characters that you don't want to miss.
So remember the name Brett Battles and put the Jonathan Quinn Series at the top of your must read list. THE CLEANER, THE DECEIVED, and SHADOW OF BETRAYAL.