Heart-stopping suspense. Adrenaline pumping action. Robert Gregory Browne delivers deadly stories that you can't put down and won't ever forget. His latest book, DOWN AMONG THE DEAD MEN, delves into the search for a missing woman and uncovers a secret cult where worshiping can be…deadly.
The Day of the Dead – El Dia de los Muertos – when Mexico celebrates its lost loved ones. But for disgraced newspaper reporter, Nick Vargas, and attorney, Beth Crawford, it is not an occasion to celebrate. Nick, now a true crime writer, is determined to find the truth behind the slaughter of nuns in a deserted house in the desert, and Beth is desperate to find her younger sister, Jen, who disappeared without trace when they were on holiday in Mexico. Their quest for the truth leads them to a small town in Mexico where a mysterious and malevolent cult are known to perform sinister and deadly rituals. And now Beth and Nick know that they are being watched, and that their enemy is waiting for the right moment to strike . . .
Browne's talent at telling nail-biting stories didn't begin with his breathless debut novel KISS HER GOODBYE, but was honed in the grueling trenches of being a staff writer for TV and writing award-winning screenplays for the film industry. His experience, expert story-weaving skills, and shocking twists have paved the way for KISS HER GOODBYE to be the basis for the CBS television pilot, ATF, starring Dylan Walsh, Micheal Rapaprot, Terry Kinney and Sandrine Hold.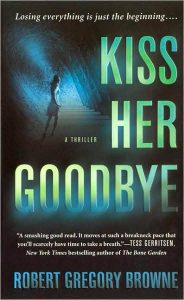 ATF Agent Jack Donovan has two ambitions: take down cult leader Alex Gunderson after years of violent mayhem, and reconnect with his daughter Jessie, who has somehow managed to slip from his life. But, none of Jack's experience as a stellar cop or an absent father has prepared him for the unthinkable way these two parts of his life are about to collide. In a desperate act of revenge, Gunderson kidnaps Jessie and buries her alive. But just as Jack's team is closing in, fate intervenes in the form of a bullet and the secret to Jessie's location is lost. With only a few precious hours of oxygen to sustain her, and with not a single clue pointing in her direction, Jessie is sure to die—unless Jack can somehow find her. But what Jack doesn't realize is that he's about to take a sharp turn into a world from which few of us return: the darkness of death itself.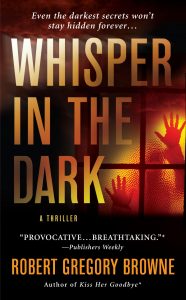 Publisher's Weekly states that WHISPER IN THE DARK is a "taut psychological thriller with hints of the supernatural and an ending that will leave readers speechless…"
Naked. Incoherent. Covered with blood. That's how Detective Frank Blackburn finds her—a beautiful Jane Doe brandishing a pair of scissors near the scene of a brutal murder. Is she the perpetrator? Or is she the only eyewitness to the handiwork of Vincent Van Gogh, a twisted serial killer with an "artistic" bent?
To find out, Blackburn takes her to renowned psychiatrist Dr. Michael Tolan. But Tolan has problems of his own. One year ago today, his beloved wife Abby was savagely slaughtered by the very same serial killer. And when Jane Doe starts saying things that only Abby could know… about long-buried secrets…about the night of Abby's death…Tolan finds himself headed for a confrontation with his past that could well lead to a breakdown. And it's up to Frank Blackburn to find the connection between Jane, Tolan…and Vincent—before the killer strikes again.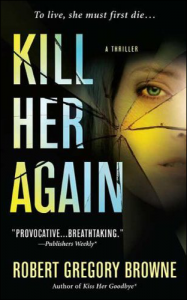 Finally, KILL HER AGAIN is a must read.
ONE WOMAN'S MIND HOLDS THE SECRET
Ever since a close call with death, FBI Agent Anna McBride has been having strange visions of a kidnapped little girl… a little girl who is about to be murdered. Is she going crazy?  When Anna is assigned to a multiple homicide case, her visions recur with an even fiercer frequency…and she can't shake the feeling that what she's seeing is somehow connected to this latest grisly crime.
TO FINDING HER OWN KILLER...
When Anna meets Daniel Pope, a hypnotist who's no stranger to the paranormal, he suggests the impossible: that the girl in her visions is Anna in a past life. But Anna refuses to believe Pope — until she finds herself face to face with the killer from her nightmares. Now she must go into the dark recesses of her mind and relive the horrors of her past to find a diabolical psychopath who won't rest until he kills her again…
Robert Gregory Browne's stories are to die for. Treat yourself. Pick up a copy of DOWN AMONG THE DEAD MEN today and get started on your summer reading fest. I guarantee you'll be coming back for more!