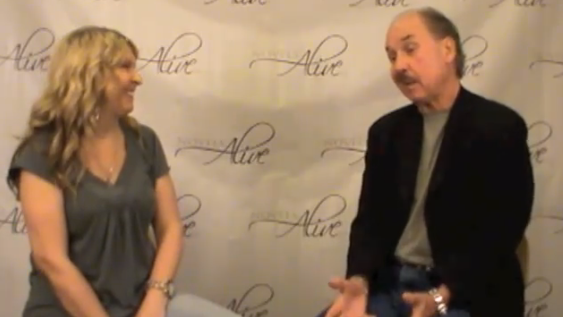 If I were to go out and ask people on the street, "Who is David Morrell?" I would likely get a wide range of answers from rock star, to the latest political pundit, to those who know their suspense, and rightly answer, the legendary author who began a genre and inspired the world. "What?" You ask. "Who?" "How?" I can answer all of your questions with one word: RAMBO.
Yes, David Morrell's first novel, FIRST BLOOD starred John Rambo, the character and story that would ten years after its publication become a world-wide phenomenon. In FIRST BLOOD, Rambo, a haunted Vietnam Veteran becomes embroiled in a life and death battle when he goes in search of a fellow veteran who he learns has already died and the small town sheriff is bent on sending Rambo to the grave a well.
David says, [quote]"FIRST BLOOD is my first novel…it's sometimes called the father of the modern action novel because until that time few novels had that degree of action. Over the years, it's been taught in high schools and universities. Rambo became a word in the OXFORD ENGLISH DICTIONARY. The novel's conclusion is quite different from that of the movie. The novel also has more characterization than the movie, particularly with regard to the police chief, to the point that many 1972 book reviewers thought the police chief was the main character. I wrote an introduction that explains the story's background."[/quote]
Since FIRST BLOOD, David has gone on to become a legend of his own. This New York Times and International Bestselling author has won numerous awards as a master of suspense. But this is only part of David's story.
[quote]"He was born in 1943 in Kitchener, Ontario, Canada. In 1960, at the age of seventeen, he became a fan of the classic television series, ROUTE 66, about two young men in a Corvette convertible traveling the United States in search of America and themselves. The scripts by Stirling Silliphant so impressed Morrell that he decided to become a writer.
In 1966, the work of another writer (Hemingway scholar Philip Young) prompted Morrell to move to the United States, where he studied with Young at the Pennsylvania State University and received his M.A. and Ph. D. in American literature. There, he also met the esteemed science-fiction author William Tenn (real name Philip Klass), who taught Morrell the basics of fiction writing. The result was FIRST BLOOD.
That "father" of modern action novels was published in 1972 while Morrell was a professor in the English department at the University of Iowa. He taught there from 1970 to 1986, simultaneously writing other novels, many of them international bestsellers, including the classic spy trilogy, THE BROTHERHOOD OF THE ROSE (the basis for a top-rated NBC miniseries that premiered after the Super Bowl), THE FRATERNITY OF THE STONE, and THE LEAGUE OF NIGHT AND FOG.
Eventually wearying of two professions, Morrell gave up his academic tenure in order to write full time. Shortly afterward, his fifteen-year-old son Matthew was diagnosed with a rare form of bone cancer and died in 1987, a loss that haunts not only Morrell's life but his work, as in his memoir about Matthew, FIREFLIES, and his novel DESPERATE MEASURES, whose main character lost a son.
"The mild-mannered professor with the bloody-minded visions," as one reviewer called him, Morrell is the author of thirty-two books, including such high-action thrillers as THE NAKED EDGE, CREEPERS, and THE SPY WHO CAME FOR CHRISTMAS (set in Santa Fe, New Mexico, where he lives). Always interested in different ways to tell a story, he wrote the six-part comic-book series, CAPTAIN AMERICA: THE CHOSEN. His writing book, THE SUCCESSFUL NOVELIST, analyzes what he learned during his four decades as an author.
Morrell is a co-founder of the International Thriller Writers organization. Noted for his research, he is a graduate of the National Outdoor Leadership School for wilderness survival as well as the G. Gordon Liddy Academy of Corporate Security. He is also an honorary lifetime member of the Special Operations Association and the Association of Intelligence Officers. He has been trained in firearms, hostage negotiation, assuming identities, executive protection, and car fighting, among numerous other action skills that he describes in his novels. To research the aerial sequences in THE SHIMMER, he became a private pilot.
Morrell is a three-time recipient of the distinguished Bram Stoker Award. Comic-Con International honored him with its Inkpot Award for his lifetime contributions to popular culture. The International Thriller Writers organization gave him its prestigious ThrillerMaster Award. With eighteen million copies of his work in print, his work has been translated into twenty-six languages."
[/quote]Recently, David published, THE NAKED EDGE, a high-octane suspense that you cannot put down and that will stay with you long after you have turned the last page. [quote]"Once they were boyhood best friends, playing in the woods near their homes, pretending to be soldiers surviving behind enemy lines. Grownup, they belonged to Delta Force and later worked as protectors for the world's best security company. Now their lives have taken drastically different paths, pitting them against one another, forcing them to play their boyhood game again, this time to learn who dies. The survival of a great city hangs in the balance as two friends-turned-enemies hunt one another and discover that there's a line between predators and prey, a line that's called THE NAKED EDGE."[/quote]
To learn more, go to davidmorrell.net.
Part 1
Part 2
Please Support the Author by Purchasing Their Books: